How To Automatically Transcribe Your Audio to Text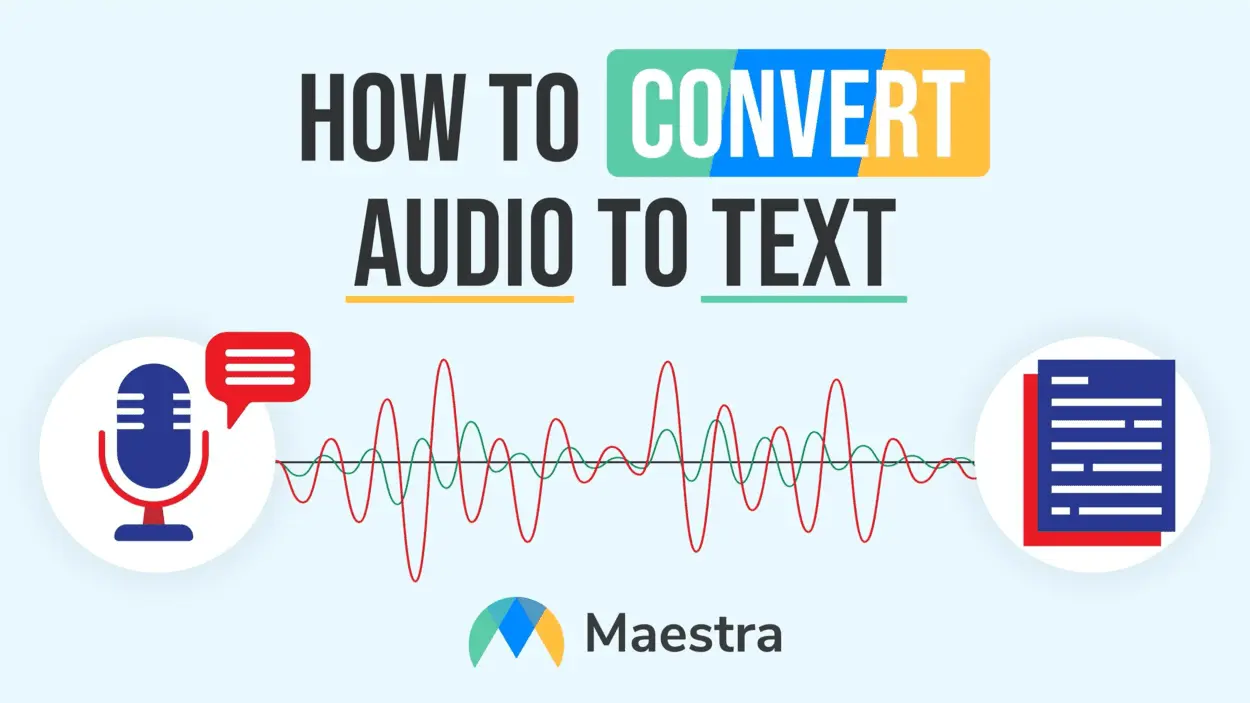 Audio and video content are popular forms of content that audiences love and find easy to connect with. YouTube videos, audiobooks, and podcasts are essential for effective communication and increasing audience engagement. As stated by Forbes, the popularity of video content has made YouTube the world's second-largest search engine. But, when we talk of effective content marketing, even the ease of consumption of audio or video content is not able to beat the importance of written content.
Text or written content still rules as search engines need it as much as your audience. It is important to complement your audio and video files with text content for SEO purposes and to make them discoverable. Written content makes the audio easy to comprehend and also readable by search engines. You can transcribe video to text and create matching content to make it available for more people.
What is Audio transcription?
Audio transcription is the conversion of speech from an audio or video files into text by annotating speech signals to create words. This process is useful for digital marketers, journalists, researchers, online tutors, and everyone else who records content in audio or video form. The transcription process can be done manually using shorthand to take notes from audio files or by hiring a professional transcriptionist. These methods are both expensive and time-consuming, and there isn't any guarantee of accuracy.
There is a better, easier, and more cost-effective method to transcribe audios and videos automatically. You can use audio transcription software, like the one offered by Maestra, to easily transcribe your audio and video files automatically.
How is audio transcription useful?
Print or text content is more convenient for consumption as a technology-based device is not required to process it.
However, audio transcription has been used extensively across industries to create written content from audio files. Journalists, researchers, and educators have used the process to make information readily available to their audiences. But automatic transcription through software is gaining popularity among digital content creators, such as YouTubers and podcasters. Using digital tools, like the one offered by Maestra for transcription makes the process hassle-free. It is easier, quicker, accurate, and affordable. More than 40% of the various brands and companies that create audio-visual content have started using transcription services for various reasons.
Here is a list of benefits and uses of audio transcription:
1. Audio to Text Transcription For YouTubers
- Improved SEO by adding video description:
YouTube searches are based on keywords and tags used in video descriptions. Adding a well-written audio description that matches the video content increases the searchability of videos and improves search engine rankings. It promotes proper indexing of your videos, which is useful for SEO purposes as it improves the organic reach of your content. Google and Youtube collect information about the video before ranking it and transcribed text helps to rank it better. By having captions and transcripts in videos, one can potentially rank for multiple relevant keywords and increase search traffic.
- Increasing reach by creating blogs:
There is a portion of the global audience that prefers reading to listening and transcribed text allows you to reach out to them. The text obtained from the transcription of video files can be used to create blogs and drive traffic to your website and YouTube channels. You can even convert the text into guide books and training manuals to share with your customers. This helps establish you as a thought leader and builds lasting relationships with your audience. It also enhances video experience for the viewers and gets an even better user engagement for the video creators.
- Disabled Audience:
Transcribed text makes your video content available and understandable by deaf or hearing-impaired viewers. It widens your audience base and improves reach by catering to those who don't understand the language used in your video.
2. Audio to Text Transcription For Podcasters
- Repurpose Content:
You can create blog posts and infographics by transcribing podcasts into text. This repurposed content helps the audience discover your content and increases traffic on your website. Apart from enhancing searchability, it also makes your podcast easily understandable. Text content also allows the visitor to skip to the relevant portion of information, thus reducing bounce rates.
- Drive marketing campaigns:
You can use the transcribed text to design email marketing campaigns and social media posts that attract more audiences to your podcast. You can also use short audio clips accompanied by text in your social media post to generate curiosity. Transcribed content also allows your audience to share insights from your audio and quote you in their work.
- Give your audience the power:
Making your content available in audio as well as text format gives your audience the option to consume content as per their choice. This ultimately increases audience engagement with your content. Depending upon their situation, they may choose to listen or read your content.
3. Audio to Text Transcription For Journalists
- Making news stories better
With transcriptions in hand, journalists can focus on crafting news stories in a better way. They can check transcripts to avoid errors. They can save the time of taking notes during live shows and interviews and improve their performance. Automatic Transcription gives journalists an accurate written record of the news story or interview conversation that can be easily scanned and reviewed, and it makes pulling quotes a snap. It also saves them time — particularly if there are hours of digital or analog media to transcribe.
- Turning Interview or Discussion Into Content
Google finds it easier to crawl text based content in order to understand the context of the article. Attaching a transcribed content to the interview or discussion video content can make it rank better. Depending on the length of these sessions, the transcribed content may contain different variations of keywords & topics within a single piece of content increasing the chances of ranking for multiple keywords. Each transcript could be broken up into several distinct pages or SEO optimized blog posts to increase organic traffic.
- Better reporting
The more wholly a journalist can devote their attention to the subject of the interview, the more observant they can be, leading to a more insightful report. It makes a lot of difference when they have a written record of the questions to be asked in an interview rather than asking on-the-spot questions and jotting down notes at the same time. This is where transcriptions turn into an even more useful resource. Without having to spend time writing them down, automatic transcripts can turn voice notes, discussions, or clips from important meetings into transcriptions that can be quickly referred to. With automated transcription tools like Maestra, journalists can increase accuracy tremendously.
- Detailed information
Journalists can not deliver information to viewers across the world by just relying on memory. They need a written piece of content to deliver news in a proper manner. They can then look over the content in detail, ensuring they understand the content and haven't missed any key points or facts. Transcriptions are useful in such situations. Having a reliable set of notes to analyze the facts can reveal duplicities and inaccuracies improves reporting. With a complete text readout in digital form, they can easily search and aggregate repeated statements or phrases that can be extremely useful in this era of increased interest in data and metrics.
4. Audio to Text Transcription For Speakers or Consultants
- Greater accessibility of content
It has been found that many consultants and speakers use transcriptions for better accessibility and understanding of the content. It acts as an effective interpreter for those who do not speak the same language of a given documentary. Listeners can benefit immensely from having accurate transcripts that they can read from and follow along with during the speech or as a takeaway resource after the speech. Listeners can miss out on things that are being discussed unless they have notes to follow along. This is where transcriptions come in handy because it can even be sent over to people who missed the event. As per a research, more than 55% of the audience had a better user experience when provided with transcripts to follow along during an interview.
- Increased productivity
Transcripts save a lot of time, which can be used for establishing new routines and habits and keeps the consultants productive and motivated. This also improves their overall efficiency in the fast-paced world of consulting. Consultants can transcribe their audio calls & video calls into content that can be leveraged on various social channels, saving them a ton of time in personal branding.
- Improved focus and engagement
Interviews when transcribed, allow disabled audiences & audiences of different language to consume them by reading or translating them. With transcription tools like Maestra, one can record every presentation, meeting or phone call and turn it into text format. So, content can be searched and reviewed instantly, allowing audiences a secondary means to consume content from their favourite journalists or channel. When the audience has a written record of the facts and details for the speech, they can understand it in a better way. Transcripts can make meetings and speeches worthwhile if conducted in less audio accessible environments and across a wider audience.
5. Audio to Text Transcription For Businesses or Marketers
- Producing more content
Nowadays, businesses have shifted their focus to keep their current customers informed and retain them as well, and bring in new leads at the same time. This increases the need to create content & produce content on a daily basis & a great tool that many creators use is transcription. Transcription tools like Maestra will allow you to convert the everyday podcasts & videos into text based content that can be leveraged on various social channels. In today's vastly diverse, technological world, marketers have to keep in mind the range of needs their audience may have. Marketers can trust transcriptions to reach audiences they couldn't otherwise reach.
- More site traffic
Transcriptions have many SEO benefits. Video & audio content tend to rank higher when they have transcriptions added to it. This is because search engines index visual & audio content by crawling the available text & transcriptions often feature keywords being naturally used. This allows naturally optimizing the content of the webpage with your target keywords & variety of long-tail keywords that leads to better traffic which can then be captured through other marketing efforts.
- Marketing content
Brands and businesses have started focusing more on showing their expertise in their specific niche by creating blogs to share content in the form of text, audio, and video. Instead of focusing primarily on the production of the content itself, businesses need to think what happens after the content is actually made.
Text is a content form that is easy to rank, as Google can crawl text easily, but podcasts & videos are the ones usually facing problems while trying to rank. Because Google is limited to what it can crawl when it comes to such content.
But, when such content is backed up with transcriptions, captions, or subtitles or any form of written content, it increases the chance of Google crawling & ranking them as well as makes it convenient for the end user to understand the content in a detailed manner.
In the current era, transcriptions are done at a much faster speed. Professionals earlier used to write 70-80 words per minute. Now, with the evolution of technology & introduction of tools like Maestra, it takes seconds to convert long recordings that are thousands of words long.
How to create Audio to Text Transcription using Maestra?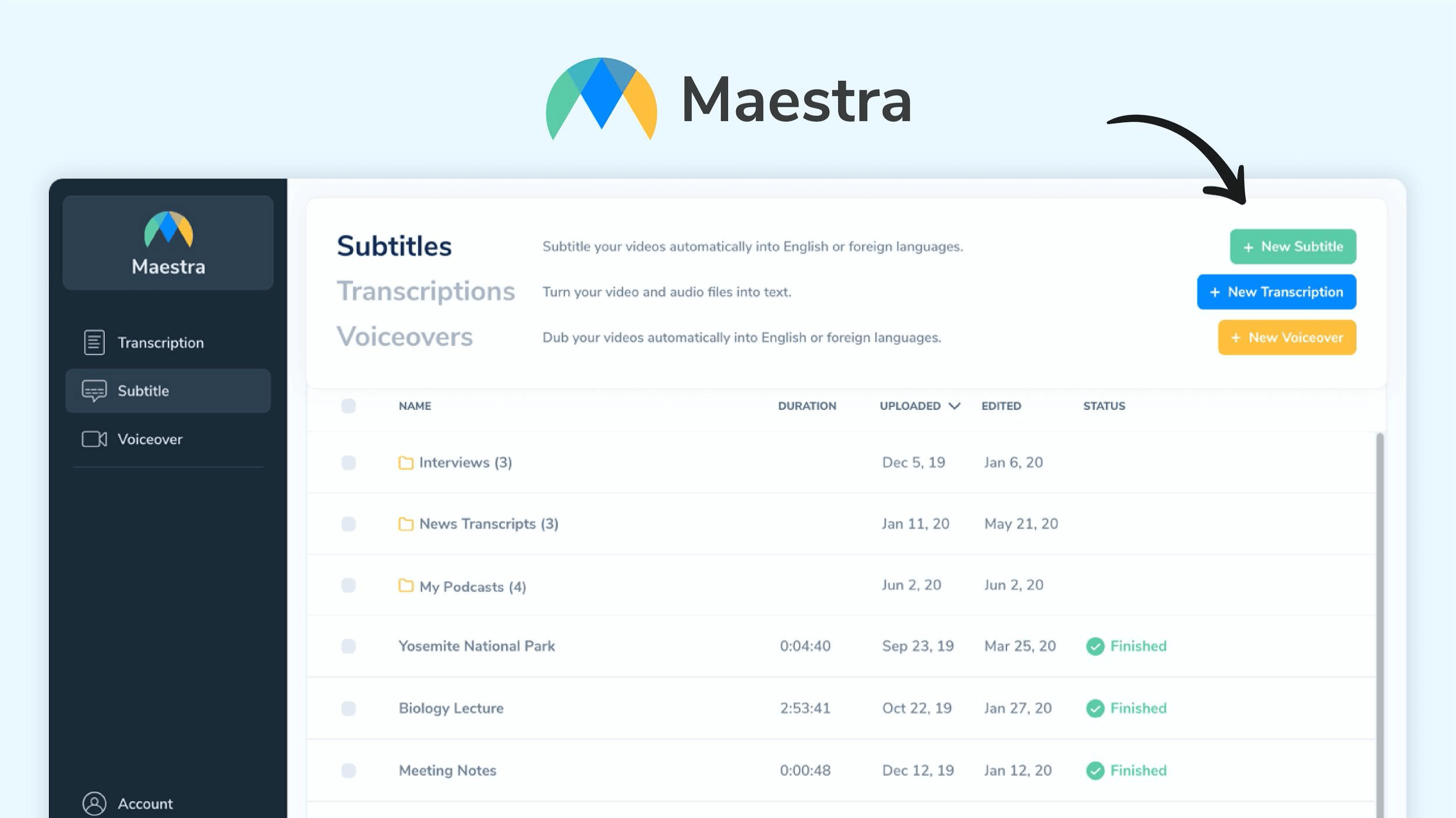 Maestra audio to text converter is a cloud-based application driven by AI and built to offer quick, easy, and secure transcription and translation services to content creators. It is useful for automatically transcribing audio to text in over 80 languages. Maestra's automatic audio transcription software comes with a built-in proofreader and editor. The easy-to-use transcriber allows you to quickly and cost-effectively convert audio from your podcasts or videos into readable content.
The steps to convert audio to text using Maestra are:
1. Sign up for Maestra
2. Upload your audio or video file in any format by clicking "+ New Transcription."
3. Select the language for transcription and the number of speakers.
4. Review the generated text and edit it using the AI-based editor and proofreader.
5. Export the audio transcript in your preferred format from PDF, WORD, or TXT. Additionally, you can use MaestraCloud, to have the ability to share your transcripts with just a single click to look something like this.
Upload audio files now to see Maestra's transcription tool in action! The premium version allows you to select from their monthly subscriptions or pay-as-you-go pricing models.
Features and Benefits of Maestra
Maestra is available in multiple languages and supports several file types. It can quickly transcribe audio and video files in bulk. The best features of Maestra are:
1. Use transcribed text directly on your website: Maestra allows you to convert speech to text accurately and proofread it too. You can use the generated text as a blog post or a downloadable resource for your website.
2. Multi-language support: Maestra allows you to transcribe your audio and video files in around 30 languages, making it available for audiences across the globe.
3. Advanced Editor: The advanced AI-based editor allows you to correct mistakes and speaker tags. You can also choose to download the text in editable file formats.
4. Multi-platform access to your account: You can share your account with your team and access it through multiple devices.
5. Export in preferred formats: Maestra allows you to export the transcribed text in your preferred format including .TXT, .DOCX, .PDF, and MaestraCloud.
6. Secure: The entire process of file upload and transcription is secure. MaestraCloud also allows you to share the transcripts online or create public links of the transcribed documents.
Audio Transcription Takeaway
Convert your website podcasts and convert YouTube videos into informative text in multiple languages to reach a wider audience. Maestra's automatic audio transcription software helps you add descriptions to your YouTube videos and convert them into blogs. It also allows you to quickly and affordably repurpose content by converting your podcasts into long-form content such as blogs and guides.
The AI-based software of this transcribing tool accompanied by a flexible pricing model makes it a must-try for educators, researchers, podcasters, journalists, vloggers, and other content creators.