Online Video Translator
Upload a video and see Maestra's AI video translator in action.
*No credit card or account required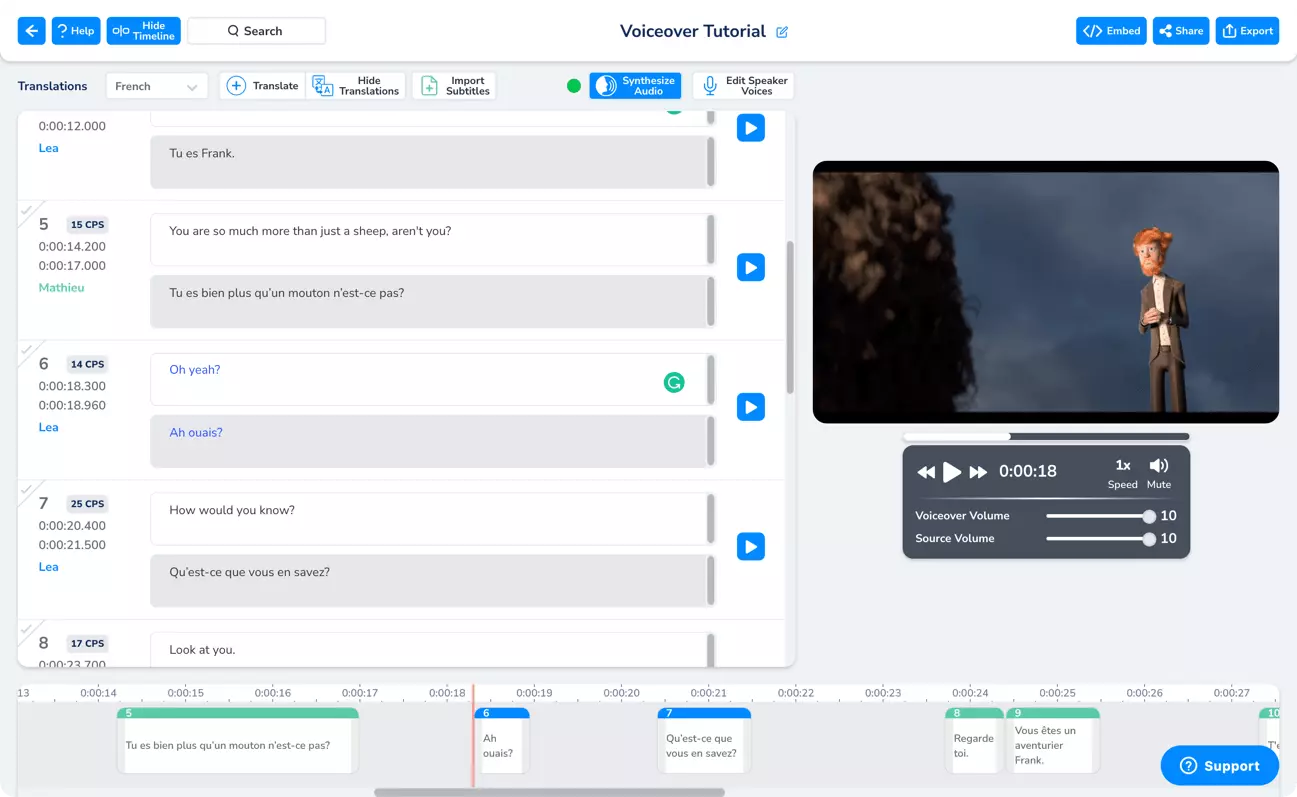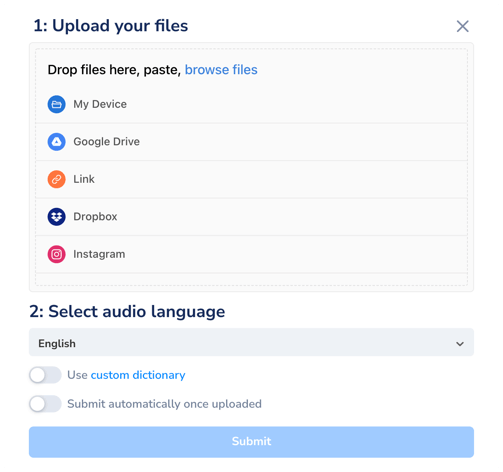 1

Upload to Maestra's Online Client

Maestra's translation software can be applied to many different types of media. Upload your video file to translate it and see Maestra in action within seconds.
Drag your video file to the uploading section, link it or directly upload it from G-Drive, Dropbox or Instagram.
2

Automatic Transcription, Voiceover and Subtitles

The transcription will be done within minutes and you will be directed to the main interface where adding foreign translations, editing, previewing voices and exporting are possible. Translating videos is that simple! Just upload your files and Maestra will guide you through the translation process. Computer-generated voiceovers will be perfectly synced to your video. Pick from different voices, adjust sentence timestamps and perfect the online video you wish to create.
3

Edit videos online and Preview

A few minutes have passed and the video translation is now complete. In the main interface, editing the text file is possible with Maestra's advanced editing tool. Delete or merge lines, change timecodes and shape the file as you wish.
Now that your translated video is complete, exporting is possible in any format. It's all in the same interface, click "export" and choose your preferred format.
Many Forms of Translation
Accurate Transcription
After uploading your video file to Maestra, automatic transcription will take place. Fully transcribing a video usually takes less than half the duration of the video file. With our industry-leading video translator software, translations will be up to 90% accurate. However, if the result isn't exactly satisfactory, editing is always an option to achieve the ideal result you had in mind.
Automatic AI Voiceovers
Conveying the context of content can be done in various ways. Maestra introduces automatic voiceovers to videos so you have all the options in the world. Maestra can translate the audio from your video and generate a full dub of your content to be automatically overlaid on your original footage in 80+ languages. This translated version of your video is easier to watch and seamlessly integrated to provide an ideal viewing experience. Add subtitles and foreign language dubbing to gain viewership and improve the content.
Instant Subtitles
Instead of just getting a video transcript, you can choose to automatically generate subtitles for your video online. The subtitles will be added in a few minutes to your video translation work. Whether it is personalized content, non-personalized content, business translations, or a movie you want to add subtitles to, Maestra will translate your video in minutes and the subtitles will be ready to edit. Maestra's subtitle editor sets you up for a great video editing experience. Learn a new language, create your own content with subtitles to reach a global audience, or have your podcast with added subtitles in no time. You can also hard code translated subtitles to your videos within Maestra cloud servers, so your device won't crack under the stress of huge video encoding processes. Maestra offers various fonts, font sizes, and colors, as well as additional custom caption styling tools.
Why Translate Videos with Maestra
There are many reasons online video translation can be required. Maybe you are a content creator and you need to reach a wider audience. Or you work in a business where you have to translate constantly. Automatically translating your content will reduce the hours you spend in typing the text in the first place and will allow you to focus on perfecting your craft.
Video Localization
Better and multi-lingual video content puts you in touch with a much larger audience. If you're a content creator, this means businesses and ad partners will want to hire and/or work with you, leading to greater visibility and profits. If you create content, Maestra's video translator will prove to be beneficial when you are looking to widen your audience. You can localize your content with great ease using Maestra. You'll be able to translate your video to multiple languages. It breaks the language barrier, making your content accessible around the world. Translate video, add captions and automatic voiceovers or get the transcription in a few minutes, with a simple click.
Learn New Languages
It might sound out of the ordinary to learn foreign languages by translating the original language of a video file. However, it is an efficient way to learn because you can compare how sentences are used in two different languages. By translating videos to another language, actively watch the videos and analyze how the translation is created by observing the language's grammar and vocabulary. Non native speakers can use our software to enhance their language skills by transcribing or adding subtitles to their videos.
Accessibility
People watch or consume video content quite differently. Subtitles help hard-hearing viewers and automatic voiceovers can help visually-impaired viewers to comprehend the content. Maestra doesn't just help you to improve your videos, it makes them more accessible with advanced tools. Translate videos in just a few minutes and with Maestra's automatic captions and voiceovers, your business will take on a new level.
Audience Engagement
Translate your videos to reach an international audience including hard-hearing viewers. Simply upload your files to Maestra's online client, automatically translate video files and complete your work in a few clicks. For example, if you have a Youtube channel, just drag the video into the upload section and add the translated subtitles. It only takes a few minutes to translate your video into another language. Take your pick from more than 80 languages.
Gain Access to Global Content
Maestra's translation capabilities allows overseas viewers to discover your videos, but it also gives you access to a huge library of international content. Being able to translate video to English can allow you to discover educational tools, new brands, potential partners, and a host of other interesting and inspiring web content.
Better Business
Being able to translate video can have a big impact on business. Easily translate meetings, memos, and other visual material and tools for international partners without having to rely on dedicated translators. This means saving time and resources while building better relations and communication.
Easily Edit Your Captions
With Maestra's caption editor you can easily make changes to your automatically transcribed YouTube videos
Export as MP4 video with custom caption styling!
Export in SubRip (.srt), WebVTT (.vtt), Scenarist (.scc), Spruce (.stl), Cheetah (.cap), Avid DS (.txt), PDF, TXT
Audio Transcript Synchronization
Automatically Generated Timestamps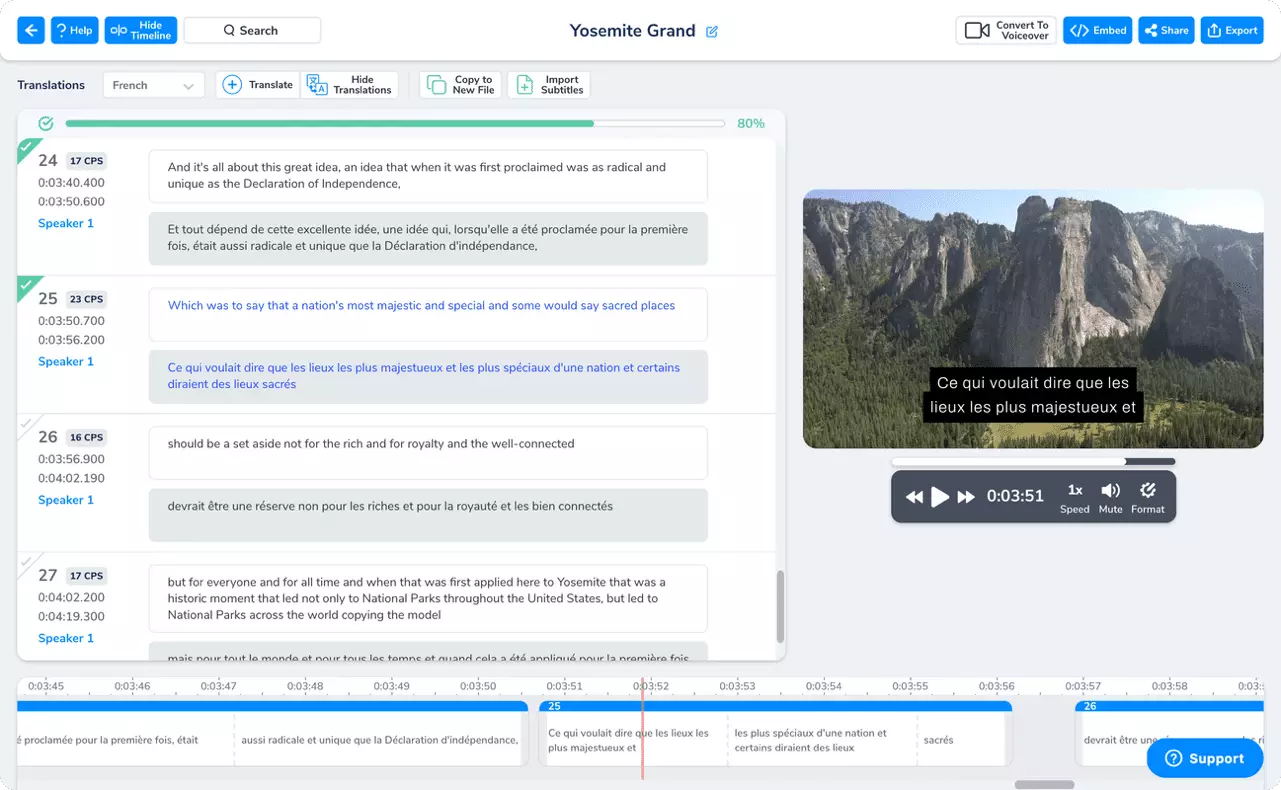 Maestra Teams
Create Team-based channels with view and edit level permissions for your entire team & company. Collaborate and edit shared files with your colleagues in real-time.
Collaborate Virtually
Work together virtually with colleagues and teams using Maestra's online collaborative video editing. Video projects are often the result of group efforts, and Maestra is dedicated to helping people work together better in an increasingly digital world.
Secure
The process is completely automated. Your files are encrypted at rest and in transit and cannot be accessed by anyone else unless you authorize. Once you delete a file, all data including audio or video files, transcript. Check our security page for more!
Multi-Channel Uploading
Translate videos by uploading from your device Google Drive, Dropbox, Instagram, or alternatively by pasting a YouTube or public media link.
Get started with the free version today.
Sign up for Maestra today, so you can start localizing your content and unlock your global audience without having to download software.
Perfect for Educators, Researchers, Marketers, Lecturers, Journalists, Media companies, and You!
Request Demo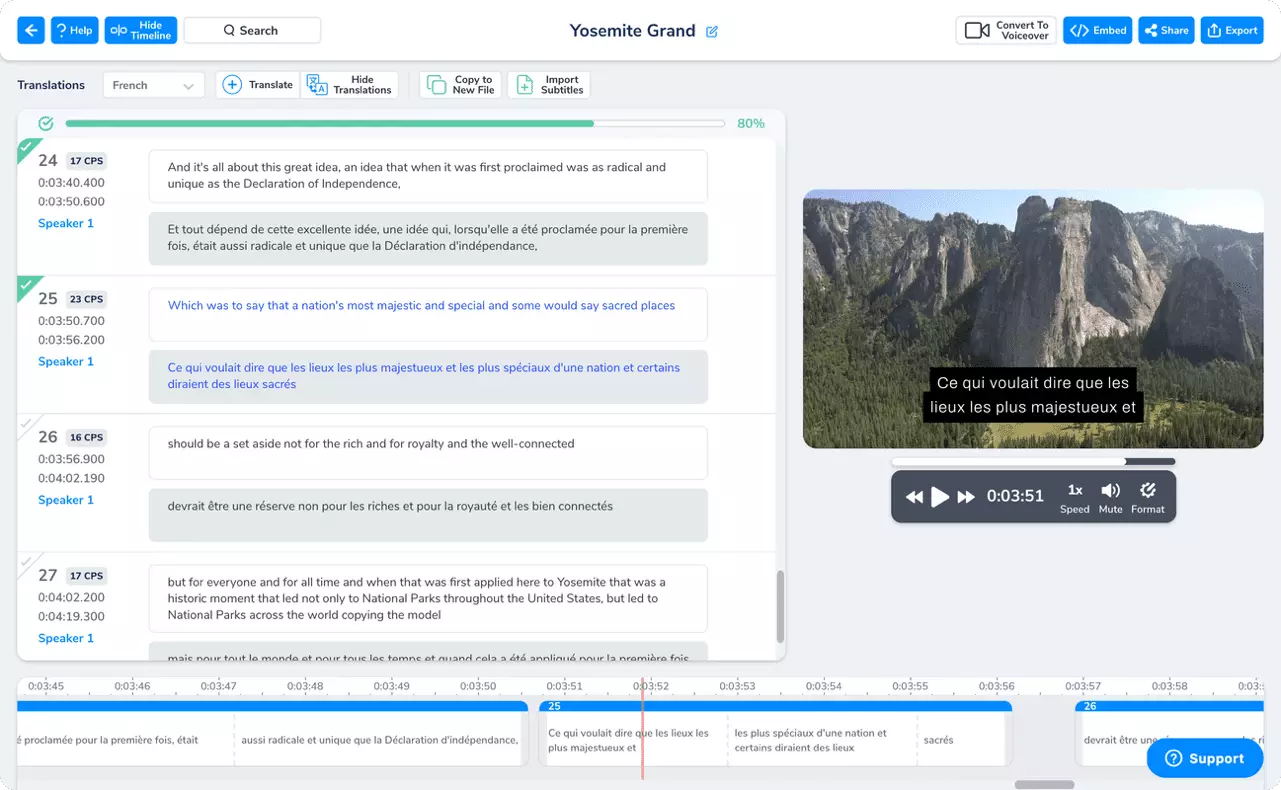 Customer Reviews
What people are saying about Maestra