Convert MP4 to Text
Maestra converts the speech from your MP4 (.mp4) file to text automatically in 80+ languages including Spanish, English, Italian and French.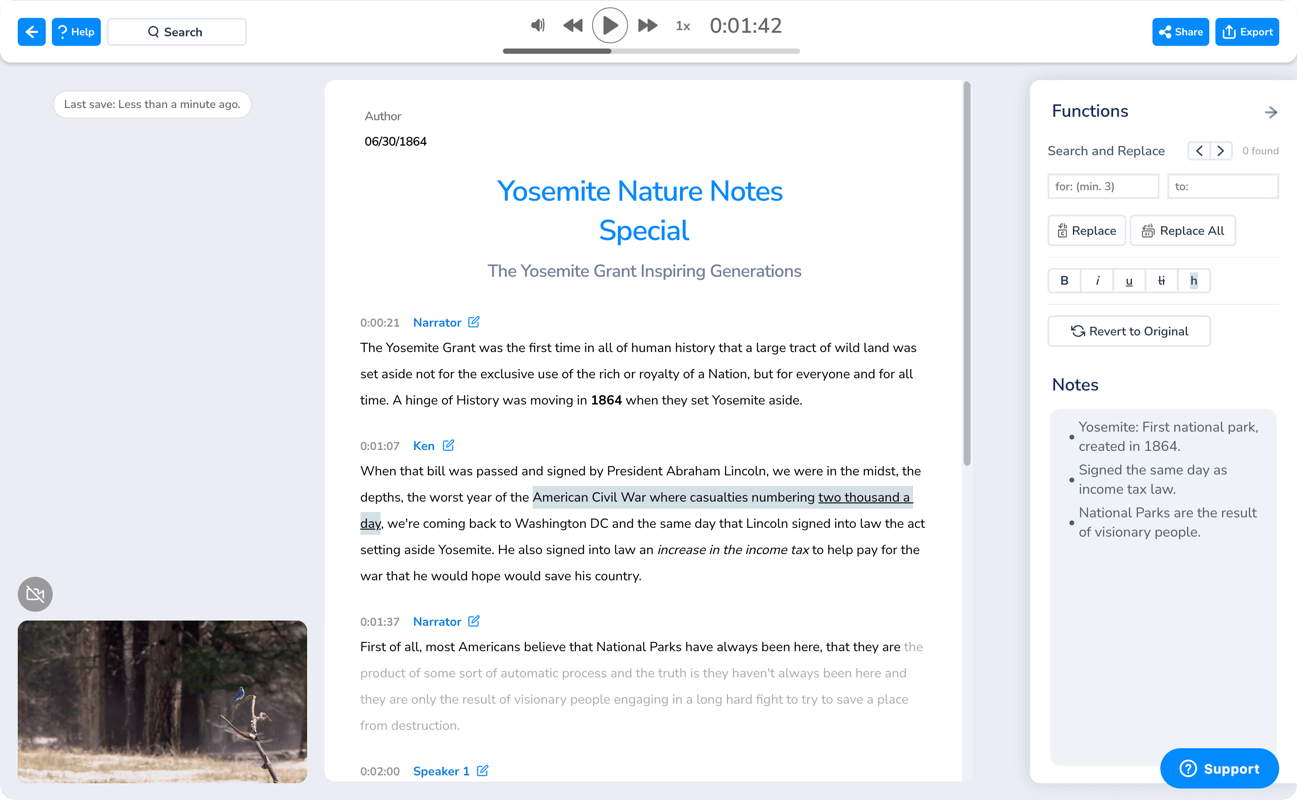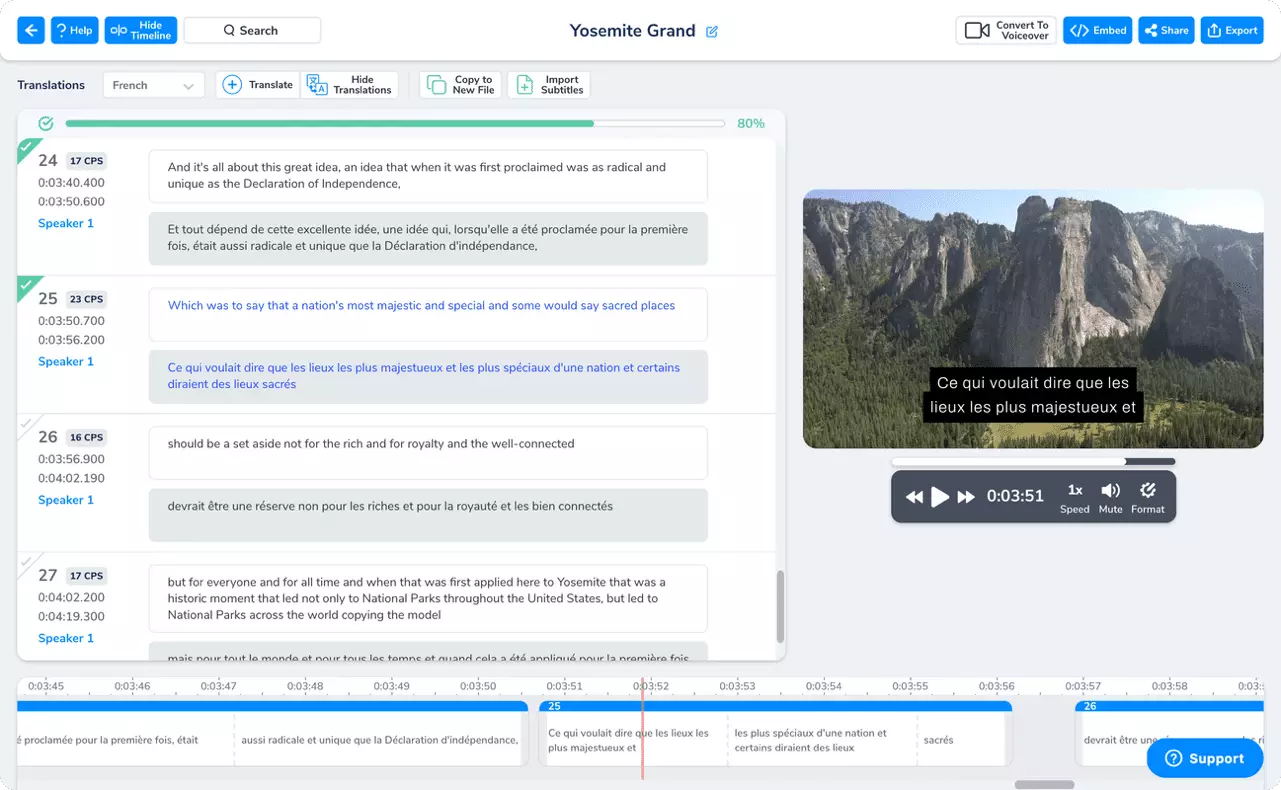 Transcribe MP4 to Text with Maestra
Accessibility is Key
Video and audio content is everywhere and it is consumed incredibly fast all around the world. If you want to make your content even more accessible and consumable by everyone, transcribing mp4 to text with automatic transcription software is the way to go! With a simple interface, you will be familiar with Maestra in no time and see how easy it is to convert your MP4 files to text.
Getting better in the content game is crucial and making your content more accessible might be the next step you need to take in order to improve. Transcribing MP4 to text and having the transcriptions opens up many possibilities whether you are a content creator or not. You'll have the records of your files, make them more accessible and be able to translate them to 50+ languages. Try Maestra's MP4 converter now, for free!
Reach a Global Audience
Sharing your content with everyone is crucial for growth. Usually, creators limit themselves by only appealing to a certain demographic, however by transcribing your MP4 files and translating them to 80+ languages will expand the content to the global world, making the content accessible by everyone by not only removing the language barrier but by helping viewers with hearing problems to consume the content as well. All done in a matter of minutes and ready to edit.
MP4 is Everywhere
Video content is used in every platform we are familiar with. We use MP4 files one way or another in our daily lives whether we are aware or not. Globally used and accustomed to, MP4 files can be placed in Maestra's MP4 converter to have the transcription in minutes, ready to be translated or transformed into another format.
Create Subtitles and Voiceovers
After converting an mp4 file to text easily with Maestra, you can create a subtitles file for your content. Located in the same editor, Maestra's subtitling tool will allow you to generate subtitles quickly to reach an even wider audience.
Transcribe mp4 to text, create subtitles or even voiceovers for your files. Every single one of these processes takes a few minutes depending on the length of your content and each one adds benefits to help you with accessibility and growth.
How to convert MP4 to Text?
1
Upload to transcribe MP4 files
Upload the MP4 file to see the transcription within seconds. No signup or credit card required.
2
Multiple ways to upload
Easily import your audio or video files from Dropbox, Google Drive, Youtube link, Instagram or browse locally from your computer and pick Arabic as the audio language.
3
View and edit easily
Your audio file will transcribe automatically to text in just minutes. Easily edit your audio transcript or subtitles, make any necessary changes and optionally translate to 80+ languages.
4
Export or share
Share automatically generated transcription, subtitles or captions online, or through email. You can also export your audio transcript or subtitles in PDF(.pdf), WORD(docx), TXT(.txt), SubRip (.srt), WebVTT (.vtt), Scenarist (.scc), Spruce (.stl), Cheetah (.cap), Avid DS (.txt).
Frequently Asked Questions
What is Maestra?
Maestra is an automatic transcription, captioning, and voiceover platform that allows you to automatically turn your audio and video files into your desired format. Our automatic AI processor will transcribe, translate, caption, or voiceover your files and send them back to you incredibly fast. Edit your videos in our advanced, easy-to-use and collaborative editor, then save and share them with your audience! If you have any questions about how Maestra works, we're more than happy to walk you through a demo.
Can you convert MP4 files to text?
Yes, you can convert MP4 to text using Maestra audio to text converter. We can extract speech from any audio file using automatic speech recognition software (asr), regardless of the file size, format, or language used in the audio/video. Our automatic transcription software accurately transcribes and converts your MP4 video files to text in a matter of minutes. If you need to transcribe media files into text, you can do so as well! Transcription and subtitling services like Maestra are a huge step forward from manual transcription.
Is it possible to export MP4 files into different formats?
Of course, after you have successfully converted your MP4 files to text with Maestra's transcription software, you can export your files to many file formats such as PDF(.pdf), WORD(docx), TXT(.txt), SubRip (.srt), WebVTT (.vtt), Scenarist (.scc), Spruce (.stl), Cheetah (.cap) and Avid DS (.txt).
How long does it take to transcribe video and audio files?
Maestra's transcription software works at high-speed, allowing everyone who uses it to acquire their transcriptions in minutes. However, if the file is bigger than usual, it might take a few more minutes.
How accurate is it?
Maestra's transcription software has a %95 accuracy. Then, if you are not totally satisfied with the outcome, there is always the possibility to edit your files as you wish with Maestra's advanced editing tools.
Can I upload MP4 files from other platforms?
You can import your MP4 files from a variety of services, including Google Drive, Dropbox, Instagram, or YouTube links and convert them into text in minutes.
What languages does Maestra support?
You can see all the languages supported by Maestra by clicking here.
Customer Reviews
What people are saying about Maestra MP4 to text converter