Online Subtitle Translator in 80+ Languages
Translate subtitles to 80+ languages in seconds.
Choose file
or drag and drop your file here
*No credit card or account required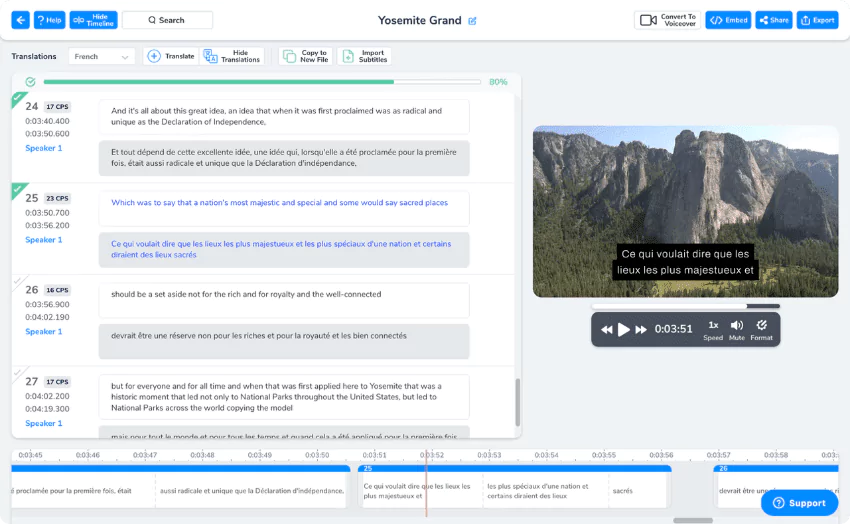 How to Translate Subtitles with Maestra?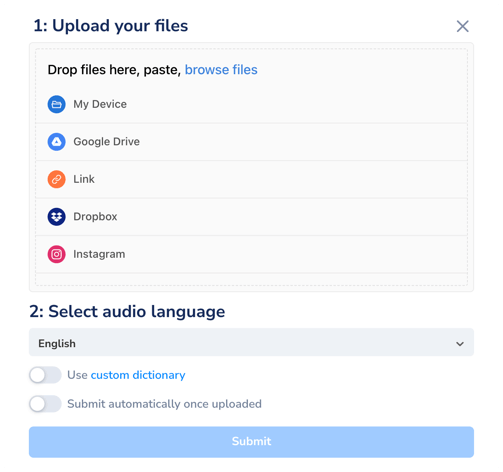 1

Upload Audio or Video File

After logging in to your Maestra account, you will be directed to the main interface where you can upload a file by dragging it into the upload section or uploading it from Google Drive, Youtube, Instagram, Dropbox, or by using a link. The process of generating subtitles will begin automatically after you upload the file. Then your subtitle file will be ready to preview and edit.
2

Create Subtitles Automatically

In just a few minutes, subtitles are created automatically. This process is handled through Maestra's cloud servers and everything is done online.

There will be no watermark on the file after you have generated subtitles using Maestra's subtitle translator.

Now that the subtitles are generated, translating and editing them are the last steps before exporting. Maestra's subtitle translator provides translation to more than 80 languages.
3

Check and Export

In this interface, on the upper left corner of the screen, you will see the translate button. This will allow you to translate the subtitles to your desired language with a few clicks. Maestra's subtitles editor will allow you to edit subtitles by changing their style, format, or changing timecodes; merging or removing lines and of course the text itself. These are all located in the same interface which makes editing straightforward. SRT or VTT formats are only some of the file formats supported by Maestra. Export in the format you want and take advantage of Maestra's auto subtitle tool and subtitle translation.
Globalize Your Content
Perhaps the biggest benefit of automatically generating subtitles and translating them is being able to reach a global audience. Anyone from the world can be allowed to consume your content if you effectively use the subtitles translator.
Adding subtitles is already proven to be a great method to boost viewership since most of the content on the internet is consumed on mute. However, breaking the language barrier by translating those subtitles adds that extra push that is needed to maximize the potential of your content.
For example, if you are a content creator that makes Instagram or Youtube videos, Maestra allows you to directly upload files from such platforms making it even easier to translate subtitles to the video immediately and start editing them to perfect your content.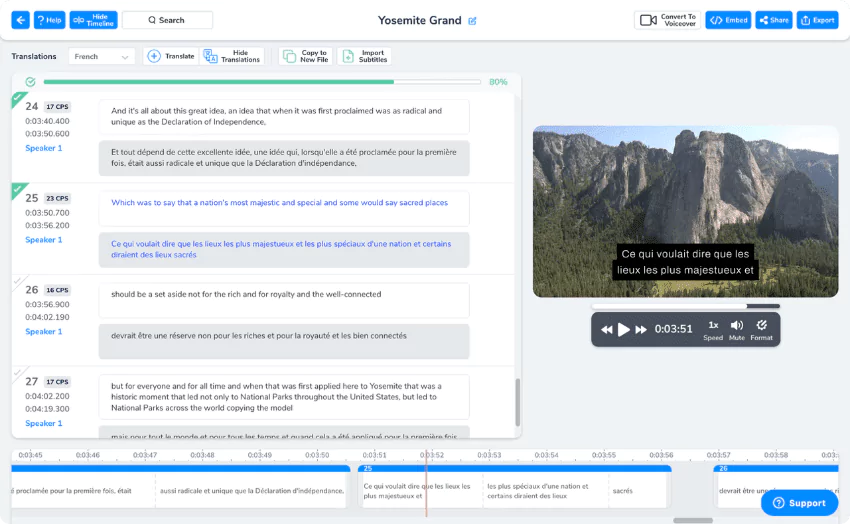 Interactive subtitle editor
Easily Edit Your Subtitles
With Maestra's subtitle editor you can easily make changes to your subtitles, and automatically translate subtitles to 80+ foreign languages at no additional cost.
Export as MP4 video with custom subtitle styling!
Export your subtitles & captions in SubRip (.srt), WebVTT (.vtt), Scenarist (.scc), Spruce (.stl), Cheetah (.cap), Avid DS (.txt), PDF, TXT
Audio Transcript Synchronization
Automatically Generated Timestamps
Detect different speakers
Custom Styling
While you automatically translate subtitles, Maestra also allows you to style your video by offering multiple fonts, sizes, and colors, as well as additional custom subtitle styling tools.
You can then have your video content rendered inside the cloud servers of Maestra so your device doesn't have to crumble between the intense load of media encoding. Your video should be ready to download within minutes and once it is ready you can download your subtitled video right through your browser.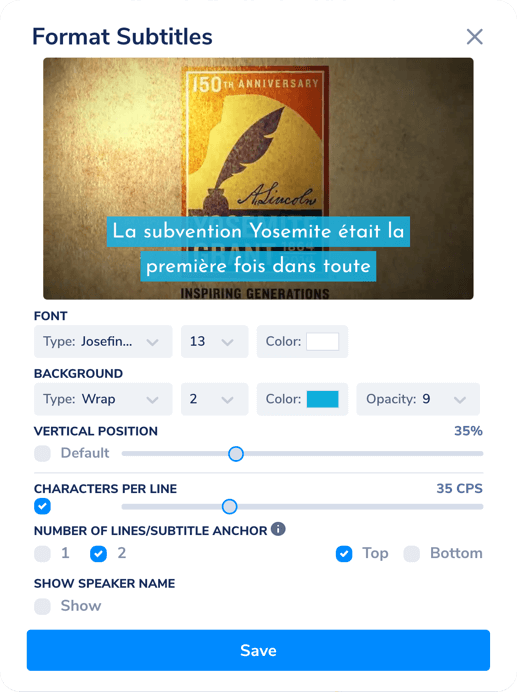 Maestra Teams
Create Team-based channels with view and edit level permissions for your entire team & company. Collaborate and edit shared files with your colleagues in real-time. Translate subtitles with Maestra's online subtitle translator.
Collaborate and edit the subtitle file
Maestra's subtitle maker allows you to edit and share the auto generated subtitles in a collaborative environment.
Subtitle translator in
80+ Languages
Secure
The process is completely automated. Your subtitles and media files are encrypted at rest and in transit and cannot be accessed by anyone else unless you authorize. Once you delete a file, all data including the media files and subtitles will be instantly deleted. Check our security page for more!
Multi-Channel Uploading
Translate subtitles after uploading from your device, Google Drive, Dropbox, Instagram, or alternatively by pasting a YouTube or public media link.
Online Subtitle Translator
Automatically generating subtitle files for any kind of content opens up many possibilities for the individual and the audience. Translated subtitles increase accessibility by breaking the language barrier so that more people than before can consume your content.
Many types of businesses use subtitling for social media or business related content, Maestra's subtitle translator allows translators to save an incredible amount of time thanks to automatic translation. Now, translators only need to proofread and edit the parts they deem necessary to reach an outcome suited to their professional standards.
Request Demo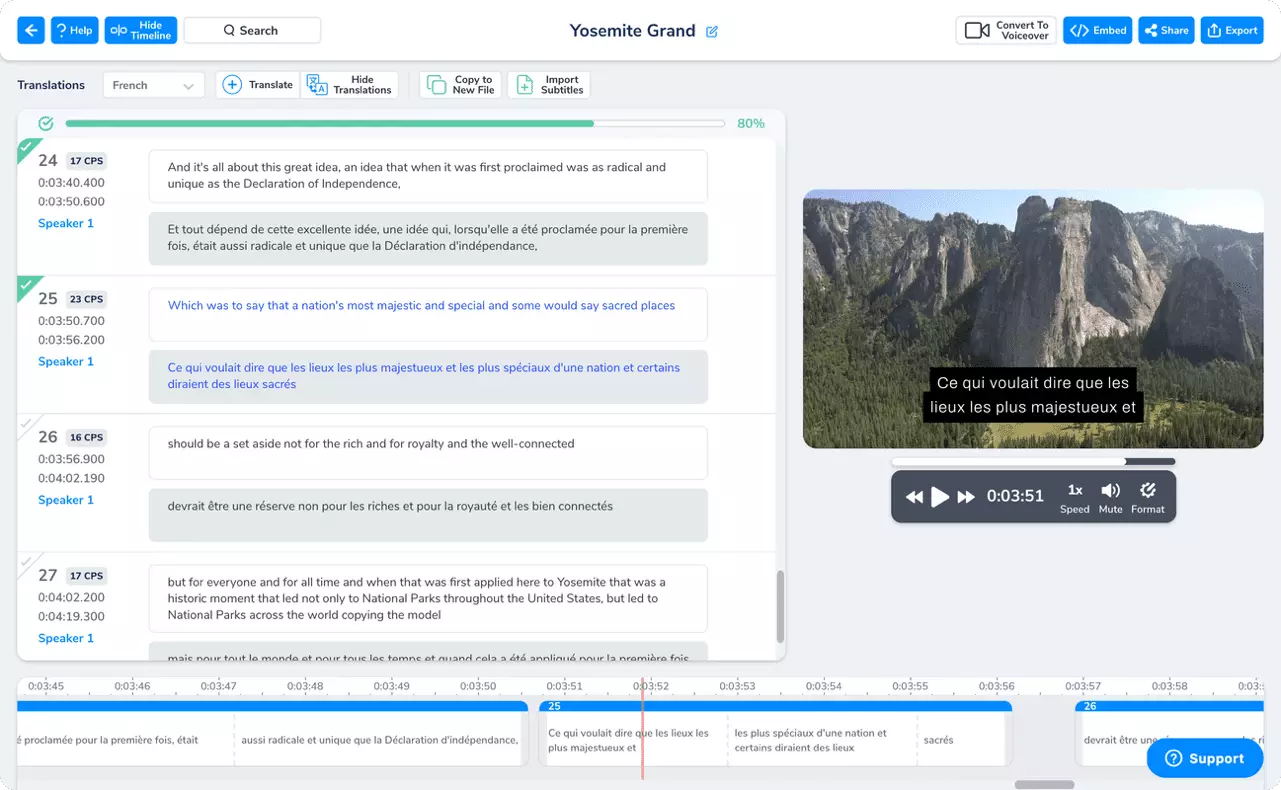 Customer Reviews
What people are saying about Maestra subtitle translator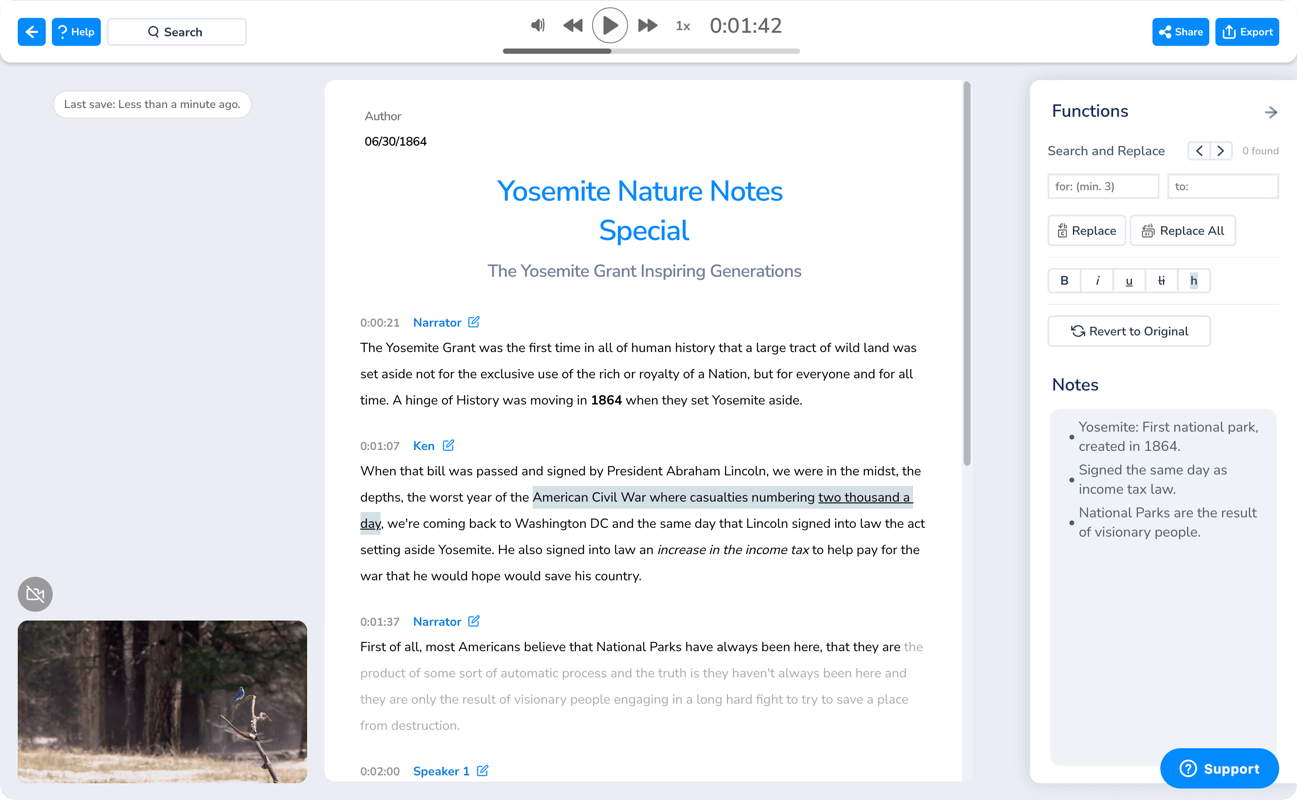 Register
Online Subtitle Translator by Maestra
Maestra's subtitle translator allows you to export in all of the subtitle formats, allowing professionals to easily change formats and adapt to different aspects of subtitling. No more time consuming methods, auto generate subtitles and start editing right away to finish your work efficiently.