Transcribe Interviews Automatically
Transcribe interviews in a quick and accurate manner with Maestra's interview transcription software. Easily edit and export in any format, all located in the same interface. Upload now to see Maestra in action. 80+ languages supported.
*No credit card or account required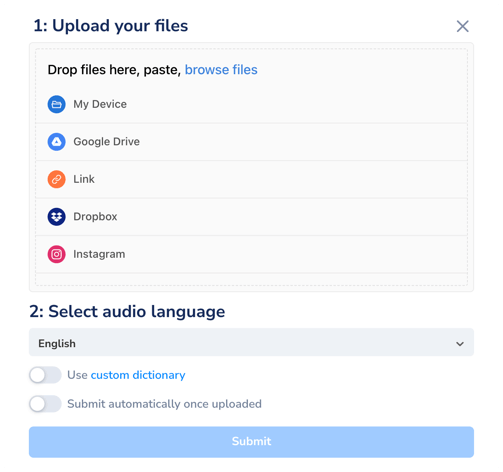 1

Upload and transcribe video

To start the interview transcription, upload an audio file or a video file to Maestra's online client by dragging the file, directly uploading it from Google Drive, Dropbox or pasting the link.
2

Transcribe Interview Automatically

Automatic transcription will begin and it will often take less than half the duration of your media file for your interview transcription to be ready. The time-consuming part of manual transcription is eliminated, therefore Maestra allows customers to focus on the editing and improving phase.
3

Check and Export

The interview is done transcribing, but depending on your goals, making some proofreading adjustments might be needed. Various audio formats are required for businesses.
Maestra's built-in advanced editor is one of its many beneficial tools. Change the words, add speaker names if there are multiple speakers, then export in any format you prefer.
Different Types of Transcription
When doing any kind of transcription work, using different types of transcription methods can be useful to achieve better comprehensibility and professionalism. Because we are using Maestra's transcription software, little preparation will be needed. Transcribing will be done automatically, but adjusting the text after the transcription process will prove to be healthier for your business, rather than going along with the first draft.
Edited Transcription
Clarity is important when it comes to any content. Accessibility is achieved through comprehensibility and it comes down to breaking the language barrier, as well as creating an understandable transcript for everyone. After the transcription of the audio recording is complete, Maestra's advanced editor lets customers adjust the text. An edited transcription is where clarity is the main focus. Some words can be spoken in different ways, and if you want to achieve maximum accuracy for the readers, formalizing the text to fix grammatical mistakes and incomplete sentences can make the difference between a normal transcription and an edited one.
Verbatim Transcription
Different businesses require different formats of transcription. A verbatim transcription captures every sound made in the audio recording. Laughter, pauses, doorbells, coughs, and even noises people make between sentences. On the contrary, a non-verbatim transcription does not include these sounds in the transcript. Verbatim Transcription is used during a legal process, quoting sources and interpreting research studies.
Intelligent Verbatim Transcription
An intelligent verbatim transcript does not have filler words and repetitions are removed to create a more concise transcript. Certain words like "yeah" or "hey" might be used unnecessarily when speaking. Also, repeating or unusually long sentences are also removed. The main purpose is to remove irrelevant content to provide a more accurate and on-point transcript.
Phonetic Transcription
Phonetic transcription is a little more unorthodox in the sense of using symbols to represent speech sounds. The way we speak certain words changes over time. When a word that was pronounced differently 70 years ago was meant to be transcribed, phonetic transcription comes in handy. This can also be used when transcribing different dialects.
Why Use an Interview Transcription Software?
Manual transcription is a tedious process, you need to stay focused for long hours to transcribe an entire interview manually, even if you have impressive typing speed.
With Maestra, the transcription process is completely automated. All you need to do is adjust the transcripts and focus on other tasks that can improve the transcript.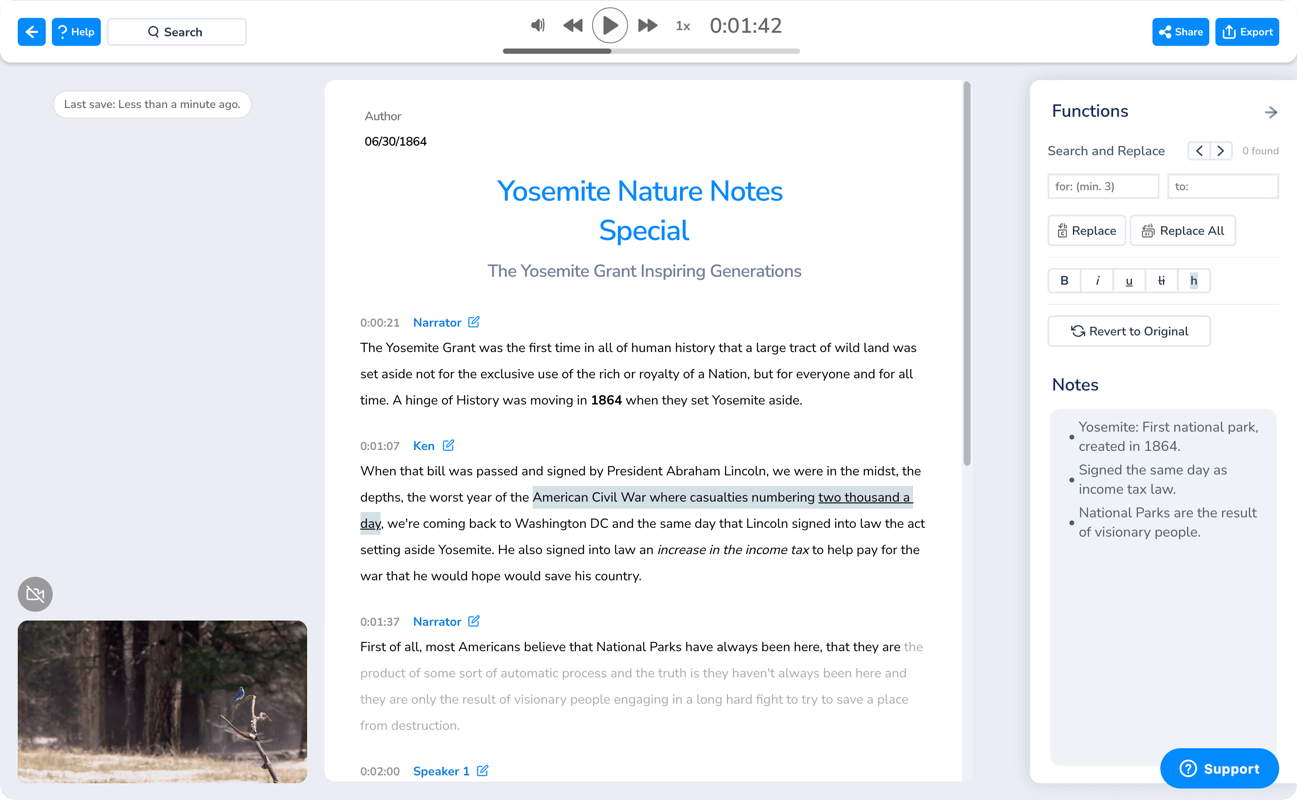 Editing with Ease
When you are listening to an audio file it is quite easy to become lost in them since recordings can be really long. Since each word within your transcript will have time stamps generated assigned to them, you'll be able to navigate your transcripts way more efficiently. You can take notes and comments as can be seen on the example editor image.
Export in Word (DOCX), PDF, TXT, SRT, VTT, MaestraCloud
Organize your audio recordings in the cloud
Make sure your recordings and transcripts are away from harm! Instead of having to manage files on your computer, you'll be able to keep everything organized and safe in the cloud, so you'll maintain access to your files even in unexpected cases of your computer being broken or lost. Video or audio files of any size can be kept in Maestra without any time limitations. Even if you have thousands of interview recordings. You can search within Maestra dashboard and get a hold of your file within seconds.
Maestra's Custom Dictionary
Specify certain words or phrases in your custom dictionary and assign an important value to each one. So that when these phrases are detected, they are more likely to be transcribed as specified in your dictionary, depending on their importance value. For example, technical terminology can be recognized more accurately given the right commands, allowing our customers to receive an interview transcript that fits their demands.
Accurate
Accuracy is an important aspect of automatic transcription. A few elements in regards to your recording might affect the accuracy of the transcription. If the audio interview has poor audio quality or the background noise is too high, the accuracy might vary. It is often best practice to make sure that there is not much cross-talk so you'll have better results when you transcribe an interview.
Maestra's interview transcription software has up to 90% accuracy and the right tools to make sure that the outcome is satisfactory. Check accuracy with Maestra's built-in and advanced editor after the transcription ends. Spend your valuable time focusing on improving the outcome by analyzing the transcription in greater detail.
Time-Saving
Transcribing an interview with Maestra will take only a few minutes. If the file is lengthy, it will often take less than half of your file's duration. Maestra will set you up for success when you transcribe an interview by providing you with various tools such as the batch replace function, commenting, and highlighting so you can focus on improving the content instead of tedious manual transcription.
If you happen to have Grammarly browser extension you can make use of the auto correct inside Maestra transcript editor and save time!
Simplifying the Flow
You'll often face interviews that are quite lengthy, Maestra transcribes files up to 8 hours in duration, and breaks the transcripts into chunks, you'll be able to move between page numbers and won't be overwhelmed with text. The auto correct feature will also prove to be incredibly useful. You can additionally adjust the audio player speed and skim through the interview transcript.
Maestra Cloud
Share your files with colleagues through your browser utilizing MaestraCloud, and exchange opinions to further improve the transcription.
Maestra will transcribe speech in just a few minutes using industry-leading speech to text conversion technology. You can share your transcript online with MaestraCloud aligned perfectly with your recording, just by sharing a dedicated link like like this one.
Speakers Diarization
You can specify the expected number of speakers within your recording during the upload process so when Maestra speech recognition engine transcribes an interview it'll assign speakers the detected text. You can additionally assign names to each speaker that'll make the entire transcript more readable and easier to follow.
Maestra Teams
Create Team-based channels with view and edit level permissions for your entire team & company. Collaborate and edit shared files with your colleagues in real-time.
Collaborate and edit
Maestra's sophisticated editors allow you to share transcription in a collaborative environment just like a google docs document.
Secure
The process is completely automated. Your transcripts and audio files are encrypted at rest and in transit and cannot be accessed by anyone else unless you authorize them. Once you delete a file, all data including audio or video files, transcripts, or comments that might have been made on that interview will be instantly deleted. Your data will be safe with us! Check our security page for more!
Multi-Channel Uploading
Upload your videos by pasting in a link or uploading from your device, Drive, Dropbox, or Instagram.
Create translations of your interviews
Maestra is way more than just a audio to text transcription software. Right after your transcribe and proofread, you can use Maestra to generate foreign language machine translations of your interview within seconds.
Video transcription
Aside from transcribing audio files, video transcription is also available in Maestra. The record of the interviews might be in audio or video format, with Maestra the process is the same. Upload the video file, wait for the transcription, then perfect the file by editing.
In addition to transcribing interviews, Maestra allows you to add captions to video in a fast and easy way and edit the video by offering multiple fonts, font sizes, and color options, as well as additional custom caption styling tools. Once you transcribe your recording, you can burn-in subtitles and download them in various formats.
On top of everything, you can utilize Maestra to generate foreign language voiceovers by utilizing Artificial Intelligence voices. Your interviews will be translated and recreated in a foreign language with a few clicks.
The synthetic voice dub will be synchronized perfectly to your original interview. Just like every other user flow on Maestra, the voiceover can also be readjusted and synthesized on Maestra editor.
Request Demo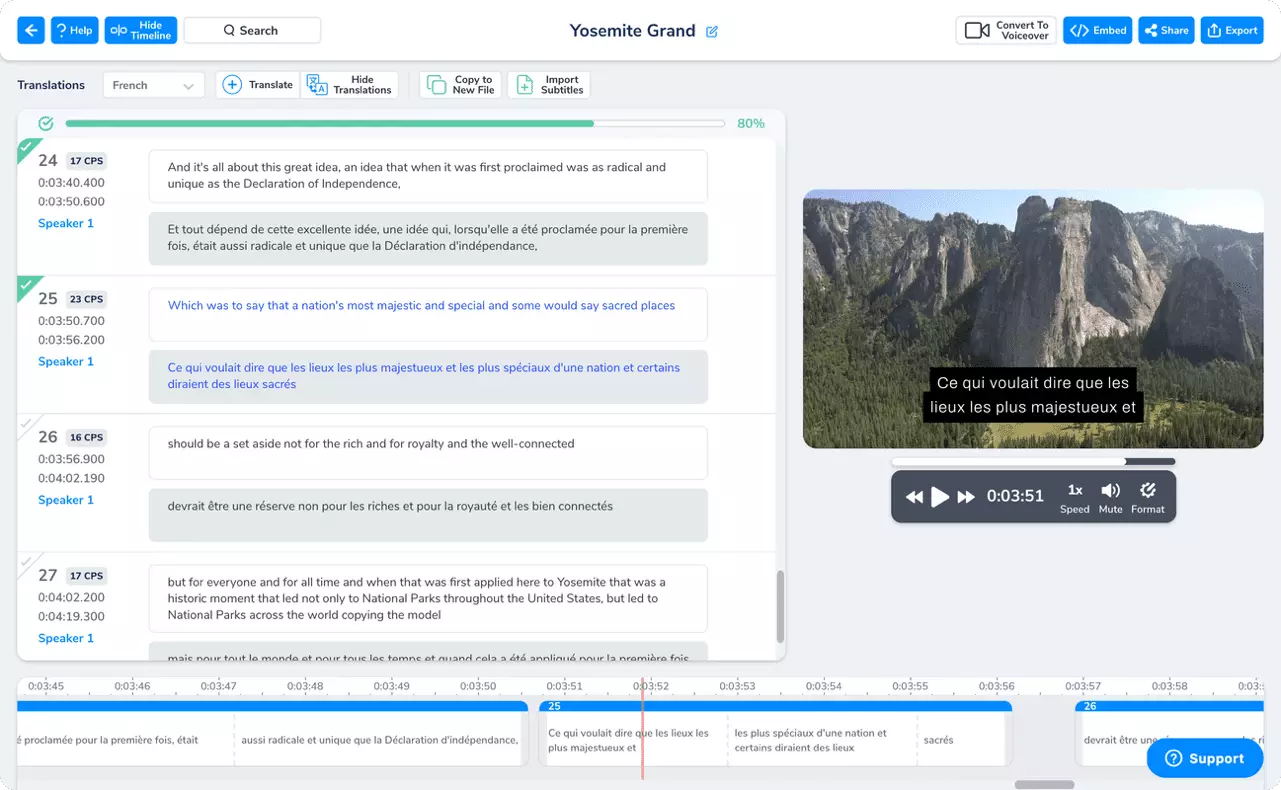 Customer Reviews
What people are saying about Maestra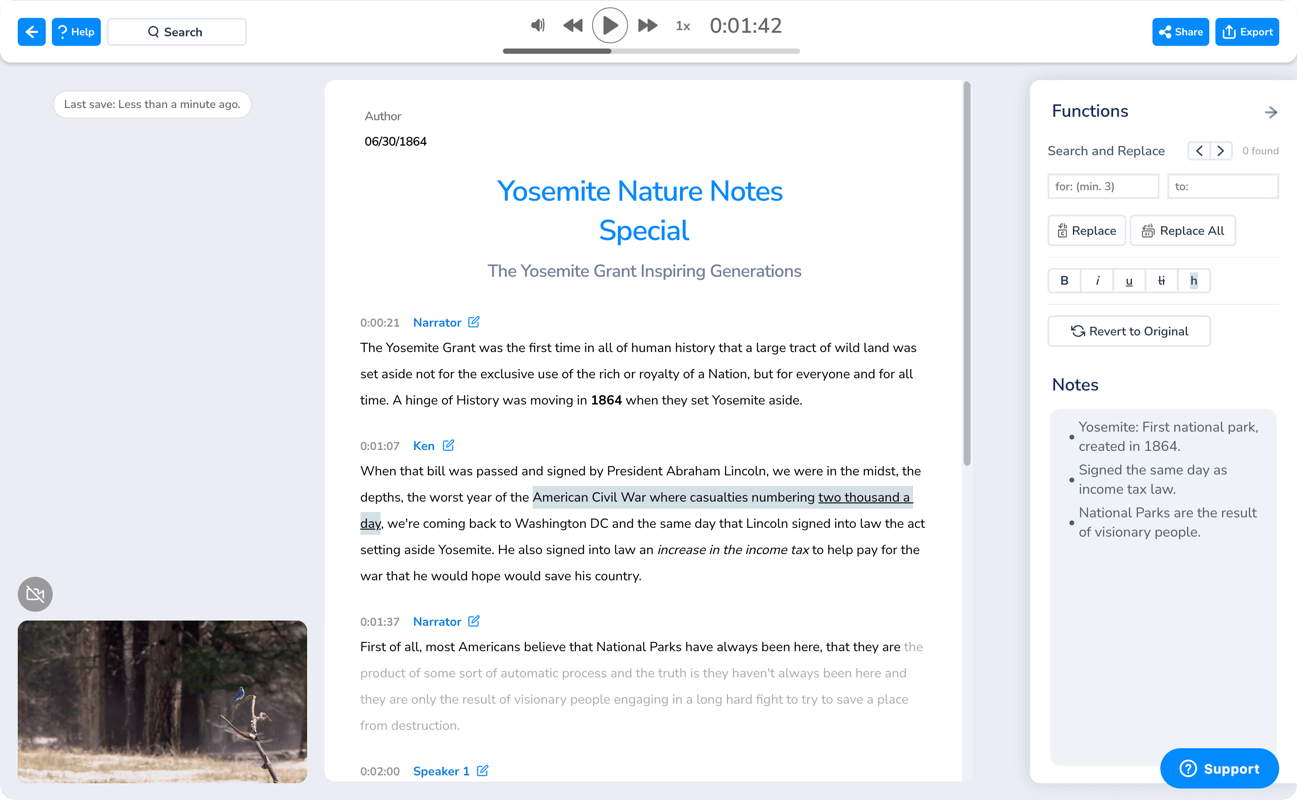 Register
Start Transcribing with Maestra
Upload the audio file or the video files into Maestra's online client and receive the interview transcript in minutes. Save time, transcribe an interview with Maestra and take advantage of all the benefits of automatic transcription.
Perfect for Educators, Researchers, Marketers, Lecturers, Journalists, Media companies, and You!