Automatic Audio to Text Converter
Transcribe Audio File to Text
Save time and money with Maestra's automatic audio to text transcription software. Transcribe audio files to text automatically within seconds.
*No credit card or account required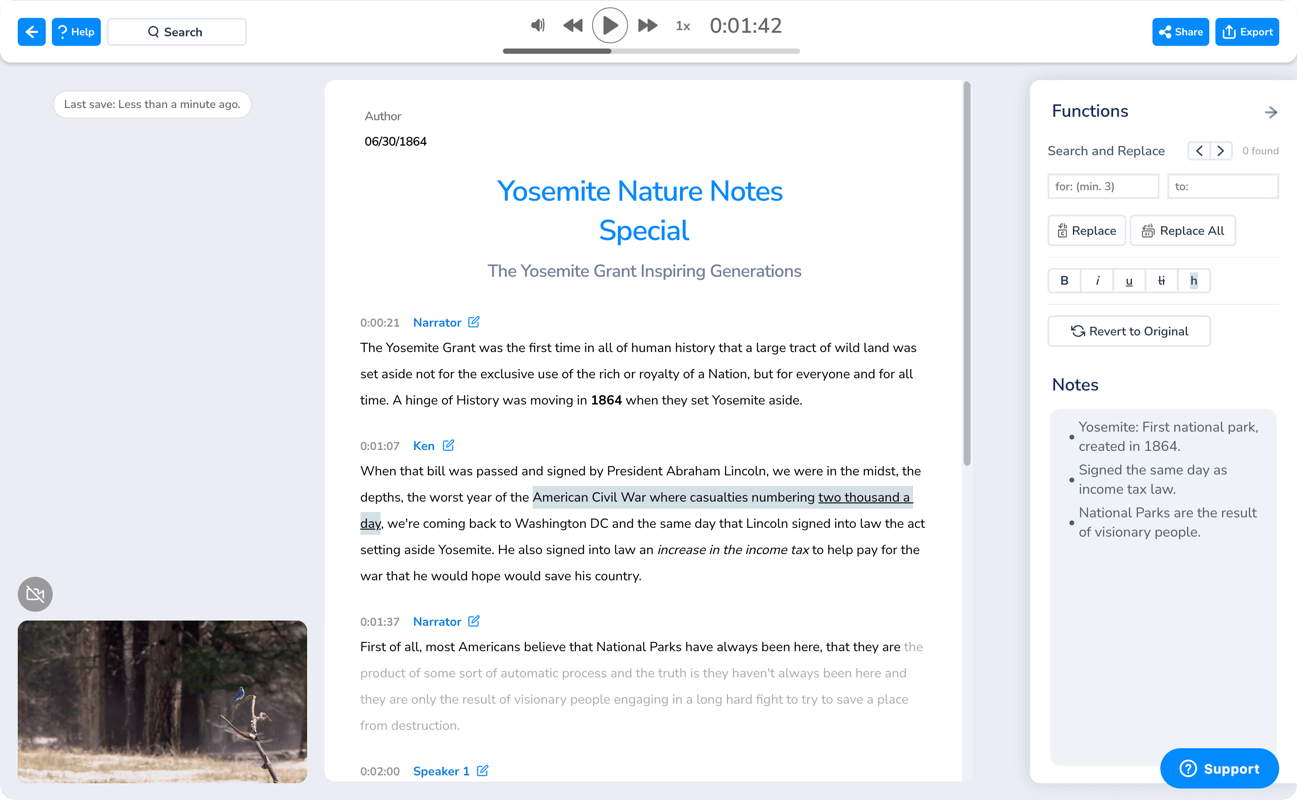 Brands using Maestra: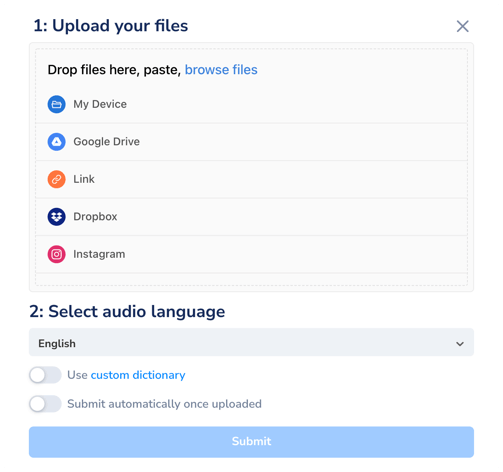 1

Upload audio files

Every part of the process, from the translation to the exporting is done on Maestra's online tool. After you sign in to your account, drag the audio file into the upload section or choose it from your directory to start the automatic transcription. Maestra supports all the file formats to transcribe from audio to text.

Maestra supports all the file formats to transcribe from audio to text.
2

Transcribe audio automatically

When you upload the file into Maestra's online client, automatic audio to text transcription will begin. Then, you will have the transcription ready in just a few minutes. Spend no time transcribing and focus on perfecting your content.
3

Check and Export

Maestra allows you to work with all popular audio formats. After making adjustments with Maestra's advanced editor, you can export the transcription file in PDF, DOCX word document or TXT format, as well as various other subtitle formats including but not limited to VTT or SRT files.
Why Use Maestra for Online Audio Transcription
Instead of spending hours of your day hand typing your files, or wasting money on hiring manual transcription services, you can use Maestra to affordably and automatically transcribe audio file in just minutes.
Interactive Text Editor
Transcribe recordings to text then proofread and adjust your automatically created transcripts using our friendly and easy-to-use text editor. Maestra has a very high accuracy rate, but if there are some words that need to be fixed, you can easily fix them here.
Export in Word (DOCX), PDF, TXT, SRT, VTT, MaestraCloud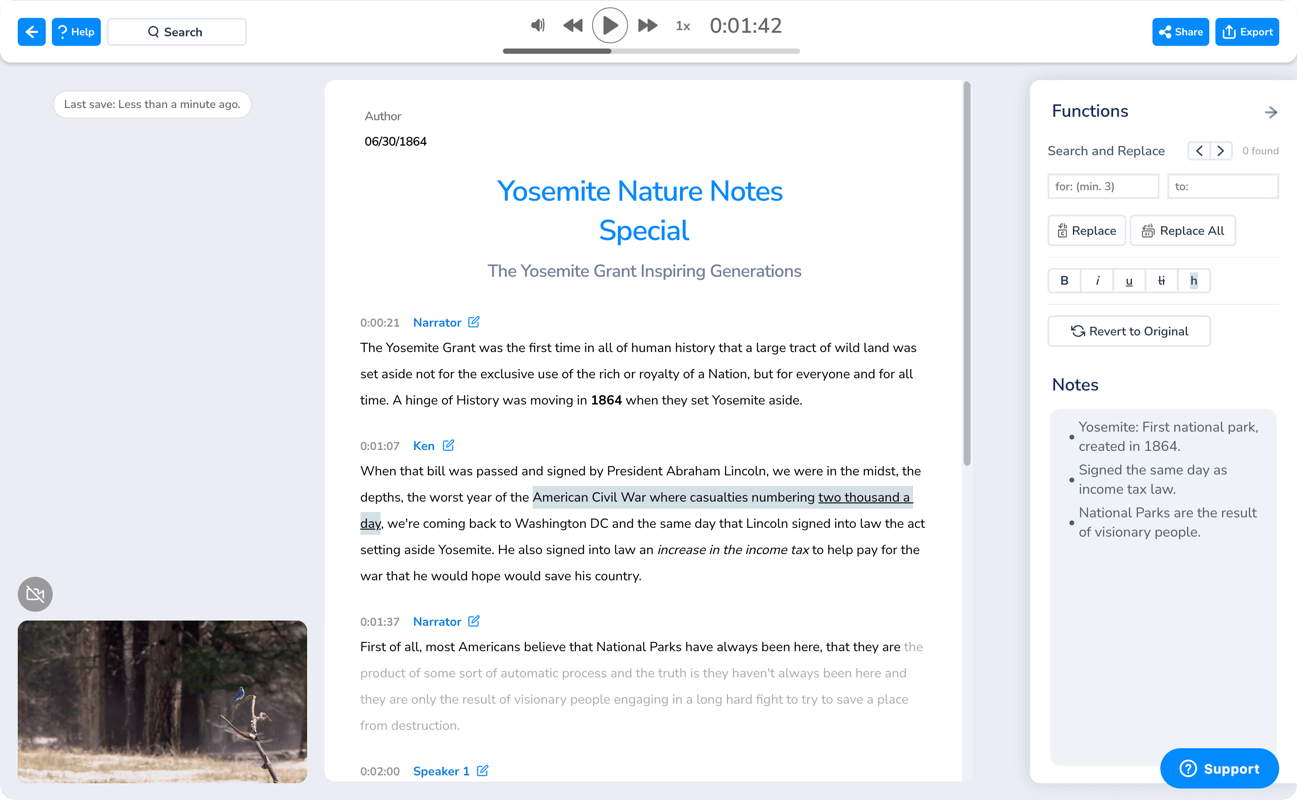 Maestra Teams
Create Team-based channels with view and edit level permissions for your entire team & company. Collaborate and edit shared files with your colleagues in real-time.
Maestra Cloud
Maestra will transcribe audio to text in just a few minutes using industry-leading speech to text conversion technology.
Share your transcripts online with MaestraCloud, just by sharing a dedicated link like this one.
Collaborate and edit the subtitle file
Maestra's subtitle maker allows you to edit and share the auto generated subtitles in a collaborative environment.
Maestra's audio to text converter can provide many benefits. But when it comes to having greater accessibility, being able to Automatically Generate Captions goes a long way in improving your content. Not only are you able to improve your accessibility, but the overall comprehensibility of the content is increased.
After transcribing audio file or audio recording, adding subtitles is just as easy as using our other services. Maestra offers various fonts, font sizes, and colors, and many other additional custom caption styling tools.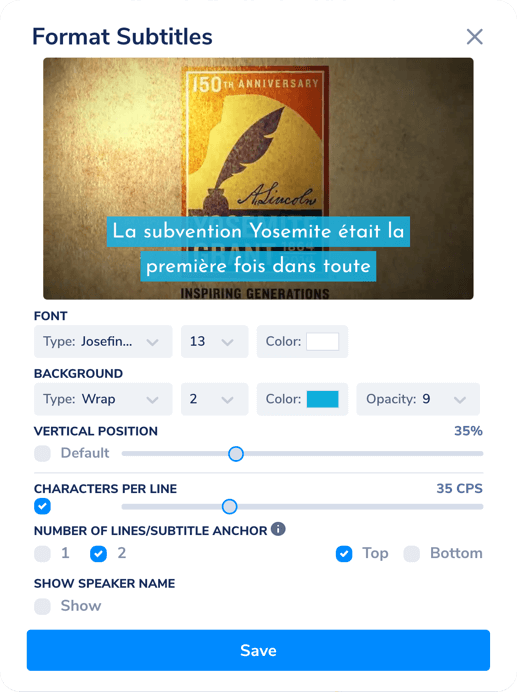 Custom Dictionary
Include commonly miss-transcribed or use-case specific terms in the custom dictionary to increases the chances that Maestra speech recognition engine will transcribe these phrases as they were put into the dictionary. Transcription accuracy can be substantially increased by the use of custom dictionary if the audio content includes lots of technical terminology.
Time-Saving
Taking advantage of the time-saving aspect of audio to text conversion can prove many benefits to businesses or individuals. Content creation comes down to perfecting the context of your files and this requires time. Saving valuable time by transcribing an audio or a video file with Maestra's text converter only takes a few minutes, allowing you to focus on perfecting the content. If you happen to have Grammarly extension you can make use of the auto correct inside Maestra transcript editor.
Speech to text in
80+ Languages
Secure
The process is completely automated. Your transcription and audio files are encrypted at rest and in transit and cannot be accessed by anyone else unless you authorize. Once you delete a file, all data including audio files and transcriptions will be instantly deleted. Check our security page for more!
Multi-Channel Uploading
Upload your audio files by pasting in a link to your browser or uploading from your device, Drive, Dropbox, or Instagram.
Transcribe and Translate
On top of transcribing audio to text you can also translate the text into another preferred language. Automatic translation has come a long way, so translate the transcript into a foreign language, and you will be satisfied with the result. With Maestra, it is possible to create translations in more than 80 languages. The translation process is incredibly swift and time-efficient.
Transcribe Podcasts
A podcast is one of the more popular forms of content due to its simplicity. All you need is a device that records audio, an internet connection and an idea to talk about.
Every content creator doubts their content when they do not see the numbers they imagined. However, the language barrier is a real deal-breaker when it comes to accessibility. Having the transcripts of your podcast can help the hard-hearing viewers and translating the transcript of recordings can help break the language barrier to have access to a global audience.
Audio Recording Transcription
There are many reasons you might want to use a transcription tool to auto transcribe your recordings. Maybe you are a professor who would like to offer their lectures to a global audience. Or you need to transcribe speech for a business or to share. Convert audio files with a click and share what you have with the world.
Maestra's online tool will help you transcribe audio to text in minutes, you can focus on the transcript to improve the text transcription, and use all Maestra capabilities to get access to a wider audience.
Transcribe Audio Files with Accuracy
When using audio to text converter, multiple aspects are significant when it comes to accuracy. Having multiple speakers is not a problem when you are transcribing audio files with Maestra. Even if the audio quality is poor, Maestra will deliver sufficient accuracy and a minimal amount of time will be required to make changes. It is incredibly simple to edit and achieve the outcome your business demands.
Speaker Diarization
Industry-leading speech to text converter allows users to convert speech with professional accuracy even if there are multiple speakers in the audio file. It is extremely simple to convert audio to text automatically using Maestra's audio auto transcription software.
Punctuation Included
Your automatically generated audio will include punctuation such as commas and periods, helping you save even more time with Maestra's automatic transcription software.
Frequently Asked Questions
Is it possible to transcribe videos?
Yes! With Maestra, transcribing videos is just as easy as transcribing audio to text. Transcribe speech, phone calls, lectures, podcasts and any content in audio or video form in minutes!
How can I edit the text file?
Maestra's advanced editor has many features. After you convert audio to text; various tools like batch replace, commenting can be utilized in order to edit the text.
Can I upload in any format?
Maestra will be able to process most of the widely known audio file formats such as MP3, WAV or many. Our servers will re-encode all audio files before the transcription process.
Where can I upload from?
Upload your audio file from the directory of your computer, Google Drive, Dropbox, YouTube or public link of the file.
Is there a free trial?
Yes! Maestra offers a minute of free transcription. This could be useful for users who need a short transcription or want to try Maestra out!
Customer Reviews
What people are saying about Maestra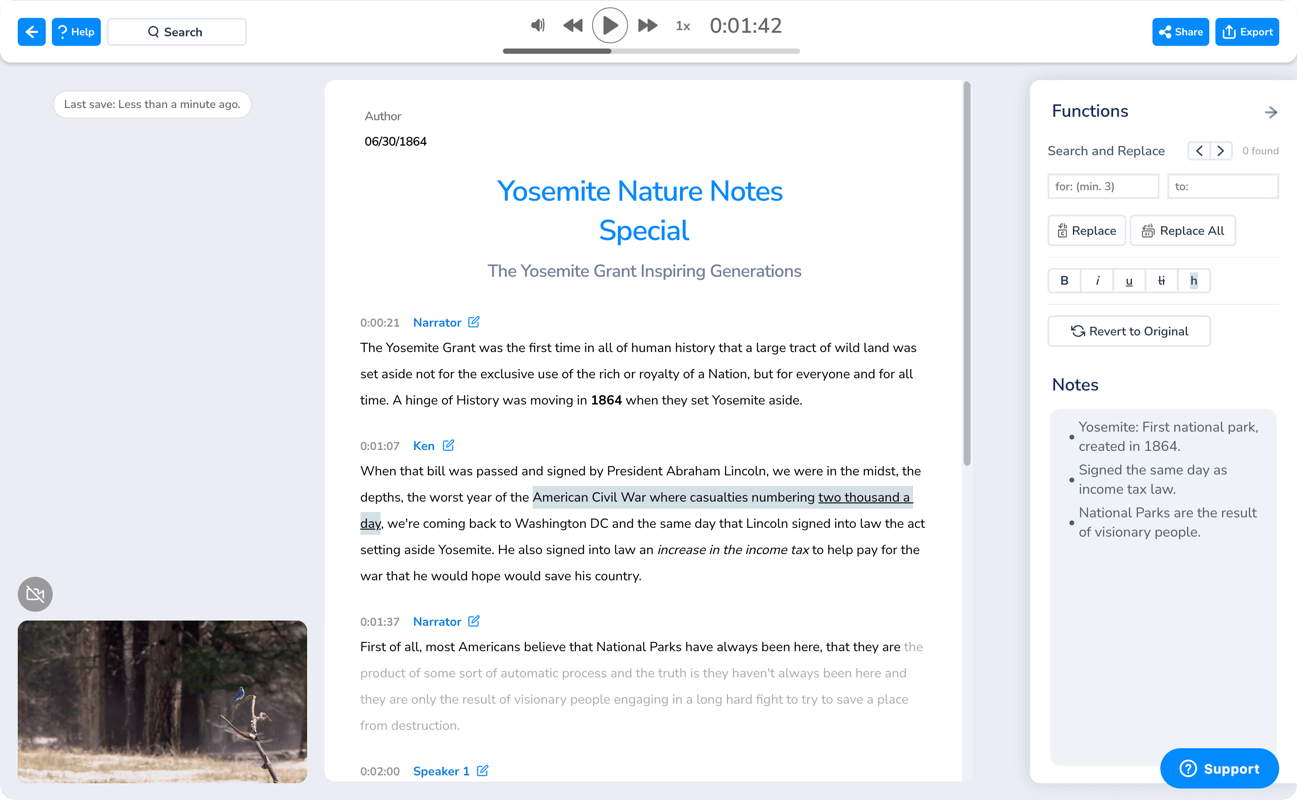 Register
Start using Maestra's audio transcription software today.
Sign up for Maestra today, so you can easily transcribe audio file to text. Maestra was built to enable you to transcribe audio file automatically.
Perfect for Educators, Researchers, Marketers, Lecturers, Journalists, Media companies, and You!