10 Best Fonts for Subtitles and Closed Captioning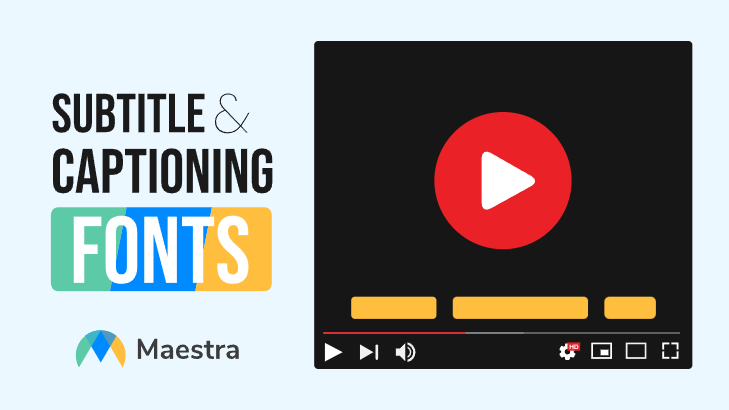 Readability is crucial. After all, the purpose of adding subtitles is to allow your viewers to understand what's happening in your video.
Selecting a font from all the choices out there can be a complicated process. Keeping various factors in mind, we have prepared a list of the top 10 advantageous fonts for subtitles and closed captioning that offer maximum readability. These fonts are the first choices of some of the biggest companies, like Netflix, YouTube, Amazon Prime, and more.
Keep scrolling to find out which font is right for you!
Top 10 Fonts For Subtitles and Closed Captioning in 2022
1. Arial
Arial is an immensely popular font that is highly suitable for closed captioning. This font offers a clear view of its robust design with a simple shape. Symbols play a significant role with subtitles and captioning to indicate the scene going on the screen, and Arial takes the best care of it.
Arial is a simple, contemporary, and safe font to try out with subtitles. It does not appear flashy or distracting and can be easily recognized. It is a good and reliable font used for almost everything, from printed books to web design.
Arial is used on about 650 thousand of the top million websites. You can calculate its demand and credibility from that.
PROS
Supports symbol and characters
Clear and simple presentation
High readability
CONS
Basic
Little bulky when working with longer sentences
Download Arial font here
2. Roboto
Roboto is another widely used font and is suitable for functioning in every device or screen size. It has a bold look, which makes many creators prefer it over others for captions and subtitles.
It is a modern and unique font. It is considered to be a mix of different font styles. It is a good fit for various types of writings. It has a rounded, clean texture with a geometric design.
Roboto has reliable and high readability. Its clear and bold appearance makes it easier for users to understand the written words. Roboto is the default font used by YouTube for subtitles.
PROS
Clear and straight design
Extremely readable shape
Thorough family font
Elegant contrast
CONS
Overused
Some consider it a boring font
Not as easy to read as other fonts
Limited usage of large text, such as in headings
Download Roboto font here
3. Cinecav
Cinecav font has a great balance of monospace and proportional space needed for subtitles and closed captions. These fonts are appealing in terms of readability and elegance.
Cinecav font style is condensed to keep the font readable and easy to understand. It has a friendly appeal, but at the same time, it is not exactly a casual font.
They have always been in demand among the DTV platforms because of their precise structure. Cinecav also includes options like italics and supports characters of various languages along with the symbols.
PROS
Highly readable
Support symbols and characters of various languages
Includes monospaced and proportionally spaced options
Cinecav typeface also includes italics
CONS
Issues can occur with bad quality sets
Does not go well with ALL CAPS
Download Cinecav font here
4. Antique Olive
Antique Olive is a font that has gained some reputation for its uses on the big screen. This font has a clear and rounded structure that helps with readability, making it suitable for subtitles and closed captions.
It is considered subtle, stylish, and highly efficient. It was designed specifically for new televisions. It is also included for use in UI menus and program guides.
This typeface is available with Adobe fonts. It was designed in 1962 and has been in the game since then. Antique olive goes well with dark background colors like black.
PROS
Popular in the big screen world
An appealing clear and round structure
Easily readable
CONS
Does not go well with all background colors
Download Antique Olive font here
5. Tiresias infofont
You probably are already familiar with this typeface as it is used by some of the biggest brands like BBC for subtitles. It comes with six styles and designs, and all of them are incredibly readable and easily understandable.
It is a popular font and is easy to work with. Its characters can be set tight even without compromising legibility or quality. It has still managed to find a place in advertising, although it is not commonly used in books or places with lengthy text copy.
On top of that: this font is available to use for free.
PROS
Available with six styles
Available for free
Extremely easy to read
CONS
Confusing characters
Download Tiresias Infofont font here
6. Lucida Grande
Another font for subtitles and closed captions that has gained success is Lucida Grande. This humanist typeface offers a clean and straightforward sans serif that makes it highly readable. It is the default choice for many of the big companies.
Its letters have a clean and simple design, which gives it a sleek appearance. It is easy to work with their characters and maintain readability.
Lucida Grande also supports symbols and characters and is highly compatible with foreign languages.
PROS
Simple, spacious, and clear format
Easy to read and understand
Compatible with different characters and symbols
Fits in smaller spaces
Download Lucida Grande font here
7. STIXGeneral
Termed as one of the best typefaces, STIXGeneral is a highly compatible choice for subtitles and closed captions. It is mostly used in documentaries and other journalism-related content.
It's a typeface that uses serifs and helps in connecting the letters. It makes reading easier. Its quality is beneficial in the short lines of newspaper columns as it offers space for more text.
Unlike the other options, STIXGeneral offers a fancy sans serif that goes well with many projects. Plus, it works well with almost any background colour.
PROS
Fancy structure
Goes well with different background colors
Easy to read
CONS
Some users may find it too fancy to read
Download STIXGeneral font here
8. Helvetica Neue
Helvetica Neue is such a popular font that it even has a documentary based on it. It gives a bold and clear look along with the perfect balance of light and contrast. Helvetica Neue is also functional with characters and symbols.
It is ideal for large headlines, ads, posters, and even logos and letterings. The font's characters and distinctive quality makes it easy to work with and gives it a unique style.
It comes with various patterns and styles, such as bold, italic, thin italic, etc. It can be regarded as an extremely safe font that won't let your views down.
PROS
Bold and clear structure
A perfect mixture of light and contrast
Available with different patterns and style
CONS
Low in legibility
Characters can be confusing
Download Helvetica Neue font here
9. Futura
Futura is a sans serif that gives tough competition to others, especially in terms of flexibility. From entertainment to journalism, this typeface can be used in almost any situation.
It also works well in small spaces and different background colors. This font's readability and visibility for captions and subtitles are unbeatable with its bold and clear design.
PROS
Highly readable
Flexible
Works with small and sensitive environments
Available with different styles in versions
CONS
Mishmash style of this font
It can turn off site visitors if it is used too frequently.
Download Futura font here
10. Times New Roman
The last but not the least item on this list of fonts is the Times, New Roman. If you are looking for a simple but straightforward and bold font style, this font might work for you.
It has been used for sans serif designs and is issued in different weights and widths. It has many unique features and possesses the right height and stroke variations. It is different from the pure linear sans serif typefaces.
It is a widespread type and is considered a default setting for many big companies. Its readability, legibility, text layout are all impressive.
PROS
The simple and bold structure
Highly readable
Most suitable to be used in documents
CONS
Not much styling available
Download Times New Roman font here
Some Final Words
These are some of the popular fonts that you can look out for when subtitling and captioning your videos. All of these are highly reliable and readable with different uniqueness and areas of sustainability.
Viewers want easy-to-read subtitles, and choosing the right font will help you maintain your viewership.
You can easily add subtitles to videos using Maestra and use these fonts as you export your videos.