15 Amazing Ways to Promote Short Films in 2022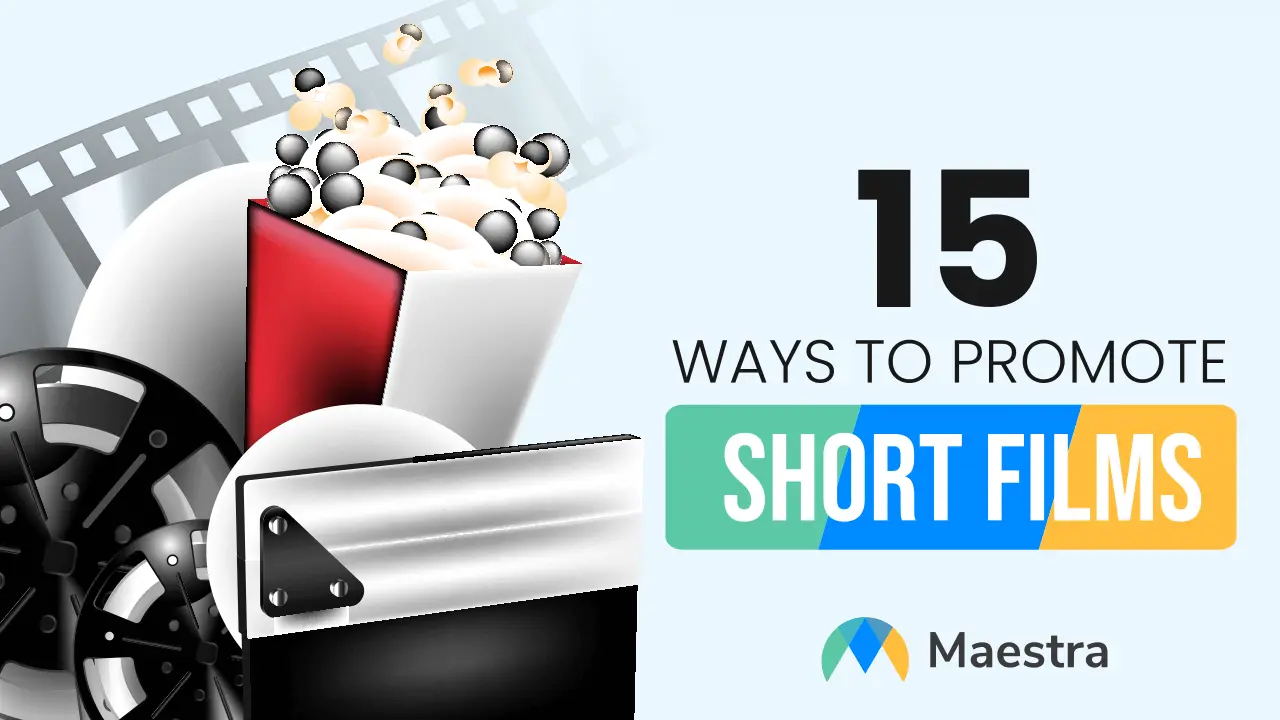 Have you made an incredible short film that you're ready to show to the world? If yes, then here are 15 ways you can promote short films to reach a targeted or global audience.
1. Caption and Subtitle Your Short Film
The best way to make your content more visible and understandable to the international audience is to add subtitles. Adding subtitles makes your content comprehensive and engaging, and allows global viewers to easily consume your content.
Adding subtitles to your trailer will also help captivate your audience. Subtitling makes your message clear and allows your content to be accessible to a broad audience.
If your goal is to reach a global audience, subtitling is the way to go. It will help your audience understand your characters' language while improving their average watch time and making your films easier to share across the globe.
2. Create A Website To Promote Short Film
While making and promoting a short film, it's always good to have a place to send your viewers important information about your film. A place where you can display the plot, cast, crew members, storyline, release date, etc. is an excellent way to promote your short film.
You don't have to make a flashy, jazzy website. A simple, concise design will do. The aim is to work on the website's design and color scheme to represent the short film and its theme.
The more you put in the website's efforts, the more your audience will be attracted to watching your movie.
3. Social Networking
Where do you get to know about the famous shows or movies released recently? Mostly on social media! Always create a social media presence for your short film. An Instagram page, a Facebook page, a Twitter page, and promotions on your account would help you reach many people. Post-IGTV videos, Instagram stories, tweets, or anything that seems right!
The point of taking this route is to make people aware of what's to be expected of your short film. One of the most efficient ways is to hold contests and giveaways to attract larger audiences. You can increase your viewership drastically by holding contests related to your short film.
4. Use Teasers To Spark Interest
A head-scratching, mysterious, strong, crisp, and precise teaser is all that a short film takes to spark people's interest. Your teaser should make a person grow curious about the entire movie or short film.
A good teaser should leave people wanting more. Lead them to your social media pages and give them valuable updates.
5. Create An Excellent Video Space For Your Short Film
The connection is the key! You cannot create an appeal in the audience unless they connect with you or relate to you. Include the whole cast and crew, and let them connect to the audience individually. An individual fan base of all of them will create a bigger audience for the short film, and they will also benefit individually.
You can use any video platform like YouTube or Vimeo to create vlogs, short clips, and parodies around your short film to attract more pre and post-production viewers. Behind the scenes, sneak peeks, and bloopers are something that can help you create extra content without any extra effort.
6. Interesting Trailer
After letting your teaser bring in all the audience that it can, it is time to show your viewers a little more. Always keep a gap between the teaser and the trailer and leave the people wanting more about what to expect from the actual short film.
7. Film Festivals & Other Events
Numerous sites and platforms will let you submit your short film to various film festivals. After your submission gets accepted, look for print columnists or movie bloggers who will attend that particular film festival. Contact them via email or whatever social media platform they are active on, and let them know about your short film.
If you cannot afford the submission fees, try a fundraiser for your creative endeavor. If you get in touch with any blogger/critic with a good reach online, do not forget to ask for an article or an interview that you can use for publicity.
8. Online Film Review Sites & YouTubers
This is not very different from submitting to film festivals. You have to focus on their criteria of submission and submit them around the right time. Look for competition, contemporary releases, their online presence, and reach.
It is always good to get your work seen, talked about, or written about. If not a professional movie blogger, try contacting amateur bloggers and getting in touch with people from the same industry. Give your film a strong voice through as many platforms as you can.
9. Capture Email Addresses
If you make a website, do not forget to capture the email addresses of your viewers. An RSS feed can be used for this, and your audience can receive updates about your short film as well.
By doing so, you will trace the number, type, and growth of your fan base. This can not only help you optimize your marketing strategy for the ongoing project, but it will also help you curate a set of guidelines for the marketing of your upcoming short films. Now imagine, your short film gets a lot of viewers in Singapore, then you can submit to the film festival occurring there! (Subtitling will help a lot here!)
10. Target The TV Cable Shows
A lot of TV shows feature new shows and short films. A listing of these TV shows is available online. You can choose the one that fits your genre and submit your short film to them.
11. Use YouTube
Publishing a small teaser on YouTube with proper optimization can get you traction and help you reach a wider audience quickly.
12. Paid Social Media Campaigns
Advertising on social media gets your brand instant attention. There are millions of posts on social media, and getting attention organically is tough. Ads are given a guaranteed place in the user's feed. So, paid campaigns can help your film promotions stand out & get noticed by the audience.
13. Guest Posting
Guest posting is a great way to spread the message about your film. It is one of the best online marketing strategies you can invest in to promote your movie.
It can also help to win the trust of your target audience. Consider contributing content to your favorite blogs related to your niche.
14. Contests & Giveaways
A contest or giveaway is the perfect way of promoting content across all your social media channels. It can increase your audience reach, views, and engagement. The number of entries into giveaways and contests can give a fair idea about your audience's reach.
15. Influencers
Influencer marketing is one of the best ways to quickly build your audience's trust in your film and raise awareness among your target audience.
People already know the influencers, so it can help in reaching a broad audience.