15 Beginner Tips For Growing Your Brand On YouTube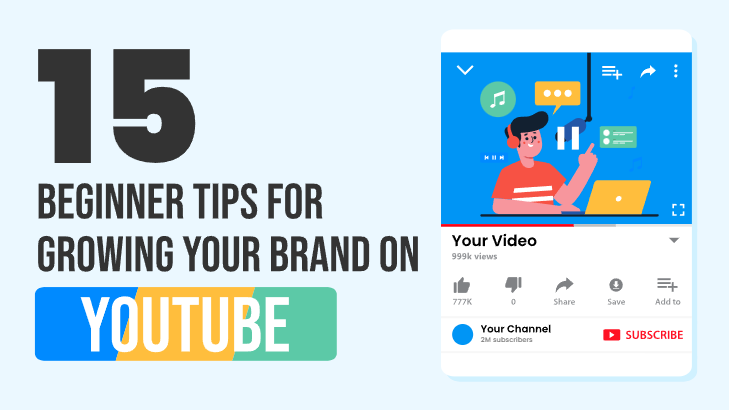 "Your eyes believe what your ears can't see." Today's marketing has turned into displaying what people would like to see, and that's what a strategy of the real marketer should be. One of the main platforms of choice for marketers is YouTube.
YouTube is an effective social media platform that is open to different content for every viewer of any age. That's what makes it one of the most appealing platforms on the internet.
Being accessible worldwide, YouTube makes it easy to stretch a brand towards its audience. With less investment and a massive space of creativity, YouTube stands alone to leave the brand's mark on the audience.
Here are some 15 beginner tips for growing your brand on YouTube:
1. Channel theme:
Sticking to a single theme is an essential part of running a YouTube Channel for a brand. A channel theme is a genre of the channel that conveys the viewers that these particular types of content are found only on this channel. It is a simple identity of the channel, which is essential to showcase the audience for their justification.
A channel's theme can be what the brand possesses in the market, or what differentiates the brand. For instance, a food brand channel sharing food recipes cannot jump on uploading a song video; this mistake can harm the channel & brand's name and lose credibility. In short, a channel's theme cannot be more than one genre. For better impressions and constant viewers, stick to a single theme.

2. Creative channel bio:
A channel's bio is a description of the brand that helps the new audience know its brand and theme. It is a form of an introduction that is put in front of the viewers. In simple words, it is the brand's first impression to attract the desired audience.
Every channel bio has a word limit; that's why creativity becomes its key to promoting your brand. For example, if a brand's theme is food and recipes, one can use food to describe their channel like "Welcome to my Spicy channel where your taste buds will tingle to crave the best. Your experience will turn into maple syrup and experiment into a perfect bowl of pasta. Hit like and bell icon if felt luscious after my every video".

3. Contender analysis:
Contender analysis or competitor analysis is crucial in making a brand more visible. YouTube is filled with channels similar to each other, yet each differs from one another. That is because those channels & brands know their market.
A smart marketer might ignore the competition, but a wise marketer never obscures it. Contender analysis helps to know the other competitor's strengths and weaknesses of the same field and helps make the brand's channel more creative, attractive, and a standalone brand. After a thorough competitor analysis, one can turn the competitor's weakness into strength and gain a higher hand.
Tools to use - vidIQ, TubeBuddy
4. Audience Research:
Audience research is an essential factor in promoting a brand and its channel after an in-depth contender analysis. Every channel or brand requires a fixed target audience, which helps them to concentrate on that particular crowd with ease.
Especially in video marketing, it is mandatory to determine a particular crowd to provide better content and services. E.g., a music channel cannot attract the gaming channel audience. This sudden change in the audience can make the brand lose its co-existing subscribers and decline.
Did you know - YouTube has 2 billion logged-in monthly users & nearly 80% of YouTube users come from outside the US.
5. Content:
YouTube is a video marketing platform that solely depends upon unique content. YouTube has numerous videos in the account, many being a mirror image of each other, but only a few contents are praised due to their uniqueness and creativity.
More than being unique, content needs to be suitable for the audience with the channel theme. Any content that hurts the viewer's feelings can witness a decline in the viewership. One strong content can make the brand famous and recognizable. The power of the content is the secret to attract more audience.
Tip - Choose the content you can develop and create regularly and find ways to streamline your production workflow. How you retain viewers depends on your content. Like, if a video features a project of any kind, show the result first. People become more interested to see how you achieved the results.
6. Title & Description
A Title is not just a video description, but it also works as a keyword that helps the video rank first on the YouTube search. YouTube's algorithm is similar to Google. Both work on SEO marketing terms.
SEO or search engine optimization, is a process of ranking a particular content with the help of keywords that are highly searched by the audience. The title of the YouTube video runs on the same algorithm. To make the video rank first in the search and increase its viewership, a unique "searched for the title" is essential.
A unique title may differ the video from other channels, but it should be similar to other uploaded videos of your brand. This helps in maintaining the brand identity & style along with conveying the message.
Here's a Tip - A lengthy title can cause people to lose interest. Instead, make your opening title short and crisp. Titles that create a sense of suspense, excitement, confusion trigger the most clicks on YouTube.

7. The description:
The description is the open playground that a good number of YouTube channels fail to invest their time in. It allows your audience to access interactive elements from the video & lets the search engines learn more about the video to rank it for relevant search terms.
You can use this space to include long texts about your paragraph or even jot down a story to make the about section exciting.
Here's a Tip - You can use an online transcription tool called Maestra to create a good transcription of your videos in minutes & add it to your video description for 2x better rankings on YouTube.
8. Thumbnail:
A Thumbnail is a front image of the video that helps that video look appealing and to the point. It works as a poster for the video, which appears when a user searches for a particular video.
A creative and exciting thumbnail intrigues viewers to click on the video. The proper use of the thumbnail can grant maximum clicks without promotion.
Make the thumbnail relevant to the video's title and content. Your video thumbnail needs to stand out when it's suggested to viewers on YouTube. Moreover, if your video attracts clicks as a suggested video, its overall clickability will likely increase.
9. Video Length
Psychologically proven, a normal human being can concentrate on a thing for not more than 2-3 minutes. That is why a video on the channel mustn't be more than 3 to 4 minutes.
YouTube doesn't bound your video in limits, but we need to know how much a person can grasp it. A short creative video is more addressed than 10min long-running videos.
The right length for a video is just long enough to get all of the information across without unnecessarily stretching your video. Don't make a video longer just for the sake of making it longer because you can lose subscribers that way.
10. Audience interaction:
The audience is the real reason for the fame and credibility of the brand. That is why it is necessary to keep them entertained and excited to stabilize the brand's channel views and subscribers. Interaction with the Audience makes them feel unique and valued.
The brand should encourage the audience by interacting with them in the comment sections, live chat, and adding a small outro after every video to like and share the video and subscribe to it.
11. Appearance:
"The first impression is your last impression" might have heard about it. This phrase not just suits humans but also the brand and the channel. A channel's appearance is its true professionalism.
A channel's look and act on the internet become its signs of professionalism. A good theme, proper use of colors, fonts, logo, better picture quality, right words, robust strategy, frequency in the uploading are all the signs of a brand being professional and successful. A brand's net appearance can differ from its real appearance.
When all content on your channel has a consistent look, people will recognize your videos at a glance. Craft elements or designs that make your channel stand out and be instantly recognizable and stick with your thumbnails' style. Consistency in channel appearance is powerful because it teaches people to look for that familiar element in your content.
12. Channel phiz:
Every brand needs to have a face of recognition. A face for a channel works as an ambassador for the brand. It is a source of identification and popularity. Channel phiz is nothing but the face of the brand.
A YouTube channel is not impactful with a logo as impactful as it is with the face of recognition. That is why it's necessary to give a face to the brand for a better approach.
13. Giveaways:
A channel's viewers are its real cachet, so it's necessary to keep them engaged and happy. Giveaways are the perfect way to show gratitude towards the subscribers and make them share, like, or subscribe to your brand's channel through it.
This makes the subscribers feel special and encourages them to bring more visitors to the brand. A giveaway should be suitable and relatable to the brand. For example, a food channel can give away knife sets. A gaming channel can give away free points or controllers and so on.
14. Engagement:
Engagement is another way of keeping the audience busy and entertained. This helps the audience feel wanted and can lead to being the brand's favorable soon.
A loyal audience is more important than daily visitors. Small contests and prizes can keep them engaged and gratified.
15. Collaboration:
Tie-ups and collaboration are the most effective way to promote the brand and increase the audience number on the channel. Collaboration helps brands to reach a new set of audience and increase the chances of being more popular.
A tie-up should be done only with brands that are either, same in many subscribers or more. This increases the chance of the channel being more recognized because of each other.
YouTube is a platform where people love to collaborate, so if you find a channel that has a similar niche, you could potentially reach out and see if you can work on collaborating with them.
16. Performing SEO on videos :
It is essential to optimize the videos so that YouTube can index and rank them for appropriate keywords. It also allows the audience to find the videos easily. Many YouTubers shoot great videos, but they have difficulty in making their content rank on YouTube.
Explain exactly what your video is about and get keywords in the title. Tell both YouTube and viewers what your video is about. Write a search engine-friendly description.
Use tags in the best possible manner. Tags also help in ranking. They act as keywords that will help people find your video.
17. Audio quality :
Bad audio can completely ruin a video. Be mindful of audio anytime you're shooting somewhere windy so that your footage doesn't go to waste. Use a proper microphone that can record well. If the audience can't figure out what is being said, it can affect channel growth.
Chances are if your YouTube videos are hard to understand because of low audio quality, you'll lose viewers and minimize your chances of increased subscriber counts.
There is a good deal of software available for editing audio and improving it. YouTube allows users to access a library of royalty-free music & sounds made by real people. This helps in selecting clips directly and add it to the project you are working on.
18. Multi-channel marketing :
It's necessary to understand the target audience and how they interact across different platforms to reach them with relevant content and get more traffic effectively.
Multi-channel video marketing is an online video distribution tactic that you should be using. It will help if you do not overlook the power of multi-channel marketing. If you are looking to reach more people with your video, go where more people can be reached.
So, share your videos across various platforms. YouTube videos can be shared across 13 different social media platforms. If you want to get more views on your videos, upload them, and then share them as much as possible. Doing so will generate more traffic and views on the channel.
19. Engage with other channels:
YouTube is a very community-driven platform. Find channels you like and leave a comment – but don't put spam comments. Take a genuine interest in other channels and the content they are producing, and others will take an interest in your channel too. This will go a long way in increasing your engagement.
20. Use simple editing software like Filmora or iMovie:
To create and edit YouTube videos, you'll need the right tools. It's probably best to keep it simple if you are starting and have no prior editing experience. If anyone wants to make the video made by them look appealing and unique, video editing software can be used.
There are many free and paid video editing software available for beginners and professionals, which allow the user to import videos, pictures, and audio files from their devices, like Filmora & iMovie.
They have all the features required to enhance videos. It enables the user to adjust the aspect ratio, hue, brightness, speed, saturation, contrast, etc.
21. Having a good strategy:
A good video creation strategy and marketing strategy is essential to draw people to your channel organically with content marketing and video SEO. When done correctly, these strategies can convert viewers into qualified leads.
By strategizing your content across multiple platforms and devices, you'll see a higher engagement rate from your consumers. It can increase consumer engagement and conversion rates. A good strategy will put the right content in front of the right people in the right places.
22. Posting regularly:
Consistency and regularity in the content are essential. YouTube channels that post more than once a week are performing much better and getting more recommended views. If possible, post a video to YouTube three or more times per week, especially if you're starting and building an audience.
Keeping a regular schedule with multiple posts per week can quickly raise your channel in the algorithm. Regular video uploads at familiar times are what bring people back for more. Creating a ton of content at the beginning on similar topics will help your channel perform well in the algorithm and develop a library of content that will usher viewers from one video to another, boosting your watch time and giving them a reason to subscribe.
23. Understanding the audience:
If you keep track of how your viewers are engaging with your content, you'll have a lot of useful databases filled with information on how to target your audience in a better way.
You can get insights into how much of the engagement was on mobile compared to desktop, segment your audience based on their media preferences and interests, and adjust your media plan to optimize further success.
24. Storytelling :
When you start your video with an intriguing story, people will naturally want to stick around to see what happens. People also like to hear personal stories.
Many YouTubers start their videos with a fascinating story or idea that leads to the subject matter.
It's necessary to retain the viewer's interest until the end of the video. This can be achieved if the viewers relate directly to the subject matter. Make the viewer wonder what happens next, or what happened before. Do not talk more about off-topic stuff. The audience might leave the video halfway through if they lose interest.
25. Creating a playlist :
Nowadays, people enjoy binge-watching. This also increases watch time for content creators.
Playlists are one of the best ways to do this, and yet are an underutilized tool on YouTube. You can develop a series based on content that has performed well. YouTubers have started focusing more on creating playlists, each focusing on a particular topic.
As you post videos, you can add them to a playlist. When you use the playlist option, YouTube will automatically add the next video in the playlist to the Up Next section at the top of the recommendations. And if a viewer has autoplay turned on, the videos in your series playlist will play one after another. This will significantly increase the watch time of your channel.
Conclusion
If your brand is new to YouTube or the Internet world, then these essential tips can help the brand create its place on YouTube. A brand's real credibility is its viewers.
A trustworthy brand is the one that uploads what the customers want and not what the brand desires. YouTube has a high tendency to make a local brand global. Being sensitive and careful with it can work in favor of the brand. These essential tips can help a brand grow and branch out.