10 Free Podcast Hosting Platforms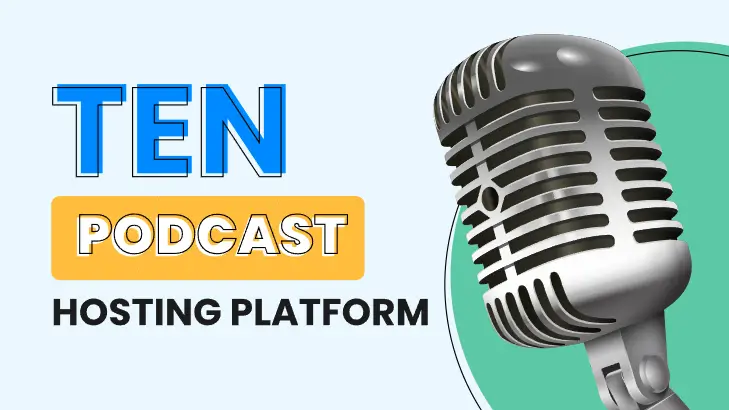 Content creators are constantly looking for new ways to grab their audience's attention, which has contributed greatly to podcast's popularity. This form of content gives viewers the option to listen to their content at their convenience.
Podcast recordings are uploaded to popular media platforms and can be downloaded or played at any time. New podcast companies are ballooning up to cater to podcast's growing use by media companies, corporations, and individuals. In this blog, we will guide you on how to start your podcast and where to upload it, including the top 10 free hosting platforms for podcasts.
What is a Podcast?
A Podcast is a series of audio files related to a specific topic released periodically. The audience interested in the topic can subscribe to the related podcast and download episodes to listen to at leisure. The main benefit of podcasts is the flexibility they offer to audiences, allowing the audience to choose the time and place to listen.
Audiences can select the topics they want to talk about according to their interests. Depending upon audience preferences, content creators can decide the frequency of the podcasts ranging from daily to monthly. Content creators can also divide the podcasts into parts to release them in season format. Most podcasters release weekly episodes; however, you can keep the conversation ongoing as per their topic.
As a beginner, you will need equipment like microphones, headphones, audio interface, mixers, pop filter, windscreen, and shock mounts to record your podcasts. Once recorded, you can use editing software to fine-tune your podcast and a hosting platform to make your podcast available for your audience.
What is a Podcast Hosting Platform?
Podcasts are a series of audio files, and like any other form of content, they should be easily available for listening and downloading to gain traction. Podcast Hosting Platforms provide file storage space to upload files in one place on the internet. The setup includes a space for hosting .mp3 files, supports easy file download, and generates the RSS feed for podcast. Some of the hosting platforms also have additional features such as listeners' analytics reports, marketing tools, social sharing buttons, streaming compliance, unlimited bandwidth, and 24/7 technical support.
To start with, podcasters must choose the hosting platform that offers features matching their needs. The focus should be distribution tools, analytics, and offering the best listening experience to their audiences. You may also consider any specific needs based on branding, aesthetics, and embedding characteristics.
List of Top 10 Free Podcast Hosting Platforms
Most Podcast Hosting Platforms offer a trial for a limited duration, but some are available for free with limited functionality. We have compiled a list of top 10 free podcast hosting platforms to help you start your journey as a podcaster:
Buzzsprout
Started in 2009 as a community of podcasters, Buzzsprout boasts of being used by some of the most famous podcasters worldwide. The platform is popular and it is easy to use for beginners. It is loaded with auto-optimization of files, social sharing buttons, skip controls, and automatic listing to several podcast directories. They offer a free plan allowing you to upload 2 hours of content each month, which is hosted for 90 days.
Pros –
Good customer support

Attractive user interface

Focuses more on streamlining features
Cons –
Complex for beginners

Advanced analytics
SoundCloud
Introduced in 2008, SoundCloud has grown to be the world's largest music and audio hosting site. It is primarily focused on music, so there aren't many "out of the box" features, but they do offer public stats, schedule releases, and allow you to pin podcasts to your profile with their pro version. To start with, you can upload 3 hours of content per month by registering for a free account with them to get the necessary reports.
Pros –
Provides instant feedback to content creators

Cheaper than other platforms
Cons –
Limited upload time for free users
Libsyn
Launched in 2004, Libsyn was one of the earliest podcast hosting platforms. They offer end-to-end services along with options to monetize the podcasts. You can use services like 50MB to 1500MB of monthly storage, listener analytics reports, RSS link generation, etc. for as low as $5 per month. Popular among media companies, they offer a range of pro services from $15 to $150 per month.
Pros –
Offers many tools

Good customer support

Simple interface
Cons –
Doesn't offer unlimited storage
Podbean
Podbean has been ruling the industry as one of the best podcast hosting platforms for more than ten years. Podbean is loaded with an intuitive interface, unlimited hosting, podcast scheduling, mobile publishing, promotion tools, and domain integration. Their free plan allows only 100 GB bandwidth for uploading 5 hours of content per month, with basic listener statistics.
Pros –
Unlimited hosting

Personalized site

Good user interface
Cons –
Expensive

Poor customer service
Spreaker
Launched in 2010 as a mobile-based podcasting platform, Spreaker offers a live podcasting feature that allows you to interact with your audience. The free version offers basic features, including multiple podcast hosting with audio storage for 5 hours and live podcasting up to 15 minutes.
Pros –
Easy to share content

Allows live broadcasting

Allows interaction with your audience
Cons –
Poor customer service

Canceling subscriptions isn't easy.
Simplecast
Offering six years of expertise in hosting podcasts, Simplecast is one of the most influential and easy-to-use platforms. It is packed with unlimited storage, one-click publishing, seamless sharing on social media, advanced analytics tools, and a customizable site. Their 14-day free trial is available for all their paid versions ranging from $13.50 to $85.
Pros –
Easy to use

Good user interface
Cons –
Doesn't offer free services.
Transistor
Founded in 2014, Transistor is a professional and feature-rich hosting platform. They offer unlimited podcasts, multiple participants, advanced analytics, domain customization, and multi-platform distribution. These powerful and intuitive tools make the platform apt for all, including beginners and big brands. Their monthly plans start at $19 and go up to $99 with a free trial of 14 days.
Pros –
Easy distribution of podcasts

Easy to use

Good customer service
Cons –
Captivate
Captivate is among the latest entrants in the industry. It has all key features built by podcasters such as customizable players, advanced analytics, integrated website, built-in CTA, and an intuitive dashboard to engage and grow your audience. You can enjoy all features in their plans starting from $17 to $90 with a limit on monthly downloads. A 7-day free trial will help you choose the best plan for your podcast.
Pros –
Good user interface

Offers many powerful features
Cons –
Audioboom:
Audioboom helps you host and monetize your podcasts by connecting you to advertisers. They offer unlimited hosting, automatic distribution to directories, live stream collaborations, embeddable players, and advanced analytics. Their plans for beginners start at $9.99 per month.
Pros –
Easy to use

Minimal interface
Cons –
Blubrry
Renowned for its flexibility, Blubrry is among the best platforms to monetize your podcasts. They offer easy integration with WordPress through their PowerPress plugin, unlimited hosting, detailed statistics, and multi-channel distribution. Their changes range between $12 to $80 per month, depending on your need for storage space.
Pros –
Powerful features

Good interface
Cons –
Takeaway:
Podcasts are a great way to engage your audience and build long-term relationships with them. They are also an excellent way for sponsors to reach out to niche target markets and advertise themselves with low drop-off rates.
You can collaborate with sponsors and quickly monetize your podcasts while growing your audience. Start your podcasting journey today!