How To Voice-Over Videos Using Maestra?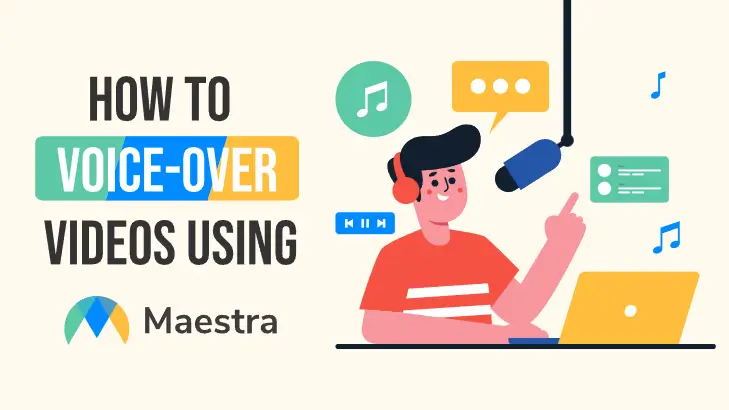 Video content has become the new norm of the online world, and more preferred than its text alternative Though, voice-over remains to be the most impactful element of a video, subtitles, and text in the video, still play a vital role in how users consume video content.
Language has always been a barrier for video content in the past but in the present technical era, multilingual voice-overs and subtitles allow you to reach a global audience.
Even a platform like Instagram has seen moving from solely image content to short video content. And keeping aside the debate of TikTok vs YouTube, both the platforms succeeded in attracting the audiences for their visual content.
Books are fantastic, unarguably. But films inspired by books get larger audiences than the books they are based on. The same goes for video content over textual content.
How voice-over creates more impactful videos?
80% of viewers watch their videos to completion when subtitles are added. Even if the video his in the viewers native language, people still prefer to have subtitles regardless.
Have you noticed, LinkedIn plays a video without sound? You choose to have sound every time you come across the silent video playing, no matter what. This is the urge for listening to a voice behind a video.
Even a simple presentation with a voice makes a significant difference from the background music it has. Voice-over videos are not only watched fully, but they tend to be remembered more.
For example, a Facebook study showed that videos recieved 135% more views and engagements on the videos with voice-overs and subtitles.
Manual Voice Over VS Automatic Voice Over
Voice-overs must be done with a clear intent and desired outcome that makes the content more engaging and interesting. It must be done considering the interpretation and tone of speech. It can be performed manually or with automation software.
Voice over artists are well-trained professionals who learn and practice accents, and take speaking and acting lessons for years. They are expensive but deserve recognition for their talent and hard work. Their professional fees and availability must be checked before signing a contract with them.
Automation voice-over software like Maestra is easily available online and can be used at any point in time. The software is much cheaper than a professional voiceover artist. Maestra has a variety of easy to use features like managing the pitch, tone, and speed of delivering a speech.
Many companies engage in automatic voice-overs rather than professional voice artists to get quick results and manage their costs at the same time.
Maestra's Automated Voice-over Service
Out of all the other voice-over services available in the market, Maestra is the most affordable & smartest in terms of accuracy, compatibility, and turnaround time.
By going through the services that Maestra extends, you will know how useful a tool it is. Especially, if you are a YouTuber or are planning to upload video content on a regular basis.
If you are starting fresh, you know you cannot afford voice-over artists. But videos will grow your business. In fact, almost all businesses have embedded videos on their website.
In this case, Maestra will be the most affordable option for you. You get to transcribe, subtitle & voice-over your videos at just $0.10/minute.
This way, you can create your own professional explainer videos or others without having to spend hundreds of dollars.
Benefits of using Automated Voice-over service
-Online Voice-over service
If you are a video editor and video maker, you know how hard it is to give your video a voice-over. Voice-over artists charge through the roof.
Here comes Maestra in the picture.An online voiceover service that will save you a ton of time. With Maestra video dubber you can automatically voice-over your videos to 20+ foreign languages using artificial intelligence and computer-generated voices.
-AI-enabled automated voice-over service
Maestra has an AI automated service that extracts your content, knows the type and domain of the content. Automated service in voice-over works like a pro. It detects your language, your demographic, and the psychology of your audience.
-Interactive text editor
Easily edit your automatically generated captions and voice-overs in both English and the foreign languages of your choice, using Maestra's friendly and easy to use text editor.
Maestra has a very high accuracy rate and can interpret nearly all words correctly and it also allows the user to make necessary corrections and edits, if necessary.
-Fast and secure
With Maestra you'll get the voice-over and subtitle for your video ready in minutes. You not only save up on time but will get accuracy and clarity in minutes!
Both voice-over and subtitles need to be comprehensive. Maestra makes it just as easy as you would expect.
-Compatible with various regional languages around the world
Maestra already has a database of over more than 80 languages, including all the main and regional languages. The best thing about Maestra is, you could even choose the regional dialect and tone of the language.
Even if you are confused about your language and tone, it has its AI to assist you.
You can easily opt for voice-over in one language and subtitles in another. Any number of such combinations are possible to access smoothly.
Why use Maestra Voice-over to your videos?
Considering the features that Maestra imparts, it is indeed a great tool to have your videos instantly ready to publish.
Voice-over is a proven way to boost your video visibility and engagement rate. For a professional purpose and for a casual one, Maestra does not let your video down!
The accurate AI will help you realize how easy and helpful it is for you to voice-over your videos!
Steps to Voice-over videos using Maestra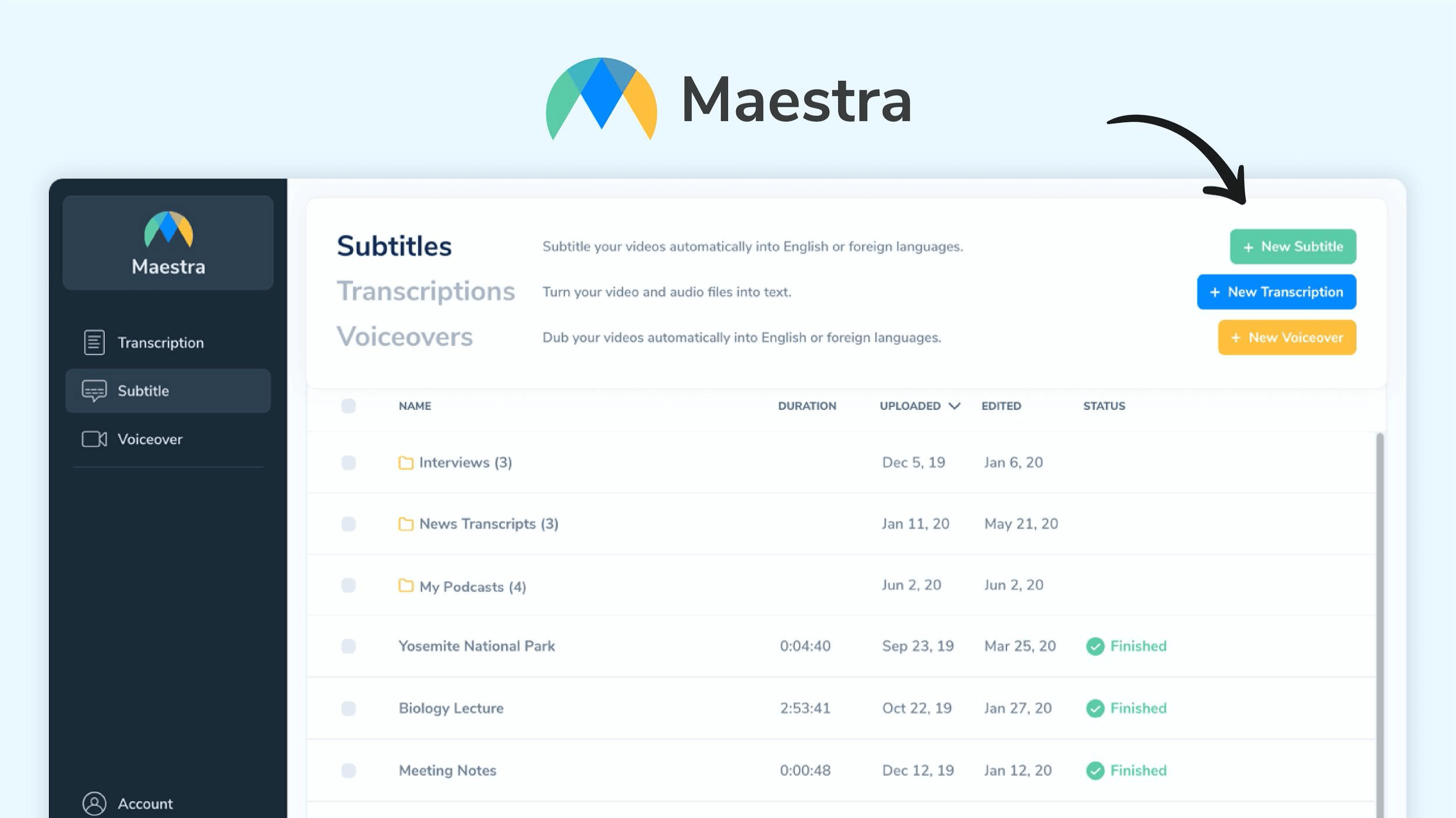 The process is very simple even for a non-technical person. You will know what to do and where to upload your files just by signing in to Maestra.
The website has a very clear dashboard where all the navigations are easily visible to the first time user as well. You will get handy with the platform in just a couple of uses.
Here is how to create your very first voice-over using Maestra:
Step 1
Go to the Maestra website and sign up. You will directly land upon a clear dashboard.
Step 2
Click on the "voiceover" side bar, then "+ New Voiceover" button to add your video file to be voiced over.
Your voiceover will be created in minutes using the power of artificial intelligence.
Step 3
Click "synthesize audio" to add the voice'd over audio.
To add more languages, click "Add languages."
Voice-Overs in Explainer Videos
Getting more attention from the audience -
For creating an impactful video, one must consider proper audio quality and good presentation of the concept or idea behind the video. The audio must be clear and easy to understand. This is important because it helps to deliver your message, convey your ideas, and capture the attention of your audience. Voice-overs have proven to do so.
Building trust -
Capturing audience attention and having them trust your brand in the right manner goes a long way in the success of a brand. When you select a voice over software whose voice sounds confident and credible, it can help you on your path to achieving this trust.
Conveying the message in the right way -
Your message behind every video has to be delivered to your audience in the correct way, a professional voice over can communicate to your audience on every level. It can add in the emotion and tone that you require to get your message to the audience.
Lasting impression on audience -
Voice overs are an effective way to spread information and pique the interest in a certain audience. They can be added to a variety of video and audio productions, and they help alter the effectiveness of content and provoke emotion and thought in listeners and viewers.
As per research, videos generate much more engagement than images in both organic & paid channels. But, to achieve more engagement, you have to create unique visual stories with proper audio.
It is easy for people to follow a voice that can convey the purpose and the message of the video. Using professional voice-overs will help you achieve this and convert viewers into customers.
Bottom Line
To make your content go worldwide, the effective approach would be to create video content with strong voice-overs. Though language differs from region to region, emotions and feelings don't. Voice-overs can convey this strongly.
Maestra will help you create such voice-overs for your videos in minutes. This will take your videos to a wider range of audiences, and help you reach viewers all over the globe!