10 Must-Have Tools for Journalists and Writers 2022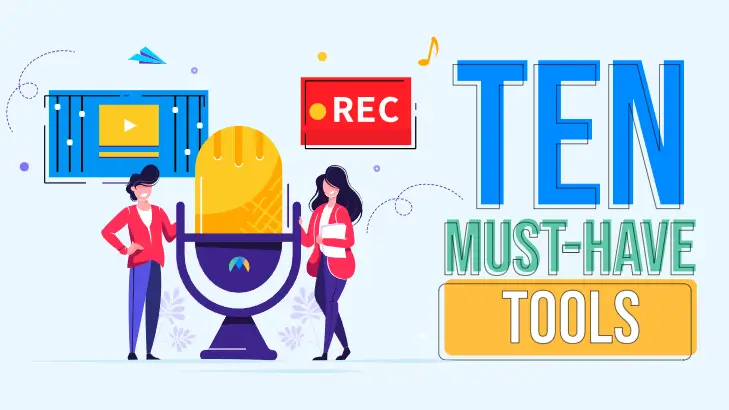 "A professional writer is an amateur who didn't quit" as easy as this quote, said by Richard Bach, sounds, it's hard to keep up when you do it for a living.
A writer cannot write until he is organized physically as well as mentally. But it becomes hard to do so when there is limited time and a deadline. Especially in the field of journalism, a journalist has to deal with multiple things at the same time.
Below are 10 must-have tools for journalists and writers to make work-life easier.
Maestra - Audio to Text Transcription Software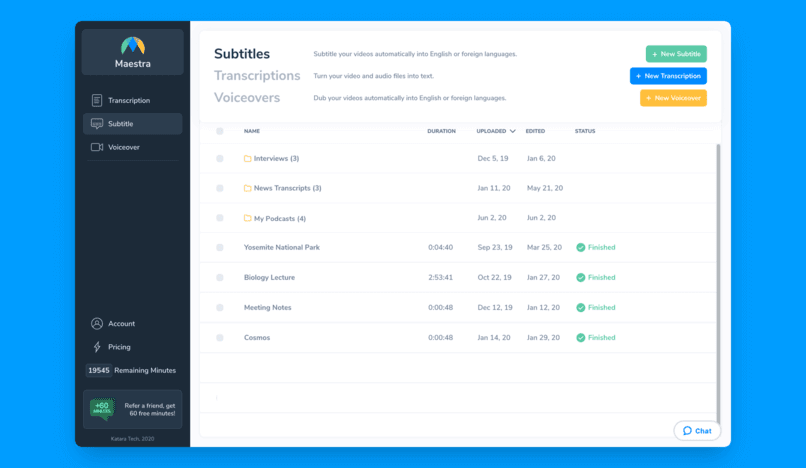 Maestra Introduction
Maestra is an automatic audio & video transcription software tool that can generate text from audio & video files in 80+ languages.
If you have a video or audio file that you need to transcribe or caption, Maestra can do it for you within minutes. Maestra is not only helpful for journalists but also for caption generation & adding subtitles to videos.
No-one has time to spend all day listening to the same interview. In such situations, Maestra can come as a very efficient tool in need of every journalist or PR writer.
How Maestra helps Journalists and Writers
Transcribing is a process of converting a video or audio file into text. This is mostly done by journalists to get text quotes from a recorded interview. Transcription of an audio or video is the most time consuming and hectic process of journalism writing. But with the help of Maestra, you can transcribe video & audio files within minutes.
How it works
Maestra is an AI-controlled software tool that has installed knowledge of 80+ languages, like Spanish, Dutch, French, and English, etc.
The process of transcribing, subtitling, or giving a voiceover to a video or audio in Maestra is elementary. Whichever video or audio you wish to transcribe, simply upload it to Maestra. Maestra's AI system will recognize the original language and convert or transcribe the video to the particular language that you need.
After the transcription is done successfully, Maestra will help you to proofread the text it has converted with its advanced text editor, which you can download into any format, like PDF, doc, etc.
Link: https://maestra.ai/
Grammarly - Automated Grammar Checker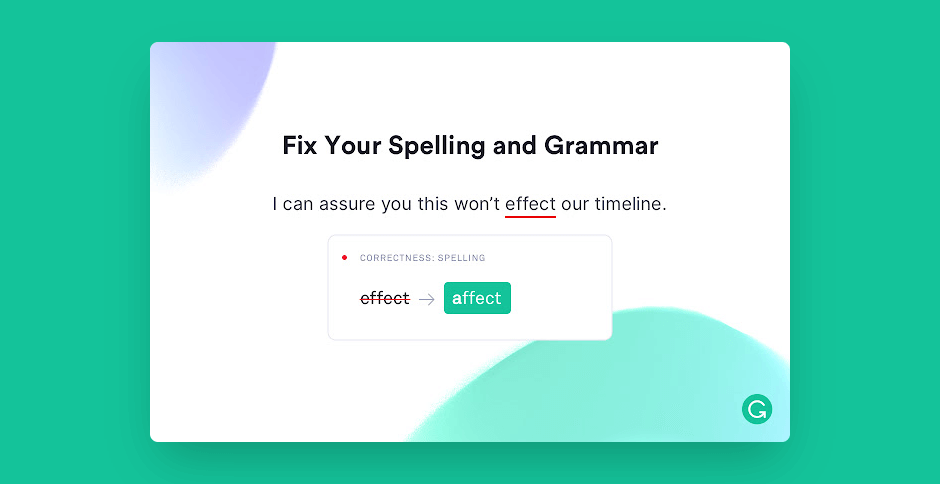 Grammarly Introduction
Grammarly is a highly used and preferred tool, which helps you make your write up grammatically error-free within minutes. Not only is your written work is grammar right but Grammarly also helps you make it look more sophisticated and professional.
This amazing tool can be very helpful for initial journalists and writers to create a good impression. The Grammarly tool is free but with certain limitations. You can only use ¼ of what it has in the free option. Its paid might sound costly but that's because it is worth spending and globally accepted. $11.66 monthly is the least paid amount for Grammarly with lots of exciting features and promising results.
How Grammarly helps Journalists and Writers
Grammar is the most concerning thing when it comes to writing. It is known as the firm base of any language in which misbehaving can change the entire context of the sentence.
Grammarly is a perfectly designed tool that is capable enough to provide you with errorless grammar in your article. Although, Grammarly can only cure articles written in English. Any other language is unknown to its system. From spelling to punctuations, Grammarly can make your written grammar right and easy to read.
How it works
What makes this tool a trustable companion for writing is that one can attach it with his / her Gmail account. Creating an account can provide you with free Grammarly services. Post an article in Grammarly and wait for its AI system to configure the article. Once scanned, Grammarly discloses your grammatical mistakes and gives you the right grammar option to choose. This process goes word by word. Once done, you can keep it somewhere else. A copy of your content will be automatically saved in Grammarly.
Link: https://app.grammarly.com/
Authory - All-In-One Solution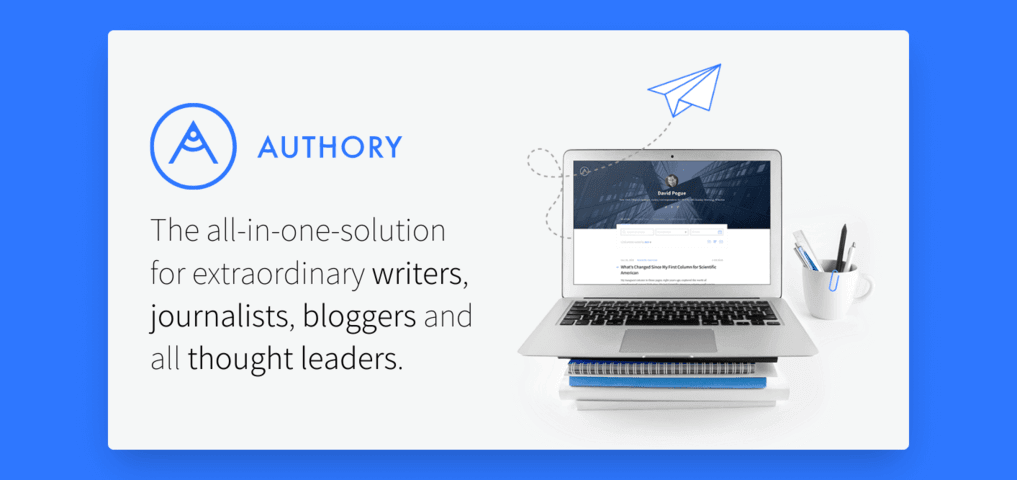 Authory Introduction
Authory is an effective tool that helps you take control of your articles and build your own Audience regardless of where you publish it. It works like any online diary where writers can find all their creations in one place and track every article's growth and stability.
Authory is a one of a kind tool, which every writer and journalist should use at least once. Even though, Authory provides a 14 days free trial, you can still subscribe to it for $8 monthly and enjoy its many other amazing features.
How Authory helps Journalists and Writers
Many articles or write-ups that are created get lost or are not published due to some reasons. Authory helps you backup your the articles you create in a systematic order.
This tool also helps you know how your article performs on various social media platforms. With the help of Authory, you can create your own portfolio for future opportunities and tie-ups. Authory is a perfect platform especially for freelance writers or journalists to keep their written work in one place and know its progress.
How it works
For a writer, every creation of theirs is worth once a read. That is why he/she saves every article but in time forgets to publish or goes untraceable. Authory saves your every article regardless of published or unpublished. This way you can find your articles in one place. Authory is not a publishing platform but does connect you with other platforms, like Facebook, Twitter, Instagram, Reddit, etc to publish your work and track its status. This way you can know which platform is more appreciating of your articles.
Link: https://authory.com/
Buzzsumo - Content Research Platform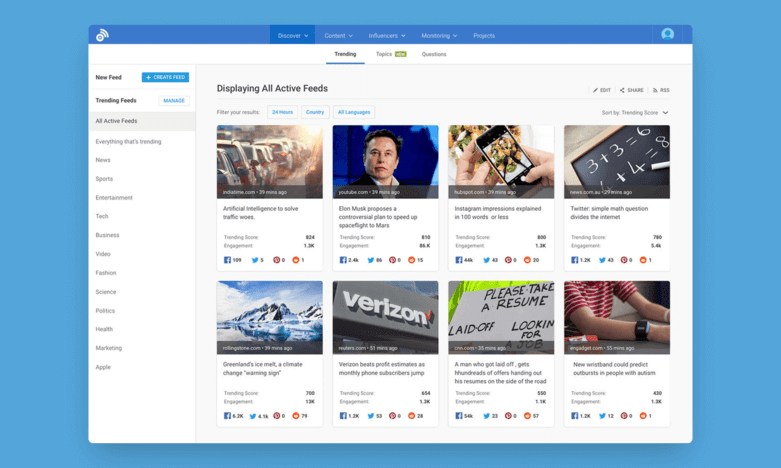 Buzzsumo Introduction
Buzzsumo is an amazing tool that can help writers come up with catchy headlines related to a particular topic. Buzzsumo generates thousands of relevant keywords and provides infinite content ideas.
This tool also provides you with content research that can help you create content that people mostly prefer to read. You can also monitor your content's ups & downs with the help of Buzzsumo and make decisions based on that. Buzzsumo provides a 7 days free trial but due to its popularity and demand, it puts a hole in the pocket. $99 monthly for Buzzsumo's basic features are enough for a writer to fulfill his / her need from it. But if you wish to enroll for a longer and better time, can invest as per their plans.
How Buzzsumo helps Journalists and Writers
This happens a lot, we have a topic in mind but can't think of a proper headline. Buzzsumo helps you get better ideas by showcasing various articles and blogs related to keyword research.
It is an easy way to know which kind of articles and blogs works on the Internet and which does not. Here you learn from other's mistakes and get creative ideas for content as well as headlines with ease.
How it works
Buzzsumo works on a basic algorithm of keyword research, tracking, and statistics. If you have a topic in mind, search for a keyword-relevant to it on Buzzsumo and you can find numerous content related to that topic. You can go through the content and its progress and decide whether this topic brings you any credibility or not. This search can also provide you with unique ideas for your content and its headline.
Link: https://buzzsumo.com/
CreaWriter - Ambiance Creating Software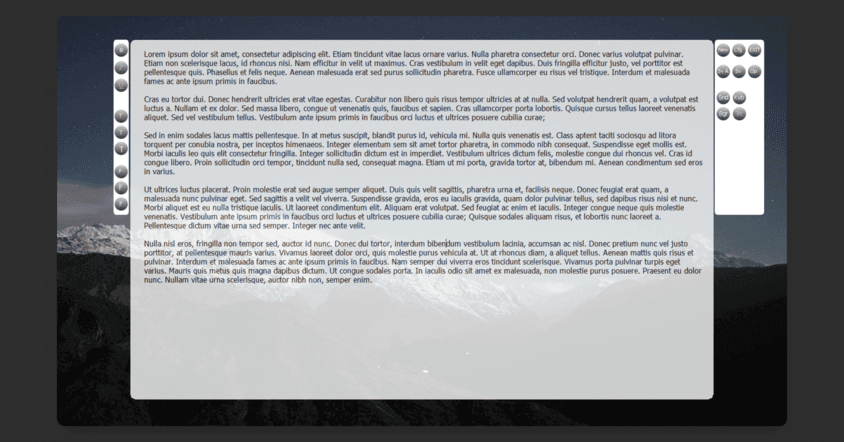 CreaWriter Introduction
A creative mind cannot work until it concentrates. But living in a busy city around loud people makes it hard for people to work. However, with the help of some tools, writers and journalists can now create their peace with the help of CreaWriter. CreaWriter is an ambiance creating software that can generate a particular kind of atmosphere while you are writing or reading.
How CreaWriter helps Journalists and Writers
If you wish to write in peace or make your write up attractive and more explainable, use CreaWriter to give you a correct ambiance. This tool helps you create a desirable atmosphere by extraordinary backgrounds, like a sunset, soothing sounds like a waterfall and various other features, like unique fonts, colors, etc to make your write up look intriguing and irresistible.
How it works
CreaWriter is a windows program, designed to boost your productivity and concentration. After downloading the latest version of CreaWriter, all you need to do is set an ambiance before starting to write. Select a suitable background from the options provided by CreaWriter. Choose a perfect soundtrack that goes with your article and style your font and colors to make it readable. This way it becomes soothing to write and read your creation.
Link: https://www.creawriter.com/
Answer The Public - Keyword Research Tool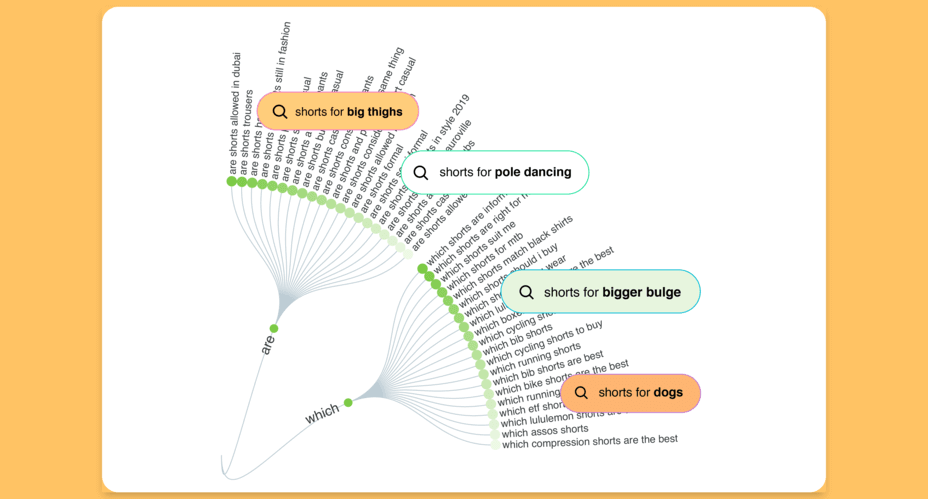 Answer The Public Introduction
A creative way to write a better content piece is by finding out what questions the audience is already asking. A good entry point is through the tool Answer The Public. Answering a question in which the public already has a lot of interest is the key to getting your content to show up in a better way. When creating content for the audience, the writers and journalists need to dive into the various aspects of the topic. This requires extensive research. Answer the public gives insights into various keywords and helps create better content.
How Answer The Public helps Journalists and Writers
AnswerThePublic enables us to get a deeper level of insight and understanding of how people search around topics through questions and keywords. These can be included within your existing content or creating fresh blog posts that answer them in-depth. With the right keyword research and tools, you can tap into what your audience is searching for and direct them to your well-crafted content. It can also improve your content strategy and content. It can be used to create fresh, ultra-useful content, products, and services.
How it works
With Answer the Public, you can plug in a keyword and the tool will give you the most popular Google and Bing searches related to that term. Free and paid options are available depending on your needs. It can add insight, validation, and creativity to digital PR and content strategies. AnswerThePublic listens into autocomplete data from search engines like Google then quickly cranks out useful phrases and questions people are asking around your keyword.
Link: https://answerthepublic.com/
Evernote - Note-Taking App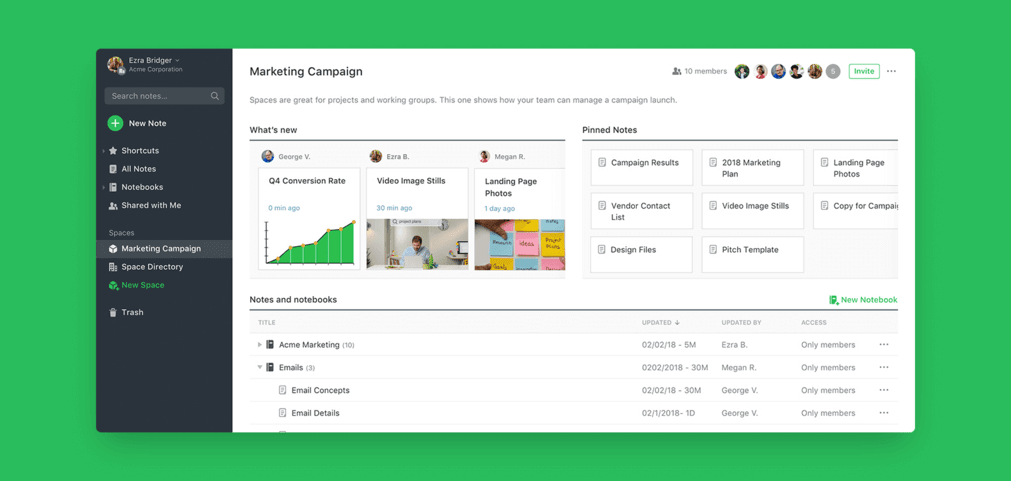 Evernote Introduction
Evernote is a note-taking app with some other helpful features as well. Users can make lists, set reminders, add attachments to existing notes, record audio, mark up documents, and share notes. Evernote has both a desktop app and a web interface so you can use it on your computer. It also gives you a custom email address. If you send photos, memos, audio, or webpages to that address, they will pop up inside your Evernote account.
How Evernote helps Journalists and Writers
Evernote stores everything you could possibly imagine losing track of, like an article you want to read, a to-do list, or even a simple typed note. It works brilliantly, keeping everything in sync. It is a great tool to write notes, keep track of them, and organize your work life. You can also email your notes to someone if you need to. Evernote has a ton more features to manage just about everything. The text, images, and documents uploaded into Evernote are fully searchable.
How it works
Evernote is a good app for creating To-Do lists, notes, and much more. There's a button to help you create To-Do boxes. Once you've added a bunch of notes, you can view them all as a list or within specific "Notebooks" you've made. If you need to work on a note with more people, you can create "Shared Notebooks". It has free as well as paid plans depending on requirements. Upgrading to paid plans gives users access to AI-suggested content, integrations with Google Drive, Slack, and Outlook, and team collaboration tools.
Link: https://evernote.com/
Currents - Content Topics Research Tool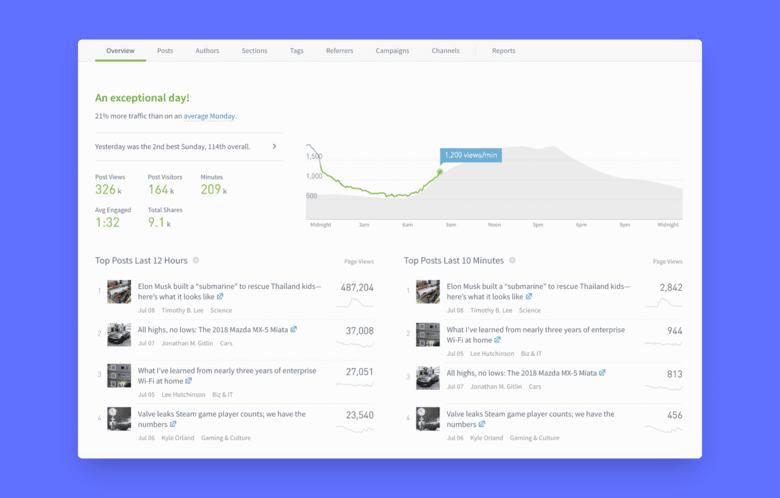 Currents Introduction
Over 30,000 journalists are active users of Parse.ly platforms. They use Currents to know ways to grow their audience or coverage areas. This platform also offers story clusters that group the user's attention around closely related articles, news cycles, and the ability to look at which topics and categories audiences are consuming. It allows writers to discover the content people read and how they find it and make informed decisions with real audience attention habits, distribution trends, and more.
How Currents helps Journalists and Writers
Currents is a platform that measures the public's attention to various topics and stories on the internet. It shows how audiences allocate their time spent consuming content online through various metrics. Rather than tracking search trends, it measures how different topics, moments, contexts, locations, devices and sources interact with each other in real-time.
How it works
There are different ways writers can use Currents. They can see what people in specific markets are reading and use paid social promotion to boost content around that subject in those market areas. It enables writers to see which topics are performing the best in news sites around the world. It also shows the keywords that people are using to search the content and how those topics have performed historically.
Currents offer 3 pricing options - free, pro, and enterprise. The last 24 hours of Currents historical data is free for everyone, and the last seven days of data is free with registration. With the subscriptions, users can also get alerts about stories as well as saved searches.
Link: https://currents.parsely.com/
Toby - Bookmark Manager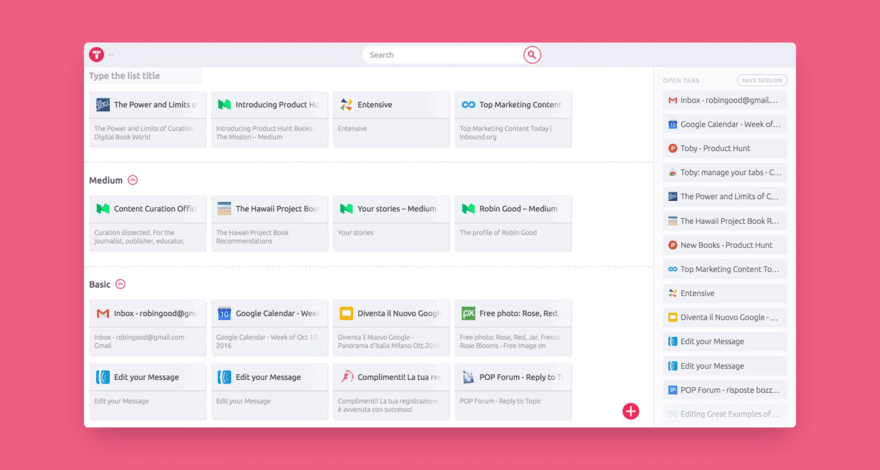 Toby Introduction
Toby is a bookmark manager available as a Chrome extension. It is a tool to help manage browser tabs and has a drag and drop interface. Often while working on stories journalists may find themselves staring at an overwhelming number of tabs. Toby allows users to create tab-groups or collections of bookmarks. The links can be viewed as cards and moved around. It helps to organize tabs into collections for easy access. It can be used to surface the most important resources to you when you need it to create content. No more losing track of information with Toby!
How Toby helps Journalists and Writers
When bookmarking a page, people can select which category they want to add it to. They can also add the tab to multiple categories at once, or save an entire session of all the tabs open. And if it gets erased, Toby can sync all your bookmarks to your online account, creating a handy backup. One can even invite team members to an organization to access shared collections and write better articles in collaboration with their team. With Toby, everything inside a shared collection is instantly available to every team member. Toby isn't just a tab manager—it's an entirely new way for teams to organize, share, and collaborate.
How it works
The users can do a lot of work with Toby, like dragging tabs into a collection, naming the collection, and adding tags to it. It is easy to access and one can easily save links for different projects and create its collection. There's even a search feature so that you can find a specific link in your saved categories! The categories are completely customizable and can be expanded as well. One can also add tags to each category. It can be used to build shared collections with more team members.
Link: https://www.gettoby.com/
CloudConvert - File Converter Service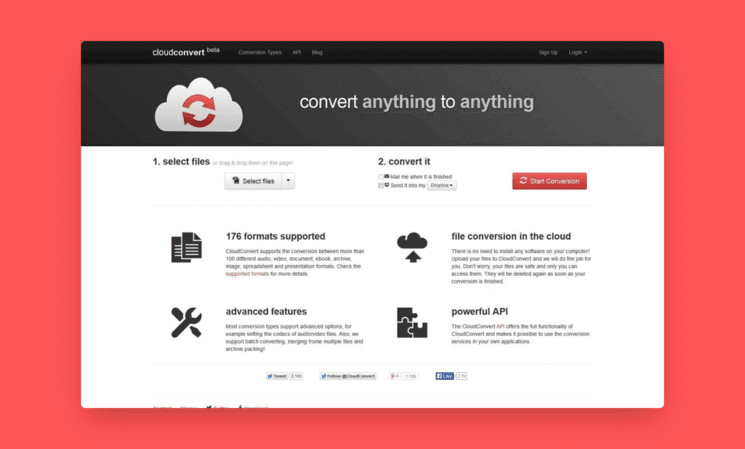 CloudConvert Introduction
Now writers can easily convert one file format into another like converting a document to audio or converting videos to audios. It saves them time and hassle in creating another form of content for the same topic. Just upload the file you want to convert and CloudConvert gives you a list of file types it can convert it to.
It sometimes provides a better conversion than Google Drive.
How CloudConvert helps Journalists and Writers
CloudConvert transforms a file from one format into another easily without downloading any software. It recognizes files in more than 200 different formats, and connects with Box, Dropbox, Google Drive, and OneDrive. This makes CloudConvert an essential web utility for journalists. They can easily convert articles created in one form to another without any difficulties.
How it works
CloudConvert supports many formats like PDF, audio, presentation, and more. The service also supports a variety of audio and video file formats. It has both free and paid plans. The paid option allows you to convert more files at one time, and use more file conversion time. The subscription provides a set number of file conversion minutes per month. Paid customers also receive access to extra features.CloudConvert is available in the Chrome Web Store or you can access the site in your browser. It works on the web and iOS.
Link: https://cloudconvert.com/
Now you know the secret of most writers. It's superfluous to stress about deadlines if you use these 10 best tools in your daily writing. Make your writing easy and quick with these tools. But remember the tools make the write up better, but a writer makes it applaudable and legible for readers.