11 Tools And Resources Journalists Should Try in 2022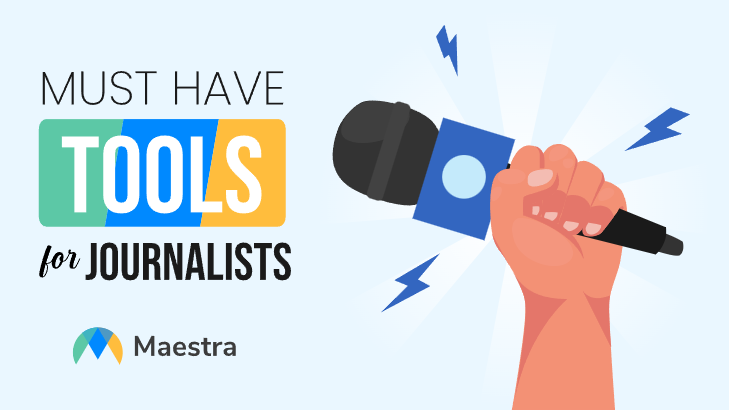 Here are eleven must-have tools and resources for journalists and writers to help them get a more manageable work-life balance.
Tools and Resources for Journalists
Words are not always enough to express what you want to say. Without a picture, a blog might look incomplete and dull. But often, it's not possible to get the picture you need. That's when Canva comes into the picture.
Canva is a picture creator, editor, and designer site/app that will help you create images for your needs. It is a simpler and free version of Photoshop but much easier to operate.
How it helps:
Canva is an easy picture designing software that helps you save time. You can create pictures using your creativity and express your thoughts more loudly and clearly in writing. It mostly helps creative writers like story writers, comic writers, social media marketers, etc. With Canva, you can create pictures, posts, pamphlets, posters, etc.
How it works:
Canva provides you with various fonts, background designs, charts, icons, etc. to make your desired picture to express your thoughts to readers. Just select the options of posts/videos/logos etc. and start creating a masterpiece.
2.Dexter
Engaging with readers online is one of the most time-consuming and challenging tasks for writers, but Dexter makes it easy and fun. Dexter is an online chatbot builder that lets you create scripted chatbots according to the readers' questions.
How it helps:
Not all the comments or doubts on your blog/site can be answered. It becomes hard to reply to each person, but it's essential. Dexter helps you create a chatbot so that no person trying to reach you is unanswered. Dexter can be connected to any platform, like Messenger, Twitter, SMS, etc.
How it works:
Dexter is an AI-generating chatbot creator that helps you reply to every reader at instinct. You just need to create an ID for Dexter and connect it with the desired platforms. After this, make a pre-answered reply with the question and register it. Every reader will get the answers as per their questions.
Document Cloud is a platform that connects various journalists and writers in the world and lets them share their ideology, creation, and reports with each other. Its primary motive is to create trust and transparency in the field of journalism.
How it helps:
Document cloud helps you save your writing online. It also allows you to get valuable reviews and feedback on your written work from experienced journalists worldwide. You can share your thoughts on a topic or help a fellow journalist by sharing statistics reports and reviews.
How it works:
Document Cloud is a normal interactive and progressive site that connects you with journalists globally and keeps your documents safe on an open web. You just need to create an account and post your document or write-up to save it. You can also get useful feedback from experienced writers and journalists.
Many times journalists have to play with numbers to get accurate statistics of the desired project. Flourish is a data to statistic converter that creates easy to understand charts, maps, graphics, and animated stories to make your articles more expressible.
How it helps:
Statistics is a time-consuming process. For a journalist, it is essential to add stats for a better understanding. Flourish helps you create such statistics within a minute, even if you don't know how to code. It also allows you to develop mobile-friendly visuals to engage your audience.
How it works:
Flourish will provide you with various options to express your data like survey data, magic charts, infographics, mapping events, etc. Select one option and insert the data to create a statistic on flourish.
Gather is a similar yet upgraded version of the Document cloud. Unlike Document cloud, it doesn't save documents, but it unites all the professional journalists, professors, artists, tech specialists, and researchers for a better journalism future.
How it helps:
Gather is a substantial interactive site that helps you reach various professionals by sharing your work, projects, and essential lessons. It allows you to improve your writing and create a connective bond with people of a similar field.
How it works:
Gather is a platform for journalists and other professionals to connect. To share a review and write-up with the community, you need to create an account like Facebook or LinkedIn. It is a more professional and easy-to-use platform than others.
Hemingway is an editor and curator tool that makes your write-up readable and accurate. Unlike Grammarly, Hemingway is more than just finding grammatical errors. It is a platform that makes your writing more applaudable and approachable.
How it helps:
Hemingway is a beneficial tool to improve writing. It helps you create an error-free blog. Make sure it's not lengthy or does not consist of any tough-to-understand sentences. Its best feature is to let you know how much time it takes to read your blog.
How it works:
Hemingway has both free and paid versions. You can use the free version without creating an account but with limited features and upgrade to paid as per your requirements.
Lumen5 is a content to image or video converter. It is an AI-supported site that creates a visual after reading your write-up. Luman 5 is beneficial and time-efficient that gives accurate results in no time.
How it helps:
Creative writers always wonder if everyone can ever visualize their story. Luman 5 makes their dream possible. Lumen 5's AI helps you turn your story into a video or image slide to understand it better. It mostly helps story writers, social media marketers, comic writers, etc.
How it works:
Luman 5 is a very progressive and innovative site that brings your writing alive. Luman 5's AI creates videos or images out of content. It also gives you access to its library of videos and images so you can make it manually. Luman 5 has both paid and free versions that offer you incredible and satisfactory results.
Miro is an interactive website that lets journalists collaborate with team members remotely and effectively. Miro is a better and improved way for journalists to connect and share documents, projects, insights, etc. instead of playing back and forth on email.
How it helps:
Miro is a time-efficient and connective platform that lets you invite your team and work with them from anywhere in the world. It helps you share your feedback, review your team's work, and discuss it faster and easier. It also lets you stick notes and flowchart on the homepage of your team for easy reminders. You can also work on your favorite apps within the platform.
How it works:
Miro is a well-developed website that makes your work-life easy and productive. After creating an account, you need to send an invite to your team members or create your team on Miro and work with them. Miro is available in paid as well as the free version.
Optimizely is an experimental platform that lets you find a perfect and compelling headline for your article. It tells you which headline is more suitable and credible for the article by a specific metric such as click-through rates, conversion, social media share, or engagement.
How it helps:
Figuring out a perfect headline is one of the biggest tasks for a writer. A headline is the first impression of an article. That's why it needs to be on the point and clickbait. Optimizely helps you figure out which headline is best for your article within seconds.
How it works:
Optimizely is one of the best and unique platforms that tracks your headline's performance and tells you which headline is more progressive and suitable for your article. It provides accurate results with specific matrices, turning your article into a professional and clickbait write-up.
An article is incomplete until you add some pictures or videos to it. A picture is an expressive way to understand your writing. But finding such photos, videos, or gifs is a complicated and time-consuming process. Unsplash provides a half-a-million library of images and videos to brighten your article.
How it helps:
Unsplash is a hub of visual elements that can help you make your article more enjoyable and attractive. It allows you to find the right images or videos you are searching for within minutes. It enables you to download as many visual elements as possible for free.
How it works:
Photos, videos, and other multimedia bring attention to the content and promote social sharing. Unsplash is a high-quality image and video finder and downloader. With lots of options in hand, Unsplash enables you to download anything for free.
Transcribing your articles and interviews can take hours. With Maestra you can automatically transcribe your audio files to text in just minutes, making your work much less time-consuming.
How it helps:
By automatically transcribing your articles to text, you can save hours out of your day that you would've had to spend transcribing your files.
How it works:
Simply upload your audio file in the most available formats, then wait for your file to be automatically transcribed. Within minutes you'll have a transcript of your audio file. You can then edit your file for any possible mistakes, and export it in a variety of formats.
With these tools, you can create a suitable and productive work environment for yourself!