Youtube SEO Techniques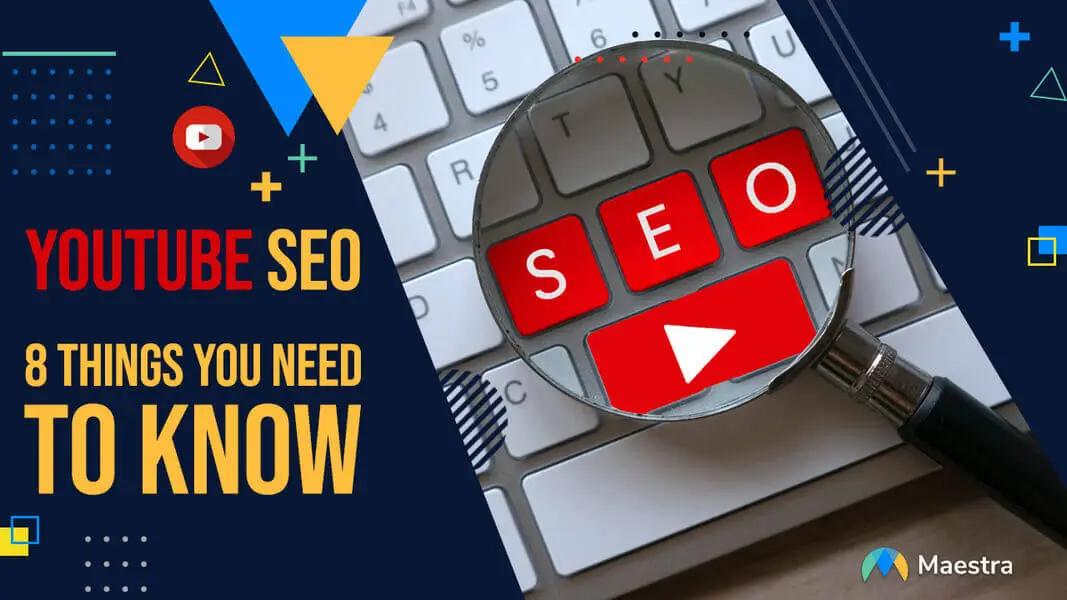 Since its founding in 2005, Youtube has become one of the most popular social media platforms on the planet, with over 2 billion active users. It's a nexus of everything from tutorials to movies to advertising and news and one of the most valuable and profitable assets to creators and businesses the world over.
Youtube is unique compared to other social media sites and apps, however, in that it's primarily a search-based platform. Users don't usually interact with the site through a customized feed, but instead use it as a search engine. As a result, deploying SEO tactics on Youtube is surprisingly easy and can incur great benefits. Below are the eight best techniques for improving your Youtube SEO, and how, with the help of Maestra's Youtube transcript generator and subtitle maker, you can boost views, followers, and popularity.
1. Know Your Keywords
SEO is all about placing your content high up on the search results page, and one of the best ways to do this is to incorporate keywords into your content which people are likely to search for. Do research on all the words and phrases relevant to your video and put them in the title, description, or transcription (see below). Shorter keywords are more commonly searched, and your video will have more competition for the top spot. Longer strings are less likely to be searched, but when they are, you're much more likely to show up first.
2. Use Proper Tags
Many of your keywords can be converted into tags to append to your video. Tagging your videos helps them show up within different collections of related videos, increasing the likelihood of engagement beyond what's possible through the regular search function. Best of all, Youtube lets you put in as many tags as you want, so long as the total character count is 400 or below.
3. Focus on Title and Thumbnail
Even if you can't get your video to show up as the first result for a search, users might still choose your video over others based on its title and thumbnail. Depending on the kind of content you produce, you'll want a title which sounds authoritative and/or interesting. For tutorials, people will want to feel like you know what you're doing. For entertainment, the most eye-catching or sensational title will win. The same goes for thumbnails, which you'll want to look professional, but also exciting.
4. Post Longer Videos
Research has shown that longer videos tend to be clicked on more often on Youtube than shorter ones. Like with a good title or thumbnail, a longer video can seem more authoritative on a subject. Many people also use Youtube for entertainment or distraction, and will prefer longer videos which will last the duration of a meal or task.
5. Write a Good Description
Having a good description can also influence SEO by helping the algorithm better sort and organize your content. A more detailed description means your video will show up under more searches, and a comprehensive summary of your content will inspire confidence and engagement on the part of your audience.
6. Cross-platform Promotion
Why stop at employing SEO on Youtube? A great way to boost your content is to post clips of or links to your video on other platforms like Instagram, Facebook, and Twitter. By using SEO techniques specific to these sites, you can draw in new audiences and funnel them to your content on Youtube itself.
7. Encourage Audience Engagement
Youtube's algorithm also privileges videos which have a greater amount of user interaction. Leaving comments or likes and subscribing to a channel from the page of a specific video bestows a higher results page rating. As such, creators should always include the obligatory call to action in their videos, asking viewers to like, comment, and subscribe.
8. Transcribe and Subtitle Your Video
Perhaps the best way to use SEO to boost your videos is to make them more accessible. People around the world use Youtube, but the site's algorithms will almost never promote content outside your own language group. So, enter Maestra.
Maestra is the all-in-one software suite for creators of all kinds. Maestra's Youtube subtitle generator is an indispensable tool for all channels, because it allows you to reach foreign audiences. Maestra's library contains over fifty languages, letting you translate your audio quickly and easily, with the potential to expand your viewer and subscriber bases across the globe.
Maestra also lets you quickly and simply transcribe Youtube video content. Including a transcription of your audio is a fantastic way to make the algorithm work for you. By acting like hundreds of new tags to your content, transcripts ensure a good spread and help make your videos more accessible to the deaf and hard of hearing. With Maestra, better SEO and bigger numbers are within easy reach.
_________________________
To see more of what Maestra can do and to tour the entire suite, visit our website and sign up for a free trial today.