How to Create A Killer Explainer Video?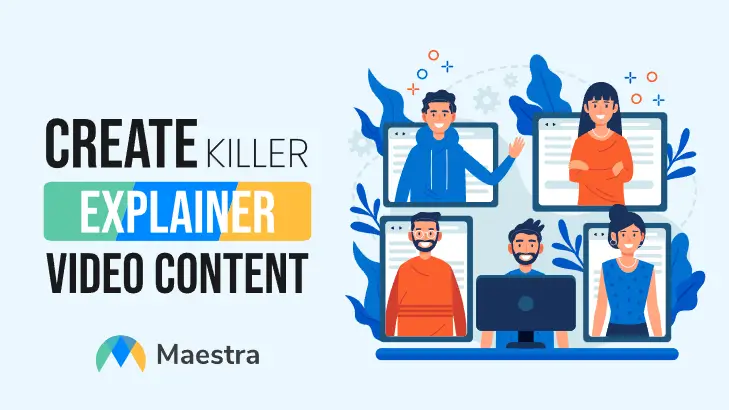 Video Marketing has been proven to boost conversion rates by creating a substantial impact on viewers. It has gained popularity over the years and is preferred by most marketers. There is a wide variety of videos used for promotions, and explainer videos are one of them. Explainer videos are used for creating awareness about a product or service offered by a brand. In this guide, we will discuss creating such videos and everything else you need to know, so you can use them efficiently for your brand.
What is an Explainer Video?
An explainer video is a short marketing video that helps people understand a company's products and services. It is a useful approach for launching new products and discussing their benefits with viewers in just 45 to 90 seconds.
According to research, "More than 90% of people have watched these videos with the purpose of learning more about a product or service". They support sales and marketing campaigns as they persuade audiences to buy your offerings. As per statistics, ''Creating such videos increases your chances of making a sale by 64%''.
You can use these videos to boost conversion rates by embedding your videos on your website's homepage and landing page to turn visitors into potential customers. They can also create brand awareness through social media and email marketing to target customers throughout their buyer journey.
Benefits of Explainer Video
As per statistics, explainer videos are some of the most commonly created types of videos and are one of the more preferred ways to learn about a product or service. They focus on solving prospective customers' problems, making the concept behind the product simple, and clarifying why your product is the best solution. The main benefits of these videos are:
1. Attract attention
These short-duration videos are useful in grabbing your audience's attention and increasing the time they spend on your website. It was found in research that more than 80% of businesses have started keeping effective videos on their homepage.
2. Concise and compelling
You can include a compelling elevator pitch and an effective call to action in your explainer videos. These make them exciting and convince prospects to buy your products and services. These are more compelling than text and image advertisements as they talk all about the product in a short duration. Researchers found that 76% of marketers say such videos helped them increase sales.
3. More shareable
Video content is ranked higher on search engines and is shared more on social media channels than any other form of content. These videos talk about your products and benefits and sharing them improves your conversion rates.
4. Prove yourself
Explainer videos give you a few seconds to build your brand, and impressively show your products' benefits. You can use the visuals, tone, music, and script to portray your brand and create value for your brand in the customer's mind. You can also talk about the benefits of your products to convince your audience firsthand.
Types of Explainer Videos
These videos work as powerful tools for your sales and marketing teams. Here are some different types of explainer videos.
Live-Action
These videos are easy to make, and the audience finds them highly relatable. Live-action explainer videos involve recording real people using the products or availing the services. Such videos can be recorded quickly with actors and are easy to understand. Recording high-quality visuals and crisp audio are of utmost importance while creating live-action videos.
Screencast
These videos are most comfortable to prepare and among some of the most effective. Screencast explainer videos involve recording images from a website, software, or application while using the product. The purpose of creating such videos is to educate users about the features of new software or applications and guide them through using the product. High-resolution recording at optimal speed is recommended to make engaging screencast videos.
Animated
These are the most widely used explainer videos with immense scope for creativity and flexibility. Animated explainer videos are made using animation of different levels from 2D to 3D. Such videos allow a straightforward explanation of abstract features and intangible specifications. Strategically used animations make these videos interactive and appealing.
Whiteboard
These videos are popular among small business owners as they are inexpensive. A whiteboard explainer video involves drawing by hand a sequence of visuals on a whiteboard and compiling them to create an exciting video. There are several software and applications to create professional whiteboard visuals. Adding a compelling voiceover makes the video informative and engaging.
10 Tips to Create a Killer Explainer Video
Understand your audience: All content must be created to keep the audience in mind, which applies to these videos. The attention span of humans is relatively low, and to get them to watch through your video, you must focus on their preferences. To create a killer explainer video, you must understand your target audience and their pain points. This will help you create a video that tells how you can solve their problems and what they should do to get the solution from you.
Select the right type of video: Choose the right kind of video created as per your audience and product. This will help you convey your message clearly and accurately. According to statistics, ''93% of marketers got high-quality leads with the help of videos''.
Keep it short and straightforward: These videos are meant to be brief, and keeping them simple maximizes retention. Keeping the duration shorter may increase the chances of the message being grasped by your audience. Telling too many complicated things in a short duration might create confusion.
Engage through the script: The script forms the foundation of such videos. It is the major link that connects your audience to your brand. Also, keeping the script simple and easy to understand makes your video more interactive.
Voiceover narration matters: Voiceover creates the personal touch in your video, so it is of utmost importance. Make sure to keep the narration and tone in sync with your brand as it leaves a lasting impact on your viewers.
Follow a proper structure: These videos have a short run time, so make sure the video is well-structured. To create a killer explainer video, try the following structure:

Discuss the consumer's problem in the first 0:00-0:20 seconds.
Introduce the solution in around 0:20-0:25 seconds.
Explain how your product or service works in the next 0:25-0:50 seconds.
Tell them what they should do to benefit from a call to action in the last 0:50-0:60 seconds.

Talk about benefits: Focus on discussing the benefits of your products rather than the features. Talking about what differentiates your products from your competitors helps in convincing your customers. As per research, 'businesses found that having useful videos gets them 66% more qualified leads on a yearly basis''.
Add music: Adding music to your videos sets the mood and maximizes retention as the viewers can relate your content to the music.
Invoke an emotion: These videos are of short duration, and so you get too little time to create a bond with your audience. Add emotions like humor and compassion to the video content to make your video relatable and memorable.
Solve their problem: A killer explainer video is the one that solves the problem of a prospective client. Think beyond your product's technical specifications and the achievements of your organization. Focus on solving your audience's problems and tell them what to do to solve them. A holistic concept that includes a strong start, a viable solution, and an assertive CTA helps you make a successful explainer video.