8 Tools Every YouTuber Needs in 2023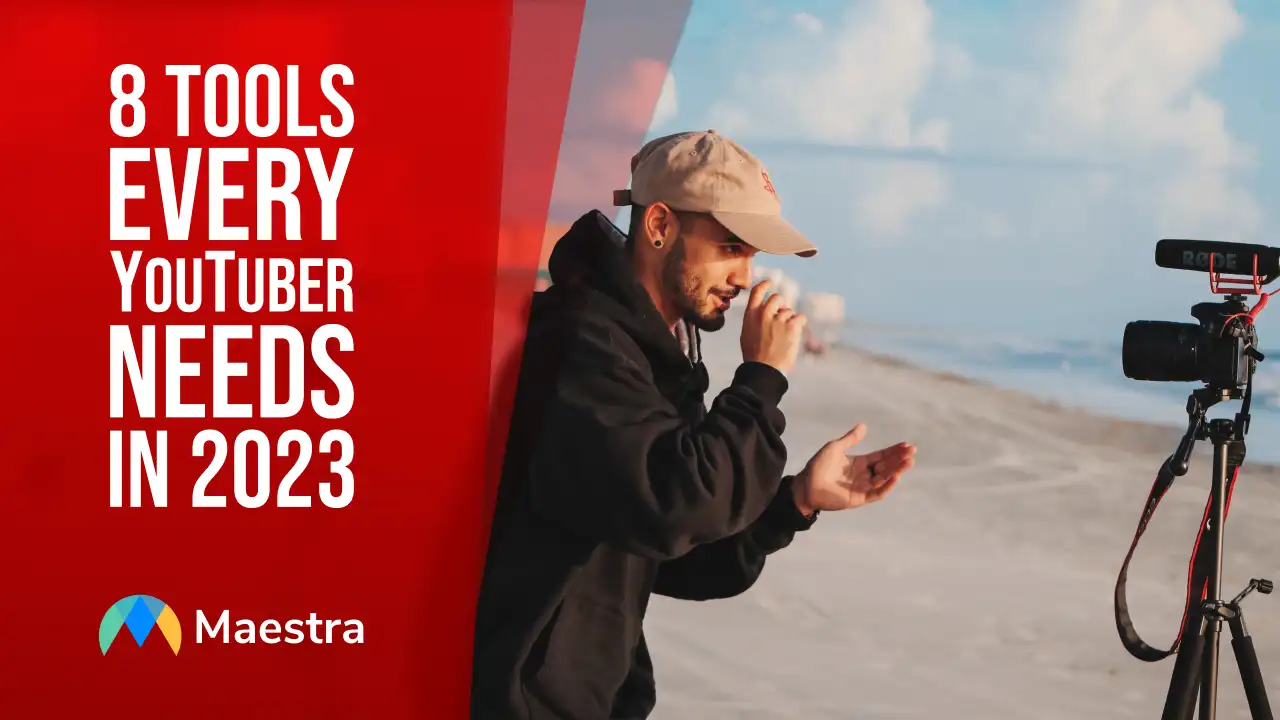 Video is one of the most widely enjoyed forms of entertainment. Nowhere is this more apparent than on Youtube, the second biggest search engine after Google.
With over 2 billion users hungry for high-quality videos, it has incredible potential for growth. Whether you want to expand your company's reach, express your creativity, or become "internet famous," there's an audience for your content. However, creating videos with a cell phone in your bedroom will make it tough to compete while growing your channel.
YouTubers use a wide array of tools to help them make stellar content, from camera equipment to graphic design software. Competition on the platform is stiff, and you need the right toolset to make your channel stand out. That's why we put together a list of everything you need to make your channel succeed. These tools are must-haves for both seasoned creators and anyone starting a youtube channel .
1. High-Quality Camera
Unless you run a faceless or animated YouTube channel, you'll need a reliable video recorder to film. The common choice for YouTube content creators is a DSLR camera. What sets these cameras apart from others is their autofocus features, fixed sensor, and low-light performance.
Because of their consistent and polished video quality, DSLRs are a popular choice. Our recommended pick is the Canon EOS Rebel SL3 . It's a great choice for both beginners and advanced users. It records 4K video up to 24p and is light, yet durable.
2. Tripod
When picking a tripod, you'll want to make sure it's compatible with the camera you use. A good tripod should keep your camera steady so you can focus on filming content. Look for a tripod with strong legs and a reliable locking mechanism. This will prevent camera shake and allow for steady shots.
Choose a tripod that's versatile and adaptable to different shooting scenarios. Adjustable height, flexible leg angles, and a smooth pan-and-tilt head are all essential qualities in a tripod.  Our pick is the Vanguard Ultra Pro . It's a bit on the pricier side, but well worth the cost for its unbeatable precision.
3. Computer
This may seem like a given, but having a computer with good specs is a crucial aspect of starting a successful channel. The right computer will be able to handle all the raw footage you need to upload, as well as any video editing software.
While there are definitely affordable options that will still make great computers, such as the Dell XPS 15, it's worth it to invest a little more money if you can. We like the Razer Blade 15 laptop . It has great graphics and high processing for gaming, recording, and editing. While it may not have the brand appeal of a PC or Macbook, it still packs a punch with desktop-level performance.
4. Ring Light
If you plan on vlogging , good lighting for your face is a must. Ring lights are circular lamps designed to be put in front of a subject to eliminate shadow and give the eyes a halo effect. They're great for makeup tutorials, close-up shots, and live streaming. They're also useful for posting selfies on social media or recording on TikTok.
When picking a ring light, there are a few factors to consider. Opt for a ring light with flexible features like dimming, color temperature switching, and a rotatable neck. One of the best options out there is the Godox Bi-Color LED ring light . It's a great starter ring light that you can also bring on the go.
5. Video Editing Software
Video editing is a huge part of any video's quality and appeal. Whether you go with stylistic, flashy editing, or something more simple, you want your video to be error-free and fun to watch. Good editing adds personality and creativity to videos, encouraging people to watch your video the entire way through.
Even some minor edits to videos to cut out awkward pauses or a sneeze here and there will make the viewing experience smoother. There are tons of options for video editing tools. Here's a brief breakdown on a few popular choices:
Adobe Premiere Pro: Ideal for those filming shorter videos who want something edited quickly. Rather than bombarding you with a ton of features, Adobe Premiere has a smooth and easy interface. You can add transitions, custom titles, music, and stickers. A solid choice for casual editors.
DaVinci Resolve: This video editor combines a sleek interface with powerful editing and limitless options. It combines all aspects of video editing, like post-production audio, color grading, and motion graphics. Offering a wide range of effects and transitions, DaVinci Resolve is beloved by YouTubers for its optimal performance and convenience.
Final Cut Pro: Pro can edit videos up to 8k resolution with ease. It comes with custom overlays and transition effects, plus a huge library of royalty-free music and visual/sound effects. This tool is expensive, but worth it for advanced Apple users.
6. Graphic Design Tool For Thumbnails
Being a YouTuber often requires you to dabble in graphic design. You want to create thumbnails for your videos that stand out. Creating them doesn't have to break the bank or consume all your time, though. There are plenty of tools that make the process of creating YouTube thumbnails easy and intuitive. You can create professional-looking thumbnails just by using Canva for free. It's also a great tool for making channel banners, icons, and a new thumbnail for each section if you want to add a table of contents.
7. Analytics Tools
As you grow your channel, it's important to stay on top of your analytics. Social Blade is an amazing tool to track user trends and channel growth. Not only can Social Blade track your channel's growth and provide statistical insights, but it can also measure your competitors.
The platform ranks the most popular YouTubers and gives detailed measurements on channel performance and engagement. Social Blade or a similar analytics tool are crucial for channel growth. They provide you the data you need to grow your channel and pivot if needed.
8. Subtitle and Closed Caption Creator
Adding closed captions or subtitles to your videos is a great way to engage more viewers. For viewers who have a bit of trouble hearing or turn the volume way down, captions are a helpful way to stay engaged on a video. YouTube's huge user-base includes people from all different countries, so it's also important to consider captions in other languages so a global audience can access your videos.
Adding subtitles and closed captions have many more benefits for Youtubers, including improved SEO and better video comprehension. For adding video subtitles, Maestra is the best tool out there. You can get your video transcript in minutes. With the ability to translate over 80 languages, Maestra can help you key into a global audience.
Improve YouTube Videos with Maestra
You may not go viral overnight, but putting out consistent, high-quality videos will make you a cut above the rest. Having the right YouTube equipment will put you on the path to success. With all the tech and digital tools recommended, the need for accurate subtitles on your videos often go unnoticed. However, they're an essential part of a video's quality. Using Maestra, you can instantly add subtitles and closed captions to your videos. Kick off your YouTube channel with Maestra today!