Automatic voiceover translation
Translate and localize content to reach a wider audience.
Over 70 languages are available in Maestra's voiceover translation services.
Get Started
* No credit card or account required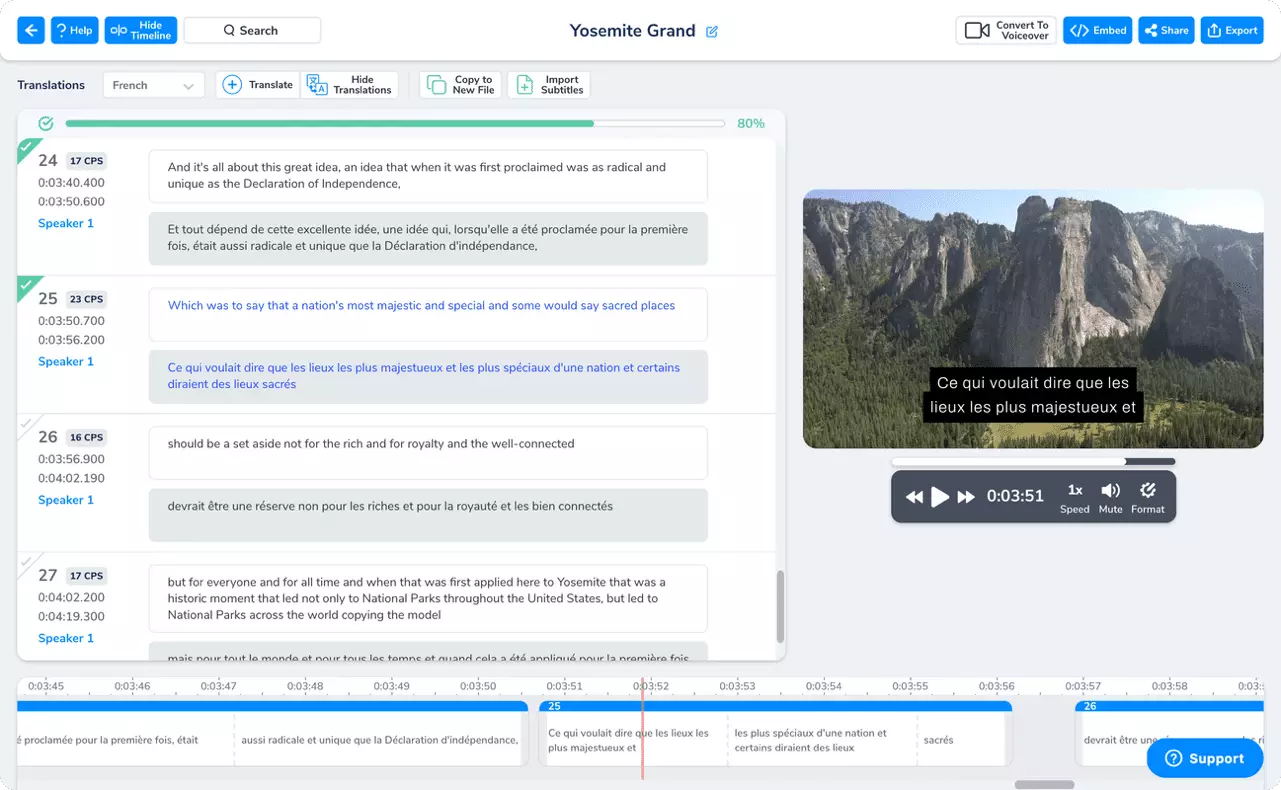 What is voiceover translation?
There are 2 main ways content is localized: The first one is subtitling which was traditionally easier compared to the second option which is voiceover work. This was because voiceovers required professional voice actors and a studio. But now, the second option is as easy as subtitling thanks to AI-generated neural voices.
Automatically generated voiceovers
Maestra's video dubber can automatically generate neural voices within minutes in over 70 languages. The original voices will be changed to AI-generated voices in the language you select. If you wish to keep the original audio, you will be able to do so by adjusting the volumes of both the voiceover and the original audio.
To edit, simply change the text and the adjustments will be applied to the voiceover. With this voice over translation tool, you can take advantage of the many benefits of voiceover translation and allow your content to reach a potential like never before.
How to use Maestra's voiceover translation services
You can manually create a Maestra account or sign in using a Google account. We also offer a free trial version that lets users benefit from Maestra's tools for up to 15 minutes!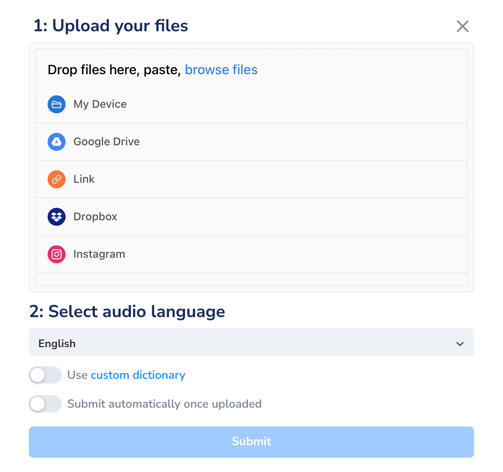 1

Upload the video file

There are multiple ways you can upload files to Maestra's cloud. Upload from Instagram, Dropbox, Google Drive, copy a Youtube link or directly upload from your directory to start the transcription process. You will also choose the targeted language while uploading which means that the first translation will automatically start once the transcription phase is over.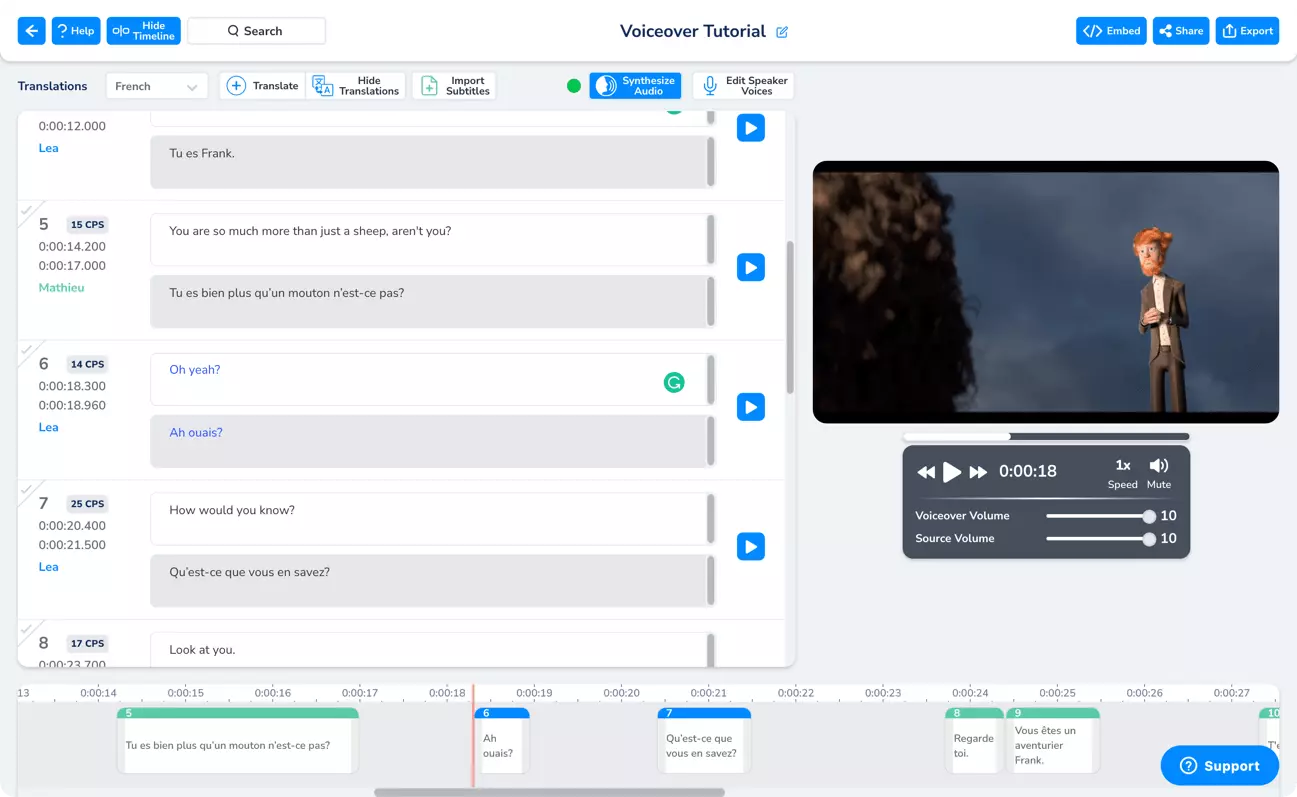 2

Automatic voiceovers

Now that you have the voiceover translation ready, you will be directed to Maestra's advanced voiceover editor. To apply the translation and listen to the voiceover in the foreign language you have chosen, click "Synthesize audio". Once the synth is complete, the translated voiceover can be played.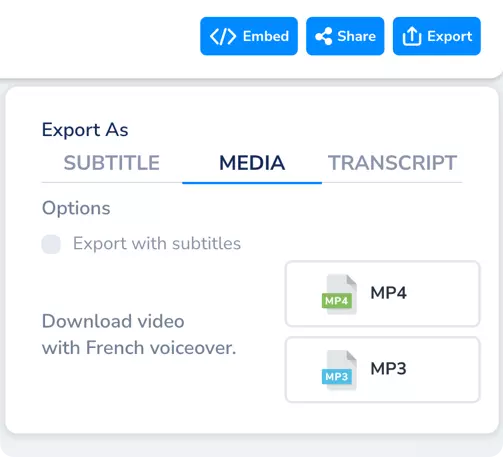 3

Edit and Export

In the editing section, users can change the volume of the original audio and the voiceover to find the perfect ratio that suits their needs. There are multiple voice talent options for every language. Select the voices you prefer between multiple male and female voices who will speak like a native speaker. Also, edit the original dialogue to polish the voiceover and export the file as an MP4 file or as a different format.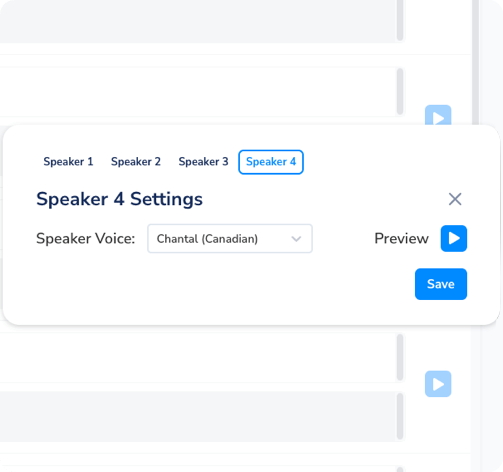 4

Choose between multiple neural voices

A native speaking voice is important when doing voiceover translations. When you choose one of many languages that exist in Maestra to do voiceover translation, you will be able to choose from a diverse portfolio of AI-generated voices to polish the voiceover.
Why should you do voiceover translations?
With technology improving faster than ever before, having AI-generated voiceover work on every piece of content is imminent just like how it is with subtitles. Both have their advantages and disadvantages, but two of them together should increase the accessibility and reach of any content to its maximum potential.
Turn Subtitles into Voiceovers
Maestra has the option that allows users to add their own subtitles if they haven't already generated them through our tools. Then, you can turn those subtitles into voiceovers through our voiceover generator, then translate them to more than 70 languages. There are many ways voiceover content can be created and through this way, you can get the best of both worlds.
Time-efficient
A professional translator is surely someone who will do meticulous work to give you the best results they can give. However, the translation process is tedious when done manually and there are other ways to ensure quality.
Time constraints of manual translation are eliminated when using an automatic voiceover translator. Instead of putting effort into time consuming parts of translation, spend no time translating videos but more time polishing the translation to perfect the outcome.
Maximum Accessibility
The cool thing about automatic voiceover translation is that it is a relatively new manner of conveying the information of content. Of course, manual voiceovers done by a voice actor have been used for many years, but generating voiceover translations at a rapid pace is only doable by using a voiceover generator like Maestra's.
A major benefit of voiceover content is that it allows sight-impaired viewers to better comprehend content. Paired with subtitles that help hard-hearing viewers and you achieve an accessibility level that isn't even reached by major media channels.
Reach an international audience
The main advantage of voiceover translation is breaking the language barrier and allowing content to reach a target audience that was beyond reach before. Many people around the world speak only their native languages and/or they prefer dubbing instead of captions. Therefore, even simple voiceover work that is done in minutes can allow content to reach its potential viewership.
Easily Edit Your Text
With Maestra's text editor you can easily make changes to the text, and automatically translate the text to 80+ foreign languages at no additional cost.
Export as MP4 video with custom text styling!
Export your text as a Word File, PDF or TXT
Audio Transcript Synchronization
Automatically Generated Timestamps
Detect different speakers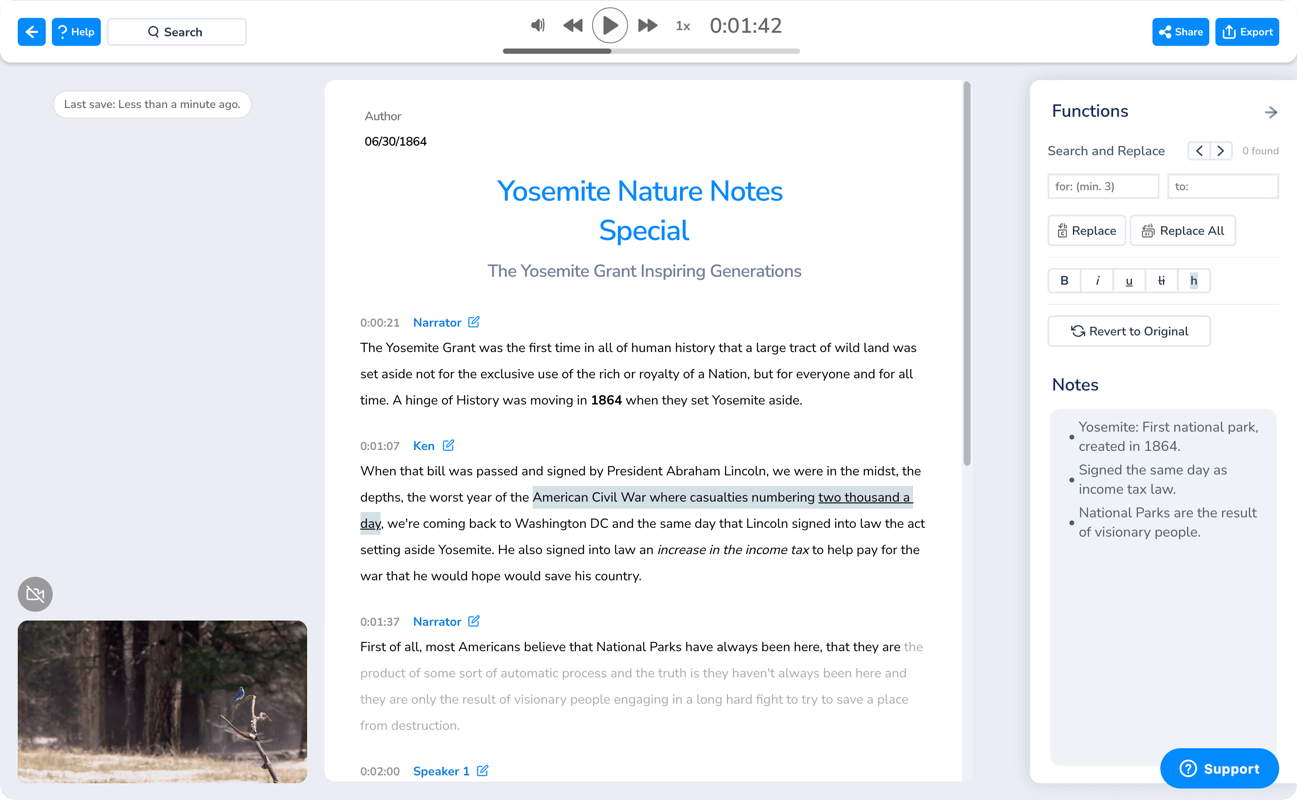 Maestra Teams
Create Team-based channels with view and edit level permissions for your entire team & company. Collaborate and edit shared files with your colleagues in real-time. Translate voices with Maestra's online voice translator.
Collaborate and edit the audio file
Maestra's voiceover translator allows you to edit and share the translated text in a collaborative environment.
Security
The process is completely automated. Your audio and media files are encrypted at rest and in transit and cannot be accessed by anyone else unless you authorize. Once you delete a file, all data including the media files and the text will be instantly deleted. Check our security page for more!
Multi-Channel Uploading
Translate audio files after uploading from your device, Google Drive, Dropbox, Instagram, or alternatively by pasting a YouTube or public media link.
Customer Reviews
What people are saying about Maestra