Subtitles, Voiceovers and Transcripts.Created automatically in just minutes.
Leading artificial intelligence technology with advanced editing. Translate into 100+ languages.
Upload your video/audio file:
See Maestra's automatic captions and AI voice-overs in action!
Original Language
Maestra makes growing your audience fast and easy with our caption, voiceover, and AI transcription services.
Time Saving Transcription Editor
Easily edit your automatically generated transcripts. Bolded text will automatically follow the current time. Export in multiple formats, including MaestraCloud.
Export in Word, PDF, TXT, MaestraCloud
Transcribe Now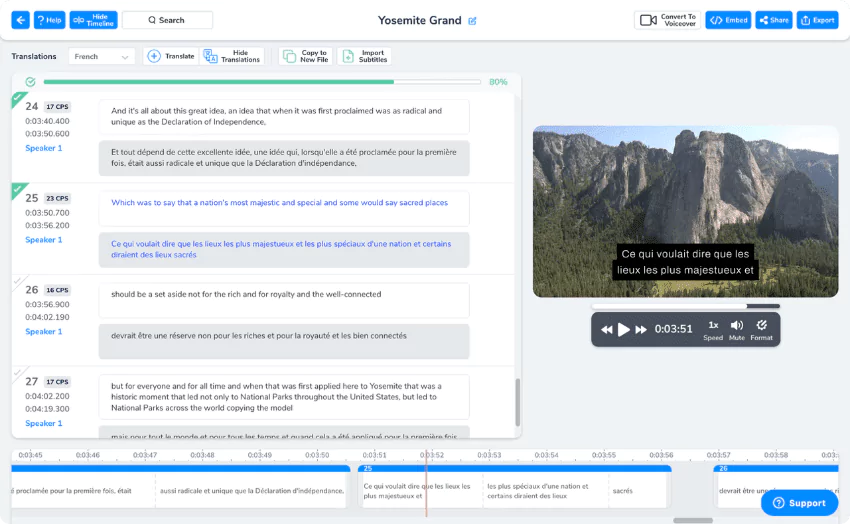 Multilingual Caption & Voiceover Editor
Proofread and edit captions and voiceovers into English and more than 80 languages with our AI voiceover and video caption software. Easily correct any mistakes and add additional languages at no extra charge.
Export in MP3, FLAC, WAV, SRT, VTT
Generate Subtitles
Maestra Teams
Create Team-based channels with view and edit level permissions for your entire team & company. Collaborate and edit shared files with your colleagues in real-time.
Three Solutions, One Software
Switch between your captions, transcripts, and voiceovers at the click of a button.
Get Started
Shared accounts
Access and share your account on multiple devices and with multiple people.
Secure
Process is completely automated and secure. Check our security page for more!
MaestraCloud: Instantly share your transcripts online with just a single click. No additional cost.
Anyone with the link can view your podcasts or lectures online. We make it super easy for you to reach a larger audience!
Customer Reviews
What people are saying about Maestra