Online Subtitle Shifter for Free
Synchronize subtitles by shifting the timecode of the file through Maestra's online tool for free.
How to shift and sync subtitles?
1
Upload a subtitle file
Upload a subtitle file to Maestra from various locations like Youtube, Dropbox, Google Drive, Zoom, Instagram or drag a file from your directory.
2
Set the offset value
Maestra's time offset unit is seconds. Detect how many seconds your file is off and set the required amount of seconds to sync subtitles. Adjusting the time shift of your subtitle files only takes a few seconds and is completely free.
3
Download the subtitle file
After you synchronize subtitles with Maestra's subtitle shifter, you can download the subtitles or the captions. Alternatively, users can convert an SRT file to VTT, CAP, SBV, AVID, STL and the SCC format or vice versa, then download.
1. Select your subtitle file(s)
Please drop files here, or click to Browse file
2. Please enter shift amount (seconds)
Frequently Asked Questions
What is Maestra?
Maestra is an automatic transcription, captioning, and voiceover platform that allows you to automatically turn your audio and video files into your desired format. Our automatic AI processor will transcribe, translate, caption, or voiceover your files and send them back to you incredibly fast. Edit your videos in our advanced, easy-to-use and collaborative editor, then save and share them with your audience! If you have any questions about how Maestra works, we're more than happy to walk you through a demo.
Why should I shift subtitles?
There are many subtitle formats that are used for different reasons. For example, an SRT file is preferred for content but Youtube recommends the use of SBV format. After converting subtitle formats or using different programs to alter subtitle files, synchronization of the subtitles might shift. In this case, using a subtitle shifter can be a productive tool to help you in your projects.
How long does it take?
Instead of manually changing the timecode of every line, which would be incredibly tedious work, you can use Maestra's subtitle shifter to automatically sync subtitle files within minutes.
Maestra's Subtitle Generator
One of Maestra's main tools is the subtitle generator. Users can add subtitles in 80+ languages and edit the subtitles in our advanced editor. All the steps are done through our online tool and all the files are saved in Maestra's cloud.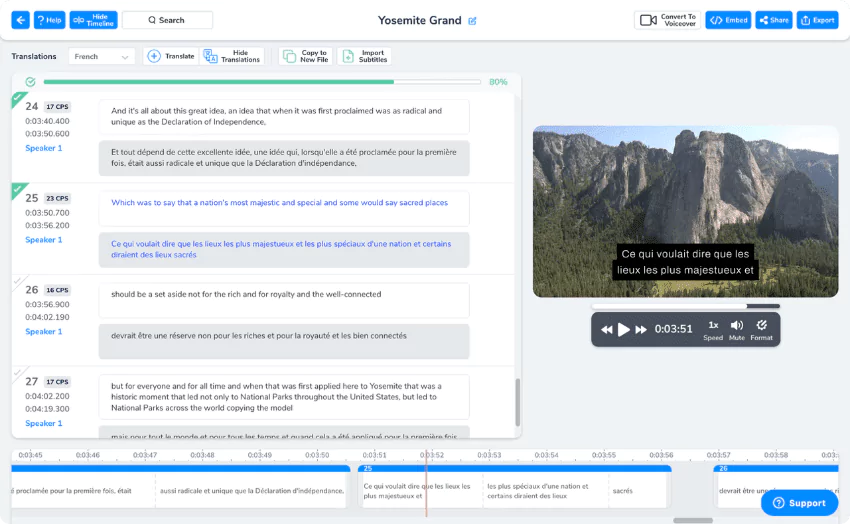 Customer Reviews
What people are saying about Maestra
You Might Also Be Interested In: