Automatically Translate Audio Online
Break the language barrier and let your content reach a global audience through translation. Maestra's audio translator has an extensive list of languages and it is free to try!
*No credit card or account required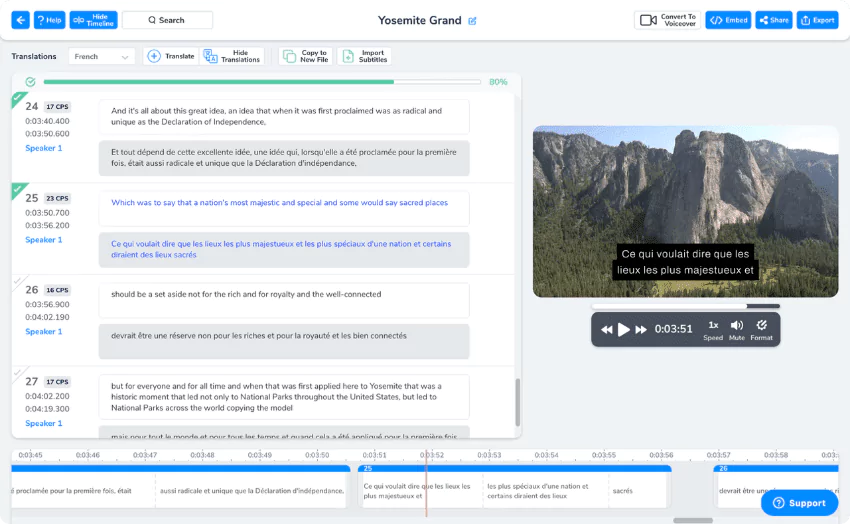 Brands using Maestra: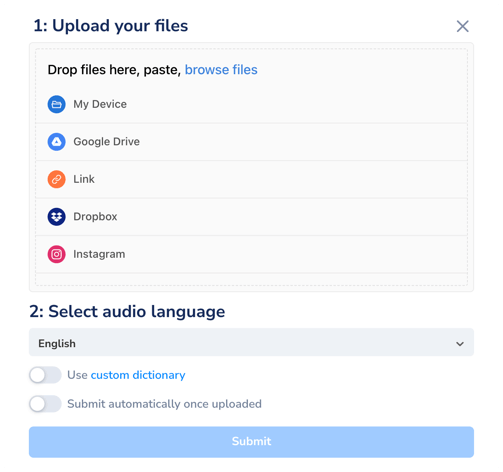 1

Upload audio files to Maestra's Cloud

Users can upload various types of files to Maestra's cloud. Aside from different file formats, you can also upload from Instagram, Youtube, Google Drive, or Dropbox directly to Maestra or drag a file directly from your folders.
2

Automatic Audio Translator

After uploading the audio file to Maestra's transcription software, the transcription process will automatically begin. Users can select a target language to simultaneously finish the transcription and translation. You can also translate the audio files to more languages after this step while using Maestra's advanced editor.
3

Edit and Export

In Maestra's editor, users can adjust the text and preview audio files after making changes. To translate audio to text, click "Translate" and choose from over 80 languages. Then, export the audio file in different formats available in Maestra.
Benefits of Automatic Audio Translation
Whether you are a content creator, a professional translator, or a worker who occasionally needs voice translation, Maestra's online voice translator can automatically transcribe voice recordings, audio, or voice notes and translate audio to text to multiple languages in just a few minutes.
Time-Saving
It can take a while to transcribe and translate a voice or audio recording, but Maestra's automatic transcription software allows users to transcribe a voice recording or an audio track in minutes with impressive accuracy, thanks to its speech recognition software.
In the translation business, working with bulky files can take a long time. Which can even be longer if you do quality control after translating. If you finish lengthy translations in a smaller amount of time, you will have more time to correct mistakes which will result in doing more work in a smaller time frame. Maestra's audio translator will let you achieve this thanks to its accurate speech recognition software.
Gain More Viewers Through Accessibility
Any kind of content can benefit from audio translation simply because breaking the language barrier allows the content to reach an international audience.
Some content creators aren't satisfied with the number of viewers they reach even though they put a lot of work into their content. Maestra's audio translator can translate audio within minutes which allows more people to consume the content. Users can upload multiple audio formats and receive the translated audio in more than 80 supported languages. A wide variety of languages ensures customers can translate voices to less spoken languages if they choose to do so using our voice translator.
Reach Your Content's Potential
Audio content can be consumed anywhere. People listen to podcasts, videos, and recordings while they commute, relax or even work. It is a form of content that is easily consumable anywhere and anytime. This is why an audio translator can be extremely beneficial. Being able to translate audio to a foreign language in a few clicks instantly allows your content to reach a new audience that can carry the accessibility level of the content to the next level.
Maestra's Voice Translator
We all know about translating subtitles, but translating the text and adding AI-generated neural voices through text-to-speech recognition software is a great addition to content that many people aren't taking advantage of. The added accessibility of subtitles and voiceovers is simply too great to miss out on.
Maestra's voice translator is an automatic voiceover generator that can also translate the generated voiceovers to more than 80 languages. This is a great way to add accessibility and growth to any kind of content without needing to actually do the manual work that is needed in traditional dubbing. With a few clicks and in minutes, create content with artificially-generated voiceovers and greatly widen the potential of your content.
The speech recognition software accurately detects the voices and translates the audio. In addition, users can adjust the volumes of both the voiceover and the original audio of the file through our voiceover editor.
Easily Edit Your Text
With Maestra's text editor you can easily make changes to the text, and automatically translate the text to 80+ foreign languages at no additional cost.
Export as MP4 video with custom text styling!
Export your text as a Word File, PDF or TXT
Audio Transcript Synchronization
Automatically Generated Timestamps
Detect different speakers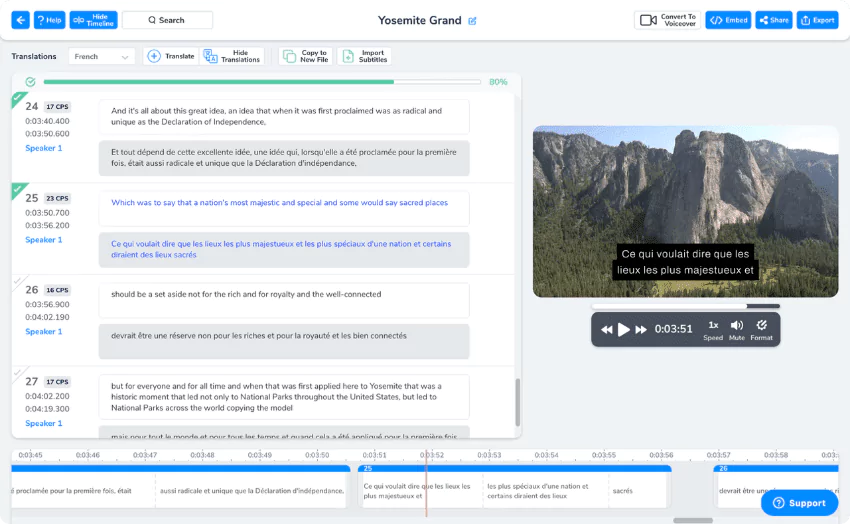 Custom Styling
While you add subtitles automatically to a video, Maestra also allows you to style your video by offering multiple fonts, sizes, and colors, as well as additional custom subtitle styling tools.
After you add subtitles to a video, you can then have the video content rendered inside the cloud servers of Maestra so your device doesn't have to crumble between the intense load of media encoding. Your video file should be ready to download within minutes and once it is ready you can download the subtitled file right through your browser.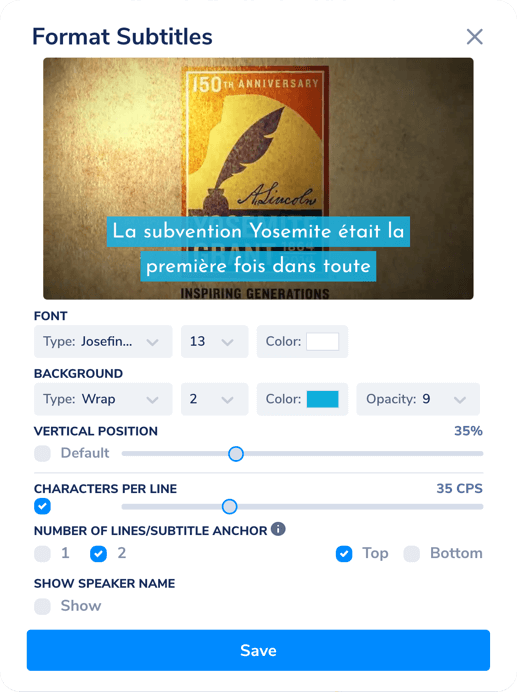 Maestra Teams
Create Team-based channels with view and edit level permissions for your entire team & company. Collaborate and edit shared files with your colleagues in real-time. Translate subtitles with Maestra's online subtitle translator.
Collaborate and edit the subtitle file
Maestra's audio translator allows you to edit and share the translated text in a collaborative environment.
Secure
The process is completely automated. Your audio and media files are encrypted at rest and in transit and cannot be accessed by anyone else unless you authorize. Once you delete a file, all data including the media files and the text will be instantly deleted. Check our security page for more!
Multi-Channel Uploading
Translate audio files after uploading from your device, Google Drive, Dropbox, Instagram, or alternatively by pasting a YouTube or public media link.
Customer Reviews
What people are saying about Maestra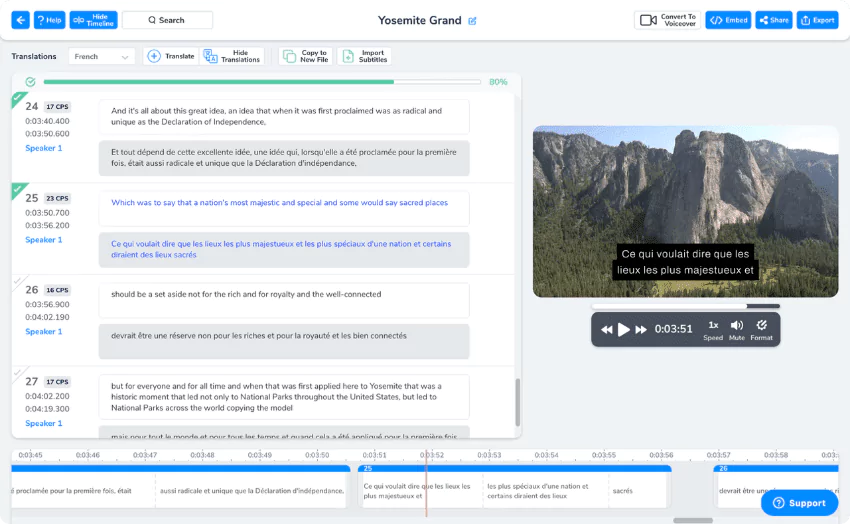 Register
Start using Maestra's audio translator today.
Sign up for Maestra today, so you can easily translate audio files into 80+ languages.
Perfect for Educators, Researchers, Marketers, Lecturers, Journalists, Media companies, and You!