Online SRT Translator
Translate subtitles to 80+ languages online.
Get Started
* No credit card or account required
Brands using Maestra:
How to Translate Subtitles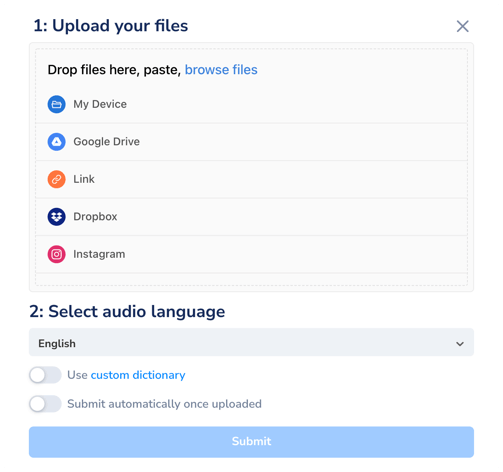 1

Upload the Subtitle File

Click the button above and upload subtitle files to Maestra's SRT file translator from a variety of ways. Upload from Instagram, Dropbox, Google Drive, use a Youtube link or drag the subtitle file from your directory.
2

Translate Subtitles

Click the translate button on the editor and choose from more than 80 languages. Within seconds, you will have the translated subtitle file ready to edit and polish. Finally, you can export the subtitles as an SRT file or any other subtitle format.
Online Subtitle Translation
Anybody can translate subtitles using Maestra's SRT translator to generate subtitles in more than 80 languages. It is an incredibly simple to use yet advanced SRT translator.
Every process from translation to editing is done online which means that users do not need to download anything to start translating subtitles. Everything is easy to access and time-saving thanks to the free online tool.
Automatic translation is fast so that users can translate their subtitles to multiple languages within minutes and export the translated subtitles in the subtitle editor.
Accurate Subtitle Translator
Manual translation takes quite a while, especially when dealing with a variety of formats that need technical knowledge. One of the greatest benefits of a subtitle translation software like Maestra's is that translating subtitles takes little to no effort and time.
To translate subtitles, all you need to do is upload the subtitle file to the online SRT translator and choose the target language. Then, within a few minutes you will have the tranlated file ready to be pushed onto a video or audio file.
Frequently Asked Questions
How do I translate an SRT file?
You can translate an SRT file using Maestra's SRT translator in a few seconds. Upload the subtitle file or put the subtitle text in the online subtitle translator and translate the SRT file to more than 80 languages. No account required.
What is the best subtitle translator?
Maestra's online SRT subtitle translator is an incredibly fast and accurate tool that can accomplish any subtitling goal you have. Click the button on the top of this page to access Maestra's SRT translator and translate subtitles to your desired language in a few clicks.
What app can read SRT files?
Some subtitle formats are hard to read but can easily be put in to a simple text format. Maestra's subtitle translation tool supports multiple subtitle formats so that when you put an SRT file into the online tool, you can see the subtitles line by line and translate them to more than 80 languages.
How do I transcribe an SRT file?
With Maestra's SRT translator, you can translate SRT files to more than 80 languages then export the file in any format you like, including the TXT format where you can see all the subtitles as paragraphs.
You Might Also Be Interested In:
Customer Reviews
What people are saying about Maestra