The Best Online Transcriber Alternative in 2022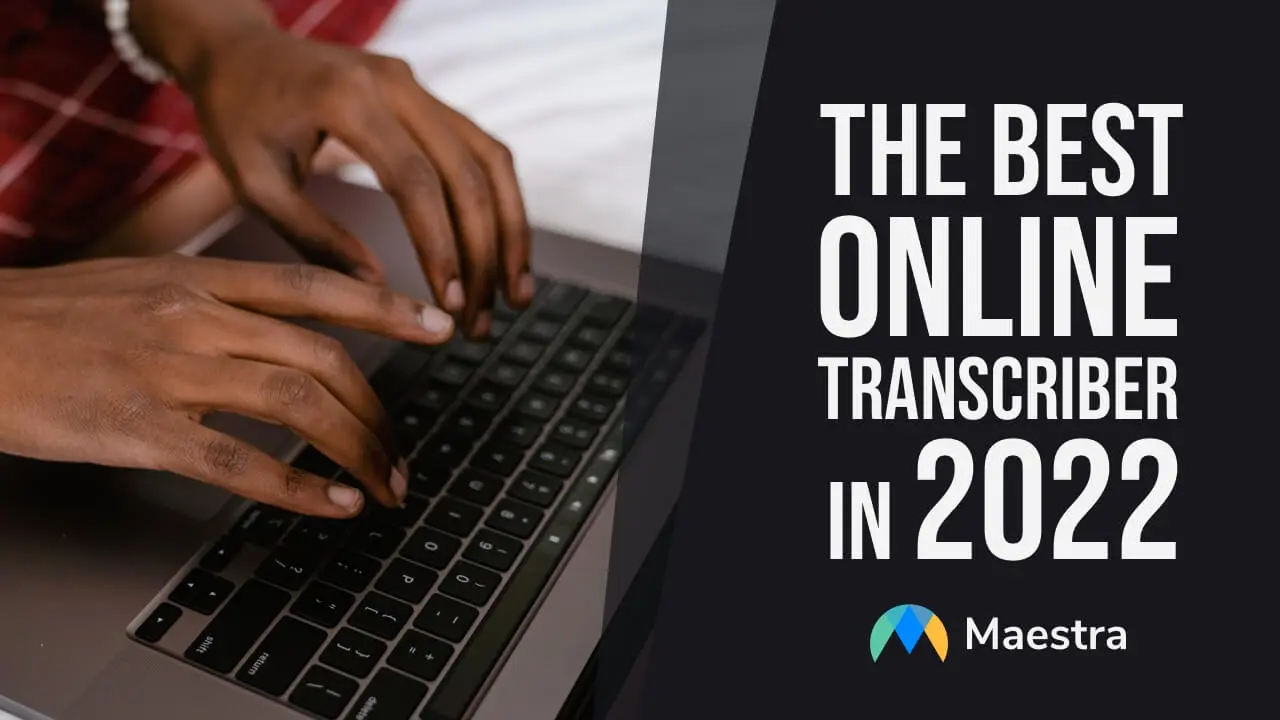 If you are looking to convert audio to text, then you need a transcription service.
For many, this "service" is a person in the form of a transcriber.
The internet opens up many options for transcription services, including online transcribers. You can now hire someone from anywhere in the world to transcribe recorded phone calls, meeting notes, class lectures, and more.
However, a transcriptionist is not your only option for audio transcription.
So what is the best online transcriber alternative in 2022?
Keep reading to find out.
What is an Online Transcriber?
A transcriptionist is a person who converts audio or video files into written text. The person will listen to the audio and type what they hear into text. Since people tend to speak a bit differently than they write, the transcriptionist will also make necessary grammatical adjustments to ensure readability.
Thanks to the internet, you can now hire a transcriptionist online. Whether you post a job opening directly or use a contractor site, there are several ways to find a transcriptionist for your projects.
How Much Does an Online Transcriptionist Cost?
If you're looking for high-quality transcription services, then you'll certainly want to know how much it will cost to hire an online transcriptionist.
Professional transcriptionists make approximately $1.5 to $3 per minute of audio ($90 to $180 per audio hour). With rates based on audio hours, you will know upfront how much to pay based on your project length. Keep in mind that special conditions, like a faster turnaround time or extra formatting, may cost you extra.
Additionally, some transcriptionists charge hourly rates for their time instead of charging per audio hour. On Upwork, for example, it costs $12 to $22 per hour to hire a transcriptionist.
Pros and Cons of Working with an Online Transcriptionist
When it comes to converting an audio or video file to text, an online transcriptionist is still a common choice for many. But is this the best choice for your project or your long-term needs?
Here are some of the top pros and cons of working with a transcriptionist:
Benefits
Abundant choices. Much like any remote contractor, you can choose from many options in many parts of the world. With so many options, you may be able to find a good fit for your needs.
Part of the team. It's possible to hire an in-house transcriptionist to work consistently with you on several projects.
Human touch. Some enjoy working directly with other people and the collaborative aspects.
Considerations
Despite the benefits of transcriptionists, there are some important drawbacks to consider:
High long-term cost. Overall, the cost of hiring an audio transcription professional is higher than working with artificial intelligence solutions. In the long-term, you can expect to pay a lot more money, which takes away from other aspects of your project.
Human error. No matter how experienced someone is, people are not perfect. That means that even professional transcriptionists can make mistakes, or may take longer than expected.
Turnaround time. Even the fastest typers using keyboard shortcuts are not machines. There's a human limit to how quickly they can turn around projects. Even if they can provide an incredible one-day turnaround for many projects, this is not real-time transcription.
Transcription Software is the Key
The truth is that hiring a transcriptionist is not always the best decision for your project. While it allows you to work with a person, it also means you'll deal with slower turnaround times, unavoidable human error, and a costly option.
The best alternative to online transcribers in 2022 is transcription software. Transcription software is an automatic transcription tool that converts audio files to text. Artificial intelligence (AI) is the engine behind changing video file formats to text. AI development allows these software solutions to ensure up to 99% accuracy.
There are many different options available for automatic transcription. While each may work slightly differently, the basic concept is to use artificial intelligence to change audio to text. These software solutions are far more accurate and fast than they used to be, thanks to the continued advancements in machine learning.
Benefits of Transcription Software
What makes transcription software so beneficial for audio or video file transcription? Here are a few of the top benefits:
Cost-Effective. One of the biggest advantages of transcription software is the price. For example, otranscribe is a free option that may work for some basic transcription. Aside from free plan options, there are also many highly affordable software choices that cost a fraction of the price of hiring a transcriptionist, including happy scribe and Maestra.
Real-time transcription. No matter how fast a transcriptionist types, transcription software leveraging artificial intelligence is faster. These software solutions offer nearly real-time transcription. Upload your file and receive the complete transcription back within minutes. This turnaround time blows an online transcriptionist out of the water.
Additional features. The top transcription services offer several additional features that a hired transcriptionist typically doesn't. For one, they may provide interactive timestamps throughout the text conversion. These timestamps make it easy for you to reference areas of text. They also offer text editor options so you can make any adjustments you want before downloading.
Location isn't a factor. You never have to worry about communicating across time zones or finding a transcriptionist that speaks the right language. Anywhere you have internet access, you can use transcription software.
Maestra Automated Transcription
Transcription software is one of the best options available for converting audio or video files to text. But when it comes to choosing software, there are dozens of options available, including the leading option: Maestra.
Why choose Maestra for your audio-to-text transcription?
Maestra provides AI-powered transcriptions using voice recognition and machine learning. Thanks to modern advances in AI technologies and AI systems, we can provide highly accurate transcriptions.
Every transcription comes with time stamps for easy review and reference. Students, teachers, enterprise clients, and everyone in between can leverage our software for their transcription needs.
Here are a few of the top benefits you can enjoy from our transcription services:
Easy, convenient process. Simply upload your audio files, select the language, receive your transcription text, and download in your preferred format.
Transcribe within minutes. Powered by machine learning, our AI transcription tool completes transcription within minutes.
Accurate results. Accuracy is one of our priorities here at Maestra, which is why you can count on our software solutions for highly accurate transcription.
Free trial. We offer transcription that works, but you don't need to take our word for it. Try out 15-minutes yourself with our free trial.
Get Started Today!
For a long time, the only way to convert audio to text was to listen to it and type it out. For this reason, many people began hiring transcriptionists to perform this tedious task. While an online transcriber may be right for some people, the better alternative is AI-powered transcription solutions.
For a fast, affordable tool that converts audio, turn to Maestra. Our software includes an interactive text editor and timestamps to help you streamline your projects. We're here to help with accurate, convenient audio-to-text conversion today.
Start your free trial today for 15 free minutes of transcription. Then book your free demo with our specialists today!