The Best TikTok Video Editing Apps to Use in 2023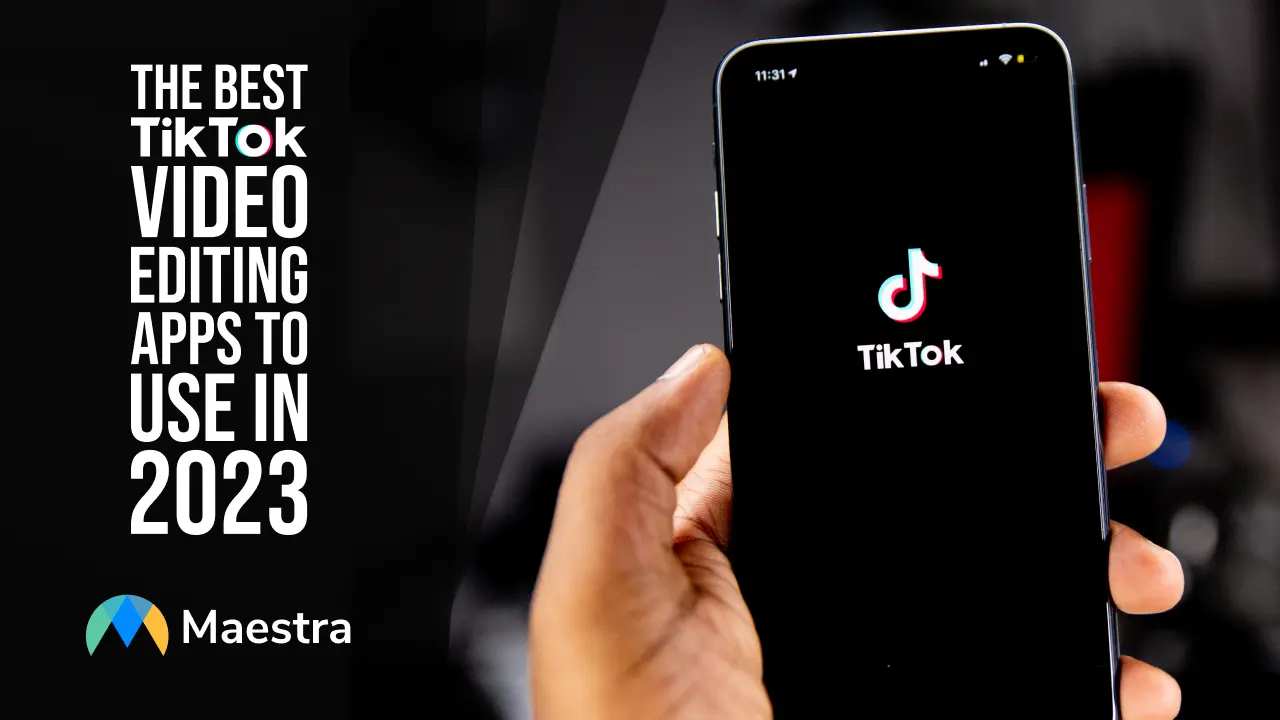 TikTok is one of the most popular social media platforms today, with over 834 million users active each month. Its popularity has grown exponentially over the last few years. As video length becomes longer on the app, proper editing has become even more important.
While you can use TikTok's native video editor to create content and use TikTok as part of your social media marketing strategy many users find that the TikTok video editor isn't as comprehensive as they would like it to be. In fact, TikTok's native video editor has a lot of limitations that other video editing tools do not. As a result, there has been a surge in the number of video editing apps available to help users create amazing content to post to their profiles.
In this article, we will discuss some of the best TikTok video editing apps to use in 2023. We will look at their features and capabilities, as well as their advantages and disadvantages of each. By understanding these apps better, you can make sure that you are using the best app for your video editing needs and get the most out of your TikTok videos!
Why Use TikTok Video Editors
With the rise of social media, video content has become one of the most popular forms of communication. As we've mentioned, TikTok - like YouTube - is one of the most popular platforms for creating and sharing videos, but it's not the only option.
There are many other video editors available that offer unique features and capabilities that can help you create more engaging content. If you create TikToks on a regular basis, chances are, TikTok's video editor might not have all of the features you need. Using other video editors instead of TikTok's editor has many benefits.
Easy Sharing
One advantage is that it's easier to cross-share your videos on multiple platforms with a single click without a watermark. TikTok's own video editor will leave a watermark on your video , which can look unprofessional and draw attention away from your content.
Additional Tools And Features
Another benefit to using more advanced video editing apps instead of TikTok is that you can access a wider range of editing tools and features, allowing you to create more creative and visually appealing videos. Additionally, some video editors offer advanced options such as motion tracking or green screen effects which are not available in TikTok's editor. Other editing tools also contain features like special sound effects or visuals that cannot be found on TikTok.
Overall, using other video editors instead of just relying on TikTok's editor can help you create better quality content that will reach a larger audience. Are you asking yourself, "what apps do TikTokers use to edit videos?" If so, read on. We'll go over all of the best apps to edit TikTok videos and video clips.
TikTok
Of course, you can use TikTok's built-in video editor to edit your videos - but TikTok's own video editor is very limited, meaning you can't do a lot with the features they provide. While it's free, TikTok will also leave a watermark on your video, making it harder to share on other social media platforms.
If you're looking to edit longer videos like explainer videos or want to use advanced video editing features, you should probably look for a different video editor.
Cost: Free! The TikTok video editor is free for anyone, and does not offer in-app purchases. If you have the TikTok app, you have access to the TikTok video editor.
CapCut
CapCut is one of the best TikTok video editing apps, since it was founded by Bytedance, the company that also founded TikTok! While CapCut is new, it's totally free, meaning that there aren't any risks that come with trying it out.
CapCut offers TikTok users an array of effects, filters, stickers and other helpful video editing tools. You'll also have access to an enormous music library containing thousands of songs.
One downside to CapCut is that it doesn't offer important modern features like a green screen, which can help you create some pretty incredible videos. If you're looking for a video editing app that boasts a green screen or other highly advanced features, you might want to consider paying for a video editor.
Cost: Free! CapCut does not contain in-app purchases, nor does it offer a paid subscription.
Zoomerang
Zoomerang is the best TikTok video editing app out there for beginners since it gives you a ton of resources and tutorials to help you get started. The tutorials are probably the best part of creating videos using Zoomerang; if you ever have a question about what to do or are just lacking in creative inspiration, the app is there to help with its many resources. Zoomerang also contains filters, stickers, and a huge library of music.
If you're looking to become one of the top TikTok users, using and getting involved with Zoomerang is also a great way to help you boost your follower count. The popular Zoomerang account often reposts videos from users who use its video editing software, which can gain you a ton of views and followers that you wouldn't have been able to otherwise reach.
While you can pay for some additional in-app purchases in Zoomerang, the free version has everything you need to get started with editing videos for TikTok.
Cost: The base Zoomerang app is free, but you can pay for additional features. In-app purchases range from $4.99-$29.99 per item. There is no subscription fee.
Quik
Quik is more basic than the other options on this list, offering users templates and styles to choose from rather than letting you edit your videos from scratch. If you're not editing long videos or you just aren't familiar with video editing apps, Quik might be a good place for you to start, even if you decide to use a more advanced and customizable app later on.
For its simplicity, Quik packs a lot of punch with its features. You can add emojis and colorful stickers to your videos, add visual effects, tweak your appearance, and more.
Cost: Quil is free, but you can pay for additional features with in-app purchases. Each in-app purchase in Quik costs $2.99. There is no subscription fee.
Use Maestra to Create the Best TikTok Video Captions
There are a lot of steps that go into creating the top TikTok videos; from filming to editing to adding captions, you'll need to do a lot to make sure that your video is ready for TikTok.
For the best video editing and captioning experience, check out Maestra Studio. Maestra Studio's all-in-one video captioning and translation tool helps you create amazing videos for your TikTok account that can be shared anywhere. You can add text to your videos and add accompanying captions that make them more accessible, shareable, and readable.
After editing your video using any of the TikTok video editors available on the internet - whether you use Final Cut Pro or TikTok's native editor - Maestra Studio is all you need to add captions, subtitles, and even translations that will allow your video to be shared all over the internet.
Are you curious about how Maestra Studio can help you improve your TikTok videos, get more followers, and improve the accessibility of your content? Sign up for a free demo today !