Transcribe Your Recordings: 7 Tips for Better Note-Taking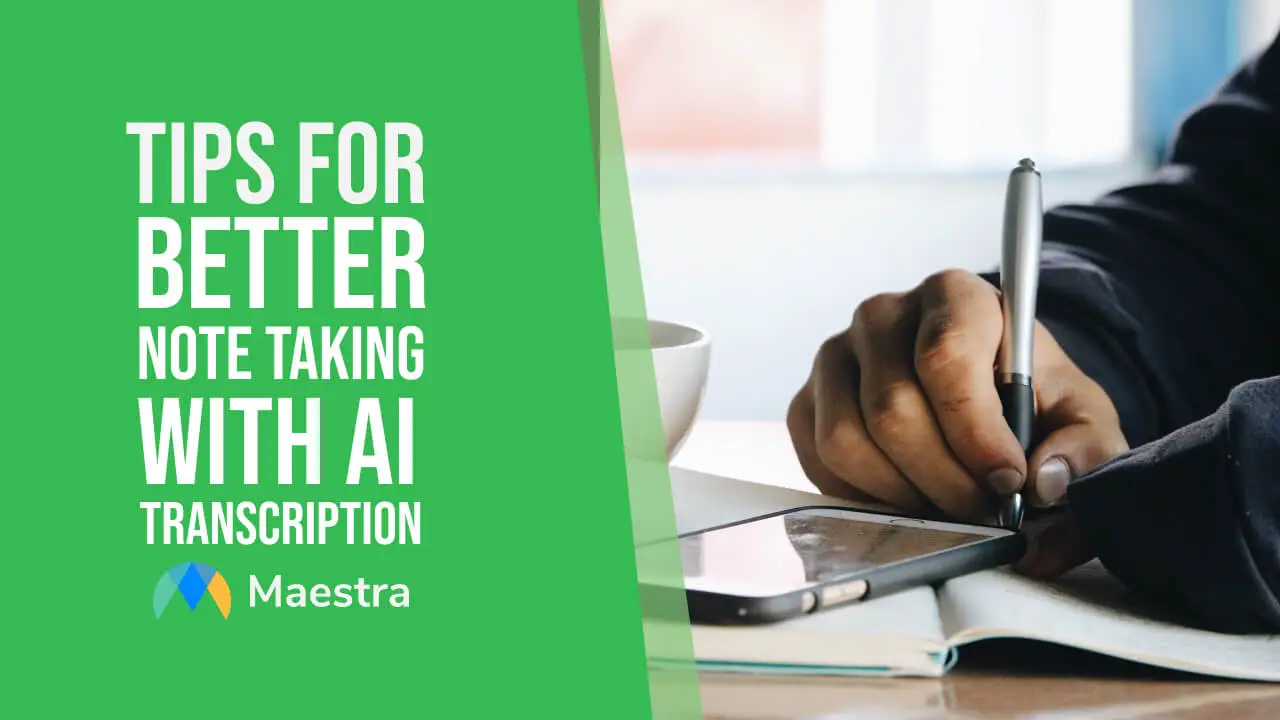 Notetaking is an essential skill for students. Traditionally, students have kept notes by hand — but now that almost everyone has a smartphone with them, it's more common to create audio recordings of class sessions to review later. Additionally, many classes are now taught online using e-learning tools, and students are often able to access video recordings of their online lectures to review as they need.
However, while having a recording gives you a full account of the class session, the downside is that you miss out on being able to actually see your notes in front of you. When you only have an audio or video recording that you have to scroll through, it can be very difficult to find exactly the information you need when you need it.
To get around this issue, many students transcribe their self-recorded lectures or video classes so they have a text copy of the class session. However, fast and accurate transcription is a specialized skill in itself, and not every student has the time or ability to transcribe their notes.
That's where Maestra comes in. Students can use Maestra's AI-powered audio-to-text converter to accurately transcribe their recorded notes in over 80 languages with just the press of a button. You can even export your finished transcriptions, complete with timestamps and labeled speakers, in a variety of file formats like Word documents, PDFs, plain text, and more.
Let's explore some of the ways you can use the power of AI to transcribe your recordings for better note-taking:
1. You Can Pay Better Attention in Class
Handwriting notes requires you to divide your attention between what you're writing down and what's happening around you in class. Recording lectures or discussions and automatically transcribing them later with a tool like Maestra frees you up to fully engage with the content by following along visually, asking questions, or participating more fully in group discussions.
2. You Can Improve the Accuracy of Your Notes
When you're handwriting notes, it's easy to miss important details because you only have time to jot down the most important points. Even if you record a lecture and transcribe it later by hand, it's still very easy to make transcription errors and end up with inaccurate notes. This is especially true if you're recording a class discussion with multiple people talking over one another or if the recording takes place in a large lecture hall.
3. You Can Save Time
Taking accurate notes by hand or transcribing a recorded lecture is extremely time consuming. If you're keeping notes during class, you'll need to race to keep up. If you're transcribing a recording afterwards, you'll likely have hours of work ahead of you to get a full, accurate transcription of the entire class session. However, with the help of an AI transcription tool like Maestra, you can turn your recordings into accurate transcriptions almost instantly — which will speed up your note-taking enormously.
4. You Can Stay More Organized
Having a clean, accurate transcription of an entire class session makes it easier to break the information down at your own pace later. For example, you can review your transcription and pick out key points with which to build a mind map or highlight the parts you don't understand and prepare a list of questions to ask at your next class session. It's much harder to approach studying in an organized manner when you only have a recording or hand-written notes that were taken in haste.
5. You Can Review Your Notes Right Away
One of the best times to go over your notes is shortly after the class session while the information is still fresh in your mind. If you wait for days or weeks before you revisit the material, you will have already forgotten much of it, whereas reviewing right away solidifies the knowledge. It's difficult to review promptly if you have to wait to have your notes transcribed, but Maestra's AI transcription works quickly so you can access your notes immediately.
6. You Can Share Your Notes Easily
Having AI-generated transcriptions of your lectures or class discussions will make you a huge help at group study sessions. Instead of comparing potentially conflicting notes that different group members took down quickly by hand, you can have an authoritative transcript of exactly what was covered in class. This lets you spend less time getting everyone's notes aligned and more time going over the material.
7. You Can Save Money
Many students pay to have their lecture notes professionally transcribed. Professional transcribers often charge upwards of $100 per hour of audio recording. With an AI-powered tool like Maestra, you can have your notes transcribed at a faster pace for just $10 per hour of audio.
Improve Your Note-Taking With Maestra
If you're looking for a better way to transcribe your recordings and improve your note-taking, Maestra might just be the perfect solution. Try our audio-to-text transcription for free or request a demo today!