How to Keep Viewers Engaged on TikTok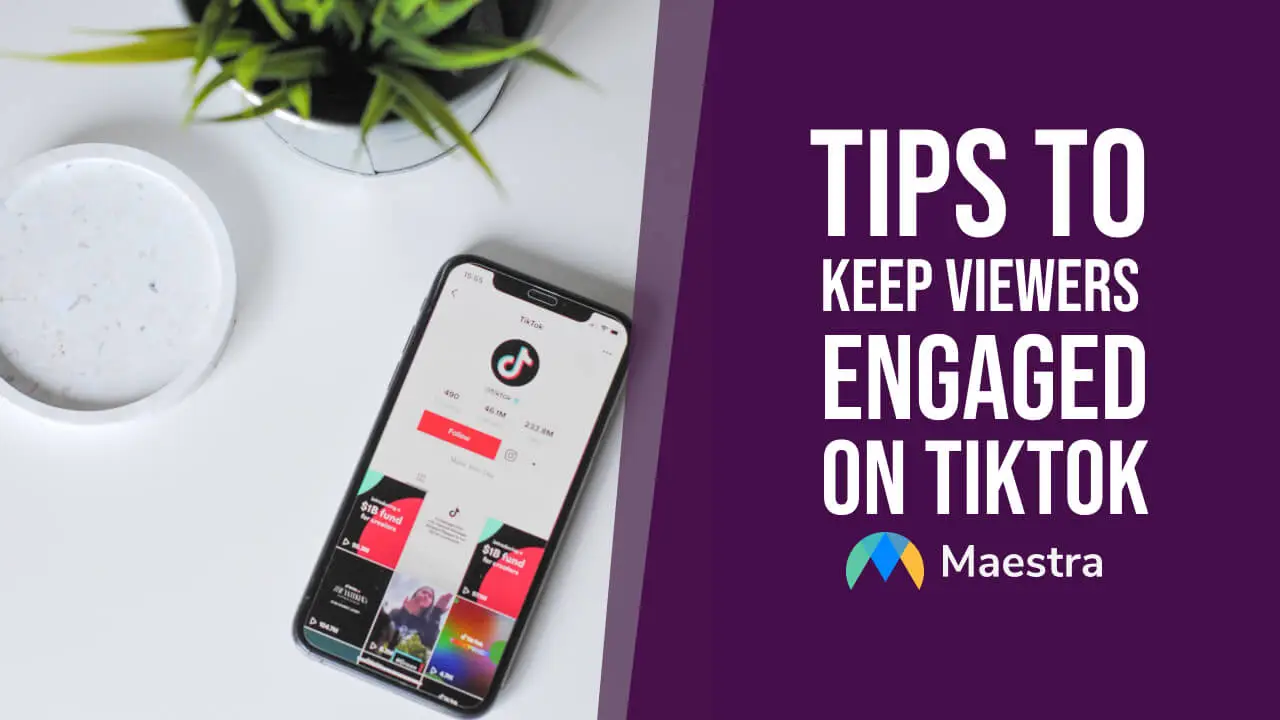 With its short-form video tools, TikTok is allowing brands and creators to reach more people than ever before. However, given the platform's fast-paced nature, creators only have a few seconds to capture viewers' attention and make an impact. The platform's vast amount of daily content makes standing out incredibly challenging.
Here's what you need to know about TikTok to ensure your content isn't lost in a sea of shorts.
The Rise of TikTok
TikTok's success can be largely attributed to the platform's short-form video content. TikTok videos align seamlessly with modern digital consumption patterns, where immediate reward and engagement are paramount.
The platform also has various embedded tools and features, allowing any user, whether tech-savvy or not, to become a TikTok creator. This promotes an environment of creativity and inclusivity.
The app is home to many different types of content. From comedic sketches and dance routines to educational tidbits and DIY hacks, the content spectrum on TikTok is vast. There is something for every user.
By collaborating with TikTok creators, brands have found a unique avenue for promoting their products and services. They also leverage TikTok SEO hashtags to engage with users and boost visibility.
Whether you're an individual user or a growing business looking to expand your reach, understanding TikTok content is key to getting the most out of the platform—and that all starts with knowing how to catch your eyes.
Tips For Getting Seen on TikTok
The ultimate purpose of TikTok and all social media platforms is to be seen. Creators want their content to be noticed by the wider world, but that can be difficult when they're up against 34 million new videos daily.
Understand Your Audience
In any marketing strategy, the first—and perhaps most crucial—step is understanding who you're targeting and what they're looking for. Age, geographic location, interests, and behavioral trends should be considered.
TikTok's analytics tell you when your audience is most active, what type of content they engage with, and which videos of yours have the highest retention rate. All of this information can guide your content strategy. Study these insights to stay in tune with your audience's preferences.
Strike the Right Balance With Video Length
Although TikTok started as a platform for 15-second videos, it now allows content up to three minutes long. While this provides more room for storytelling, remember that one of TikTok's primary appeals is its bite-sized content.
Aim to deliver maximum value or entertainment in the shortest time possible. Packing a punch with your content will make viewers excited to see more.
Prioritize Quality Over Quantity
In the race to post daily or multiple times a day, content quality can suffer. It's important to note that viewers will remember and return for well-crafted content. High-resolution videos and a well-thought-out script or storyline can make all the difference.
It's better to post three high-quality videos a week that resonate with viewers than daily videos that are forgettable - so focusing on high-quality content is important.
Stay Updated With Trends and Challenges
TikTok thrives on trends. New challenges, songs, and memes are constantly going viral. Jumping on these trends can drastically increase your video's visibility and demonstrate to your audience that you're "with the times."
But just blindly following a trend isn't the answer. The trick is integrating the trend into your unique content creation or TikTok hashtag strategy. Give it a fresh twist that aligns with your brand or personality. Any trends that you choose to add to your TikTok channel should resonate with your audience and add value in some way. This prevents you from alienating your audience by hopping on trends with no rhyme or reason.
Inject Authenticity and Originality
Amidst content that often seems repetitive, originality stands out. Viewers love genuine content, whether it showcases real-life moments, shares personal stories, or is simply an authentic presentation of who you are.
A personal touch or unique perspective can make your content stand out, encouraging viewers to return for more. You can also add your original sound to the music library (more on that later), encouraging visitors to use the sound in their videos.
Embrace Educational Content
"Edutok" has become popular, as viewers enjoy bite-sized, educational content. Consider sharing DIY crafts, teaching a new language, offering fitness tips, or breaking complex topics your audience is curious about into easily digestible tidbits.
When done right, educational content can be a massive hit with many viewers. Make sure that your content is both accurate and easy to understand, and you'll be raking in hits in no time. Just remember that "educational" doesn't need to be boring - and be sure to add fun elements to grab the attention of your audience!
Edit Your Video Content Well
There are several considerations to make when you are editing your video to ensure that it is as high-quality as possible. Avoid poor video structure and poor video quality, and take care during the post-production process for quality videos. (Avoid other mistakes by reading this!)
Craft Enticing Thumbnails
A video's thumbnail acts as its cover. It's the first thing viewers notice. While TikTok auto-selects thumbnails, creators can choose a specific frame from their video. It's worth the time to choose a thumbnail that's visually appealing and makes people want to learn more.
A study by Adobe found that thumbnail images with text got almost 20% more engagement than those without. Consider adding captions to those initial snippets to make them pop and to give your viewers an idea of what to expect from your TikTok video.
Collaborate With Other TikTokers
Collaboration is one of the best ways to boost engagement on TikTok. User-generated content performs very well on TikTok, so teaming up with others is a good idea. It can introduce you to a new audience and provide a fresh content perspective. For example, you might duet another user to amplify their content—and, in the process, bring attention to yours.
You could also join a challenge or work with an influencer on a joint video project. Collaboration is easy on TikTok - you don't need to be in the same room with the person you collaborate with. Look for any ways that you can foster mutually beneficial relationships with other creators.
Choose the Right Soundtrack
Music is the bread and butter of TikTok. The right track can elevate your content, making it more engaging and shareable. With TikTok's vast music library, there's a soundtrack for every mood and theme. The music library is another way that you can hop on trends. Many creators will use trending sound snippets to bring their personal experience into a funny audio track.
Ensure that chosen tracks complement rather than detract from your video content. This will enhance the overall viewing experience and prevent the content from being distracting.
Post Consistently
The more consistently you post, the more familiar you'll become on TikTok. There's no need to post daily, but having a consistent posting schedule lets other TikTok users know when to expect new content. This can build anticipation and drive more traffic to your page on posting days.
Viewers who are used to seeing regularly-posted content are also more likely to keep coming back. This is vital to a successful digital marketing campaign.
Actively Engage With Your Audience
It's not enough to post videos and close the app. Creators need to engage with their audiences to build trust. Build time into your posting schedule to answer questions and acknowledge feedback. Consider running special contests and promotions. An example of this could be to surprise the 20th commenter with an invitation to collaborate on your next video.
Diversify Your Content
While it's important to have a niche or theme, switching up your content can cater to different segments of your audience. It can also break the monotony, offering viewers a pleasant surprise. This doesn't have to be complicated - in fact, you can change the setting or your distance from the camera to create a different experience for your audience.
Utilize Calls-to-Action (CTAs)
CTAs are primarily for promotional content, but they can go beyond promotion. Throughout your videos, you can encourage viewers to like, share, comment, or even follow you. This makes viewers feel involved and can boost your video's reach and engagement metrics.
Analyze and Adapt
Continuously monitor how your content performs. TikTok analytics provides a goldmine of information. Understand what works, find areas that need improvement, and adapt accordingly.
Flexibility and willingness to evolve based on feedback and performance metrics ensure sustained viewer engagement. Don't cling to inefficient strategies—be willing to adapt based on what your potential customers want and expect.
Use Well-Positioned Captions
Captions are an underrated but extremely valuable way to get views. They provide context, add humor, or offer extra information when positioned correctly. Poorly placed captions that get cut off or obstruct crucial parts of the video can be frustrating for viewers.
Captions should be legible, concise, and not detract from the video's visual appeal. Remember that the goal here is to make the viewing experience more enriching.
Looking for a painless way to add captions? Maestra offers TikTok transcription services to help freshen up your content. By adding text to the screen, you can improve accessibility and engage with viewers on a deeper level.
Contact us today to learn more about our auto subtitle generator tool and how they can transform your TikTok marketing strategy.