Streamline your video creation with transcription software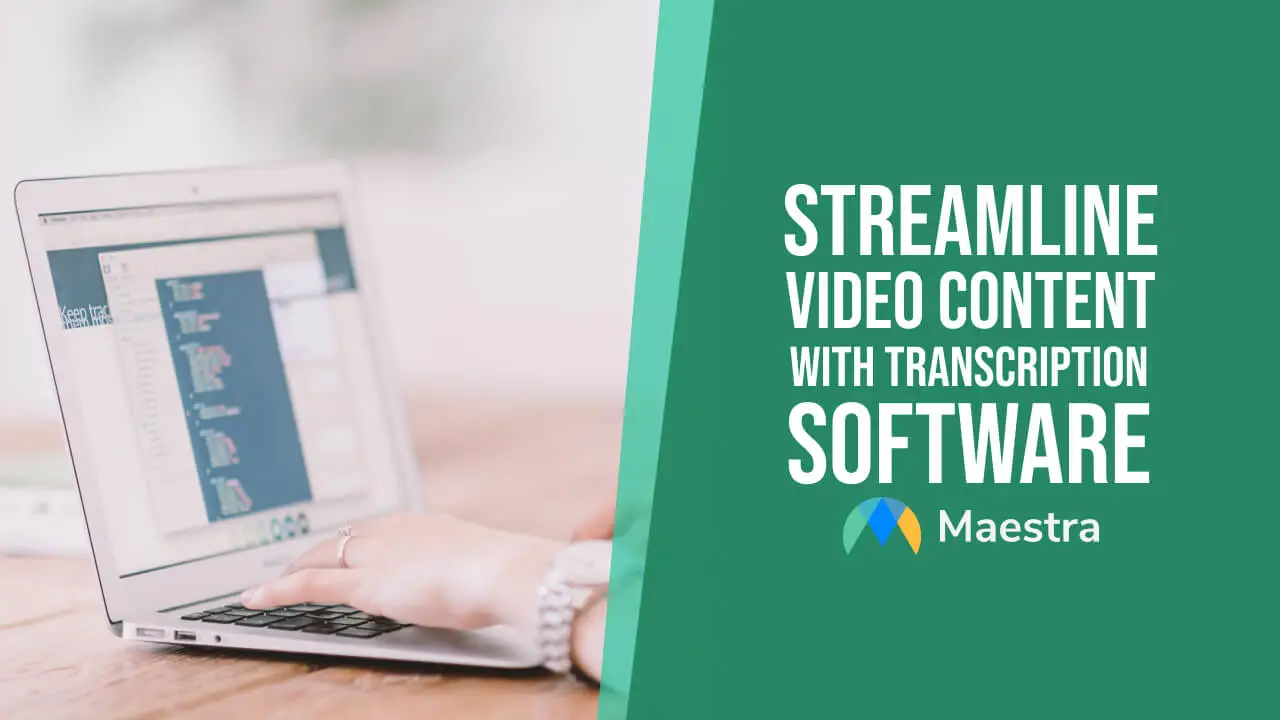 Streamline your video creation with transcription software
Video creators have a lot of responsibilities. Creating high-quality videos that capture the message you're trying to send can be a real challenge. Video editing with a tool like final cut pro, applying effects to video clips, and ensuring that audio is crisp and clear are all crucial.
Another important factor?
Transcription.
Transcriptions enable us to make our videos more accessible, offering subtitle options to those who prefer or rely on them. They also make our content much more reusable. That's right — transcriptions are more than just about offering subtitles or offering a transcript of an important conversation.
With transcriptions, it's easy to repurpose a piece of video content into written or audio content. Transcriptions can help make high-quality videos that are accessible and easy to repurpose, not to mention good for SEO. However, they can also represent a serious challenge.
So, how do video creators meet the challenges associated with quickly and easily generating video transcriptions? As important as it can be to generate accurate transcriptions quickly, there are many challenges in the process. For example, manually combing through videos to listen to audio files, transcribe, and double-check for mistakes can be time-consuming. What's more, there's always the risk of losing focus and making mistakes or simple human errors.
That's where high-quality AI video transcription and other beginner-friendly tools come in. These tools enable video creators to more efficiently and quickly generate accurate transcriptions of video content. As such, many video creators rely on the power of high-quality robust transcription software. Transcription software can quickly generate transcripts for adding subtitles, quick-indexing, or even just repositing.
Benefits of Streamlining Transcription
There are numerous potential benefits to streamlining transcription. Importantly, streamlining any task associated with content production can help individuals, teams, and organizations get things done on time. They also enable video creators to create accessible content that has SEO benefits, as well as repurposing ability.
Enabling Consistent Creation
A general rule of thumb for digital marketing and content creation is to regularly release high-quality content. As such, being able to support the team's ability to pump out high-quality content faster is always a win. What's more, streamlining transcription streamlines post-production. This helps teams produce content that is easily to reuse in audio or text formats, such as blogs, articles, or podcasts.
Supporting headless CMS and API use - Repurposing
There is an increasing shift among marketing teams, organizations, and even individuals to embracing headless content management systems, or CMSs. These favor a model of a content storage and dynamic frontend experiences. If you use CMSs, being able to easily repurpose content to fit the model can be highly important.
When it comes to repurposing audio and video files, having transcripts can be vital. With a headless content management system, an API can act as a storage place for potentially reusable content. This means that formatting, organizing, and indexing content properly can become crucial.
Whether the ultimate destination is traditional channels or social media, having modular content can be crucial. Ensuring that video content is easy to convert to other formats of content is also important. Video transcription can play an important role, enabling video content to be easy to convert into a text format if needed.
Helping Boost SEO Metrics
Another important factor in transcriptions? They can be a huge support to SEO strategy.
SEO is important for successful videos. In fact, SEO is a major consideration for content creators. This even applies to those who primarily deal with audio or video content, such as Youtubers and Tiktokers.
Including relevant keywords in video, transcripts, descriptions, tags, and comments, can help connect the right users with the right content. As such, transcriptions are about more than just offering viewers the ability to read subtitles. It's also a matter of properly indexing your content so that your audience can find it!
Criteria - Choosing Video Transcription Software
So, transcription software can be hugely beneficial to video creators looking to enhance the way they create video content. Good transcriptions ensure that videos are both accessible and easy to repurpose, as well as search engine optimized. But how does one find the best transcription software? What are some of the features to look out for in your search for the best tool for creating transcriptions?
Features
Importantly, it can be helpful to look at the features that various video transcription software might offer. Among potential features, some important ones might be:
The ability to edit transcriptions manually if needed. Finding a software solution that enables you to create accurate real-time transcriptions consistently is absolutely important. However, it can also be important to find software that enables you to easily implement human quality control. That way, you can manually tweak and edit transcriptions as needed.
Languages. Importantly, consider whether transcription software services might offer different languages. For example, if you have multilingual viewers, you may want to prioritize this. In addition, software that can work in multiple languages can make your content more accurate and accessible worldwide.
Other Considerations
The inherent accuracy and quality of the software. A vital consideration when searching for the best transcription software — accuracy. Two notable benefits of automatically transcribing text through software are mitigating the risk of human error and creating functional transcriptions. To both ends, finding software with a high rate of accuracy is important when sourcing the best possible video transcription software. AI-powered tools for transcribing audio can be particularly robust.
Cost Considerations. Another consideration one may take when sourcing the best video transcription software is that of price. It can be important to find a service that easily fits your budget, even long term. As subscription cloud-based services can incur user subscription costs, carefully consider how long-term of a solution you might need.
The Bottom Line
Video creators have a lot to consider and a lot to work with. For example, making videos high-quality, well-indexed, SEO-ready, and easy to repurpose are all priorities. To all of those ends, video transcription software can be hugely beneficial. enabling teams, individuals, and organizations to more quickly and efficiently generate text transcriptions
Transcriptions offer a lot of benefits: they can be helpful in SEO, indexing, repurposing, and even accessibility. As such, automated transcription that transcription software can offer can be a crucial part of a content strategy. Accurate transcriptions made possible through transcription software can be extremely useful.
Transcription software can be extremely beneficial to organizations, individuals, and teams responsible for video content creation. However, there are some considerations to take when sourcing the best video transcription-generating tools. Among these are features, accuracy, cost, and languages offered.
To learn more about AI-powered transcription services or to start using them, reach out to our team. Maestra offers robust AI-powered transcription software that can quickly generate highly accurate transcripts. What's more, Maestra supports over 80 languages, enabling users to create multilingual subtitles with ease. To learn more, sign up for a free trial today!