AI Workplace Tools to Increase Productivity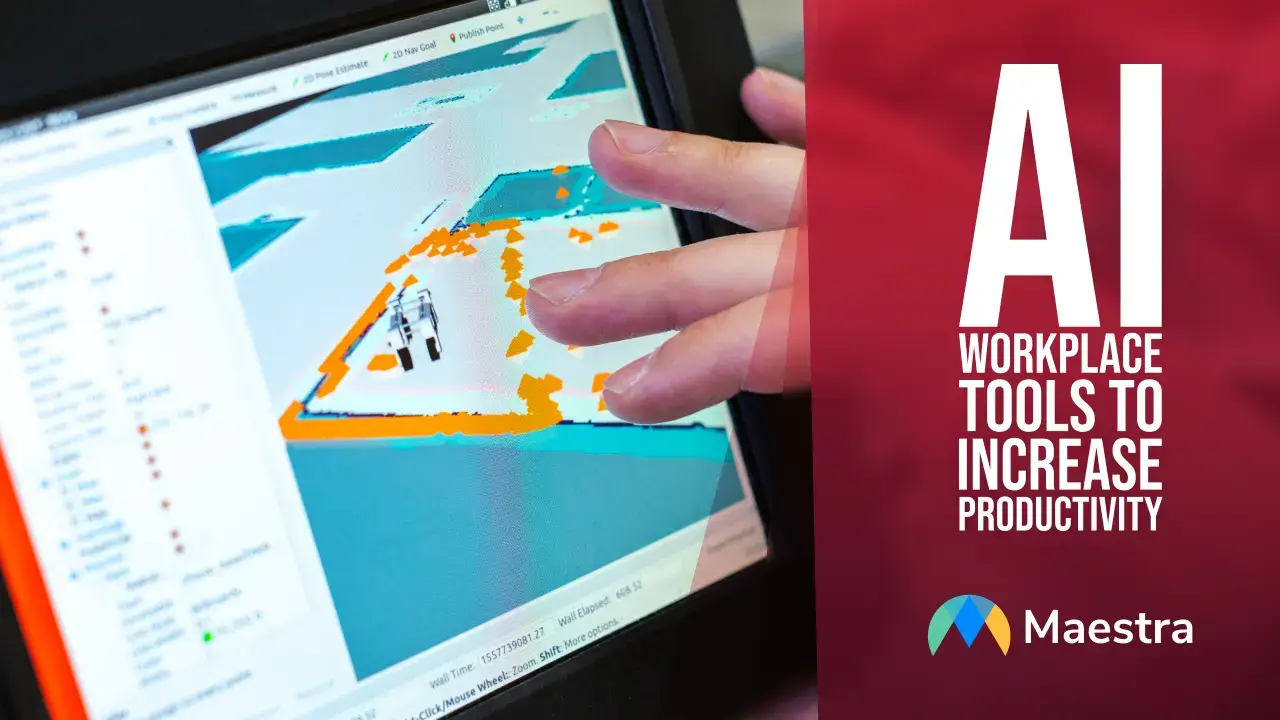 AI technology now plays a significant role in many workplace decisions. AI in workplace settings boosts productivity using natural language processing and machine learning. The technology helps in many areas including hiring, employee performance, customer service, marketing, sales, finance, and more.
For example, a generative AI tool can help you create a blog post that you to share on social media in far less time than it takes to research a topic and write about it. Artificial intelligence AI tools also save time in editing.
How else can AI workplace tools improve productivity? Read this article to learn more!
Administrative AI Tools to Increase Productivity
Rationale
Operating a brand requires more than marketing. Decision-making skills steer a business to a brighter horizon. This is where Rationale comes in. This tool helps business owners make challenging decisions. Users first enter a pending decision or multiple options and Rationale lists the pros and cons for each one.
Textio
As your brand grows, you might find yourself needing to hire employees. Therefore, you'll need appealing job ads. Textio uses AI to score documents based on their ability to attract users. Textio also helps to get rid of gender bias during hiring by detecting it in job descriptions. Textio helps you fairly recruit the best person for the job.
Legal Robot
The business world is filled with complicated contracts and legalese. Legal Robot helps any company understand contracts and documents. Completely understand what you sign before doing so. Legal Robot prevents misunderstandings or disagreements and costly legal disputes. It also expedites signings.
Timely
Payroll processing is a necessary grind. Employees want to get paid. Time tracking and associated paperwork slow any team's momentum. Timely uses machine learning to streamline time tracking and timesheet creation. It automatically processes recorded data and generates draft timesheet entries for the team, reducing the time spent on manual data entry.
Content Creation AI Tools to Increase Productivity
Jasper
Starting a blog is one way to increase SEO and appeal to your target audience. Blogging is an effective method for brands to boost customer engagement. But writing a blog manually takes time, effort, and expertise. Jasper , an AI-powered tool, assists professionals in automating their blog posts and articles, enabling them to focus on generating ideas. This tool facilitates rapid and efficient blogging and writing. Write a blog post in in mutes and save valuable time to focus on other activities.
Neuraltext
Neuraltext is an AI copywriter that focuses on SEO (search engine optimization). SEO involves customizing content to meet the needs of search engines and match the keyword demands of search engine users. Neuralnext's SEO content tool uses data from top-ranking Google pages to create well-researched content. The tool's editor provides a score to optimize your content for SEO as you write.
Tome
Tome features drag-and-drop creation, responsive formatting, and more to help make better stories that align closely with branding. Use it to create presentations, outlines, and stories with relevant copy and images with a single prompt.
Originality.ai
Business owners might want to distinguish between AI-generated and human-written content. Originality.ai scans entire websites for AI content or plagiarism, providing a reliable means of detection. This tool is particularly beneficial for content publishers who hire writers and are concerned about the authenticity of the content they produce.
Stockimg
Images play a crucial role in boosting engagement. Consumers not only enjoy viewing pictures, but they also wish to share them and see more. Stockimg is an image search engine that uses machine learning algorithms to match your search terms with the most appropriate images. It eliminates the need to sift through numerous pages of results.
Midjourney
Existing images may not always fulfill your specific requirement or may be overused. Midjourney is an AI art tool that enables users to create graphics and art through text inputs. Within seconds of giving specific instructions for an image, Midjourney creates it. This tool helps users who do not have great (or any) artistic skills better visualize their ideas.
Maestra
Imagine you've started using these AI tools. You have increased productivity and seen results in real-time. However, what if you aren't seeing a more substantial uptick in visibility or revenue?
You might be overlooking how to optimize your video and audio content.
Maestra is speech-to-text software that includes an advanced built-in text editor. Use our speech recognition softer to accurately generate automatic transcripts, subtitles, and voiceovers in just a matter of minutes. With the added convenience of translation capabilities in over 80 languages (including English, French, Spanish, and German) this software is an excellent tool for saving time, streamlining workflow, and boosting your reach.
Maestra's Automatic Audio-to-Text Converter
Maestra's Automatic Audio to Text Converter provides several benefits that improve accessibility, watchability, and SEO. By transcribing YouTube video content and other educational materials online, our natural language processing (NPL) tool enhances accessibility.
Transcriptions also enable people who may not speak the native language to view the video easier. Many video creators and marketers are constantly seeking more views to increase popularity and monetize their material. Transcribing videos substantially boosts viewer and subscriber numbers by improving SEO.
Maestra's Auto Subtitle Generator
Subtitles provide improved accessibility for the deaf, hearing-impaired, and foreign language viewers across the globe. Using Maestra's Auto Subtitle Generator to add subtitles help these people enjoy your content. It also helps enhance its SEO by enabling Google to crawl your videos. That makes your content easier to discover via Google search.
Manually creating and adding subtitles typically takes considerable time and effort. With the Auto Subtitle Generator, quickly add subtitles to your videos using our online automatic subtitling software. Generating subtitles only takes a few minutes with our AI-powered tool. Additionally,  automatically translate your subtitles into over 80 languages to reach people around the world.
Maestra's Automatic Video Dubbing and Voiceover Services
Enhance the appeal and professionalism of your brand by using voiceovers in your video content. Voiceovers also help you reach foreign language speakers and broaden your target audience. Catering to individuals who are not native speakers of your language helps expand your reach and increases engagement.
Maestra's Automatic Video Dubbing and Voiceover Services offer you AI-generated voiceovers in over 70 languages. Choose from a variety of AI speakers. Simply select your preferred speaker and translate your content in minutes using Maestra's intuitive interface. The platform also offers an advanced editing tool, allowing you to easily edit your video and audio within the same interface.
Increase Your Productivity with Maestra Today
AI tools offer many easy and efficient ways to improve workplace productivity. From planning and business decisions to content creation and marketing, finding the right tools can streamline your business.
Using Maestra along with any of these and other workplace tools creates better experiences that drive visibility and revenue. Find out more about how our automatic transcription tool works for you. Simply upload your audio and video and start with one free minute of transcription, subtitles, or captions. Or, request your free demo today to propel your brand into a bright future.