The Best Video Transcriber to Use in 2023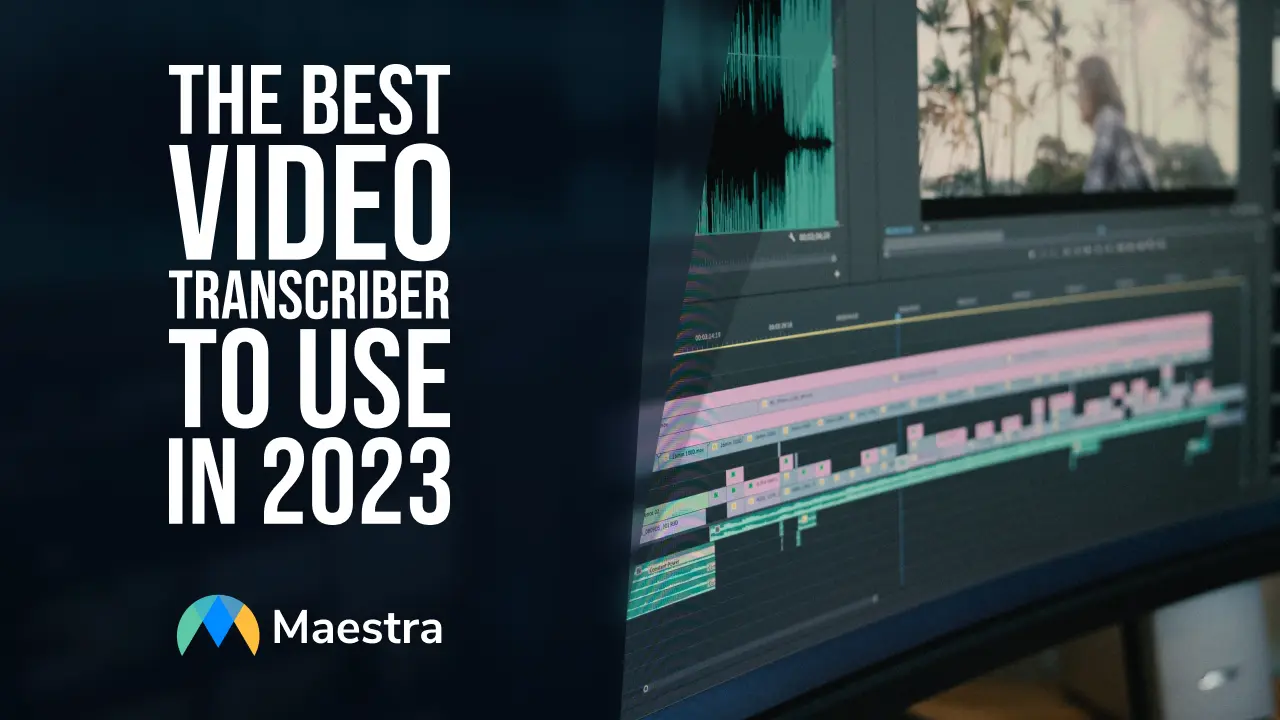 If you've ever used video transcription before, whether for meeting notes, interviews, or YouTube video captions, you probably already know they're a game-changer. For businesses, as well as audio and video content creators, automatic transcription services are incredibly helpful
Video transcription, or converting audio or video into text, is done in a variety of ways. Methods vary from automated AI transcription services that convert your audio and video to human transcription.
Transcription services can be helpful to all sorts of people: students and note-takers, podcasters, hearing-impaired individuals, journalists, and more. Text transcription can streamline your workflow and improve the precision and recall of video content.
There are many reasons why it can be helpful to transcribe a video.
But what's the best solution?
Keep reading to learn about the top video transcription tool of 2023!
Why Transcribe Videos?
There are a few big reasons why video transcription online is a popular choice for businesses and content creators. First, transcribed videos posted online are proven to boost SEO performance. Search engines can't crawl and rank a video, but they can rank text, which is where a video transcript can come in handy. Not only will transcribing videos make them more visible, but it can also increase views by up to 12% , according to internal testing from Meta.
Another benefit to using transcription services is that they improve user experience, especially those who are hard of hearing. Having captions or a transcript to go with a video will make it instantly more accessible to users who are easily distracted and need captions to focus on the content.
Video Transcription Methods
Because video transcription is such a sought-after tool, there are a lot of hacks out there for the best and easiest ways to transcribe free audio and video files. Here are a couple of free methods you can try:
YouTube Transcript
If you're watching a video on youtube, there's a chance it might already have a transcript. All you have to do is go to YouTube.com, find the video you want to transcribe, then look for the three dots in the bottom right. Under "Report", select "Show Transcript."
You can remove the timestamps in the transcript by clicking on the vertical dots next to the "X" button. Viola! You can now copy and paste the transcript into a document.
The caveat to this video is that it's only useful to transcribe videos already posted to YouTube, and only some videos have them. Additionally, you'll have to spend extra time re-formatting the text for proper format and accuracy after you paste it.
Google Docs Speech to Text
If you don't want to transcribe a pre-existing YouTube video, you can try the Google Docs Voice Typing feature to get a transcript from video or record real time. For this method, you'll need a built-in microphone on your computer or an external microphone. Here's a run-down on how it works:
First, create a new Google Doc. Go to "Tools" on the top bar, and click "Voice Typing" underneath. Open a new tab and pull up the video you wish to transcribe. Split the screen so you can see both tabs on your screen. Play the video. On Google Docs, hit the "Speak" button, which looks like a microphone.
This method of transcribing is free, but a little complicated. This feature isn't super-accurate, and a transcript can be ruined by outside sources of noise. Make sure you limit background noise when recording.
Manual Transcription
While typing in transcriptions may not be the most time-efficient method of transcribing videos or audio, it can be completely free to do on your own, plus you have full control over formatting and editing. You can make sure your transcription has the highest accuracy by doing it yourself, but this comes at the cost of time–more than double the length of the video itself. Transcribing a video of 30 minutes could take more than an hour.
And, if you're manually transcribing a 1 hour video, it could take 4 hours to complete! That's a lot of time you could be using on other things. Thankfully, transcription online is being made easier than ever with automatic video transcription services.
Qualities to Look for in an Automatic Video Transcriber
There are lots of video and audio transcription services available you can pay to use. With so many options, it's hard to make heads or tails of which one you should choose — we get it! We've broken down a list of the most important features to look for a transcription service.
Pricing
Of course, pricing is a big concern when choosing a transcription service. Most companies offer yearly, monthly, or hourly plans ranging from around $10 annually to $60 for individual use. A cheap plan is always great, but keep in mind that the price may indicate a lower-quality transcription and fewer features.
At the same time, you also don't want to break the bank to transcribe audio and video. Your best bet is a price somewhere in the middle of the road with a lot of features you know will be worth the price. Maestra is a good combination of lots of features, such as shared team channels, unlimited video exports, and more, all at a fair price. Monthly plans start at $29 a month .
Turnaround Time
Thanks to automated transcription software, videos can be transcribed fast nowadays. Unlike manual transcription services that can take up to 12 hours, services like Maestra can turn audio files into text in seconds !
Ease of Use
It's important that whatever service you go with is easy to use. Part of that means high accuracy rates. Extensive transcript editing is complicated, but Maestra's software has minimal errors and is top-of-the-line.
It also has a built-in transcription editor giving you full control over format and any minor errors that might occur in speaker labeling or other areas. It also makes transcribing YouTube videos easy and stress-free, whether you're a creator or a viewer.
Choose Maestra for AI-Powered Video Transcription
When it comes to transcribing audio files or videos, Maestra has you covered with industry-leading software that transcribes accurately and fast.
We make it easy to turn a file into text through three simple steps: upload your video file, Maestra automatically transcribes it, you check and then export into your preferred format. Our interactive text editor and team channels make video transcription a snap.
You can get started with Maestra for free today, or book a demo with us to learn more about our services!