5 Easy Ways to Transcribe a YouTube Video to Text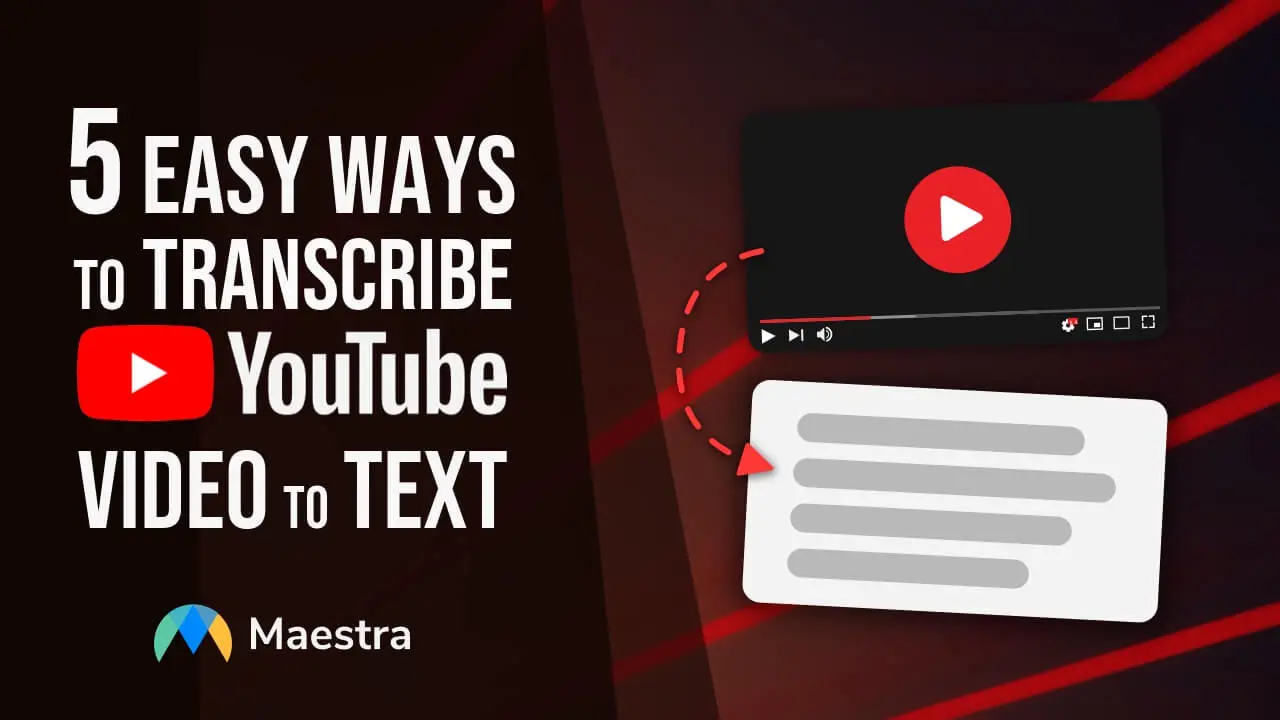 There are many important reasons to transcribe YouTube videos, but the process can be quite tedious.
Whether you've just started your YouTube channel or recently decided it's time to transcribe your YouTube videos, this article will help you learn how to convert a YouTube video to text.
Keep reading to find out how to get a transcript of a YouTube video today.
Reasons to Transcribe Your Videos for YouTube
Just the idea of spending hours converting a YouTube video to text may sound awful, but there are a lot of important reasons to generate YouTube video transcriptions.
(hint, it also doesn't have to take a ton of time, and we'll get to that part shortly!)
Here are the top reasons to transcribe your videos for this platform:
Streamline Content Creation for Other Apps
Do you also have a website for your brand? Or maybe text-driven social media accounts, like Twitter? Converting your video content to text is extremely useful for content creation regardless of which platforms you use.
Transcribing your video to text can drastically cut down on time it takes to write a blog post or other long-form content. You can quickly and easily get a new written piece of content from your video without spending hours re-writing it.
Prefer short-form content, like Tweets or Instagram captions? This is even easier to create when you have all of the video written out. Once you have the transcription, you can pull out small snippets to use on social platforms.
Increase Engagement
As one of the largest video-sharing platforms available, YouTube offers a great potential to connect with a global audience. Adding captions to your videos only expands your potential reach. By adding subtitles to Youtube videos, you give your audience another way to consume your content, considering that 12% of users prefer watching videos without sound.
You'll be able to increase retention and help people get more from your videos. Additionally, turning the video content into content on other platforms also helps you reach the audience that may not use YouTube as much.
Note Taking
If you are a student or someone who watches YouTube videos for educational purposes, note taking can be a hassle and distraction. Transcription of a YouTube video may also be used for notes.
You can focus more of your attention on the video and less on note-taking with automatic transcription. This will help you retain more information and pay closer attention to what's happening in the video without sacrificing notes. You can get a full note document to reference later on.
Accessibility
Adding subtitles to a YouTube video is one of the best ways to increase the accessibility of your videos. Captions help those who are deaf or hard of hearing enjoy your content.
They can also help people who speak another language. With automatic transcription, you can also convert the captions into other languages. When you auto translate YouTube videos, it increases their accessibility by 55% for users worldwide!
Viewer Comprehension
Transcribing your video helps cut down on background noise and ensure that viewers get the information they need from the video. It eliminates confusion over what's being said, and can help people better understand complex topics.
Method 1: Maestra Automatic Transcription Software
One of the best ways to convert YouTube videos to text is with Maestra's YouTube transcript generator. Our AI-powered software converts audio (including videos with audio) to text within minutes.
The process is fast and easy, here's how it works:
Upload files and see Maestra in action right away!

Click the transcription Tool

Paste the video link or upload the video file

Click "Submit"
Easily preview and edit your transcription, subtitles, or captions

Share the final product or convert it to your preferred format and download It

Helpful features for editing, including font size, color, and styling tools
Take Advantage of an AI YouTube Transcript Generator
Upload files and see Maestra in action
Use it to add captions and subtitles or to completely transcribe your videos to text
Translate your transcripts or captions in over 100 languages
Easy to use
Editable transcripts
Save a ton of time and energy and get your transcription within minutes
Highly accurate
Automatically generated timestamps
Export in the text format of your choice
For those who need to consistently transcribe YouTube videos to text, a paid Maestra account is well worth the small investment. It is far less expensive than many alternatives, like hiring a transcriptionist. Not to mention, you can do so much more with the time you'll save using our video-to-text transcription solution.
Method 2: Use YouTube's Free Feature
YouTube already has a built-in feature for converting videos to text. This is one option to try.
Here's how it works:
Head to YouTube.com and choose the video you want to transcribe.
Below the video title, select the three dots near the bottom right. The dots are after the "share" option.
Select "Show Transcript"

YouTube will display the transcription on the right, if it's available for that video.
After you view the transcription, you can copy it. You won't be able to directly download it, but copying it over is fairly easy.
Click the three dots in the upper right corner of the transcript
Press "Toggle timestamps"

The transcript will remove the time stamps

Highlight any transcript text you'd like to copy
Copy the text
Paste it in your preferred app (Microsoft Word, Google docs, etc)
Pros:
Fast, simple strategy
Built-in to YouTube
Includes clickable timestamps you can click to skip to the different parts of the video
Cons:
Low accuracy
Cannot edit the text
Cannot highlight the text
Only available on some videos
While this feature can be convenient for quick transcription, it's not super accurate. Furthermore, it's not available for every video. If you don't see this option, then it's time to move on to another one on our list!
Method 3: Google Docs Voice Typing
Using Google Docs is another free option for converting your video to text transcription. You will need a built-in computer microphone or an external microphone for this to work. This strategy relies on Google's voice typing feature.
Steps:
Create a new Google Doc
Select "Tools" on the top bar
Click "Voice Typing"

Minimize the window to ½ of the screen
Open a new window and minimize to the other half of the screen
In the new window, navigate to the preferred YouTube video
Select "Play" on the video
Back in Google Docs, click "Speak" (Microphone Icon)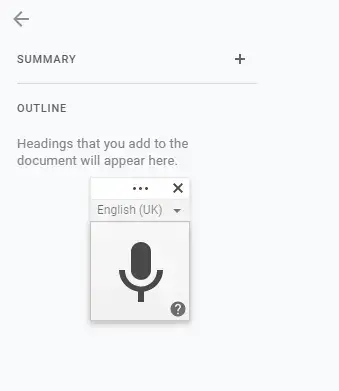 Google will transcribe the video
The time it takes depends on the length of the video
Hint: play the video at a slower speed if Google is having a hard time keeping up
Edit the transcription
Pros:
Free and simple
Easy to edit transcribed text
Can repeat for as many videos as you would like
Cons:
Low accuracy
Requires a microphone
Background noise can interfere greatly
Slow process
No time stamps
Often requires significant editing
Google Docs is a simple option for transcribing a YouTube video. It's free function and cloud-based accessibility make it a potential option for those looking to transcribe a short, simple video. However, the low accuracy and lack of timestamps suggest it's not ideal for longer, faster, or more complex videos.
Method 4: Google Live Transcribe via Android
Google Live Transcribe is an android app that transcribes audio for free. It's designed for accessibility, and automatically begins transcribing when it's opened.
Pros:
Automatic transcription
More accurate since it was designed as an accessibility tool
Saves transcriptions on your phone for up to three days
Easy to install and use
Cons:
Still not the most accurate solution
You must move the transcript from your phone to computer if needed
Video transcription may be more challenging due to the phone's ability to pick up the sound
Google Live Transcribe's automatic start makes using it a lot faster, but it also means you can't easily pause it if you notice it's not keeping up with the video. While it may be more accurate than some other speech recognition options, keep in mind that it was not necessarily designed to convert videos to text.
Method 5: Manual YouTube Video to Text Transcription
Of course, one way to transcribe your videos is to do it the good ol' fashioned manual way. This means you listen to the video, and type what you hear.
If you want to manually transcribe the video for free, then you could do so yourself using a free platform like Google docs. Type the words you hear, pausing as needed to catch up to the speaking. Or, slow down the video so it's easier to type along with it.
As you may imagine, you may spend hours trying to do this, especially if you have multiple videos on your list. Therefore, hiring an online transcriptionist is another option. The transcriptionist is trained to turn video/audio content into text and can do so efficiently. However, hiring an online transcriber will cost money.
Overall, here is a breakdown of the pros and cons of manually transcribing YouTube videos:
Pros:
Can be free
Full control over formatting, can add notes or timestamps if you want
You can pause or slow the video if needed
Possible to do 100% on your own
Cons:
Takes a long time
Prone to errors, as this is difficult to do
Hiring a professional transcriber is costly
Maestra's Youtube Integration
If you need to create Youtube videos with subtitles, Maestra has a built-in Youtube integration that allows users to link their Youtube channels to their Maestra accounts. With this option, you can upload videos directly to your channel with subtitles in over 100 languages. Then, when you make adjustments to the subtitles, the changes can be pushed to the video directly from Maestra's subtitle editor. This is an incredibly simple way to create Youtube videos with automatically generated subtitles which will increase the accessibility and viewership of your content after only a few minutes of work.
Steps:
Click "New Subtitle"

Choose the "Youtube" option

Log in to your Youtube account to give permissions

Choose which video you want to generate subtitles for

Choose the original language of the video"

Select the target language from over 70 languages and click "Next"

Edit the subtitles using Maestra's advanced subtitle editor

Generate subtitles in more languages if you want to

Click "Export" then "Send to Youtube"
Why Speech Recognition Software?
Maestra leverages modern speech recognition technology to transcribe audio. Compared to manual transcription, this is a far faster and more accurate solution. You'll be able to get a complete, error-free transcription within a couple of short minutes.
Benefits of Using Maestra for Automatic Transcription
There are certainly many voice typing and transcription service tools out there. Why use Maestra for automatic transcription?
There are several key benefits and important features Maestra offers for converting a YouTube video to text including:
Free Trial
While Maestra is a paid service, there's no need to guess about its quality of helpfulness. You can upload files to see Maestra's transcription tool in action for free. This way, you can be sure our industry-leading transcription software is right for your needs!
Embed Videos
You do not have to download or export the new subtitled video with Maestra. Our Embed Player ensures you can quickly and easily embed YouTube videos with subtitles directly into your website. This helps cut down on the time and hassle of downloading large files. You can get your improved content out there quicker than ever!
Video Timestamps
Before publishing your video anywhere, you can examine the subtitles and video timestamps. You can adjust timestamps as needed by dragging the text boxes to the desired frame.
Edit Subtitles
Enjoy our AI-based subtitle editor. Quickly adjust the sentence length, remove specific words, merge short sentences, and break up longer sentences with the editor.
Multi-Format Export
Export your video, subtitles, or transcript in your preferred format. Options for subtitle formats include:
Automatically Translate Subtitles
With multi-language support, you can add captions in 100 languages to your video. This makes them accessible to people around the world, helping you reach a larger audience. Then, you can upload the subtitles directly to your YouTube videos from Maestra.
Here's how you can do that:
Head to your YouTube account
Choose a language as you upload the video to Maestra (or upload the closed captions as an SRT file)
After, you'll be able to translate to more languages
Select any video from the channel and go to Maestra's video editor to generate additional languages
After you've generated the necessary translations, you can transfer them to YouTube as subtitles.
The Takeaway
The bottom line is that YouTube video transcriptions serve many important functions. Adding subtitles, for example, helps you reach more people around the world, increase accessibility, boost YouTube SEO, ensure better comprehension, and more.
Whether you are generating a full text transcription, subtitles, or captions, automatic transcription is the best solution. Maestra's cloud-based application provides AI-powered automatic transcriptions. We make it fast and easy to automatically generate subtitles, captions, or a full transcription of your YouTube videos. From there, you can automatically translate captions or subtitles into 80 languages and add them to your video.
Get started for free now or sign up for a demo today!