What to Look for in a Mp3 to Text Converter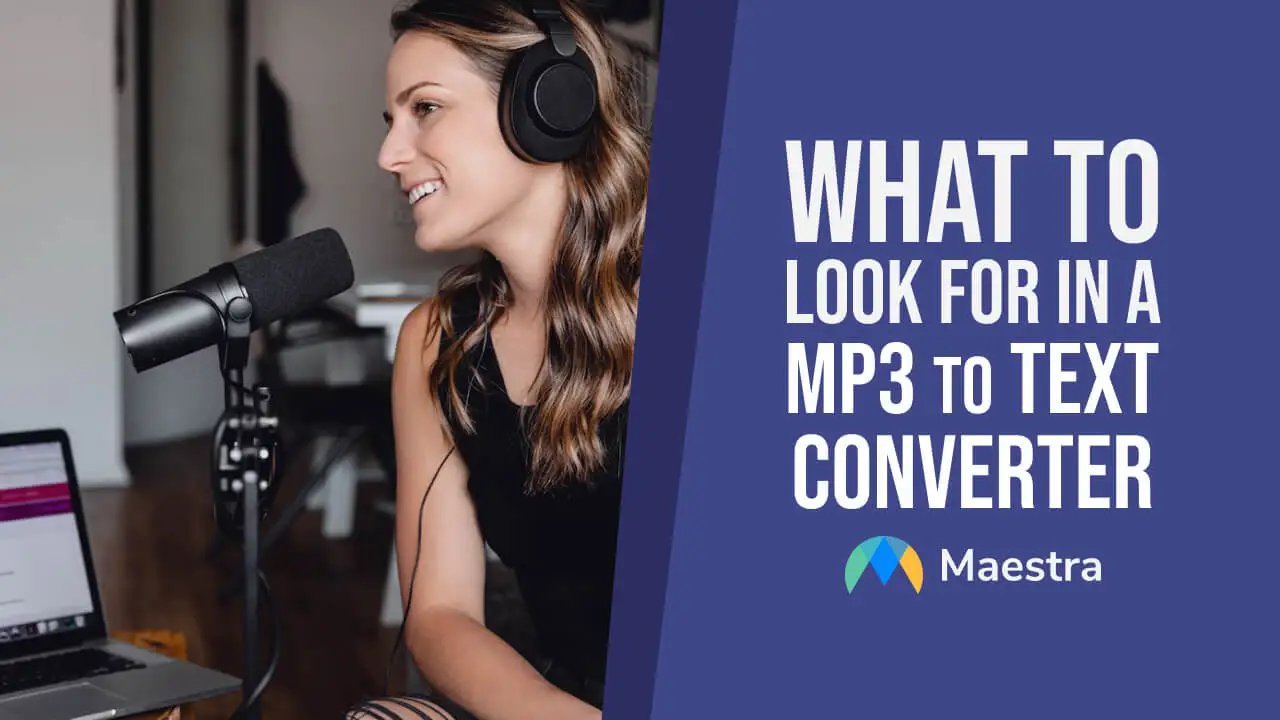 You have an audio file, and you need a transcript. Maybe it's a podcast that you want your hearing-impaired audience to be able to enjoy. Maybe it's a recorded interview that you want to turn into a blog post. No matter what the content is, you need to turn words on words from an mp3 file into text.
It would take you forever to listen to the file over and over again, typing out each word as you hear it. What you need is an audio-to-text converter that transcribes the audio for you. But there are so many types of text converters; which one is right for you? Let's break down the three most critical elements of any audio-to-text converter.
Speed
One of the first considerations for any speech-to-text converter is speed. When your audio is finished recording, you're eager to share it and get that information to your listeners, so why wait longer than you have to?
At the slow end of the spectrum lies human transcription and Google Docs Voice Typing. No matter how skilled, a person can only type so fast, which puts a hard time limit on hiring a human transcriptionist. Another service, Google Docs Voice Typing, transcribes audio as it hears it in real-time, which means that you have to replay the recording for the Voice Typing service to listen to. Even after it transcribes the audio in real-time, someone will have to clean up the typos and errors at the end, taking up more time.
At the other end of the spectrum lies automatic transcription technology. This technology works much faster than a person. It uses artificial intelligence-powered speech recognition to improve accuracy and cut down on cleanup time. Maestra is an online tool that uses this exact technology to transcribe MP3 files and more into text. With Maestra, simply upload your MP3 file and let the program work. Maestra's transcription technology can transcribe audio files in minutes, getting you to the stage of approving and exporting your audio transcripts much faster.
Accuracy
The next consideration for any audio-into-text converter is accuracy. Not only will an accurate transcription save you time, but it will also save you the stress of missing an obvious error.
Human transcriptionists can be highly skilled, but there's always a chance for human error. Google Doc Voice Typing relies on a clean sound for accuracy, and background noise can drastically affect the transcription's quality. Microsoft Word, which is a paid application, has a transcription tool that works for MP3 audio files, but it only converts the files into plain text. It requires careful work on your end to clean up the punctuation and typos for clear readability.
AI-based tools can actually understand speech better than humans by using natural language processing to correctly identify words in an audio file and render them into text. They can also automatically include key features like punctuation, which are critical to any transcript's readability.
Maestra's audio-to-text converter comes with the additional feature of a "Custom Dictionary" that you can use to enhance your transcription accuracy. If, in reviewing a transcript, you notice that there's a commonly miss-transcribed word (this can happen more in content with highly technical terminology), you can teach the machine the correct transcription by entering it in the dictionary. For example, if the AI keeps writing "peace" instead of "PC", you can enter that word into the dictionary, and how frequently you expect it to come up. Then, the next time you use a transcription and set the AI to use that dictionary as a reference, the terms will be transcribed with increasing precision.
Meeting Your Content Needs
The final consideration for any text converter is whether it meets your content needs. Are you looking for subtitles or a transcript? A translation or a voiceover? These needs can come from different services - you could hire a transcriptionist, and a translator, and a voiceover reader - or one service.
Maestra's transcription service contains all of these capabilities and more, in one platform, in order to meet your specific needs. With the ability to transcribe both audio and video files, Maestra supports over eighty languages for your transcription and translation needs, including English, Spanish, French, and more. Maestra's accurate transcriptions come complete with timestamps for ease of your review and reference. With Maestra, you can expand your listener base by making your MP3 transcript accessible to listeners who speak a variety of languages.
Automatic Audio-to-Text Transcriber
With Maestra, you can get your transcriptions done efficiently and accurately. We make it simple to convert mp3 files to text online. Our transcription technology converts audio while reducing the chance of human error. Never worry about turnaround time, as our artificial intelligence (AI) tool works within minutes.
Convert MP3 files to text in minutes with our free transcription trial today!