What is the Best Way to Transcribe Audio?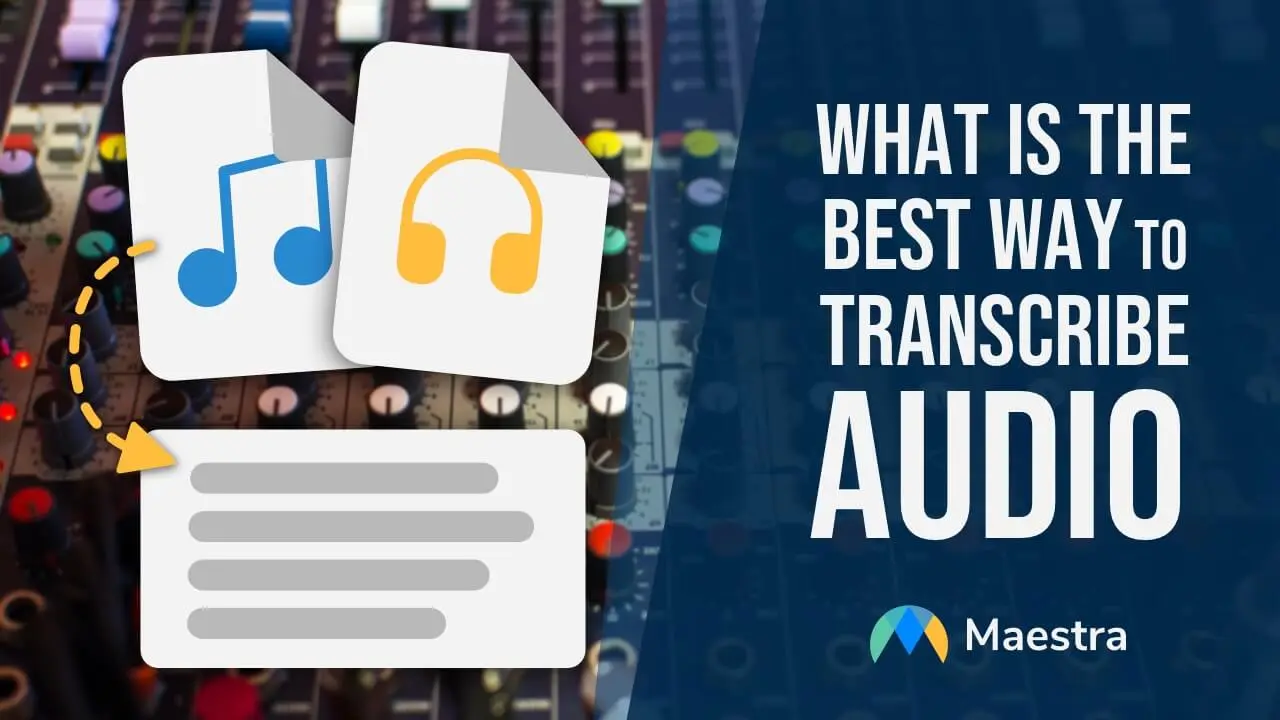 There are endless reasons to transcribe audio to text.
Audio and video content are very powerful ways to engage an audience, but you may want to convert audio files for several reasons.
Whether you're a content creator looking to quickly transform audio to blog content, a student aiming to streamline notes and studying, or any other professional who needs a transcript of your audio, finding the easiest way to transcribe audio is important.
The only problem? It can take a long time if you try to listen and type yourself.
So, what is the best way to transcribe audio?
Keep reading to find out the key to audio-to-text transcription.
Hire a Human Transcription Service
You could always hire a professional transcriptionist to manually convert your audio to text. There are many different services that make it easy to connect with transcriptionists.
One benefit of using this strategy is that you can leave notes to help customize the transcription for easier use. You could dictate information about timestamp formatting, punctuation rules, speaker labels, and more.
While hiring a human to transcribe audio files will get the job done, this strategy has important cons you must evaluate.
Expense. The cost of hiring human services professionals. If you're looking to transcribe a lot of content or do so regularly, the cost may be prohibitive.
Turnaround time. While it's definitely faster and less work to hire someone else to transcribe, people have physical limitations for transcribing. The transcriber can provide you with a time estimate up front, but it will still take some time to get the transcription back.
Human error. Hiring highly rated professionals reduces the chance of errors, but it never eliminates them. Furthermore, the higher rated and more experienced a transcriber is, the more expensive their service will be.
For the reasons above, hiring a human transcriber tends to not be the best option for converting audio to text.
Use the Transcription Feature in Word
One simple way to transcribe audio to text is to use the free feature that Microsoft Word offers.
On MS Word, the feature is called "Transcription". With this feature, you can upload audio files in mp3, mp4, m4a, and WAV for conversion to plain text. You can also record the audio directly in Word and then transcribe it. This tool is free, but MS Office also includes paid transcription tools starting at $6.99 per month.
The good news is that this is a simple, straightforward way to transcribe audio to text that even supports uploading audio files.
However, these considerations push it further from being an ideal solution:
Plain text. Converting audio to plain text means you'll get all of the words down, but it will require a ton of editing to make it useful. You'll have to spend a lot of time afterward on formatting and editing.
Must have MS Word. MS Word/ Office is not free. If you don't have the paid version, you won't be able to use all of the features. Therefore, this feature is only an option for those with paid MS Word.
Google Docs Voice Typing
The feature on Google Docs is called "Voice Typing" and it's found under the "Tools" section in the top bar. Unlike MS, Google Docs won't convert audio files. Instead, it works as a speech-to-text converter. You play the audio out loud and Docs automatically transcribes what it hears.
Sounds pretty simple?
Voice Typing certainly is a helpful free tool you can use. Is it the best option?
These cons suggest it may not be.
Not the most accurate transcription. While Voice Typing will convert speech to text, it's not the most accurate solution around. This means you'll likely need to spend some time on editing and formatting.
Audio quality plays a huge role. High-quality audio is imperative for Voice Typing to work remotely well. If the audio is too quiet or has too much background noise, this feature won't work well. Furthermore, it may struggle with accents or other things that are common in audio recordings.
Background noise can ruin it. It's pretty important you use this feature in a very quiet setting. Since the Voice Typing must "listen" to the audio out loud, background noise from your space can disrupt is quite badly
Automated Transcription Software
There are plenty of ways you can transcribe your audio to text, but many have very crucial considerations to keep in mind.
The best way to generate text transcripts for audio and to convert video to text is with automated transcription software. This solution is ideal for transcribing a lot of audio, as it can save a lot of time. It's the quickest, simplest way to get accurate recordings.
These solutions rely on AI-powered speech recognition technology. Thanks to advancements in AI, transcription software is incredibly accurate. You can count on accurate transcription that requires much less editing than the other options.
One of the biggest advantages of using an automated solution is the ability to quickly translate the transcriptions into other languages. You'll be able to automatically translate your transcription into several other languages once it's complete. This is incredibly useful for reaching a wider audience and ensuring more people can enjoy (or learn from) the audio content.
When it comes to automated transcription software, there are tons of options available. However, not every option works the same or offers the same benefits. While they all claim to transcribe audio to text, you must be sure to find a high-quality provider that you can count on.
Maestra's Audio to Text Converter
If you're looking for a convenient, accurate way to convert audio files to text, then turn to Maestra's automatic audio-to-text converter. We are confident that we have the top audio-to-text converter available.
We make it simple and fast to convert your audio content to text. You'll receive your text transcription within seconds.
Here's how it works:
Upload your audio file or upload your video. Head to our online tool and upload your audio file. We support all audio file formats and types of videos.
Automatic transcription. Upon uploading your file, our AI-powered software automatically transcribes the audio. You'll get your transcription back within minutes.
Check. While our automatic transcription software is highly accurate, you'll still get a chance to check it over and make any changes you'd like. Adjust any punctuation marks.
Export. Then, you can easily export the transcription file in the format of your choosing. You can also opt to export the recordings and transcribed subtitles or embed the audio files with transcription to your website.
Enjoy our accurate transcription solution today. As you can see, the process is fast and simple. Use our interactive text editor to proofread and adjust your transcripts.
Additionally, collaborate with your team directly on Maestra, allowing several users to view and edit your files.
Unlike the other methods mentioned, our software also works well for video-to-text transcription. Whether your goal is to convert video or audio to text, we can help.
Transcribe Your Audio Now!
Maestra is here to help you easily convert all of your audio (and video) content to text. Just upload your audio format and press convert. From there, you can use transcriptions for notes, blog creation, accessibility, and more. Save hours of time and money on human transcribers when you choose our real-time software solution.
Do you have audio that needs to be transcribed? Try out our software for free to see how it works firsthand. Get started now for free or request your demo to learn more!