How to Improve Meeting Efficiency with AI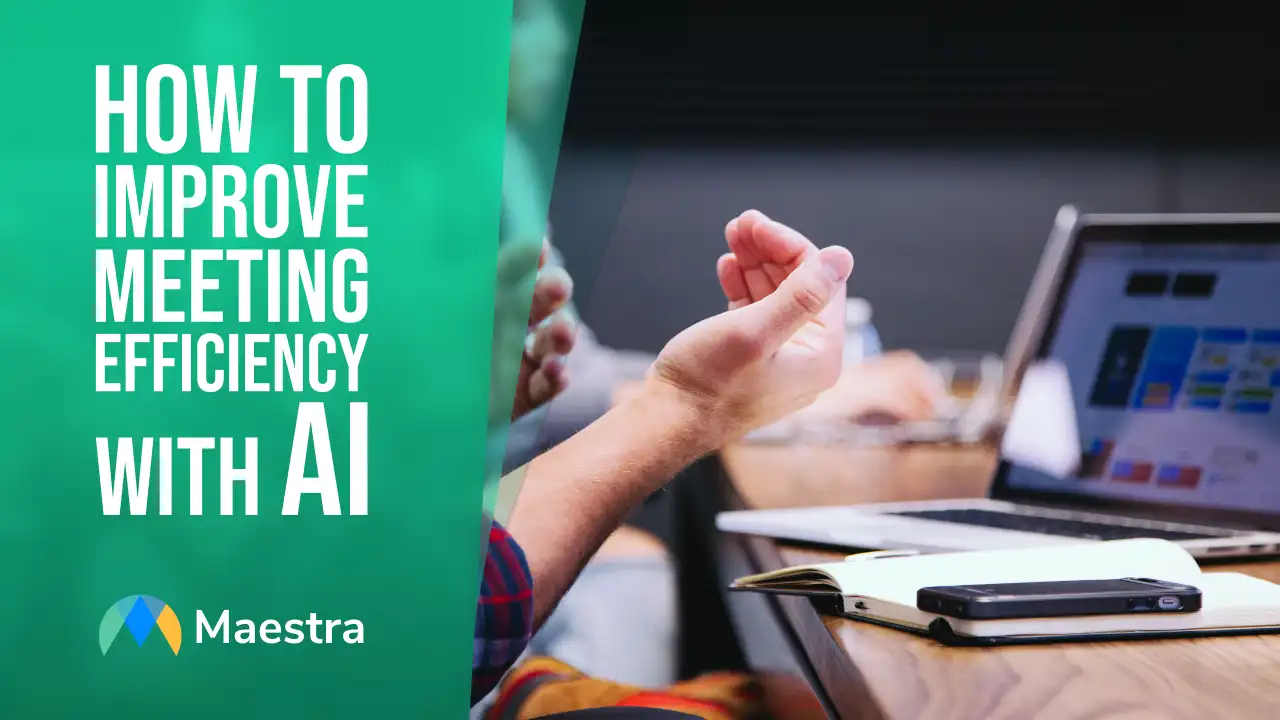 Meetings are a cornerstone of effective business communication. They're a place for teams to collaborate, share ideas, and make important decisions.
However, notes are important for getting the full benefit from meetings. But note-taking during a meeting or transcribing it after can be incredibly time-consuming for meeting attendees.
Fortunately, AI technology can help automatically transcribe meetings. Maestra is a powerful tool that offers a transformative solution. We convert recorded meetings into accurate transcriptions with AI-powered transcription .
Keep reading to learn all about the importance of efficient meetings and how Maestra can help.
The Importance of Efficient Meetings:
Efficient meetings optimize productivity and foster effective communication within teams. When meetings run smoothly and efficiently, it saves valuable time and resources.
Conversely, inefficient meetings waste time and reduce engagement. They often lead to miscommunication as well.
Simply put, it's vital to keep meeting efficiently. That's the best way to preserve resources and keep them effective.
Improve Meetings with Maestra
Manually taking notes slows meetings way down. Manually keeping track of everything said is a difficult task, and requires many pauses. It also distracts meeting participants, preventing them from fully participating.
Transcribing after the meeting can be a better solution, but only if the transcription is efficient. Manual transcription can take hours, and hiring a transcriptionist is quite expensive.
Maestra is an AI-powered solution that streamlines meeting efficiency. Using natural language processing technology,  it is your dedicated AI meeting assistant. Use it artificial intelligence (AI) tool to create meeting summaries in minutes. Maestra automatically turns recorded meetings into accurate transcriptions. With Maestra, participants can focus on active engagement rather than note-taking in real time or transcription.
Key Features and Benefits of Maestra for Meeting Transcription
Maestra Studio offers a range of features designed to enhance meeting management.
The tool employs advanced AI algorithms to transcribe meetings accurately and efficiently. It automatically generates searchable transcripts. This makes it faster and easy to retrieve important information later on. Quickly turn the automatic transcriptions into meeting reviews and send them to your whole team. Or analyze the transcription for key takeaways to track.
Overall, a few reasons to use Maestra for meeting transcription include:
Save hours of time on meeting transcription . You never have to sift through hours of audio/video recordings or hastily-written notes.
Run more efficient meetings without note-taking . Everyone can focus on the meeting rather than rushing to take notes. Reduce meeting pauses and keep things running smoothly
Better meeting engagement . Participants can actively engage in discussions, brainstorming sessions, and problem-solving, knowing that every detail is being captured by Maestra.
More efficient meetings . The enhanced collaboration and quicker meeting duration drive the overall efficiency of meetings.
Keep your company updated . Get meeting minutes in no time, and then share important details with other teams or employees. It's easier to keep everyone updated with the information they need to know when you already have a transcript of the meeting.
Analyze meetings . Look back through meeting transcriptions to analyze important topics. For example, review repeated concerns, and assess employee engagement. View leadership communication, pull out action items, and identify areas for improvement faster and easier with meeting transcripts.
Quickly locate meeting details . The searchable transcription feature allows users to quickly locate specific information discussed during the meeting, ensuring that important details are never lost.
How to Transcribe Meetings with Maestra
Converting meetings to text is fast and easy with Maestra. The process is simple and does not require expertise. It's something anyone on your team can handle in a matter of minutes. Here's how Maestra's video-to-text transcription works:
Record the Meeting. Before starting the meeting, be sure to record it . You can record it as a video file or audio file, depending on the type of meeting. The exact method for recording depends on which program you use to run the meeting. It's simple to record a Zoom meeting , Google Meet , or Microsoft Teams .
Upload your video file . Head to Maestra's audio-to-text or video-to-text converter to upload your meeting file. The software handles many different types of file formats for convenience.
Press transcribe . Just press the button to start automatic transcription! Yes, it's that easy. Maestra implements machine learning to craft a full transcription.
Review and edit . Within minutes, you'll get a full meeting transcript. While it's highly accurate, you can still easily review it and make any corrections before exporting.
Export the transcript . After any editing, it's time to export.  Export your meeting transcript in TXT, PDF, or DOCX file formats. Upload it to your drive storage, turn it into meeting notes, and more.
Use Maestra for Meeting Transcription Today!
Efficient meetings are vital for productivity and effective communication within organizations. Maestra Studio presents a game-changing solution that revolutionizes meeting management and offers improvement for employees and professional development.
Help your employees and team members save time by leveraging its AI-powered capabilities. Automatic meeting transcriptions streamline communication and foster a more productive work environment. Participants can engage actively in discussions, while Maestra Studio diligently captures and transcribes every detail.
Embrace the power of Maestra and transform your meeting practices for optimal efficiency and success. Try it today and unlock a new era of productivity and streamlined communication.