How to Transcribe a Google Meet Video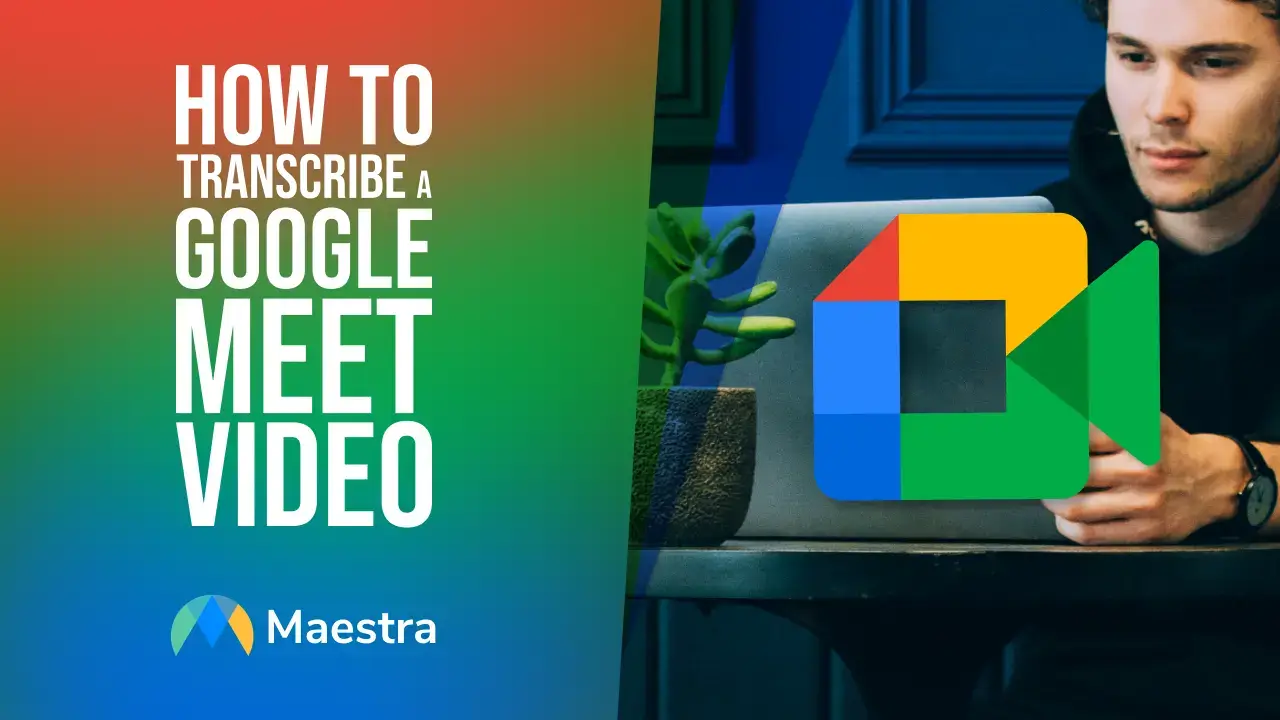 Post-COVID, many workplaces are switching up the way they hold meetings. Instead of physically commuting to an office building, companies can hold meetings remotely. Video conferencing is more common than ever, whether your company is using Microsoft Teams, Zoom, or Google Workspace.
Google's video conferencing function is one of many applications available to companies. Not only is this a win for those of us who would rather work in comfy pajama pants, but it also allows for recording (and then transcribing) meet videos. With Google Meet calls, it's easy to transcribe a meet video.
There are lots of reasons to try this trick out; Let's go over just a few ways transcribing google meet calls can streamline your work process and how to best do so.
Reasons to Transcribe Google Meet Meetings
Streamline Notes and Summaries
Nobody wants to miss an important detail during a meeting, but sometimes it can be hard to stay on top of everything that's said in a video call. Taking notes helps, but what do you do when a speaker is talking faster than you can type? Recording and transcribing a video call allows your team to revisit the meeting whenever you need to, so you can be sure you never miss an important detail.
Keep The Entire Team Updated
Share your transcription with coworkers, so everyone can benefit! You can send out the main notes from the transcript to other team members who may not have been on the call. This will be especially appreciated for team members who are hard of hearing, deaf, or even just a poor internet connection.
Repurpose Transcripts for Future Use
Save your meeting transcripts so they can be used in the future to create copy such as press releases, marketing materials, blog posts, interviews, and more.
How to Record a Google Meet Video
To transcribe your meeting, you'll need a recording. Fortunately, the platform offers recording features within your Google account. Here's an overview of how to record your Google Meet:
To Schedule a Call:
Log into your Google Workspace account.
To create a meeting, open a new tab on chrome and click on the apps button (a square made of dots) in the right-hand corner. Click on the calendar app.
Now that you're in the calendar, you can create an event. Click on "+ Create" on the left side of the calendar to schedule, then fill in the event details: who's invited to the call, the day and time of the event, and a description.
From there, a Google Meet link and dial-in number will be automatically created for you and your participants.
Next, all you have to do is click on the event link from your calendar to join the call.
In addition to scheduling a call, you can also jump on an unscheduled video meet from the Meet webpage.
To Record a Call
Now that you know how to schedule a meeting, let's go over how to start a google meet recording:
Open Google Meet
Once the call has started, look to the bottom for the "Activities" button. Click on it and select Recording> Start Recording> Start.
To end the recording, all you have to do is select the "Stop Recording" button, or the recording will end by itself once everyone leaves the call.
Automatically Transcribe Your Google Meet with Maestra
How can you best transcribe your Google Meet? You could use the Google Docs Voice Typing feature to live transcribe, but the quality of your transcript will be spotty and will require time-consuming editing and re-formatting.
For an accurate, more efficient option, use Maestra Suite for automatic video-to-text transcription! Just upload your video and accurately transcribe it in minutes! Maestra makes it easy to transcribe videos or audio to text.
First, select Maestra's transcription tool and upload your video to be transcribed. After that, you'll have the option to edit and polish the transcription however you like.
Maestra's advanced software ensures minimal editing, but sometimes you may want to fine-tune the transcription for misspelled names or special terms. Next, exporting the transcript is as easy as saving and sending off the file in your preferred format.
If you want to collaborate with other coworkers on a transcription, you can try out team-based Maestra channels with viewing and editing permission available to whoever you like.
Get Meeting Transcripts in Minutes!
Look no further than Maestra for any of your subscription, subtitle/caption, and voiceover needs! Make video transcription painless and efficient by taking advantage of our advanced AI processor. Try out Maestra today for free or book a demo with us! We'd be more than happy to answer any questions you have.