Caption and Subtitle Instagram Videos with Maestra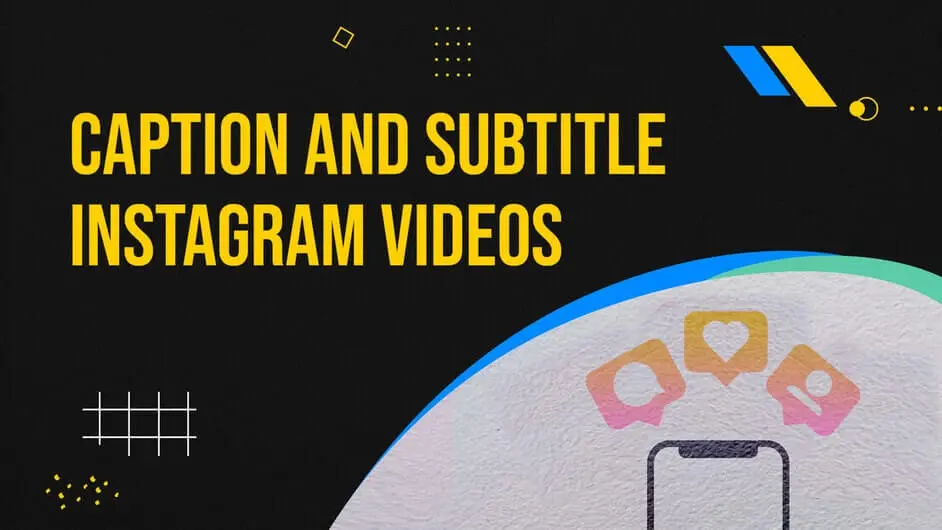 Instagram is rapidly becoming one of the most popular and influential social media platforms around the world. At first a more image-based alternative to Facebook and a more social version of sites like Flickr, Instagram is now a diverse nexus for news, entertainment, business, and of course, social life.
When Instagram first debuted, users could only post static images. Gradually, support was added for short videos in a square format lasting for a maximum of 60 seconds. Following this, the "reels" feature was added, allowing for longer videos which fit the whole screen in the same style of the emerging video platform TikTok. With the introduction of "IGTV," the transition from a photo app to a full-fledged multimedia platform was complete, with users able to post videos up to 15 minutes long.
Businesses, influencers, celebrities, and even governmental agencies have all flocked to Instagram in recent years to promote products, publicize events, make public announcements and more. The importance of Instagram for various public figures and organizations means a high value has been placed on video production as a means of communication and entertainment. Despite this, video editing capabilities on Instagram are relatively limited. Specifically, Instagram's options for subtitles and captioning are few, with auto captioning the only choice for those looking to provide accessibility or watchability.
With Maestra, captioning Instagram videos is made easy and effective. Maestra's auto captioning software allows Instagram users to quickly add text to videos in dozens of languages, improving communication, comprehension, and providing a variety of benefits for both individual users and organizations present on the platform.
What Is Instagram Used For?
For the most part, Instagram is still used as a social media platform focused on image sharing. As more users have flocked to it, however, it has gradually become a prime arena for advertising and entertainment. Practically every major company and famous individual maintains an Instagram account—streaming services promote new shows, retailers advertise new products, and music artists announce new albums.
Accounts of influential people and businesses tend to have a large number of followers, and their posts have the chance to reach millions of people. Since most large companies also place ads on the app, content even has the potential to be seen by people outside this circle of followers. The ability to share content extends this range even further, and Instagram is now one of the most vital marketing platforms for all kinds of retailers and service providers.
While some of these posts take the form of pictures, video is becoming the major means of promotion for products and services. TV-show clips, product demonstrations, music videos, and a wide variety of other clips are increasingly flooding the app.
Alongside all this promotional material is a huge amount of content posted purely for entertainment purposes. This includes memes, Youtube clips, videos taken from Tiktok, cartoons, art and more. Much of this is video and is shared widely for fun by individuals and pages who maintain followings by posting interesting and amusing content.
Follower counts on Instagram are very important, both for businesses who utilize it for marketing purposes and for smaller pages who seek communication and social connection with their peers. The ability to reach present and potential followers is greatly increased through the use of captioning, and adding clear and accurate text to videos can be a huge boon for all users of the app.
Captioning for Accessibility
Instagram is used by over 1.386 billion people—more than one out of every six people on Earth. By another statistic, one in twenty people suffers from some variety of deafness or hearing disability. The primary purpose for captioning video content is to promote increased accessibility for those unable to engage with audio content—a sizable demographic on such a popular platform.
Instagram is primarily an app for entertainment, but captioning can also provide access to news stories, documentary material, cinematic previews, tutorials, art, and more. All these resources are both informative and valuable for staying up to date in social spheres. With textual support added to this content, everyone is able to take equal advantage of the app and its benefits.
These advantages also work the other way, however. The purveyors of video content, especially of ads and promotions, are unable to reach those with hearing conditions, and so miss out on potential followers and revenue. While of course accessibility shouldn't be deployed solely as a means of profit, businesses and retailers can gain significantly by including captions on their videos while also bestowing benefits on those they endeavor to connect with.
In 1990, the U.S. government passed the Americans with Disability Act (ADA). The aim of this act was to provide equal access to tools and resources in public workspaces and institutions. While Instagram isn't directly within the purview of this law, professional companies should take into account the implications of this legislation if the app is used in the workplace. Providing better access to the things we all enjoy is also a noble goal in and of itself, however, and Maestra can make it easy to caption any and all video content.
Captioning for Better Reach
Most users of Instagram will be interested in captioning for its potential to increase follower counts. While in certain situations, like those mentioned above and below, captioning itself might work directly to expand followers, in most cases, the key to drawing interest in new sectors is subtitles.
Maestra offers not only easy captioning, but translated subtitles as well. Maestra's language library contains over fifty different languages, and converting text into other dialects is just as fast and simple.
Different content resonates with different audiences, and what fails to elicit a response in one demographic may take off in another. Adding subtitles to your videos can help them spread much wider than would normally be possible. The Instagram algorithm that decides which content to display to users takes into account what language posts are presented in, so even just placing text in your videos is enough to help it take off with a new audience.
As with increased accessibility, translation has benefits for both influencers/public figures and companies. Social media is becoming a powerful business tool, and with subtitles companies can explore new markets, test material on new demographics, and expand into new regions which seem promising and profitable.
Captioning for Connections
The benefits of captioning for businesses don't just consist of increased follower counts and new markets, however. As a social platform, Instagram is also a major forum for collaboration. Adding subtitles to videos (and captions) is, as said, a great way to expand the reach of content and make contact with other people and businesses. Interacting with new audiences and organizations then creates opportunities for constructive collaboration.
Collabs on Instagram can take many forms. Celebrities can team up to make photo and video posts or even "go live" through the story function. Together, they can promote new projects and capture the attention of both their follower circles, helping each other garner more collective interest.
Influencers are a major part of Instagram, acting as sorts of mini-celebrities by sharing their routines and travels and generally promoting a premium luxury lifestyle. Influencers make most of their income by advertising products for major companies. Widened reach through captioning can help connect companies and influencers, driving collabs and helping both parties in the process.
To draw the attention of businesses, celebs, and other pages to collaborate with, a large follower count is imperative. This circles back to the importance of captioning in drawing in new and wider audiences, creating a cycle of mutual benefit.
Captioning for Watchability
Finally, adding captioning to Instagram videos can have a significant impact on their watchability for audiences all over the world.
Even for those who don't suffer from hearing complications, being able to watch a video with an audio track depends on having a stable viewing environment. People browse Instagram on their phones dozens of times throughout the day, and often aren't in a position to hear the sound from the content they're viewing. Public places like busses, parks, stores, and cars can be loud and distracting, preventing one from hearing videos even with earbuds. The same problem can arise in the exact opposite situation. Libraries, classrooms, or bedrooms where others are sleeping are places where it's considered impolite or disruptive to make noise, likewise preventing engagement with any audio content.
Captioning allows viewership and comprehension in any kind of environment, permitting Instagram users to engage with the app and all its content whenever they want.
How Does Instagram Handle Captioning?
Captioning videos with Instagram's in-built auto-captioning tool is better than not captioning at all, but it comes with a number of drawbacks.
To begin, users select the option to make a new post and select the video they want to upload. Depending on the length of the video, it will be uploaded as either a regular video, a reel, or an IGTV clip.
From there, they can select the square sticker icon on the top of the screen to open the menu of special add-ons. After scrolling down to the blue "captions" option and tapping it, users are able to change the color, size, and font of the resulting text.
At this point, Instagram's auto captioning software will analyze the audio of the chosen video and its speech-recognition algorithm will generate automatic captions to overlay when it's posted.
Instagram captioning is easy, but is less versatile and more prone to error than other captioning software. To begin with, Instagram's captions can only be generated in English and the option itself is only available in English-speaking countries. This precludes any kind of subtitles and prevents companies or individuals using the function to reach out into different regions and countries.
On top of this, Instagram's speech recognition software can be frequently prone to error. Even the best captioning software can make a mistake from time to time, but Instagram offers no way to edit the text once it's generated. Creators are thus forced to choose between incorrect captions or none at all. For smaller accounts this may not be a big issue, but for professional businesses and public figures, a better solution is needed.
How to Add Captions to Videos on Instagram
Maestra offers captioning solutions for all kinds of content and for all types of creators and businesses.
To begin, go to Maestra's website and select the captioning tool. From there, you'll be prompted to upload your video; Maestra can handle all video formats, so there's no need to deal with online file converters beforehand. Once your video is uploaded, Maestra's own industry-leading speech-recognition software will go through the entire audio track and transcribe it into text. Maestra's algorithm is extremely accurate, but for any names or mumbled bits of dialogue that are missed, users can quickly make fine adjustments with the simple in-built editor application. From there, you have the option to choose what language you want the resulting captions to be generated in. Maestra supports over fifty different languages covering countries and regions across the globe, so you can target practically any audience with your content. Once everything is set the way you like it, you can then export the file back to your computer or smart device. Maestra can automatically convert videos into a variety of formats, but Instagram users will want to save their content as .mp4 files, since this is the only video type the platform recognizes. Now you're free to upload your video to Instagram with hard-coded subtitles visible to everyone who watches it.
Captioning with Maestra is the best choice for individuals and companies looking to take full advantage of Instagram as a platform. Captioning is only one facet of Maestra's full-featured software suite, however. Transcription, translation, and voiceover are also included, plus dedicated virtual workspaces to help marketing and creative teams collaborate effortlessly online. To see what Maestra can do for you, both on and off social media, visit our website and sign up for a free trial where you'll have full access to the entire suite.