Automatic VTT Generator
Create VTT Files Online
Maestra subtitling tool can generate subtitles in 80+ languages including English, Spanish, French and more. No file size limit. It is easy, affordable and only takes a few minutes.
Browse file
*No credit card or account required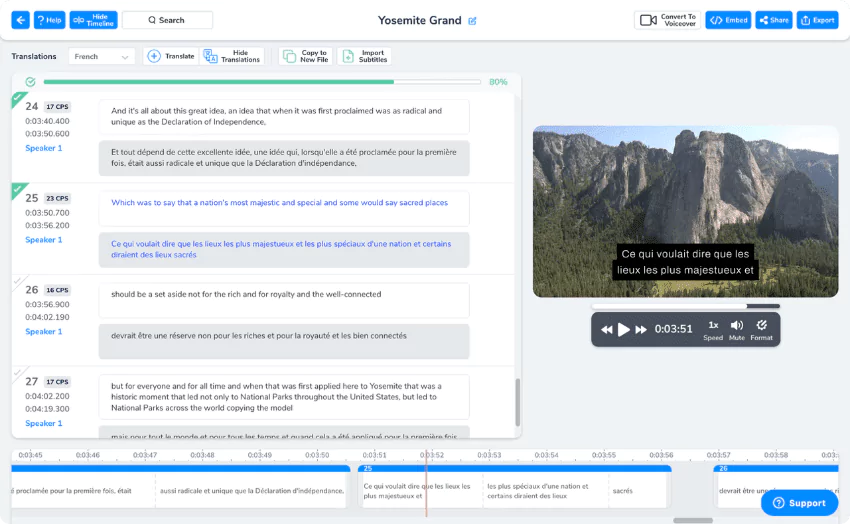 Maestra is the best way to generate VTT files in 2023!
How to generate VTT file?
1
Upload the audio or video file to generate a VTT file and see the subtitles within seconds. No signup or account required.
2
You can upload from Dropbox, Instagram, Youtube, Google Drive, or your depository.
3
Translate your subtitles to 80+ languages with just a single click.
4
Proofread, make edits, and export. Convert your video or audio file to SRT (SubRip) or VTT (WebVTT) file.
Frequently Asked Questions
What is a VTT file?
Web Video Text Tracks otherwise known as WebVTT is an elaborate captioning and subtitling alternative to SRT files that is gaining popularity each day. It was developed to support text tracks in HTML5, providing a number of benefits to the user. With Maestra's VTT creator, you can instantly generate VTT files to benefit from the advantages of the format.
What makes VTT files different?
For HTML5 videos, VTT files are the way to go and it is the way to go for Vimeo. It contains supplementary information about a web video, including subtitles, captions, descriptions, chapters, and metadata. VTT files are readable by almost all browsers, video players and networks. So you can use its features on many media platforms. And now, you can easily create VTT files with Maestra.
Why should I create VTT files?
Even though you can generate any type of subtitle or caption format with Maestra, we established that each one of them has specific perks and benefits. Our VTT generator allows you to instantly create VTT files, erasing the tedious process of knowing how to actually create a VTT file manually. This allows your content to reach a wider audience, allowing everyone to comprehend your content and most importantly creating the outcome you desire. Create VTT files, edit them and obtain your VTT subtitles in minutes.
How are VTT files beneficial?
Every subtitle or caption format has its advantages and disadvantages. This is why Maestra is practical, you can decide which format suits your interest and generate your preferred format in minutes. When it comes to creating a VTT file, which is a lengthy process when done manually, Maestra will rapidly create VTT files so that you, the customer can reap the benefits. If you are going to deal with HTML5 videos, VTT format will be your preferred format. Other than that the option to customize your subtitles, precise timecodes, advanced CSS customization and being able to add speaker names can be helpful to anyone who needs these perks.
How long will it take to have my VTT File ready?
This is the main goal of Maestra's VTT creator because the traditional method of creating VTT files, like any other subtitling format, is very tedious and requires some sort of coding knowledge. However, Maestra will generate VTT files in minutes and have the final product ready to be edited and exported. Try it now for free!
Generate VTT automatically with
awesome features:
Automatic Speaker Detection
Our CC maker software will not only transcribe audio automatically, but create speaker tags automatically for each speaker.
Punctuation Included
Your automatically generated VTT file will include punctuation such as commas and periods, helping you save even more time with Maestra's web captioner software.
Accurate Audio to Text Subtitles & Translations
Maestra's automatic speech recognition software has very high accuracy, helping you save time when editing your subtitles. Translate into 80+ languages with a single click.
Upload In 15+ Formats
With Maestra's automatic subtitle generator, you can upload in 15+ formats including MP4, MP3, AVI, MOV, MKV, M4A, M4V, WMV, WMA, WAV and OPUS.
Generate VTT file in
80+ Languages
Shared accounts
Access and share your account on multiple devices and with multiple people.
Secure
Process is completely automated and secure. Check our security page for more!
Customer Reviews
What people are saying about Maestra