How to Shorten a Screen Recording on Android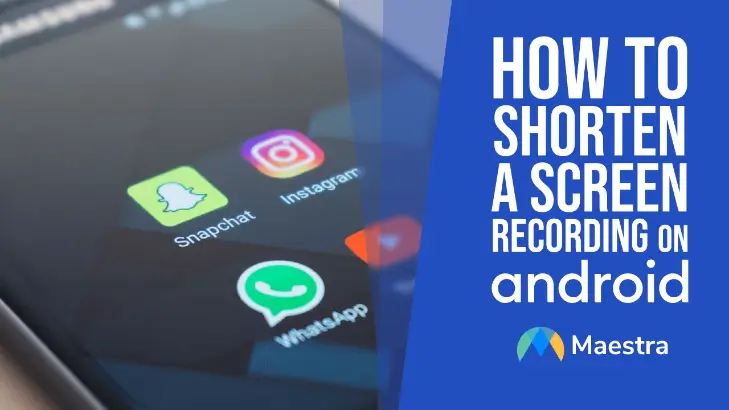 Screen recordings are extremely helpful for various tutorials. Whether you are a teacher creating an educational video for students, or a content creator demonstrating something on your phone, screen recordings may be a very helpful addition to your project.
There are ways to shorten the length of your screen recording on Android devices (such as a Samsung Galaxy) and it only takes a few steps to do so.
Note that there may be slight differences depending on the device that you are using, but the steps to accomplish the goal of shortening your screen recording will ultimately be similar.
Read on to learn how to shorten a screen recording on Android.
Setting Up a Screen Recording
Firstly, you will need to actually record your screen. Newer Android devices come with a built-in screen recorder function. You will need to enable the screen recording function in the Quick Settings menu of your device. Simply follow these steps:
Swipe down twice from the top of your screen.
Tap Screen record.
*You might need to swipe right to find it.
*If it's not there, tap Edit and drag the Screen record tool to your Quick Settings.
Choose what you want to record and tap Start. The recording begins after the countdown. It will then automatically record the screen.
To stop recording, swipe down from the top of the screen and tap the Screen recorder on Android.
After you finish your recording, it will be saved to your gallery library under "Movies" or under your default camera roll (such as Google Photos).
If you are using an older version of an Android phone, you may need to use a third-party app, like screen recording software. If you don't have Android 11 or newer, you will need to use a screen recording app such as the AZ Screen Recorder – No Root app.
If you haven't already done so, download and install the AZ Screen Recorder – No Root app from the Google Play Store on your Android 5.0 or newer device.
Open the AZ Screen Recorder – No Root app. If it's your first time using the app, follow the on-screen instructions to enable AZ Screen Recorder to display over other apps.
A small red icon with a white camera on it will appear on your screen, with five smaller white icons around it. To begin recording both video and audio, tap on the white icon with the red camera then press "Start Now". This acts as the record button and the app will then start recording.
Record your video as desired.
When you're ready to stop recording, swipe down from the top edge of the screen to open the notifications menu. You can pause or stop the recording, or tap the pencil icon to draw on the video.
The better quality of the application you are using, the better video quality you will get in return. If you are experiencing a drop in frame rate or any other lack of quality, you may want to look into other options for screen recording.
Editing Your Screen Recording
To edit your screen recording, you can use the gallery options in your video library to access a video editor. Then, you can trim your video or perform other basic edits. Here are instructions on how to edit and cut videos through Google Photos:
1. Start Google Photos and open the screen recording.
2. Tap the edit icon at the bottom of the screen. It's in the middle, between the Share and Trash icons.
3. At the bottom of the screen, drag the bar on the left of the video timeline toward the right. This trims away the start of the video. Find the spot you want the video to begin, and then repeat that process for the bar on the right side to shorten the end of the video.
4. When you're satisfied, tap "Save a copy" at the top of the screen. You now have an edited version of the original screen recording.
You can also use other apps to edit your recordings if you find that the gallery options aren't what you're looking for. Video editing apps such as Filmora Go, LumaFusion, and Adobe Premiere Rush can also provide editing tools.
Adding More to Your Video
If you want to add more to your screen recording through editing functions, a tool like Maestra would benefit you immensely. If you are looking to put a voiceover onto your screen recording, Maestra can provide you with its software to do just that. Voiceovers add clarity to tutorials and can improve the quality of your video.
After you are done with your screen recording or entire video, simply upload your file to the Maestra software. You will then transcribe the audio that you want a voiceover for. You can select from over 30 languages to have your voiceover dubbed in and then select from different voice options.
You also have the option to add subtitles to your video, which can be very beneficial if you are trying to demonstrate something through your screen recording. Maestra's software also has this capability and it can generate subtitles automatically for your video files. Your subtitles can also be translated into over 50 different languages so you can capture the attention of almost anyone.
What You Can Do with a Screen Recording
Share on Social Media
Like with any video recording, you can share it on any social media platform you desire. This can share information with them, post webinars, and many other possibilities. Just think of what you can record through your own phone screen and you can most likely do it.
Perform a Video Demonstration
If you are wanting to show friends, family, or followers a particular function on their device or demonstrate a particular app, you can use the screen recording feature to provide simple video tutorials to post and share. Maybe you want to show someone how to do a particular task or show them your technique through a Google Play Games recording.
Record and Save Virtual Meetings
If you want to save a particular video meeting because you want to recall that information later or send it to a co-worker who was unable to attend, you can simply record your screen and audio to save it for later. The same can be done with virtual webinars and other virtual experiences.
Leverage Screen Recordings Today
There is so much that you can do by recording your device screen. For vloggers, educators, and other creators, screen recordings can be a valuable tool.
Maestra is here to help improve your video content with automatic subtitles and voiceovers. Try out our AI-powered software today or request your free demo!