The Best Generative AI Tools for Video Content Creation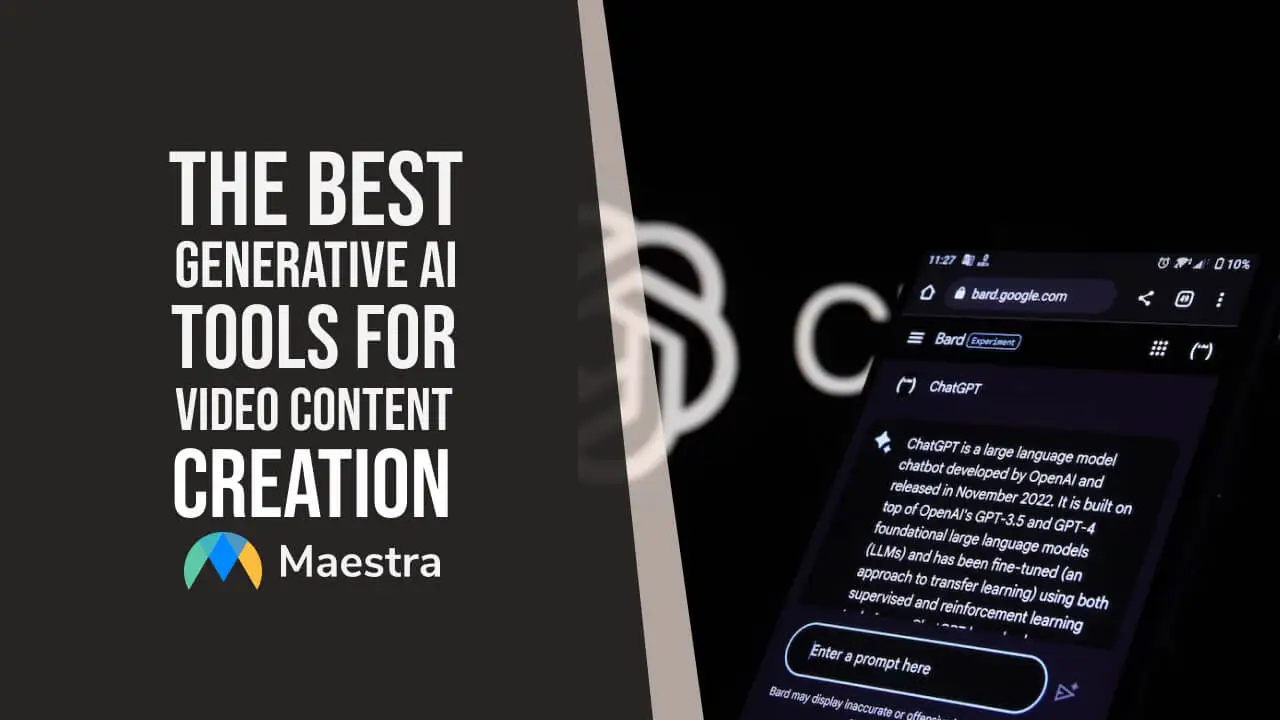 Bloggers, content creators, and businesses realize that creating captivating video content has become essential in maintaining brand visibility. With the rapid advancement of AI technology, the process of producing high-quality videos has never been more straightforward.
AI video creation tools have revolutionized the way we generate video content. They offer a seamless and efficient solution for both beginners and experienced video editors. With these tools, you can effortlessly create high-quality videos using generative AI and cutting-edge editing tools. Whether you're developing training videos, explainer videos, or engaging content for your blog posts, AI technology provides unparalleled power.
What's even better is that many of these AI tools offer a free trial, allowing you to explore their features and capabilities before committing to a paid plan. This helps you find the perfect AI tool that meets your specific needs and aligns with your creative vision.
This article will explore the best generative AI tools for video content creation. Join us as we unlock new possibilities for your content creation journey.
What is Generative AI?
AI (artificial intelligence) revolves around using machine learning to perform tasks that traditionally rely on human intelligence. With video content, creators use AI to optimize their workflows, boost efficiency, and unlock advanced features that elevate the overall quality of their videos. With AI tools at their disposal, creators are empowered to craft visually captivating, engaging, and personalized video content that deeply resonates with their audience.
Generative AI Tools Brainstorming and Scriptwriting
It's easy to create high-quality videos with the right equipment. But first, you need an idea. Where do you find these seeds?
ChatGPT
This free tool helps generate ideas, provide creative prompts, and offer suggestions. A lot of writers and filmmakers turn to ChatGPT to help overcome creative blocks and explore new directions. Its conversational nature makes it a friendly and insightful companion, guiding users throughout the entire creative process.
SoCreate
SoCreate's friendly interface and powerful AI tools help creators brainstorm, organize ideas, and create coherent storylines. SoCreate can generate writing prompts, offer suggestions for exciting plot twists, and provide creative inspiration to fuel your scriptwriting adventure.
ScriptBook
This platform uses advanced AI technology to analyze scripts and give you valuable feedback. It works by using special algorithms that learn and understand things like the structure of the story, the development of characters, the dialogue, and even the specific conventions of different genres.
Generative AI Tools for Editing
Do you want to edit videos like a pro? You might find too many video editors online to choose from. Looking for editing tools that leverage AI could refine your search and point you in the right direction.
Magisto
This platform takes your video footage and analyzes it using clever AI algorithms to find the most captivating moments. Then, like magic, it automatically creates professional-looking edits for you. All you have to do is upload your videos, choose a style or theme, and let the AI produce polished and captivating edits. You can even add your personal touch with customizable templates, music selections, and text overlays.
Adobe Premiere Pro
This widely-used solution is designed to make editing videos a breeze. One of its AI-powered features, Adobe Sensei, can automatically identify and label specific scenes, subjects, or even facial expressions in your video footage. In addition to organization, the platform offers automatic color grading, audio enhancement, and intelligent motion tracking.
Generative AI Tools for Music
You have great footage that you've put together, but something's missing. You need killer music to pull all the elements together. What if you don't have a musical bone in your body? Create engaging soundtracks for your visual masterpieces with these AI solutions.
AIVA
Artificial Intelligence Virtual Artist analyzes a vast amount of musical data using powerful deep learning algorithms to help hapless composers make one-of-a-kind compositions across different genres and styles. Nearly anyone can easily create customized music tracks by specifying preferences like mood, tempo, and instruments.
Loudly
This platform provides access to a vast collection of over 170,000 curated audio loops. Even if you have no technical expertise, Loudly's interface lets you effortlessly select genres and customize options to build your own unique songs. You can generate tracks that speak to your creative vision in seconds. Save, download, and add your favorite tracks to your library with ease.
The Best Generative AI Tool for Captions and Subtitles
Video transcriptions open up a world of possibilities. You can create subtitles, generate searchable content, or simply have a written record of your video. Why would you want to do this? By transcribing your videos into text format, you make them accessible to people with hearing impairments or language barriers. It's a way to include everyone and ensure they can engage with your content.
Adding a text transcription helps search engines index your video content, making it more discoverable to a wider audience. This means more people can find and enjoy your videos.
But that's not all. Transcribed text serves as a solid foundation for content creation. You can easily repurpose it to create blog posts, articles, or social media content. It's a huge time and effort saver, allowing you to maximize the value of your video content.
Extracting text from videos manually can be a real hassle. It takes time and can be prone to mistakes. Luckily, there's a solution: Maestra's automatic video transcription tools.
Maestra's Automatic Audio to Text Converter
Save time and money by transcribing audio files to text automatically within seconds. Maestra boasts an exceptionally high accuracy rate, but if any words need fixing, you can effortlessly make adjustments in the platform's intuitive text editor.
Maestra's Auto Subtitle Generator
Maybe you don't want a transcription. You just want a subtitle file. You can use Maestra's Auto Subtitle Generator to upload a video to create subtitles in 80+ languages. It's never been easier to reach a wider audience.
Generative AI Tool for Voiceovers
The demand for inclusive communication continues to rise. Captions and subtitles aren't the only ways to bridge language barriers. Voiceovers remain effective in reaching many audiences.
Maestra's AI Video Dubber
Maestra's Automatic Video Dubbing and Voiceover Services provide AI-generated voiceovers in over 80 languages, featuring a diverse range of AI speakers. With just a few clicks, you can select your preferred speaker and translate your content within minutes.
The Future is Here with Generative AI
AI tools aren't scary technological monsters. With their help, the creative process becomes quick and painless, letting you focus on what matters: creating content and reaching your audience.
Making videos with AI is quickly becoming the norm. Practically anyone can generate high-quality videos in minutes. Do you want to kickstart your video content creation? Do you want to turn your audio and video into a trending blog post? Contact us and we'll get you started!