5 Easy Ways to Download YouTube Transcripts and Subtitles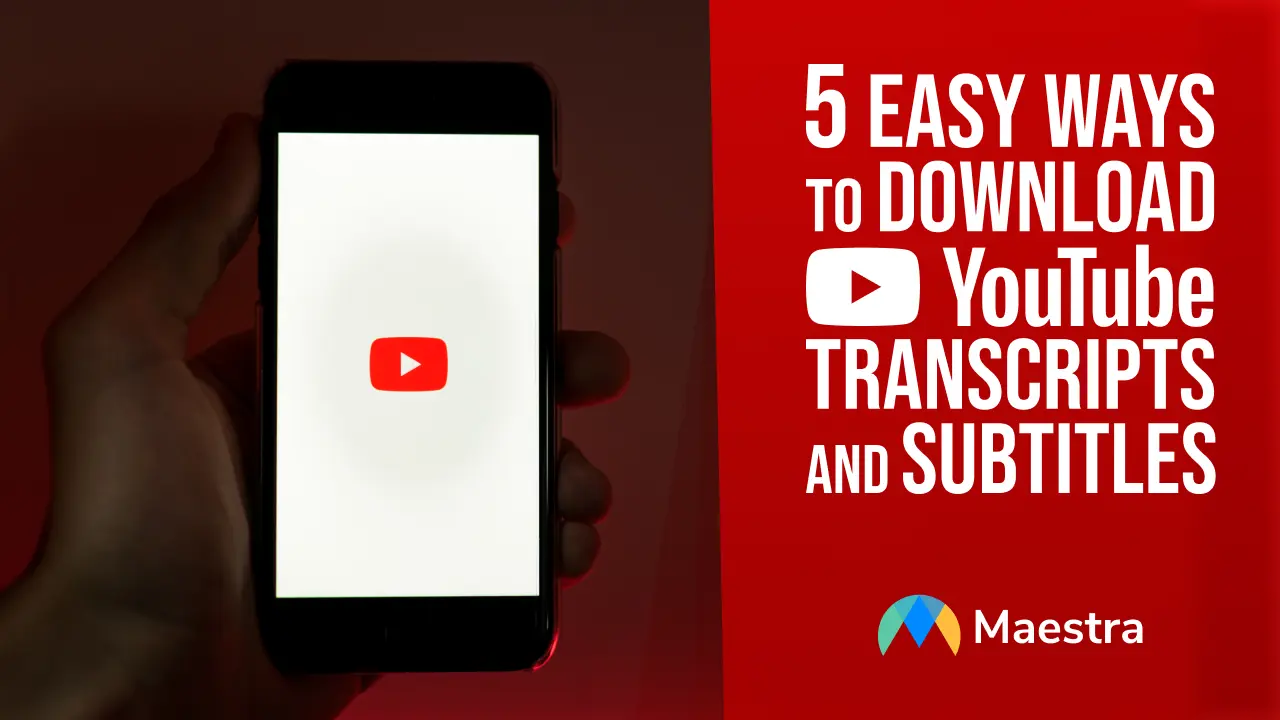 Transcribing YouTube videos can be a tedious task or an easy one depending on your method. But it's essential for a multitude of reasons.
Generally, automatically transcribing Youtube videos is suggested since manual transcription can take a long time. Ultimately, everyone would rather spend a bit of time adjusting mistakes, than hours typing. And with the latest transcription tech, accuracy is no longer a concern.
Let's quickly see the top 5 ways you can download Youtube transcripts and/or subtitles.
Method 1: Use Maestra to Download Youtube Transcripts and Subtitles
Maestra is an AI-powered software that provides fast and accurate transcription services for YouTube videos. Follow these steps to download YouTube transcripts and subtitles using Maestra:
Go to Maestra's Youtube transcript generator .

Paste the video link, or connect your Youtube account.

Download the Youtube video transcript and subtitles!

Maestra users can transcribe Youtube videos and add subtitles to Youtube videos in 80+ languages. Includes a free trial, no account or credit card required.
Method 2: Download YouTube Transcripts and Subtitles Manually
One option is to transcribe your videos manually, although it can be time-consuming. You can use free platforms like Google Docs to type the words as you hear them in the video.
Alternatively, you can hire an online transcriptionist for more efficient results. However, it's important to note that professional transcription services may involve a cost.
Using an automatic transcription tool is less time-consuming and budget-friendly compared to buying professional transcription services.
Method 3: Use YouTube's Built-in Transcript Feature
YouTube offers a built-in feature for downloading transcripts, although it's not available for all videos. Here's how you can access it:
Go to YouTube.com and select the video you want to transcribe.

Below the video title, click the three dots under the video.

Choose "Show Transcript."

YouTube will display the available transcription on the right side of the screen. While you can't directly download it, you can copy the text. Also, you can toggle off the timestamps to only copy the transcript.
Now, you can download any Youtube transcript with this quick method. The downside to this method is that you will need to fix many mistakes to get the text to a proper state.
Method 4: Utilize Google Docs Voice Typing
Google Docs offers a free option for downloading YouTube transcripts and subtitles using its voice typing feature. Follow these steps:
Create a new Google Doc.

Select "Tools" from the menu.

Click on "Voice Typing."

Click the microphone icon to activate voice typing. It will turn red when activated.
Start playing the YouTube video while keeping the Google Docs voice typing feature active. It will transcribe the audio in real-time.
Method 5: Utilize YouTube Subtitle Downloaders
Several online tools and software allow you to download YouTube subtitles directly. These tools extract the available subtitles from the YouTube video and provide them in various formats like SRT or VTT.
Simply search for "YouTube subtitle downloader" in any search engine to find suitable options.
This method opens you up to multiple tools that allow you to download Youtube transcripts. It can be tiring to suddenly have a ton of options to choose from and not know which one is easier, quicker, or cost-efficient.
Why Download YouTube Transcripts and Subtitles?
Transcription has strong upsides in the content world. Successful content creators or businesses utilize transcription to maximize accessibility and reach bigger audiences.
Let's see why you should download Youtube transcripts or subtitles to benefit from it.
Streamline Content Creation: Transcribing your YouTube videos allows you to repurpose the content for other platforms, such as your website or social media accounts.

By having the video text available, you can quickly create blog posts or short-form content like tweets or Instagram captions. This saves time and effort in content creation across multiple platforms.

Increase Engagement: Adding subtitles to your YouTube videos enhances accessibility and expands your potential audience.

Subtitles enable viewers to consume your content without relying on sound, making it more inclusive for the deaf or hard of hearing. Additionally, subtitles can help non-native speakers understand your videos, increasing engagement and reach.

Note Taking: For students or individuals using YouTube for educational purposes, downloading transcripts can be beneficial for note-taking.

Having a written document of the video's content allows you to focus on understanding the material without the distraction of taking extensive notes. It provides a comprehensive reference for studying or referencing later.

Accessibility: Downloading subtitles for YouTube videos significantly improve accessibility. Captions help people with hearing impairments comprehend your content, while the automatic translation of captions facilitates understanding for non-English speakers.

By making your videos accessible to a wider audience, you can increase engagement and viewership.

Viewer Comprehension: Transcripts help eliminate confusion caused by background noise and ensure viewers can grasp the information presented in your videos.

By providing accurate text versions, you reduce confusion and enhance understanding, especially for complex topics.
Frequently Asked Questions
Can you pull a transcript from YouTube?
Yes, you can pull a transcript from Youtube in different ways. You can use Maestra's transcription tool, directly copy the transcript from Youtube, or through other ways we talk about in this article.
How do I download a YouTube transcript without timestamp?
Maestra's Youtube transcript generator allows you to download a Youtube transcript without timestamps. Alternatively, you can toggle off timestamps on Youtube after clicking "Show transcript".
How do I transcribe a YouTube video to text for free?
Maestra's Youtube transcript generator is a free tool that is used to transcribe Youtube videos. Just put the Youtube video URL and receive the transcription within seconds. The free trial does not require an account or any payment information.
Is it possible to download YouTube subtitles?
Yes, you can download Youtube subtitles by using Maestra to subtitle the video, then download them. Or, you can use various other sites on the internet that allow the extraction of subtitles from Youtube videos.