How To Add Subtitles To YouTube Videos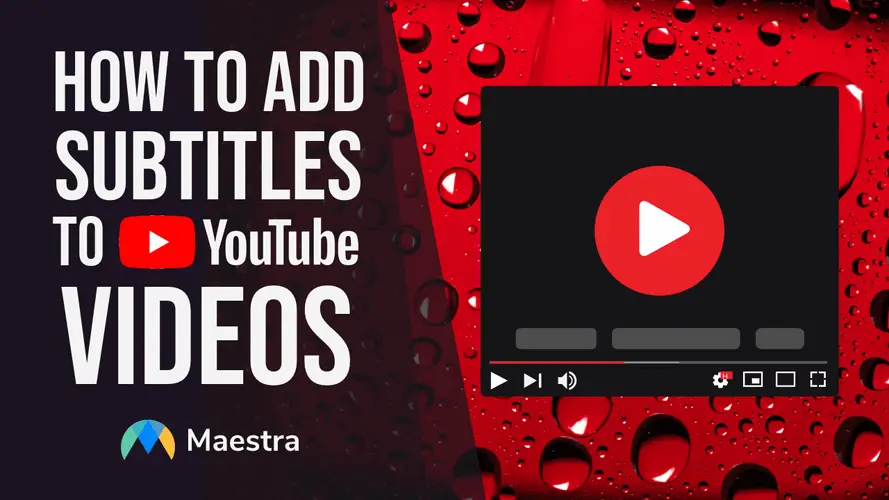 YouTube is one of the most popular video platforms and is the second most popular search engine after Google. Creating videos for YouTube has become a crucial digital marketing option for businesses and a professional occupation for creative individuals. The content's performance is judged on YouTube by the number of views on a video, and channel subscribers.
Video creators and vloggers go to extreme ends to regularly generate fresh and informative content that drives traffic to their channels.
The main focus of creating video content is to make it exciting and engaging for viewers. Adding closed captions to YouTube videos is an excellent way of getting more views on your video content! Closed Captions make your content more readily available for various viewers, and you can use captions to strategically reach out to viewers who don't speak your native language.
Captions and subtitles are also helpful for those who may watch videos in public places. Captions in YouTube videos make it easy to comprehend and increase the reach of your content. It is an excellent tactic to boost your video views as people can view them irrespective of their language or place. Subtitles also make a big difference in how people see, react, and engage with your videos.
Difference between Closed Captions & Subtitles
Most of us are familiar with the closed captions and subtitles in videos. Subtitles and captions are even more useful in watching videos when there are audio issues. However, both closed captions & subtitles are different from each other. They serve unique purposes and have specific traits that make them distinct.
The viewer can quickly turn off closed captioning (CC) with the click of a button in a Youtube video. Captions are of particular use to deaf or hard of hearing individuals as they include relevant information translated from sound to text.
"Closed captions" is the viewing of native language dialogue, while subtitles are the viewing of foreign language dialogue.
Subtitles are created, assuming the viewers can hear, and are typically used when the viewer doesn't speak or understand the video's foreign language. But subtitles also have other proven benefits for those trying to learn another language.
5 Statistics Related To Subtitles
Increased accessibility for 55% users worldwide
55% of viewers quickly understand the video content when their video was watched with subtitles.
About 12% of users prefer to watch videos without sound
Many times, users do not watch videos with sound. People with hearing problems use subtitles when watching videos. Subtitles can help capture this audience segment who watch without sound. 75% of social videos are watched with the sound off.
Adding subtitles to videos can help you reach 35% more viewers
Subtitles increase social reach and elicit better responses. In terms of rankings, subtitles also boost SEO and position in search results or as a suggested video. Subtitles also get the Youtube video a better ranking on YouTube.
Subtitles boost user engagement by 25% on social platforms
Subtitles increase engagement, and engagement ratio is a key ranking factor for YouTube videos. When the audience can easily understand the video, they interact more with the content by commenting and sharing it with others.
Subtitles increase your watch time and boost your ranking by 15%
When it comes to watch time, subtitled videos increase view time by more than 12%, and videos are watched up to an average of 91% to completion. In comparison, videos without subtitles are only watched 66% to completion. When subtitles are included, 80% more people watch videos to completion.
Benefits of adding Subtitles
Adding subtitles to YouTube videos can help you in many ways, including increasing your videos' organic views and increasing audience reach. Caption your videos to get the following benefits:
1. Improve SEO:
YouTube is the second most popular search engine, and adding captions makes them searchable. Adding text to your videos allows you to target specific keywords and improve your search engine ranking. Indexing your videos in multiple languages helps your videos rank higher on YouTube and Google, thus driving more traffic to your website. If people spend more time watching your videos, you'll have increased watch time, which positively affects your rankings.
2. Reach out to a broader audience:
You can make your content available for a wider audience by using closed captions on YouTube. Deaf and hard of hearing people can more easily understand your video through captions. You can also make captions available for people from different parts of the world using the multi-lingual captioning options. Good subtitles should give a viewer the experience that feels like the video was watched in the original language, with easy to understand subtitles.
3. Ease of accessibility:
Captions allow viewers to watch videos on mute when in public places. Viewers will also be able to watch your videos without audio for when headphones are unavailable. This increases the number of views on your content, even when your viewers are on the move. And when video accessibility imporoves, the channel grows.
4. Better comprehension:
Subtitles in videos help viewers understand the content accurately. If you don't add subtitles to your videos, your viewers may choose to find a similar video with captions readily available.
5. More engagement:
Adding subtitles to videos will boost engagement, audience reach, and video views by generating more likes, comments, and shares on social media. This means that your video and brand will reach a new audience and can even attract new customers.
6. Better user experience:
Subtitles can significantly contribute to the viewing experience of the viewer. Furthermore, subtitles help in better comprehension and memory retention for viewers. They greatly help grab the attention of viewers.
7. Better performance of the video:
Subtitled videos have 16% higher reach than those without them. They have 15% more shares, 17% better reactions, and 26% more call-to-action click-throughs. The videos performed better on every measure that matters.
Add Subtitles Automatically with Maestra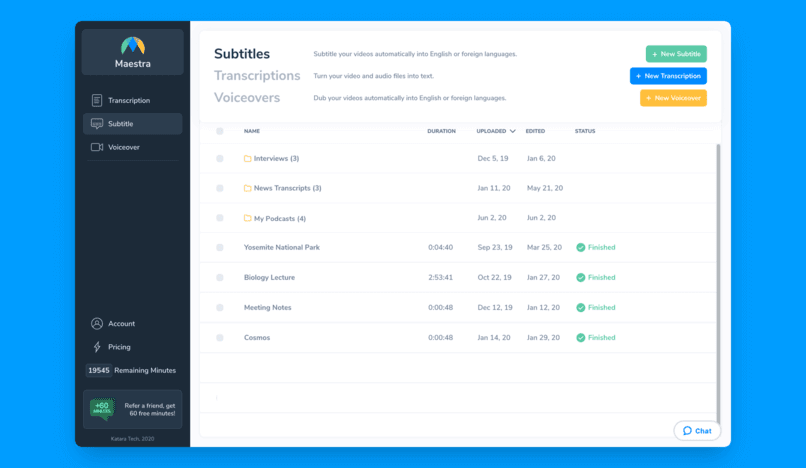 Maestra is a cloud-based application with a built-in AI editor that helps you automatically transcribe, voiceover, and caption your videos. You can use Maestra to add subtitles to your video and audio files to over 80 languages with automatic subtitle translations.
Maestra comprises an automatic subtitle generator build to help you reach everyone, everywhere. The subtitle generator is easy to use and allows you to deliver an exceptional user experience to your audience.
Here's how you can automatically add closed captions and subtitles to YouTube videos and translate them to 80+ foreign languages automatically:
1. First, Sign up for Maestra. Maestra comes with a free trial, no credit card or signup required.
2. Create a new caption by clicking "+ New Subtitle."

3. Upload your audio or video file in any format and select the language and number of speakers.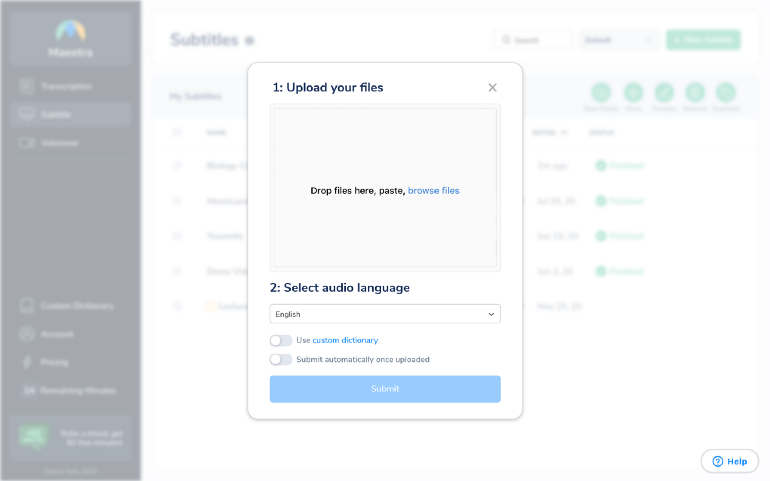 4. Review the generated captions and edit the mistakes, if any.
5. Auto translate Youtube subtitles and cc to 70+ languages by clicking "+ New Language."

6. Export the captions in your preferred format.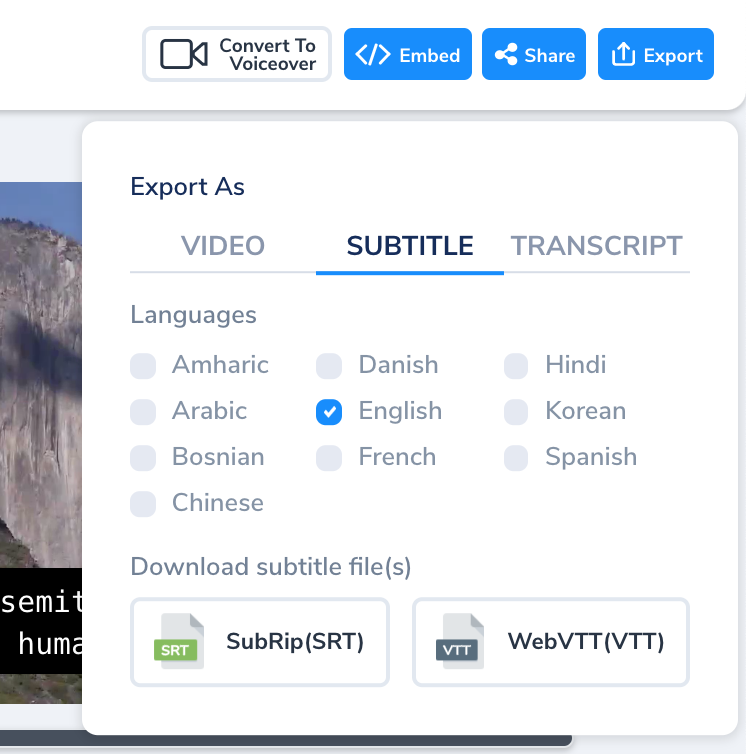 Features and Benefits of Maestra
1. Embed videos automatically to your website:
Maestra Embed Player helps you subtitle your videos and embed them on your website. You can avoid uploading video files of large sizes that may otherwise decrease your website's loading speed.
2. Multi-language support:
Maestra allows you to add captions to your videos and translate them into around 50 languages, making them available for audiences worldwide.
3. Edit timestamps:
You can review and edit the automatically generated subtitles and also edit the video timestamps easily. The app allows you to drag and slide text boxes to the right time frame.
4. Easily edit subtitles:
Maestra offers a subtitle generator with an AI-based editor. The editor allows you to choose sentence length, delete words, merge brief sentences, and create new ones. It also automatically synchronizes your audio transcript.
5. Export in preferred formats:
Maestra editor allows you to export the generated subtitles in your preferred format, including .txt, .srt, .vtt, and .pdf.
Takeaway
Add subtitles to videos in your YouTube channel and get viewers from all over the world. Maestra's automatic subtitle generator helps you add captions to your YouTube videos quickly and correctly. It takes care of generating captions in various languages in the minimal time while you focus on creating more content. This excellent tool is a must-try for YouTubers, vloggers, and content creators!