How to Use a Caption Extractor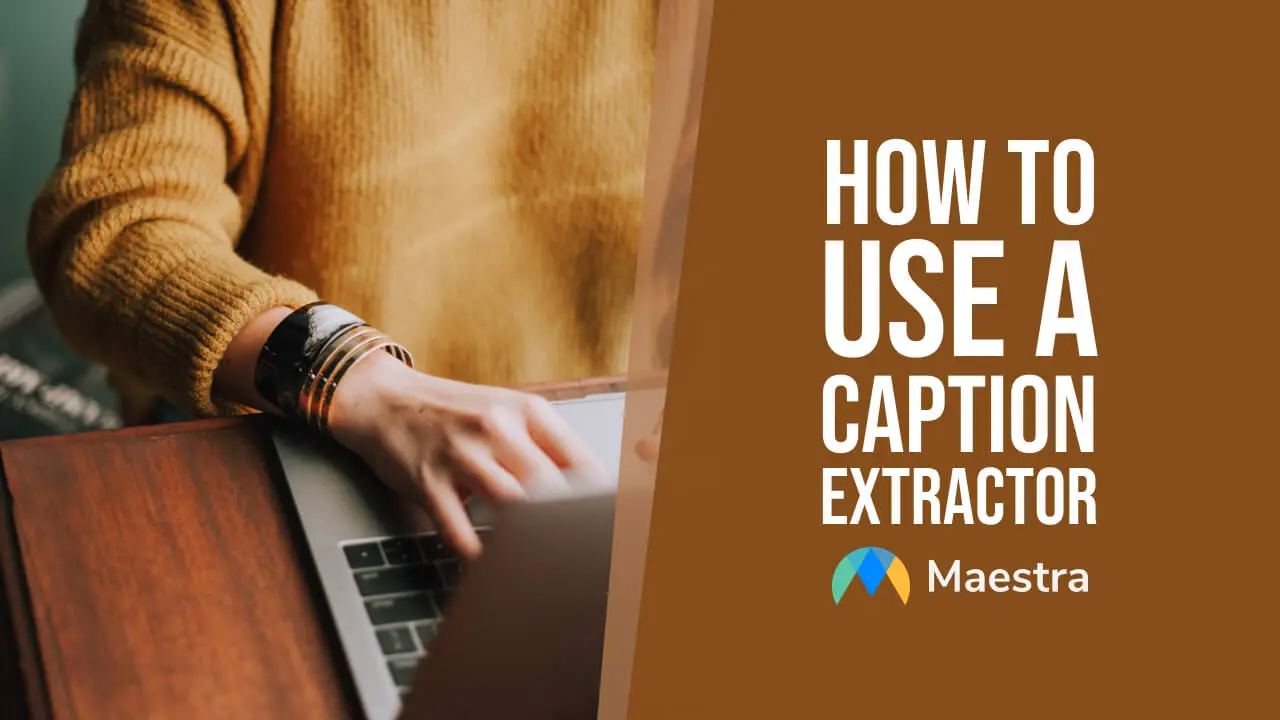 Are you a digital creator who is passionate about creating high-quality video and audio content? Adding captions to your content has numerous benefits — from increasing accessibility to even aiding your SEO (search engine optimization!). However, anyone who has tried to do so knows that having to extract subtitles from video manually can be seriously time-consuming. This is where an online subtitles extractor can be quite handy!
A caption extractor can extract subtitles from video, automatically generating a text transcription for you. These kinds of software tools are designed to automatically transcribe spoken audio content and convert it into text captions.
This technology utilizes speech recognition algorithms to identify and transcribe spoken words in audio or video files, making the content accessible to a wider audience. Caption extractors are invaluable for content creators, particularly podcasters and vloggers, who often publish content on a specific schedule and don't have extra time to spend transcribing subtitles.
Read this blog article to learn more about how to extract subtitles from video, the benefits of using subtitle extractors, and other helpful information!
How Do I Extract Subtitles From Video?
With a caption extractor, you don't need to worry about replaying and listening to a video repeatedly to generate subtitles.
Upload your audio and video files.
With a subtitle extractor like Maestra, generating captions for your content is easy. Simply upload your audio and video file, then click to generate subtitles. There is no need to create an account and the process is completely free.
Automatically generate subtitles.
Once you've uploaded your file, your captions will be automatically generated. With Masetra, you can choose from a target language, as well as over eighty language translation options for your transcript.
Edit and export the subtitles.
After your subtitles have been generated into the language that you desire, you'll be able to proofread and edit them right inside Maestra with our subtitle editor. Numerous subtitle choices are available for you to choose from. Your video can also be exported into a variety of formats, including:
What Are the Benefits of Being Able to Generate Subtitles?
Utilizing an online subtitles extractor has numerous benefits, including:
1. Generating Subtitles Saves Time
With a caption extractor, you never have to worry about trying to transcribe your content ever again manually! By automatically generating a transcript for your video, you save both time and offer during the editing process. An extractor also prevents errors and typos, ensuring high-quality subtitles for each of your viewers to enjoy.
2. Subtitles Add Accessibility
Subtitles are essential for accessibility purposes, such as for people who are hard of hearing or who process information better by reading. Subtitled videos cater to a wide range of viewers, expanding your content reach and diversifying your audience.
3. Subtitles Can Be Translated Into Different Languages
Another great perk of subtitles is that once the transcript for them is generated, it can then be translated into other languages as needed. Maestra's caption generator can convert audio to text in over eighty different languages, aiding accessibility further and allowing you to reach a worldwide audience. Our subtitle extractor is extremely accurate, so you'll never have to worry about trying to use a translation tool ever again!
4. Subtitles Improve Your SEO (Search Engine Optimization)
Captions are also a vital part of SEO (search engine optimization). Adding subtitles to your video content boosts your search engine rankings by indexing the text, making your content more discoverable to users searching for specific keywords.
Providing subtitles allows you to target specific (such as local or trending) keywords and other relevant phrases to your content. To enhance SEO, it's crucial to extract subtitles from MP4 files, download subtitles, and then offer them alongside your videos.
State of the Art Online Subtitles Extractor with Maestra
Whatever sort of audio and video content you're creating, Maestra can help you save time and effort by automatically generating subtitles. Being able to extract subtitles from video increases accessibility, improves your SEO, and can expand the reach of your content like never before! With Maestra, you'll never need a credit card, an account, or other personal information to download subtitles or extract subtitles from MP4 files.
Our caption extractor even offers multiple speaker detection, easily transcribing your audio with incredible accuracy. It also can add punctuation and supports audio formats including MP3, AAC, FLAC, M4A, OPUS, WAV, and WMA. Once your content is uploaded and transcribed, it can be edited as needed and then exported as a Microsoft Word document, a PDF, or a plain text file, depending on your preferences. Your data is always secure with Maestra and is fully encrypted. All audio files and transcriptions are deleted from the server once you remove them. Our AI technology is also constantly being updated, improving both your experience and subtitle accuracy.
Click here to get started!