How AI Can Make Your HR Department More Efficient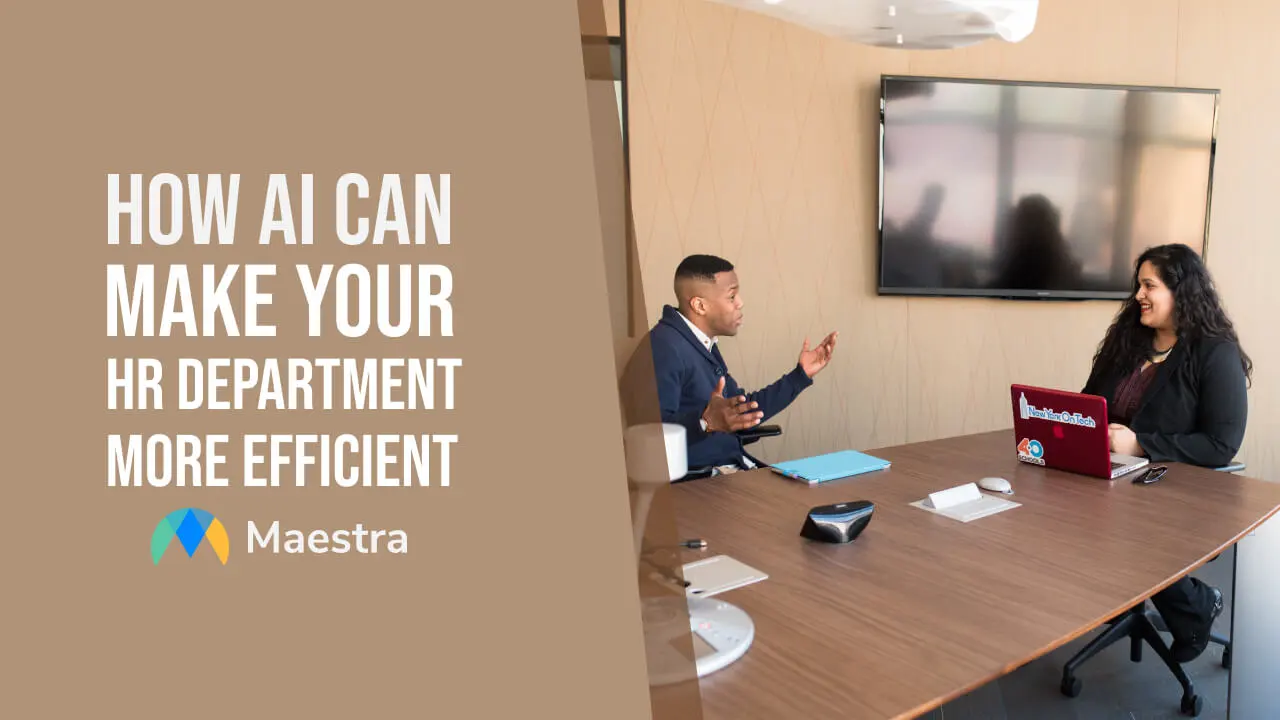 In the quickly changing world of Human Resources (HR), efficiency is not only desirable, but also necessary. HR departments grapple with a huge number of tasks, from managing recruitment processes to optimizing employee engagement and performance management. Learn how your HR teams can improve their efficiency by using Artificial Intelligence (AI)!
In this article, we'll explore the potential of AI tools for HR, including transcription software like Maestra. Transcription software simplifies the process of adding captions to videos and creating video summaries from accurate transcripts.
The HR Efficiency Challenge
HR departments are the backbone of any organization. HR teams are responsible for critical functions that shape your company's success. However, these functions often involve time-consuming tasks that can overwhelm HR professionals and teams. Here are some key areas where HR departments grapple with these challenges:
1. Recruitment Processes: What does your recruitment process look like? Are your HR professionals sorting through hundreds of resumes manually in order to find the right candidates for your job description? This takes valuable time and energy and can slow down your recruitment efforts.
2. Employee Engagement: Employees need to be satisfied and engaged with the company in order to do their best work. Satisfied employees are essential for high-performance and retention. Creating excellent content will boost your employee morale and productivity. However, content creation and follow-up analyses can take up a lot of time on the part of your HR professionals.
3. Performance Management: Evaluating and managing employee performance requires careful documentation, analysis, and feedback. This can be a lengthy and complicated process, especially in larger organizations.
AI's Role in HR Efficiency
Artificial intelligence has emerged as a powerful ally in addressing these efficiency challenges. Let's discuss using AI tools for HR. These tools will enhance productivity, reduce manual workloads, and free up HR professionals to focus on more strategic tasks.
1. Streamlining Recruitment Processes with AI:
Recruitment is a major HR function, but it can be a massively time intensive task. Use the right AI tools to help HR teams throughout all stages of recruitment.
Use your HR team to find job positions and descriptions. Then, use the power of AI to optimize your recruitment strategy. AI predictive analytics will help identify the best sources for finding the best candidates.
During the hiring process, you can use recruitment software to significantly streamline interview offers. By automating the initial stages of candidate screening, your company will save time and money. AI-driven software solutions can scan and filter resumes and applications. Let automation help the process of matching qualified candidates with job descriptions.
You can also invest in an AI YouTube transcript generator to streamline your vetting process if multiple levels of leadership need to approve a new candidate to hire. An added bonus is that going this route can sidestep unconscious biases which may be present during the hiring process.
This will speed up the candidate selection process. It will also ensure that HR teams spend their valuable time engaging with the most suitable candidates. Don't let your HR team waste hours of work when AI can do the basics for you.
Chatbots and AI-driven onboarding platforms can provide new hires with 24/7 access. It will be easier than ever to provide information, answer common questions, and guide new hires through the onboarding process. AI can also automate paperwork and document management, reducing administrative overhead.
2. Enhancing Employee Engagement with AI:
Employee engagement is essential for a thriving workplace. Create a culture dedicated to always improving your workplace by making sure to create improvements using measurement tools. These measurements can be another area where HR departments need to spend their time. AI tools can ease the burden of this by automating surveys and feedback analysis.
Obtain real-time insights into employee satisfaction and morale from AI. This will allow HR teams to make data-driven decisions to improve the workplace environment. Instead of analyzing and creating reports, let AI do the data work for you. Just focus on the results and solutions.
3. Optimizing Performance Management with AI:
Performance management is a fundamental HR process. It often involves complicated tasks which require a lot of time, like gathering data on employee performance and analyzing it. AI-driven algorithms can automate the collection and analysis of performance data.
This allows HR professionals to focus on providing actionable feedback and guidance to employees. And this will in turn make the performance management process more efficient and effective.
Transcending Boundaries with Transcription Software
Among the various AI tools available for HR, transcription software stands out as a valuable asset. AI tools are able to enhance ease of access and efficiency. Companies like Maestra have harnessed the power of AI to create highly accurate transcripts from video and audio content.
Now, use these transcripts to add video captions and create video summaries. This way, you can significantly enhance ease of access for all of your content!
Efficient Video Content Management
HR departments often rely on video content for various purposes, such as training modules, onboarding materials, and communication with employees. Don't allow managing video content to become a daunting task. Design your content with the goal of making it easy to use for all of your employees.
Transcription software like Maestra simplifies this process by automatically transcribing video and audio content with remarkable accuracy. Then you can use the transcript to generate captions for videos, ensuring that the content is accessible to a wider audience.
Additionally, transcripts serve as valuable documentation! You want to make it easy to search for and reference specific information within videos in order to save everyone time. This will also encourage employees to go back to the content when necessary, increasing employee engagement.
Creating Efficient Video Summaries
Another awesome feature of transcription software is its ability to create video summaries. This is useful for HR departments looking to condense long training sessions, webinars, or meetings into digestible highlights. AI-driven algorithms can analyze the transcript and generate concise video summaries that capture the key points.
This lets HR professionals efficiently communicate essential information to employees. Summaries allow employees to understand the focus of the video content, and will help them prepare for the content.
AI Transcription Software: Maestra in Focus
Maestra, a leading AI transcription software solution, empowers HR departments with the tools they need. Unlock the full potential of your video content with Maestra.
With Maestra, HR professionals can:
Automatically transcribe video and audio content with remarkable accuracy.
Generate accurate captions to make video content accessible to all employees.
Create video summaries for efficient knowledge sharing.
Improve content searching and documentation.
Harnessing the power of AI-driven transcription software like Maestra! Let your HR departments transform their content into valuable, efficient, and accessible assets. Leverage AI to improve employee learning while simultaneously helping HR teams create engaging content more efficiently.
Increase Your Efficiency with Maestra
Efficiency is important in the realm of HR management. HR professionals need to juggle many responsibilities, and AI tools are a great way to help with completing these responsibilities. AI tools for HR, including transcription software like Maestra, are an amazing way to streamline operations and enhance productivity.
AI is able to automate many time-consuming tasks, improve ease of access, and optimize content management. AI empowers HR departments to focus on what truly matters; the well-being and success of their employees.
As HR departments navigate the ever-changing landscape of responsibilities, AI stands as a beacon of efficiency. Embrace the future of HR management with AI. Now you can leverage the capabilities of transcription software like Maestra to transform your HR operations.
Ready to transform your HR department with AI-powered solutions? Discover what you can accomplish with Maestra today and elevate your operations now!