Convert AAC to Text
Maestra converts the speech from your AAC (.aac) file to text automatically in 80+ languages including Spanish, English, Italian and French.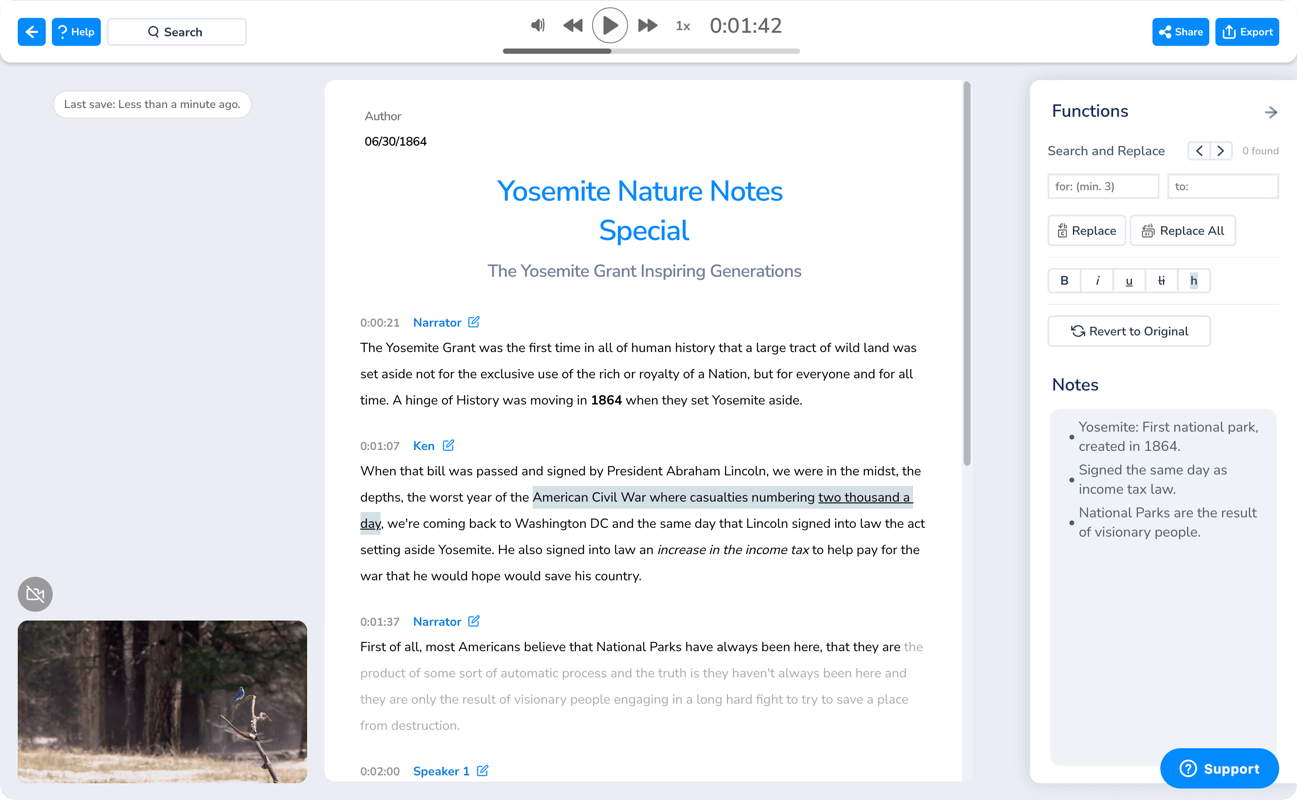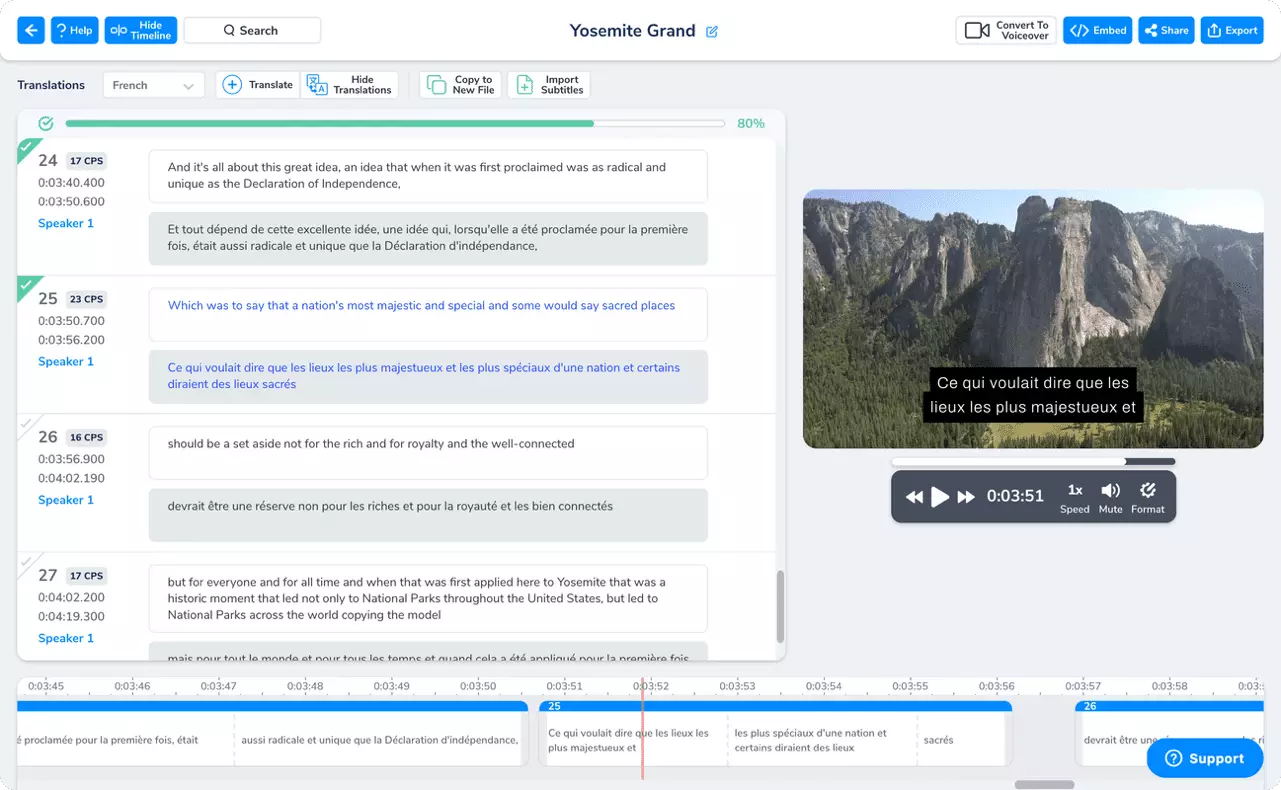 How to convert AAC to Text?
1
Upload to instantly start transcribing AAC files
Upload the AAC file and see the transcription within seconds. No credit card or signup required.
2
Multiple ways to upload
Easily import your audio or video files from Dropbox, Google Drive, Youtube link, Instagram or browse locally from your computer and pick Arabic as the audio language.
3
View and edit easily
Your file will be transcribed to Arabic text automatically in just a few minutes. Easily proofread, edit your audio transcript or subtitles, make any necessary changes and optionally translate to 80+ languages.
4
Export or share
Share automatically generated Arabic audio transcription, subtitles or captions online, or through email. You can also export your audio transcript or subtitles in PDF(.pdf), WORD(docx), TXT(.txt), SubRip (.srt), WebVTT (.vtt), Scenarist (.scc), Spruce (.stl), Cheetah (.cap), Avid DS (.txt).
Frequently Asked Questions
What is Maestra?
Maestra is an automatic transcription, captioning, and voiceover platform that allows you to automatically turn your audio and video files into your desired format. Our automatic AI processor will transcribe, translate, caption, or voiceover your files and send them back to you incredibly fast. Edit your videos in our advanced, easy-to-use and collaborative editor, then save and share them with your audience! If you have any questions about how Maestra works, we're more than happy to walk you through a demo.
Can you convert AAC files to text?
Yes, you can convert AAC to text using Maestra audio to text converter. We can extract speech from any audio file using automatic speech recognition software (asr), regardless of the file size, format, or language used in the audio/video. Our automatic transcription software accurately transcribes and converts your AAC Audio files to text in a matter of minutes. If you need to transcribe media files into text, you can do so as well! Transcription and subtitling services like Maestra are a huge step forward from manual transcription.
Which formats can I export my AAC file to?
Your AAC transcripts can be exported to a variety of text formats, including PDF(.pdf), WORD(docx), TXT(.txt), SubRip (.srt), WebVTT (.vtt), Scenarist (.scc), Spruce (.stl), Cheetah (.cap), Avid DS (.txt). Timestamps and speaker tags can be included in the export. Furthermore, you'll be pleased to learn that you can upload not only AAC, but also other video and audio formats such as WAV, AVI, OGG, and MKV...
How long will it take to transcribe my file?
Your AAC file should be transcribed, captioned, and voiced over in less than half the length of the original file. For example, if your file is 15 minutes long, it should only take around 10 minutes for the file to be converted.
What languages does Maestra support?
Here are the languages that you can upload your video and audio file in: Afrikaans, Amharic, Arabic, Armenian, Azerbaijani, Indonesian, Malay, Bengali, Bulgarian, Catalan, Chinese, Mandarin, Chinese, Cantonese, Czech, Danish, German, English, Spanish Basque, Filipino, French, Galician, Georgian, Gujarati, Croatian, Zulu, Icelandic, Italian, Japanese, Javanese, Kannada, Khmer, Korean, Lao, Latvian, Lithuanian, Hungarian, Malayalam, Marathi, Dutch, Nepali, Norwegian Bokmål, Polish, Portuguese, Romanian, Sinhala, Slovak, Slovenian, Sundanese, Swahili, Finnish, Swedish, Tamil, Telugu, Thai, Turkish, Urdu, Greek, Russian, Serbian, Ukrainian, Hebrew, Persian, Hindi, Vietnamese
Can I upload AAC files from other platforms?
You can import your AAC files from a variety of services, including Google Drive, Dropbox, Instagram, or YouTube links and convert them into text in minutes.
Customer Reviews
What people are saying about Maestra AAC to text converter