Convert TXT TO SRT
Free online subtitle files converter by Maestra. Within seconds convert AVID DS subtitle files to SubRip files.
How to convert subtitles?
1
Upload the AVID DS (.txt) subtitle file.
Drop the subtitle file(s) that you want to convert, multiple file upload is supported.
2
Select the SubRip (.srt) subtitle format.
Or alternatively select any subtitle format that is available.
3
Convert format with a single click.
Click on "Convert" and the original subtitle file will be converted to the target format. Hit "Download" button to save the SubRip file.
1. Select your subtitle file(s)
Please drop files here, or click to Browse file
2. Select the SubRip output format
Frequently Asked Questions
What is Maestra?
Maestra is an automatic transcription, captioning, and voiceover platform that allows you to automatically turn your audio and video files into your desired format. Our automatic AI processor will transcribe, translate, caption, or voiceover your files and send them back to you incredibly fast. Edit your videos in our advanced, easy-to-use and collaborative editor, then save and share them with your audience! If you have any questions about how Maestra works, we're more than happy to walk you through a demo.
Why Should You Convert Subtitles?
In the entertainment industry, subtitling is the primary method of translating content and making it more accessible to a wider audience. Over the years, the number of subtitle formats grew to match the growing need in the industry. Maestra's subtitle converter is an online tool that allows users to convert subtitles to the file format they desire for free with a few clicks. If you are a worker in the subtitling industry, Maestra's subtitle converter can help you convert multiple subtitle files to another subtitle format and save a lot of time and resources while doing so.
What is an AVID DS TXT?
AVID DS is basically just a text file, due to this any text editor can be used to edit this subtitle file format. It'll include subtitle timestamps and text in it. This makes it super easy to share and collaborate but since it doesn't include proper formatting that can also be counted as a negative.
What is a SubRip file?
The media industry uses subtitles to maximum effect in order to reach a global audience. And while doing so, they usually prefer SRT files while subtitling. Due to its simpler format where the lines are located below the timecodes and each line has a designated number, the SRT format is currently the most popular format.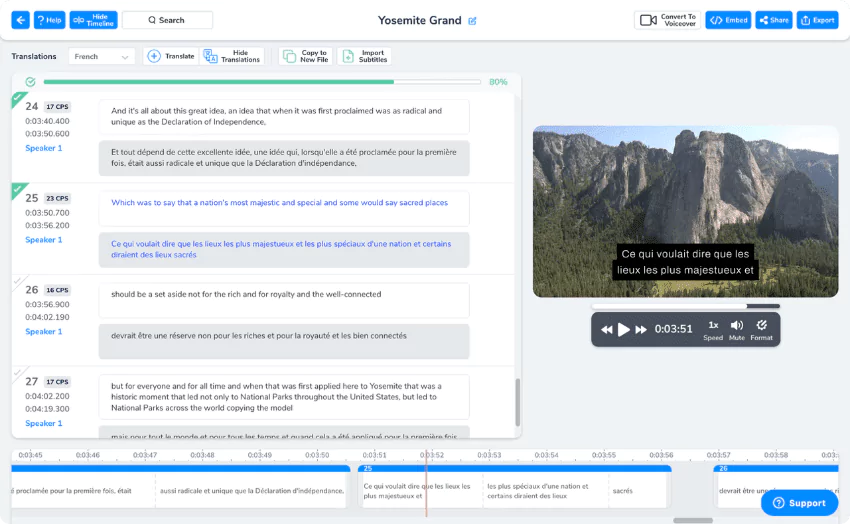 Create and Translate Subtitles
In addition to converting subtitles for free, Maestra's srt generator allows users to create subtitles and translate them to more than 80 languages.
All located in a simple interface, edit subtitles with our advanced subtitle editor and translate subtitles with our subtitle translator to gain accessibility and grow your audience.
If you are looking to translate subtitles for a Youtube video, Maestra also has a built-in Youtube tool to automatically add subtitles to your Youtube videos. So it is possible to translate the converted files and put them on your videos directly from Maestra!
Converting TXT to SRT format through our caption converter, then editing the converted file on our subtitles editor and translating those captions and sub files to a foreign language only takes a few minutes and a few clicks with Maestra. Free trial available, no credit card required!
Customer Reviews
What people are saying about Maestra