15 Software Tools Every College Student Needs in 2023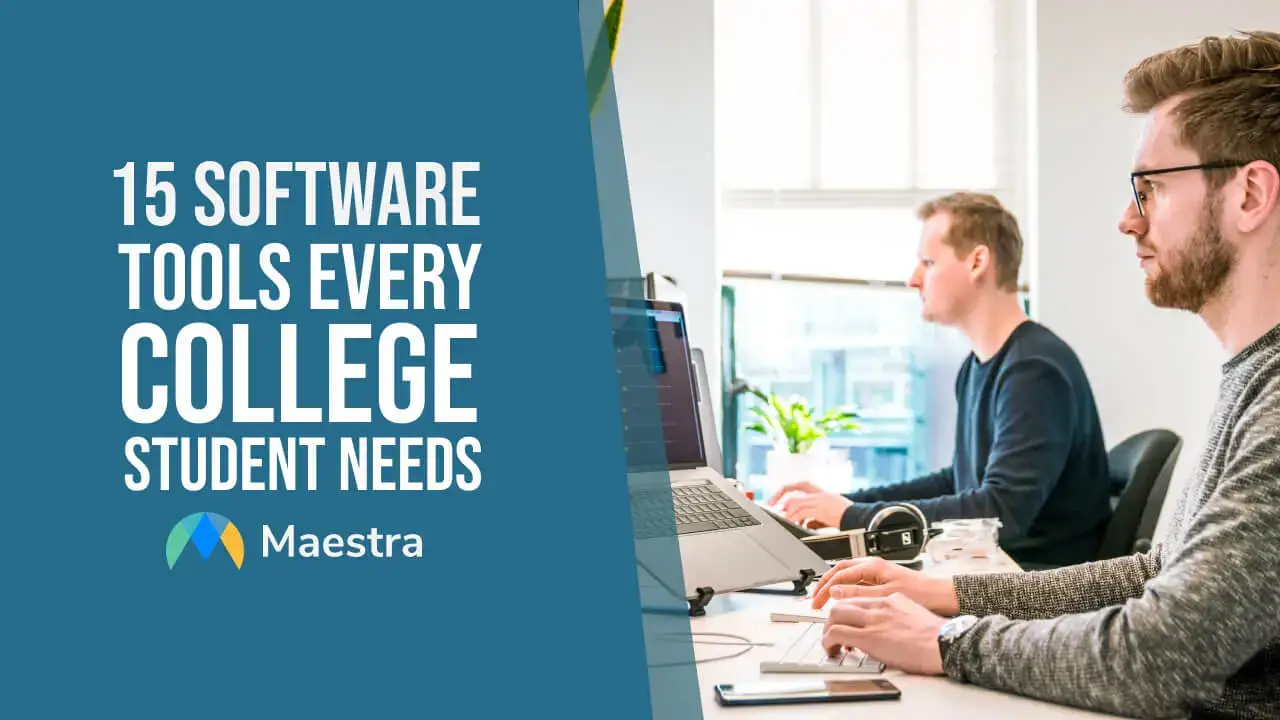 If you are a college student, you know that your computer is one of your most essential everyday tools. You use it daily, for everything from managing your email to writing your papers to checking your social media. But is your computer really optimized for the college experience?
Here are some of the essential software tools you need on your college computer to propel you to success in the coming school year.
Organizational Tools
The best way to guarantee success in college is by staying organized. Missed assignments and forgotten tests can sink a college student's grade, but by staying organized students can stay on top of assignments and set themselves up for success.
Google Drive
One of the major organizational platforms is Google Drive. The suite of Google programs includes calendars, documents, email, and other classroom essentials. Students can plan out their day in Google Calendar, type up and turn in assignments with the Google Docs, and download files or spreadsheets for homework.
Creating a Google Drive account is completely free, and can be logged into from any computer web browser, which makes it a versatile student tool.
Microsoft Office 365
Microsoft Office 365 is another major organizational platform with similar features and capabilities as Google Drive. Unlike a Google Drive account, Microsoft Office 365 does require a subscription. However, there is a free limited version called Microsoft Office Online with fewer features included, but it's easily accessible via a web browser just like Google Drive.
If you want the whole Microsoft Office 365 suite, Microsoft does offer a student plan, and some universities may grant students and teachers access to Microsoft products through their school email accounts. If you're not certain what your university's policy is, it's always a good idea to check your university's Information Technology webpage, or ask an advisor.
Todoist
For list-minded students, Todoist is an app that sorts your to-do list for you. You can create tasks with a due date, category, and level of urgency, and Todoist will show you what you need to do next. The app lets you filter tasks by due date and category, which means that you can enter both personal and work tasks without ever getting lost in the wrong list. Available on both IOS and Android, you can keep track of your to-dos and never miss a deadline again.
Todoist is available as both a free and a paid app, and the free version includes nearly all of the features that the paid version does, just with limited external sharing capabilites. It's great for personal use, which means that a student could last their entire college career with just the free version.
Evernote
The world is going paperless, and college students need to keep up. Evernote lets you scan and save everything from receipts to pay stubs to syllabi and organize them all in one online location. It also lets you save and mark up and organize them amid your other documents. With a task management feature of its own, students can follow up on important paperwork without missing a beat.
The free version of Evernote lets you sync across two devices, so students with a phone and a computer can keep track of everything no matter which device they're using.
Writing Tools
Over the course of your career as a college student, you are going to write a lot of papers. Whether it's an essay over the themes of fatherhood in Frankenstein or a lab report over your study of hydrochloric acid, you need to have a software program that can support you through every single paper. The two major writing programs most students use are Google Docs and Microsoft Word.
Google Docs
Google Docs is a bit more intuitive than Word, with understandable user interfaces that keep the visuals simple. It also lets you download documents in a variety of formats, including .docx and .pdf, which means that you can use Google Docs for assignments even if the professor requires you to send in .docx files. Google Docs's main advantage over Word is that it's extremely easy to collaborate with others in a Google Doc. The program allows for simultaneous editing with real-time updates, which makes group work much simpler.
Microsoft Word
Microsoft Word has a lot of additional features, which can take longer to learn. Once you learn them, however, you can do much more with your documents in terms of style, formatting, and content. Inserting tables, headers, footers, and images in any combination of formatting allows you to control the look of your paper down to the smallest detail. Microsoft Word .docx also tend to be the universal default for online paper submissions, so they'll work for any class you attend.
Grammarly
No paper is complete without a thorough check for errors, and Grammarly is a student-friendly online tool that can help with that. Registering for a free account allows you to download the browser extension that checks for spelling, grammar, and sentence errors with the power of AI in real time.
Nothing can replace the quality of thoughtful student writing, but Grammarly can save you from a slip of the keyboard or an awkwardly worded thought. You can improve your own writing in a fraction of the time, and time is always a short commodity in college. All you need is a free account and an internet connection.
Software Tools for Image Editing
As a college student, having some graphic designing experience under your belt can open a lot of doors for campus opportunities. Some university departments even hire student workers to run the department's social media and post about upcoming events for students in the major.
GNU Image Manipulation Program
If you want to dip your toes into the world of image editing, the GNU Image Manipulation Program is a good place to start. It's a free and open-source image editor, which means that it's free to use and there are regular community updates and developments that allow you to customize the program to your needs. You can use it for something as minor as fixing red eye or adjusting photo brightness, or something as complex as making graphic designs and art for posters.
Canva
Canva is also a popular choice for designing social media posts, project presentations, and stylish websites. The free version includes a wide range of features, and can be a great place to start familiarizing yourself with popular design tools. It's also compatible with Google products, so you can customize a flyer design or poster that starts on a Google Doc.
Adobe Photoshop
The standard name in image editing is Adobe Photoshop. This paid program takes some time to learn all the ins and outs of, but once you have a handle on it you can do just about anything. You can edit images, combine images and text, and even draw and design completely original art. For serious creatives, investing time and money into Photoshop skills will come in handy again and again throughout your college career.
Though the program is paid, Adobe does offer a student discount on all Creative Cloud apps (which include Photoshop, Illustrator, Acrobat, and more). It might also be worthwhile to check if your university offers a subscription to image editing software. It's less likely than a Microsoft subscription, but certain departments might have set up licenses for students to use. You might also check to see if there are specific student-access computers with the programs downloaded on them. If your program has an art library or art study space with public computers, that would be a good place to double-check.
Blender
For creative college students interested in 3D images and videos, Blender is the free and open-source creation software to learn. You can create anything from short films to 3D models to moveable graphics on Blender, and it's constantly being updated and adapted by and for users. Contributing to the online community of creation can develop valuable problem-solving skills for both arts and STEM students.
Audio Editing Tools
The natural companion to image editing is audio editing. Whether it's fine-tuning a podcast assignment, fixing the sound on a social media post, or recording a lecture, you'll run into plenty of opportunities for audio editing in college.
Ocenaudio
A great audio editor for those who are just starting out is Ocenaudio. With simple, straightforward features, it's one of the easier programs to learn. You can apply changes simultaneously across multiple audio clips, and there are a variety of plugins to let you customize the program.
Audacity
Audacity is a bit more complicated than Ocenaudio, but with more complexity comes more features. If slicing, mixing, and converting audio sounds up your alley, this is the program for you. The ability to remove static and background noise comes in handy if you record a concert or a guest speaker for an event.
Lightworks
If you're serious about leveling up your editing skills, you should consider Lightworks. It can be hard to find free software for students that does high-quality work, but Lightworks goes above and beyond the functional standard in free software.
Lightworks is an advanced audio and video editing software that has been used to create everything from family vacation videos to cinema-release movies. This level of program can do a lot with image, sound, and movement, which means that there are a lot of features to explore and experiment with. If you are a member of a student organization that takes videos, or running a YouTube channel of your own, this can be the program that makes your video editing catch viewers' eyes.
Maestra's Automatic Transcription Service
Maestra is the transcription tool for college students in every major and organization. From automatic video transcriptions to video dubbing in over 80 languages, Maestra can do it all.
Automatic Video Transcriptions with Maestra
Maestra's video to text converter automatically turns your audio and video files into clean transcripts for you to use. Maestra's transcripts include capitalization and punctuation for ease of reading and to save user time.
AI-Powered Captioning
With the latest in AI technology, Maestra can create quality captions for any video you upload. Maestra can track and differentiate between multiple speakers, and learn and improve with your feedback. Automatically generated timestamps and transcript synchronization take the tediousness out of captioning a video by hand.
Video Dubbing
Maestra can create computer-generated voiceovers in over 80 languages to widen your video audience. Increased accessibility has never been easier, because all you have to do is upload your video, confirm the script, and select the voice and translation. After that, you have a newly dubbed video to share with the world!
Benefits of Maestra for College Students
Clear Lectures: Transcribing video lectures can increase your understanding by ensuring clarity. With no more misunderstood or misheard words, students can know exactly what their professor is talking about.
Study Tools: A video transcript can serve as a useful study tool to add to

your notes

and review sessions when studying for the big test.
Standout Student Organizations: Including quality captions on the videos makes your group look professional and accessible to everyone.
Crossing Language Barriers: With video dubbing and voiceover in over 80 languages, you can put video content into a language accessible to you, or create video content that reaches a wide variety of listeners.
Check Transcription Off Your Tools List with Maestra!
As your school year gets into gear, you'll want to make sure you have the software tools you need. Get started on your list by signing up for your Maestra account today!
Get video lecture transcripts for your notes in a matter of minutes, in whatever language you learn best in. Set your student organization apart with clean, professional captions. No matter what you do this school year, you can use Maestra's AI transcription tool
to make the most of it!