How to Succeed with Instagram Reels in 2023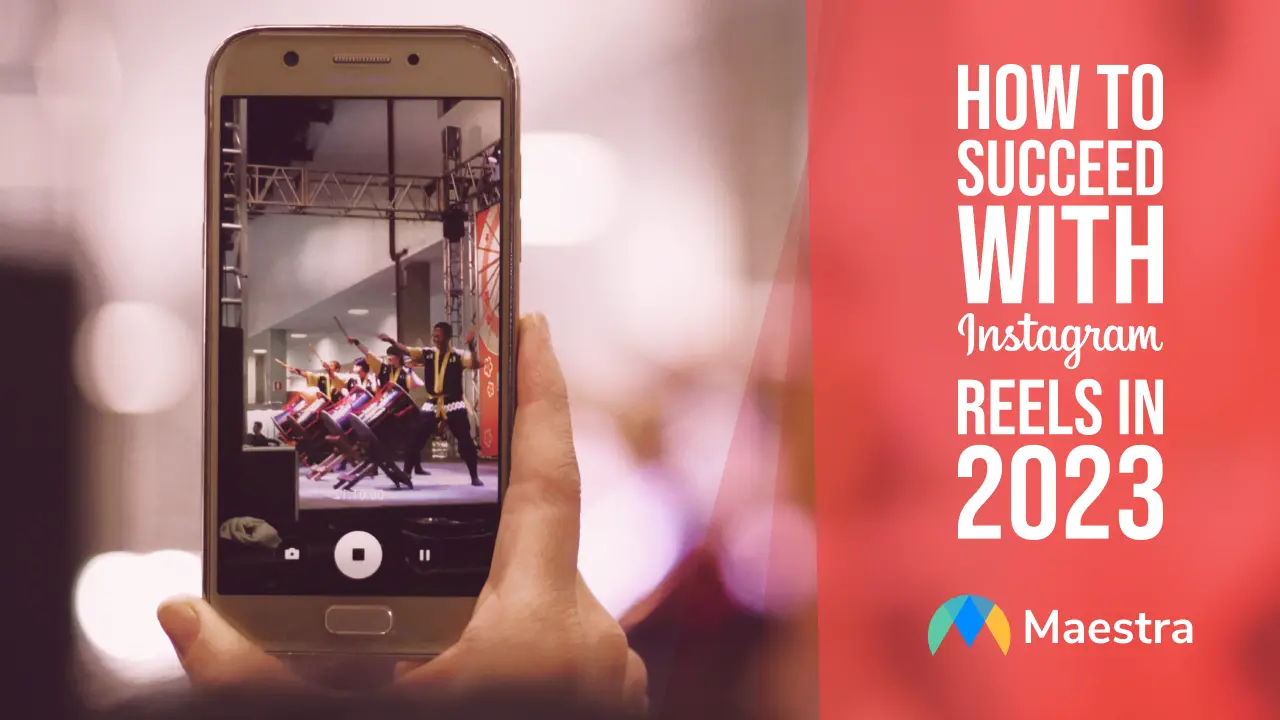 Many content creators know that Instagram prioritizes Reels over any other form of content on its app. However, if you're accustomed to sharing pictures, carousels, and Stories, it can be difficult to consistently produce short-form video content that resonates with your audience.
This is only part of the battle to get your content seen.
As with most social media platforms, you must publish content with algorithms in mind. How does the Instagram Reels algorithm work?
It's all about engagement. The more views and interactions you receive, the greater the chance that people see your Reels. The algorithm considers a variety of factors, such as the amount of likes, comments, shares, and views a video earns as well as the number of saves it receives. The algorithm also takes into account the creators you follow and the accounts that you interact with the most.
Using hashtags and popular topics can make your content more visible. What else can you do to ensure more people see your content?
This article will give you a few tips to learn how to succeed with Instagram Reels in 2023.
First, What are Instagram Reels?
Instagram Reels are vertical videos that occupy the entire screen. They can last up to 90 seconds if recorded within the app or up to 15 minutes if a pre-recorded video is uploaded. The platform offers several editing tools and an audio library that includes everything from popular songs to snippets of viral content from other users.
Reels differ from Instagram Stories in that they do not disappear after 24 hours. A Reel remains available on Instagram until it is deleted.
Instagram users can discover Reels on the Instagram app. Creators and brands can find their reels on the Instagram Reels tab of their profiles.
How to Make an Instagram Reel
You can use the Instagram app to create Reels in a few steps:
Step #1: Access Reels
You can access Reels by opening your profile page and clicking the plus sign button at the top of the screen. Select Reel and the editor should open. You can also open your profile page and swipe left. Select Reel at the bottom of the screen.
Step #2: Load Your Video
You can record footage directly into the editor or upload footage from your device's camera roll.
Step #3: Edit Your Video
The built-in editor lets you edit audio and video as well as record a voiceover. As previously mentioned, you can add audio from Instagram's library. Exploring every option can help you better engage your audience with a winning video.
Step #4: Modify the Reel's Settings
After you edit your video and click "Next," you can edit the Reel's settings. You can choose a Reel cover, add captions, tag other Instagram users, and more.
Step #5: Publish the Reel
Click the Share button to publish the Reel. Alternatively, you can schedule a time to post Reels on Instagram if the feature is available in your app. Determining when your target audience is likely to be on Instagram can help you reach them more often.
Tips to Succeed with Instagram Reels
Know What You Want to Make
Although your Reels might not be Hollywood productions, you should still plan them. You can develop a storyboard to plan your content and establish your video's subject and mood. Writing a script can save time and assist you in crafting your content to suit your audience's tastes.
Be Trendy
Reels trends have a short lifespan. What's hot now probably won't be tomorrow (or even in an hour). Successful marketers know the importance of quickly capitalizing on trends. Look at what's trending every morning and plan a video that hops on what's popular.
Keep It Short
Although you can use every allotted second to get your point across, you might be better off opting for shorter Reels. After all, they're meant to be watched in one sitting. Keeping your Reels as short as possible can ensure maximum watchability as well as help you avoid excess that's best left on the cutting room floor (or material you can use later).
Mention Your Link in Your Bio
You should use every piece of Instagram real estate you can to create interest in your product or service. Your bio is one of the most important sections of your profile. Including a clear call-to-action at the end of your Reels can encourage people to visit your company link in your bio.
You can add a caption or simply ask. It only takes a few moments to add the link and mention it when you make videos.
Produce High-Quality Videos
Before you consider leveraging Instagram's Reels Play bonus feature to earn money for your videos, you should focus on making the best possible content you can. It should go without saying that you should create content that engages your audience. A simple way to accomplish that is in post-production when you edit your videos. Here are a few easy tricks to get the most from your videos :
Choose video editing software that aligns with your goals, budget, and skills.
Include B-roll in sets of three to break up a video.
Use keyboard shortcuts to save time.
Color-correct your videos to ensure coloring is consistent throughout a video.
Include appropriate music at a proper volume.
Add graphics and text to support your video's message.
Reuse Your Existing Content
Reusing content can broaden its reach. By repurposing content, it can be transformed into a new format, such as converting a video's transcript into a blog post. Furthermore, videos posted on one platform can be utilized as footage for Instagram Reels.
For example, TikTok videos can be used on Instagram. However, to make your content appear more unique to the platform, TikTok watermarks should be removed with one of several available tools.
Transcribe Your Videos
If you want to turn your video transcripts into blog and social media posts, then you can transcribe them yourself or hire someone .
Do you have the time to sit with each video and write down each line? What if you can't understand the speaker? Can you afford to hire someone to do it for you? Can that person guarantee a short turnaround time?
An effective answer to all of these questions is to use Maestra's automatic video transcription software . You can convert video to text with high accuracy in a fraction of the time it would take a human. You can produce a precise transcription in three steps:
Upload the video.
Proofread and edit the text file (if needed).
Export the file.
Broaden Your Videos' Appeal
Incorporating subtitles into your videos can expand your content's audience and enhance SEO by enabling Google to analyze your videos, thereby potentially increasing their visibility. Captions can also come in handy for viewers who watch muted videos.
Manually creating subtitles can take the time you might not have. Plus, you have to make sure subtitling is as accurate as possible otherwise you run the risk of confusing viewers.
You can save time by automating subtitle generation with Maestra's online automatic subtitling software . You can use the platform to automatically create subtitles for videos in a few minutes. Translating them to 80+ languages with the click of a few buttons can propel your videos into completely new markets.
Maestra also lets you make custom subtitles. You can choose the font, size, and color. This level of customization can complement your video's design by providing seamless captions.
Use Hashtags
You can't escape hashtags on social media. They help connect specific content with audiences. You should have approximately five relevant hashtags with each Reel you publish. Not only will this help promote your content to potential leads, but Instagram's algorithm might understand your content better and deliver it to the right audience.
Be Consistent
Regardless of the type of Reels you create, consistency is critical. Even if your initial Reels receive little traction or engagement, continue producing them! As with anything on social media, success can come in time.
Interact with Your Viewers
Replying to your Reels' comments can demonstrate that you value your audience. This personal connection can come into play when they consider clicking on the link in your bio and buying what you are selling.
You can also comment on the accounts you follow, but you should do more than ask people to check you out. Giving honest feedback can help get your brand out in the open. Plus, networking with other brands could benefit yours in the future. You never know unless you try!
Monitor Your Instagram Insights
Posting a Reel on Instagram is one piece of the larger picture. You should track each Reel's performance so you know what works and what does not. If your Reels are doing well, then you can continue producing similar content.
If your Reels are not doing too well, then you can assess what to improve and initiate an action plan. Instagram Insights can help you discover what you should pay attention to, including comments, likes, saves, and more.
You Can Succeed with Instagram Reels
Adam Mosseri, the head of Instagram, has stated there is an algorithm for each of Instagram's services. You don't have to worry much about satisfying each one when you produce optimized content that does most of the work. Plus, without a solid foundation of content, your marketing strategy could fall apart, costing you time and money. Maestra's Transcription Software and Subtitle Generator can help you make your content more accessible, giving you a fighting chance against every algorithm thrown your way.
Request a demo today to amplify your content.