Video Localization: What You Need to Know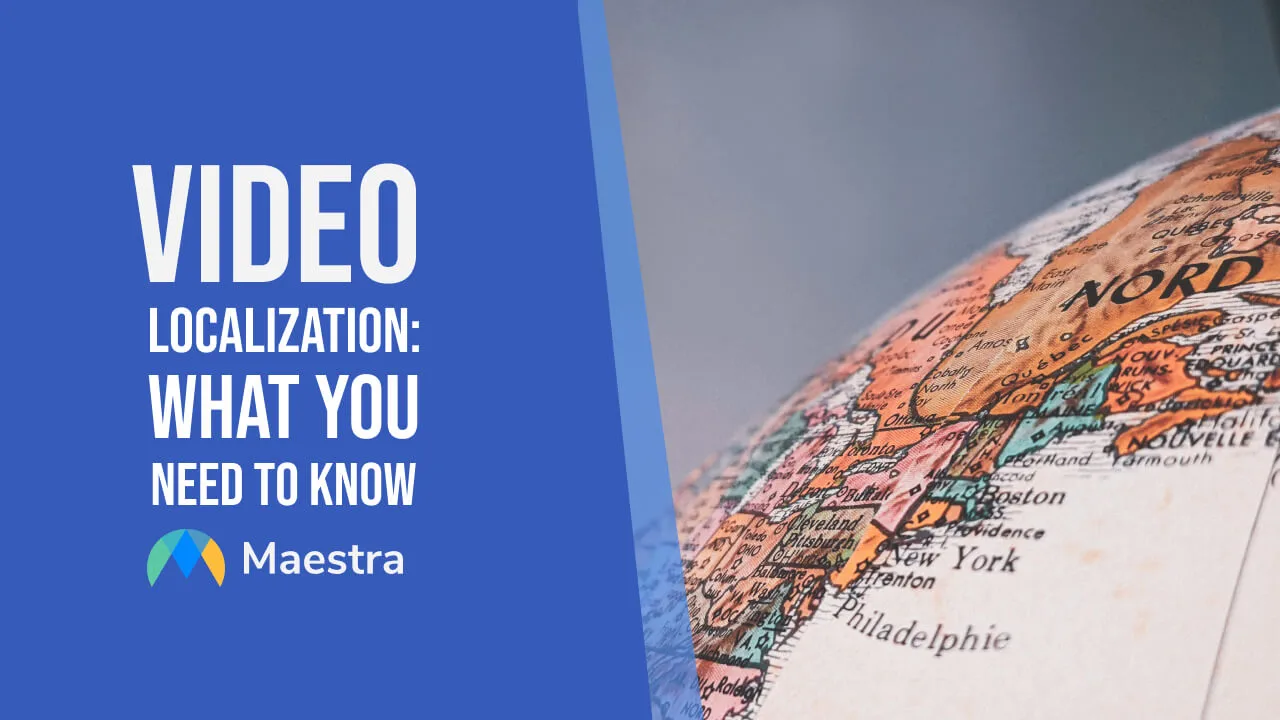 In a world where multimedia content reigns supreme, video localization has become a necessary process for reaching audiences all over. Understanding the value of content localization is key to expanding your reach and impact. This is true for e-learning experts, podcast producers, and all kinds of content creators.
Let's explore video localization, its processes, and how it can improve your content. Plus, we'll introduce you to Maestra.ai, the AI-powered solution that simplifies and enhances the video localization journey.
Understanding Video Localization
Video localization is the process of adapting video content for audiences who speak different languages or belong to diverse cultural backgrounds. Video localization isn't just about translation. It also considers language, culture, and regional preferences. The goal is to create content that speaks to your audience using their language and cultural identity.
The goal of localization is to make your content feel like it was created for that specific audience. Having a local video can vastly improve your audience's experience and their ability to relate to your content. Localizing video content will improve engagement and help increase your audience around the world. (Hint: part of this can be done with a video translator or through a subtitle translator. You don't necessarily need to speak the language!)
The Importance of Video Localization
Expanded Reach: Your audience shouldn't just consist of native speakers in your home country. Content localization allows you to reach a global audience. By offering your content in multiple languages, you can tap into markets you might have never considered before.
Cultural Relevance: Localization ensures that your content is culturally sensitive and relevant to the audience. It avoids problematic interpretations or translation confusion that can arise from direct translations. For example, Brazillians speak a dialect of Portuguese that is clearly different from native speakers in Portugal. Simply translating your content to Portuguese will leave out one of those countries.
Higher Engagement: When content is available in the audience's native language, they are more likely to engage with it. It eliminates language barriers and fosters a stronger connection. Many people across the globe speak English, however, people are always going to prefer engaging with content in their native language. Create the best possible user experience by using content localization.
Creators may feel like video localization sounds like a wonderful idea at this point. You may also feel like it's going to be hard to achieve. Don't worry though, Maestra is here to help make it easy.
The Localization Process
Video localization processes involve five steps to adapt content for the best possible results:
Transcription and Translation: The process begins with transcribing the video content and then translating it into the target language. Maestra.ai, an AI-powered transcription service, excels at this stage, providing accurate transcripts quickly.
Cultural Adaptation: This step involves adapting the content to align with cultural norms, beliefs, and sensitivities. It ensures that your content respects the audience's culture.
Voice Over or Dubbing: Choose voice overs or dubbing to replace original audio based on your target audience's preferences. Voice overs or dubbing will make the video more accessible and relatable. When making the decision to use dubbing or a voice over, think about your target audience's preferences.
Subtitles: Subtitles are important for retaining the original audio while providing a translation at the bottom of the screen. They are cost-effective and widely used for video localization. Subtitles help the hearing impaired, but also your audience at large. Many viewers of video content prefer subtitles, even with videos that are in their native language.
Quality Assurance: Before the video is published, careful quality checks are performed. Quality checks will make certain that the localized content is both accurate and culturally sensitive.
Why Maestra.ai is Your Ideal Partner
Now that you know what video localization is, let's talk about how to do it! Now we discuss how Maestra.ai will make this easy for everyone! Maestra is a leading AI transcription service that can easily simplify and enhance your video localization experience.
Speed and Accuracy: Maestra.ai offers rapid and accurate transcription services, turning your multimedia content into text. This forms the foundation of video localization.
Multilingual Support: Maestra.ai supports multiple languages, ensuring that you can create content in your preferred language and expand into global markets.
Simplified Workflow: With a user-friendly platform and intuitive tools, Maestra.ai simplifies the localization process. It makes transcription, translation, and content adaptation simple to use and lighting-fast!.
Cost-Effective: Maestra.ai offers affordable solutions, allowing you to make video localization a regular part of your content creation strategy.
Integration-Friendly: Maestra.ai seamlessly integrates with various platforms and tools, making it easy to incorporate transcription and translation into your existing workflow.
Elevating Your Content with Video Localization
Embracing video localization can be a game-changer for content creators, e-learning experts, and podcast producers. It's a powerful way to broaden your reach, create culturally relevant content, and engage a global audience. Don't limit yourself to only creating content for an audience of your home country.
By partnering with Maestra.ai, you simplify video localization and make sure your content is accurate, culturally sensitive, and resonates with your target audience.
The Next Step in Your Localization Journey
As you venture into the world of video localization, remember that understanding your audience is super important. Content localization goes beyond language. It also includes adapting your content to align with the cultural, social, and legal norms of your target audience.
Maestra.ai is your trusted partner in this journey. You can use our AI transcription and translation services with ease and confidence. These services will help you confidently localize your video content. Additionally, they will help you connect with your audience on a deeper level.
So, are you ready to take your content to the next level? Explore video localization, embrace the power of storytelling to a global audience, and elevate your content's reach and impact with Maestra.ai. Visit Maestra.ai to help you connect with your international audience by translating your content into their language.