Automatic SCC Generator
Create SCC Files Online
Maestra subtitling tool can generate subtitles in 80+ languages including English, Spanish, French and more. No file size limit. It is easy, affordable and only takes a few minutes.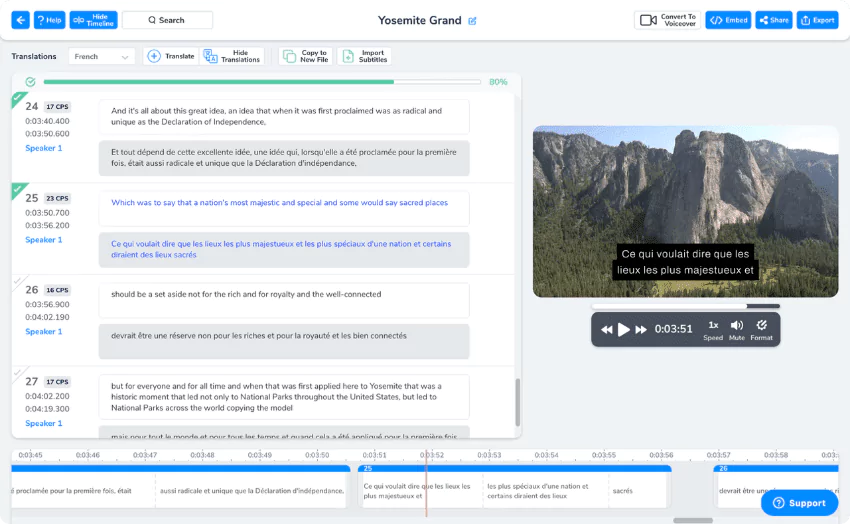 Maestra is the best way to generate SCC files in 2023!
How to generate SCC file?
1
Upload the audio or video file to generate a SCC file and see the subtitles within seconds. No signup or account required.
2
You can upload from Dropbox, Instagram, Youtube, Google Drive, or your depository.
3
Translate your subtitles to 80+ languages with just a single click.
4
Proofread, make edits, and export. Convert your video or audio file to SRT (SubRip) or VTT (WebVTT) file.
Frequently Asked Questions
What are SCC subtitles or captions?
SCC is a format also referred to as a "Scenarist" caption file is mostly used in Line 21 broadcast closed captions. They are frame-based with a specified rate of 29.97fps. You can have up to 37 characters in a single line when you are using SCC subtitles and they require compatible software to open.
Why do I need an SCC generator?
SCC subtitles and captions are widely used by Premiere and FinalCut for uploading, editing, encoding and exporting DVD closed captions. The SCC format is also compatible with Youtube and Vimeo, there using Maestra's SCC generator to rapidly generate SCC subtitles and captions to support your content can vastly improve the quality of your content.
What other formats are there other than the SCC file generator?
Creating SCC files with ease is important since it is a beneficial subtitle format. However, it is still important to be able to generate other types of subtitles such as WebVTT (.vtt) which allows you to edit the color and font of the subtitle text, EBU-STL (.stl) which is used primarily with European broadcasters for subtitling TV programs or SRT subtitles which is the most popular way of subtitling in today's world. Maestra will let you create SCC files with its SCC subtitle generator but you can create every other format there is as you wish.
Does it take time to create SCC files?
Not at all. You can instantly and easily generate SCC files and implement them on your content. With Maestra's simple interface, anyone can get the hang of it in seconds and the final product will be ready in minutes. Therefore it is useful for everyone, whether if your corporation wishes to mass-produce SCC subtitles or if you're a content creator wishing to subtitle your content with Maestra's SCC file generator.
How to generate SCC subtitles for YouTube videos?
After you generate SCC subtitles, add them to your content and upload them to Youtube or any other platform directly from Maestra. This is the same for every other subtitle format if you want to diversify your subtitle game. In the end, your content will be consumable by a much wider audience around the world in a matter of minutes and a few clicks.
Generate SCC automatically with
awesome features:
Automatic Speaker Detection
Our CC maker software will not only transcribe audio automatically, but create speaker tags automatically for each speaker.
Punctuation Included
Your automatically generated SRT file will include punctuation such as commas and periods, helping you save even more time with Maestra's web captioner software.
Accurate Audio to Text Subtitles & Translations
Maestra's automatic speech recognition software has very high accuracy, helping you save time when editing your subtitles. Translate into 80+ languages with a single click.
Upload In 15+ Formats
With Maestra's automatic subtitle generator, you can upload in 15+ formats including MP4, MP3, AVI, MOV, MKV, M4A, M4V, WMV, WMA, WAV and OPUS.
Generate SCC file in
80+ Languages
Shared accounts
Access and share your account on multiple devices and with multiple people.
Secure
Process is completely automated and secure. Check our security page for more!
Customer Reviews
What people are saying about Maestra